Hello lovelies, welcome to CA. Today it is time for drooling over chocolates and that is why I am gonna review Aroma Essentials Chocolate Body Butter. Who does not love chocolates? The aroma of chocolate provides a sensual and calming effect on our body.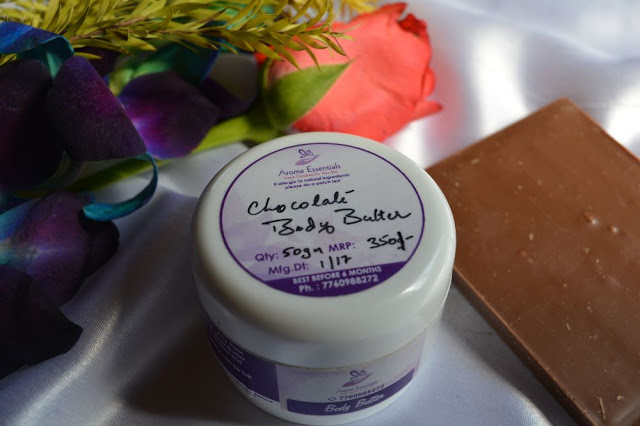 Cocoa Butter not only helps to moisturise our skin but also depigments skin. This body butter is a combination various natural butters. Let me share my experience of this one with all of you :)).
Price: INR 350 for 50g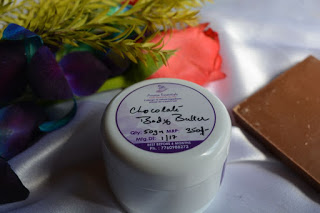 Shelf Life: 6 months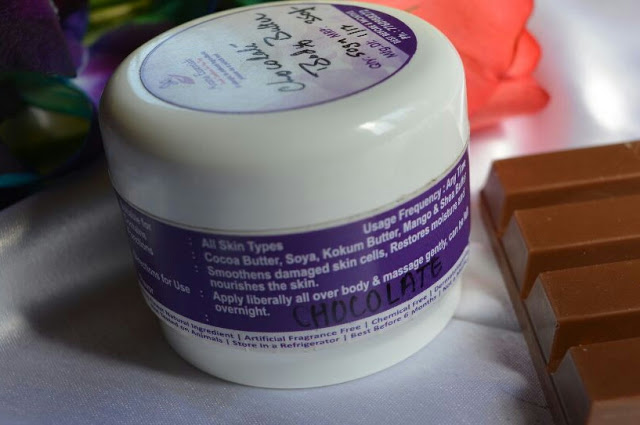 The basic ingredients are Cocoa Butter, Soya, Kokum Butter, Shea butter, Mango Butter. Except Soya I have used all these butters. They are excellent moisturisers. 
So, a seperate 5/5 remarks for this wonderful ingredient selection.
My Experience with Aroma Essentials Chocolate Body Butter
You might have noticed one thing my dearies that I have skipped the brand introduction part. I did it intentionally. Because I do not think that Aroma Essentials does need any introduction. They are quite PRO. Their FB page has garnered around 45k likes!! And that surely gives a lot of intro. 
I got this body butter around 3 weeks ago. And I am using this body butter every day now. So, without much ado I would like to share my story.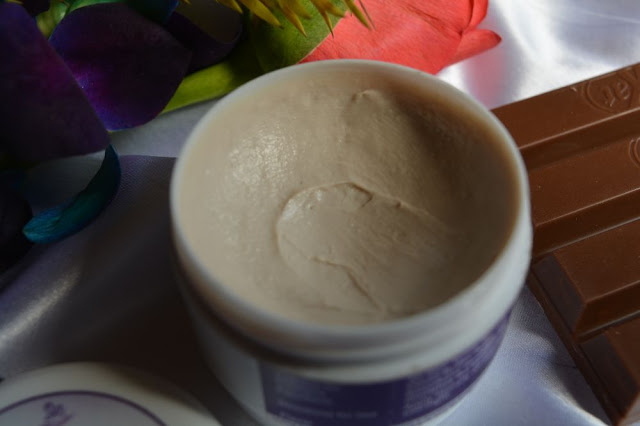 It looks great and is of course travel friendly. All the information along with the beautiful logo are clearly written on the label.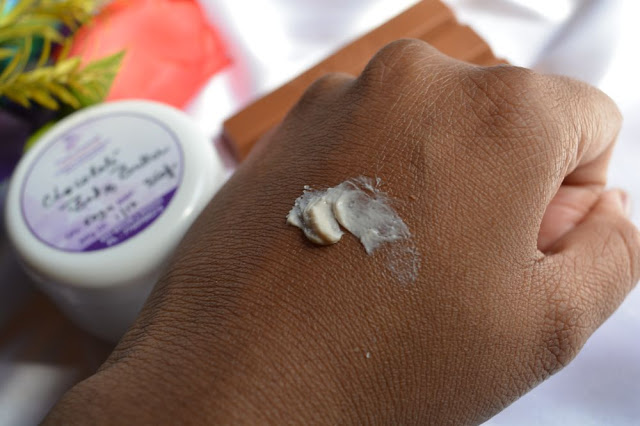 Very very light brown hue and thick butter like texture. The brown hue would remind you of Cocoa Powder. It blends very easily without any greasiness. And that is the beauty of this body butter.
Just heavenly!! As soon as you open the tub, a beautiful chocolate aroma starts whirling around your body and mind. 
Most surprising thing is that the aroma lasts for around 12 hours or rather more than that. Skil feels moisturised for a very very long time. It is also very light at the same time. The butter absorbs within minutes and gives a glowing butter like skin instantly.
So, here goes the list of plus-minus things.
Completely herbal.

Lasts only 6 months that means it is devoided of harmful preservatives.

Long lasting beautiful aroma.

Gives all day long moisturisation.

Travel friendly packaging.

Justifiable price.
I would not call it a con, but just a thing that an addition of SPF could have made it a perfect Chocolate Body Butter cum Sunblock :)).

***CA IMPRESSION: 5/5***


I do recommend this chocolate butter to everyone who loves to live in a healthy and natural way. Its purity lies within the formula. Just do try it out my sweethearts, you will love your glowing skin.
 So, it is a wrap time. Love you all. Take care my beautiful friends. Love and pamper yourself. And celebrate womanhood with courage.
Thank you for reading. Have you used this product? Please share your experiences here. Love you all.
**PR sample sent by Aroma Essentials. But review is self opined and genuine.