|| Lotus Herbals Ikkai Choco Delight Face Mask Review ||
Hey Angel! It is time to review another Ikkai product and that is Lotus Herbals Ikkai Choco Delight Face Mask which is another new launch. Recently, I reviewed Ikkai Almond Face Scrub here and many of you liked the genuine detail. Ikkai is a range of beauty products launched by Lotus Herbals that are meant for single-time use. And, that 's why all the products come in a pouch packaging which is quite convenient to use especially while you are traveling. The real question is, whether you would buy this product only because of the attractive packaging or there is something else. Let's find out together everything about Lotus Herbals Ikkai Choco Delight Face Mask.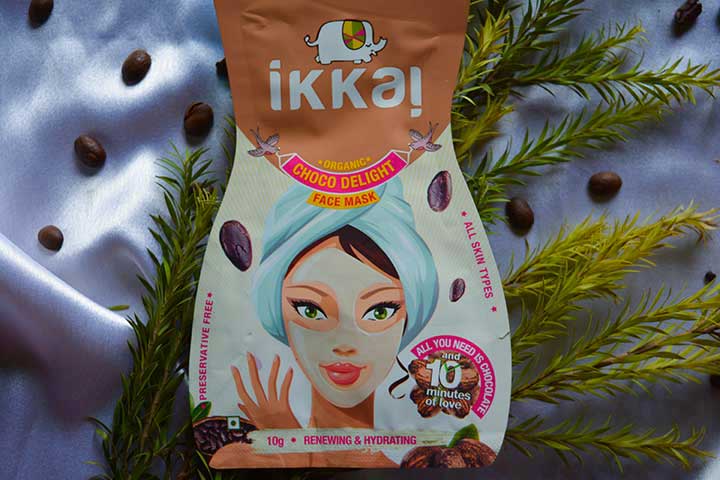 Basic Information about Lotus Herbals Ikkai Choco Delight Face Mask:
Price: INR 85 for 10gm
Shelf Life: 3 years
For All Skin Types
Buy From: Nykaa
What Does the Brand Claim about Lotus Herbals Ikkai Choco Delight Face Mask?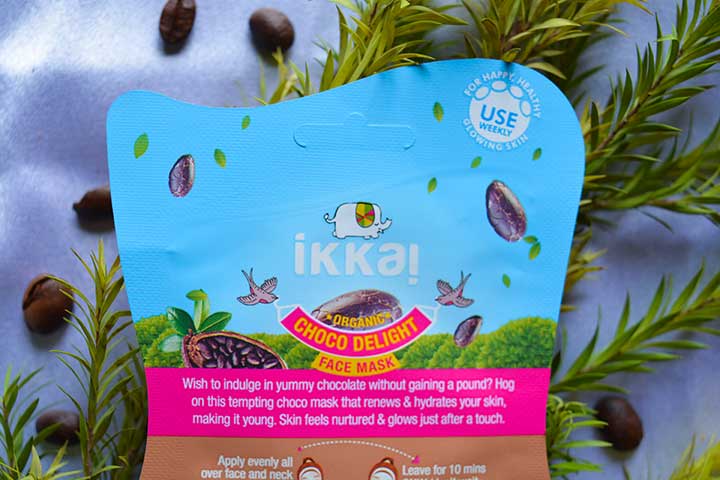 Are you interested to indulge in the ocean of yummy chocolate without putting on a few pounds? Well! Just hog on this tempting and enriched choco mask that can renew and hydrate your skin, and eventually make your skin look young. Skin feels naturally nurtured and glowing with just a touch.
Just apply this mask evenly all over your face and neck, keep it on for 10 minutes, and wash it off. Voila! Your glowing and beautiful skin is ready to show before the world. This face mask would help you to combat the effects of stress, pollution, and an unhealthy lifestyle. Indulge in this cruelty-free and eco-friendly skincare range and let your skin thank you.
Also Read: Lakme Enrich Lip Crayon Review
Ingredient Analysis of Lotus Herbals Ikkai Choco Delight Face Mask: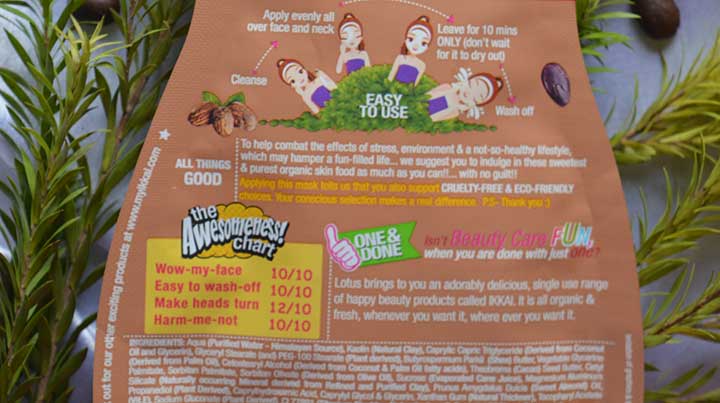 Lotus Herbals always discloses its ingredients, this brand has rarely tried to hide anything from the consumer's eyes. Lotus Herbals Ikkai Chocolate Face Mask has all its components mentioned on the back side of the pouch just like the face scrub. Surprisingly, 80% of the ingredients are the same; the position or the concentrations of the components have slightly changed and that's all. I have discussed each and every component individually here. So, in case you have missed my previous post, you need not shuffle between the two posts. Let's decode the ingredients of Lotus Herbals Ikkai Choco Delight Face Mask.
Aqua or Purified Water (Himalayan Source): It is a creamy product where water is the foundation. Lotus has used water sourced from the Himalaya, which is quite stunning.
Kaolin (Natural Clay): All clays are beneficial for skin. Kaolin clay is a boon for oily skin for its oil absorption power. It can deep cleanse the pores and detoxify the skin. I can treat acne and is a great exfoliator.
Caprylic Capric Triglyceride (Derived from Coconut Oil and Glycerin): It is an absolutely safe ingredient that is used as a fragrance and skin-conditioning agent.
Glyceryl Stearate and PEG-100 Stearate (Both are Plant Derived): This is a combination of two emulsifiers that make sure to bind the formulation. Emulsifiers are mainly used to bind oil and water.
Shea Butter: It is indeed an excellent moisturizer which is a boon for the dry skin people. It heals even the most critical skin conditions.
Vegetable Glycerin (Derived from Palm Oil): Glycerin is a great humectant that locks moisture inside. Honestly, I expected a better source for this component.
Cetostearyl Alcohol (Derived from Coconut and Palm Oil Fatty Acids): It is another emulsifier that also thickens the formula.
Cacao Seed Butter: It is full of healthy fatty acids and is considered a boon for the dry, sensitive skin beauties.
Cetyl Palmitate: This is a skin conditioning agent or emollient which is also used as a fragrance ingredient.
Sorbitan Palmitate: It is a safe surfactant cum emulsifying agent.
Sorbitan Olivate (Derived from Olive Oil): This is a safe surfactant based on Sorbitol and Olive Oil.
Sucrose (Evaporated Cane Juice): It is an active ingredient here which is a great emollient and also a natural thickener.
Magnesium Aluminium Silicate (Naturally Occurring Mineral Derived From Refined and Purified Clay): It is a naturally occurring thickener that is white in color and mostly used as viscosity controller and absorbent.
Sweet Almond Oil: This is a boon for flawless skin. It can remove tan, can treat acne and pimples. It is a great exfoliator too that can cleanse the skin in-depth. Moreover, this is an excellent anti-aging ingredient that occurs naturally.
Propanediol (Plant Derived): This component controls the viscosity of a particular formulation; it is totally safe too.
Caprylhydroxamic Acid: It is an amino acid derivative from Coconut Oil. It is used as a broad spectrum anti-fungal agent and as a preservative in cosmetics. This is a newly discovered alternative to PARABENS, so very limited data are available right now about its safety.
Caprylyl Glycol and Glycerin: It is thought to be a safe preservative. It is generally derived from Coconut. Though the source is not mentioned here.
Xanthan Gum (Natural Thickener): It is a safe ingredient that is used as a binder and emulsion stabilizer. Basically, it is a thickener in cosmetics.
Vitamin E or Tocopheryl Acetate: It is an excellent anti-oxidant and moisturizer
Sodium Gluconate (Plant Derived): It is a safe chelating and skin-conditioning agent.
CI 77891 (Titanium Dioxide – Natural Mineral): This component is a UV filtering ingredient that is generally used in Sunscreens. Many cosmetologists consider this component as a safe alternative to Zinc Oxide.
Essential Oil Blend (Fragrance): Well! That's impressive indeed. But, I could have become much happier if I had known the names of the Essential Oils.
Alright! So, that's all about the ingredients of Lotus Herbals Ikkai Choco Delight Face Mask. I totally loved it to find that most of the components are safe here. They have not used the carcinogen or cancerous Acrylamide in this formula, which is a great sigh of relief for me. Overall, I would give a 4.2 out of 5 for these ingredients.
Also Read: Best Face Wash for Oily Skin in India
Packaging:
AS I already said that the packaging is totally travel-friendly. The product would last you at least 10 usages, which is awesome. This is a pouch package and cannot be torn easily. The colorful packaging would leave you stunned; it is indeed beautiful and captivating.
Texture and Aroma: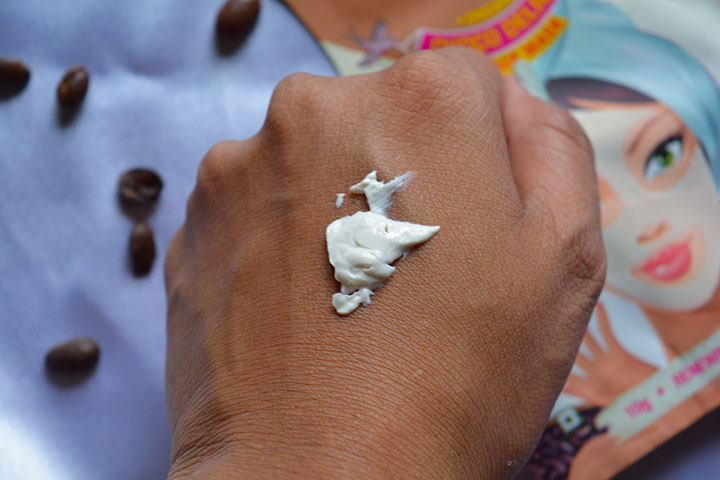 The texture of Lotus Herbals Ikkai Choco Delight Face Mask is very creamy and thick. It spreads, but not so easily. If you apply it on a dry face, it may form clumps. So, my suggestion would be to apply it on a damp or semi-wet face.
The aroma is captivating. I love any chocolate mask. So, if you are a die-hard chocolate lover just like me (In fact, who isn't? :P), then this aroma is totally for you.
Also Read: Kama Ayurveda Bhringraj Oil Review
My Experience with Lotus Herbals Ikkai Choco Delight Face Mask
So, to begin with, I have an extremely dry and sensitive skin which reacts badly with anything off the plate. I started using this face mask around a week ago and have used it more than 3 times now. So, as I said, it is easy to apply only when you have a damp face. I applied a moderately thick layer and kept it on for 10 minutes as per the direction. To my surprise, this face mask did not dry off in spite of having a clay base.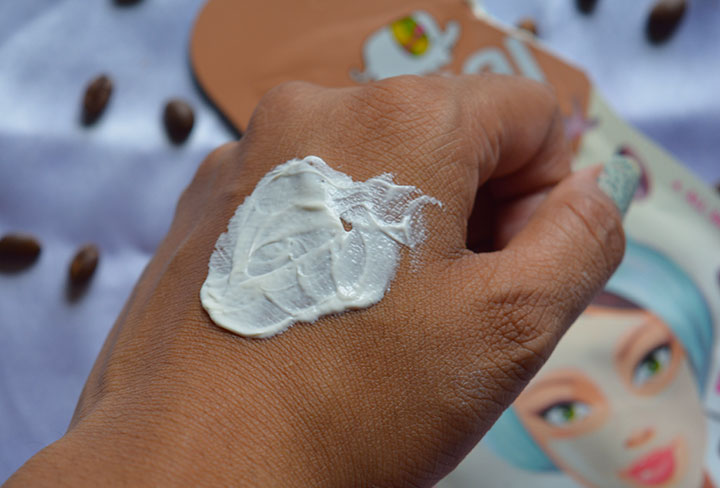 It is basically the creamy formulation that never let the mask dry off. For my dry skin, that is always hungry for moisturizer, it was a boon. But, I cannot relate to the 'for all skin types' of a claim. So, if you are an oily skin beauty and want to use this mask to control the excess sebum, then my dear,  it would be a wrong choice of product for you.
After washing it off, I noticed that it leaves a subtle moisturized skin behind. This face mask does not impart any glow whatsoever. It is compelling me to tell that this is just like another face mask with tall claims. There is nothing promising except for some of the ingredients.
Pros of Lotus Herbals Ikkai Choco Delight Face Mask:
Affordable.
A few active components.
Tempting chocolaty aroma.
Paraben-free safe formulation.
Creamy in texture that blends smoothly on damp face.
Beautiful and travel-friendly packaging.
Cons of Lotus Herbals Ikkai Choco Delight Face Mask:
Does not live up to its claims. I could not find any glow.
Not for oily skin people.
After tearing the packaging, you need to tie the opening part, otherwise, the scrub may come out.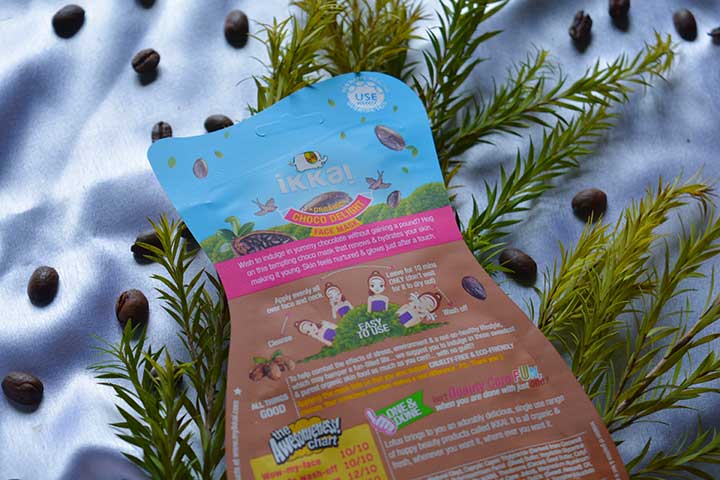 Would I Repurchase Lotus Herbals Ikkai Choco Delight Face Mask?
Actually no! I would rather use Forest Essentials Sheet Mask.
Would I Recommend Lotus Herbals Ikkai Choco Delight Face Mask?
Honestly, in spite of the fact that this chocolate face mask does nothing, I would recommend all types of skin people to use it at least once. After all, the ingredients would not do any harm.
That's all for today! Thank you for reading. If you like reading it, then don't forget to subscribe to Cosmetics Arena. Take care; much love. I would come back soon with another post.