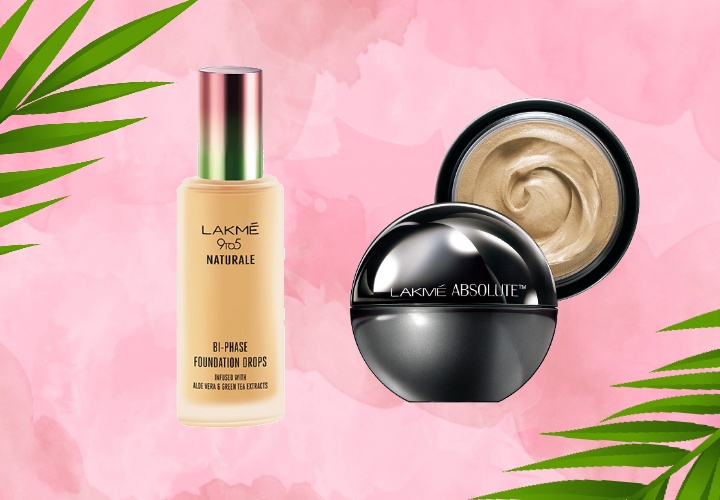 Best Lakme Foundations Ever
Can you imagine makeup without foundation? No? Neither do I. But merely having a foundation is not enough. It should perfectly match your skin tone.
Now that we have plenty of options, it is pretty confusing to choose the right product amongst the pool of cosmetic brands.
Speaking of brands takes me back into the 90s when Lakme foundation was probably considered as the best foundation in India. It was a must-have essential in every woman's vanity kit. Even my mom never left home without dabbing some of that liquid.
As a kid, I was always fond of the lovely fragrance of the classic Lakme foundation. That love for the foundation has just grown up with time.
I have tried several brands but I always end up buying Lakme foundation because it is trustworthy. There are a number of ranges to choose from.
In this article, I am going to talk about the best 6 Lakme foundations in India that I think is the best ever. So, let's dive in.
1. Lakme Absolute Argan Oil Serum Foundation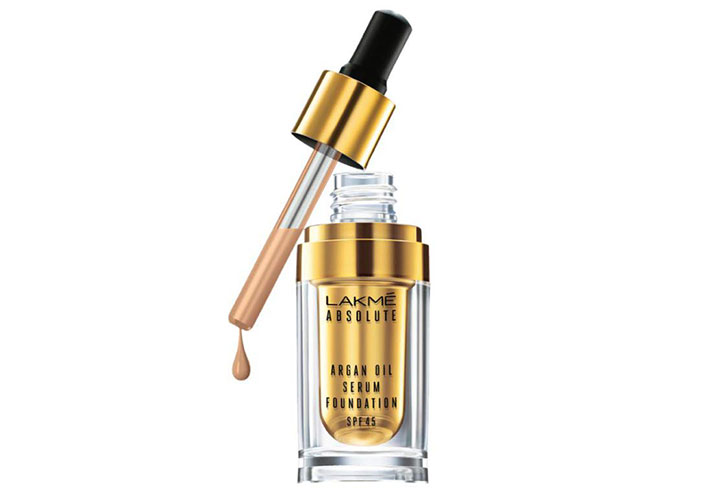 Courtesy of Brand
Shop Now!
This Moroccan argan oil-enriched fluid is bound to give you a dewy silky finish. It nourishes your skin and gives decent coverage at the same time.
SPF 45 also saves you from layering up sunscreen separately. You can easily go to attend those weekend brunches.
Its ultra-smooth texture seeps into your pores leaving an even skin tone. The golden colour bottle gives it a classy look.
A huge plus of this product is that it comes in 10 shades so you can easily find the closest match to your skin. Natural light, Ivory cream, Rose silk, Honeydew, Silk golden, Natural Almond, Cool Ivory, Cool cinnamon, Cool walnut, and Neutral honey. All these shades are specially crafted for Indian skin tone.
Pros

Very small quantity is enough for that luscious gloss.
Dropper format ensures that each drop of the product is untouched.
Contains SPF 45.
The best bet for dry skin.
Small plastic jar makes it travel-friendly.
Vast variety of shades.

Cons

Need touch-ups every few hours
Texture is a bit runny so you need to dust some setting powder.
Suitable for winters only.
This Moroccan Oil infused fluid definitely falls under the category of best Lakme foundations. Though ideal for dry skin beauties, yet everyone can try it in winters. Altogether, you would not regret buying this product.
2. Lakme Absolute White Intense Skin Cover Foundation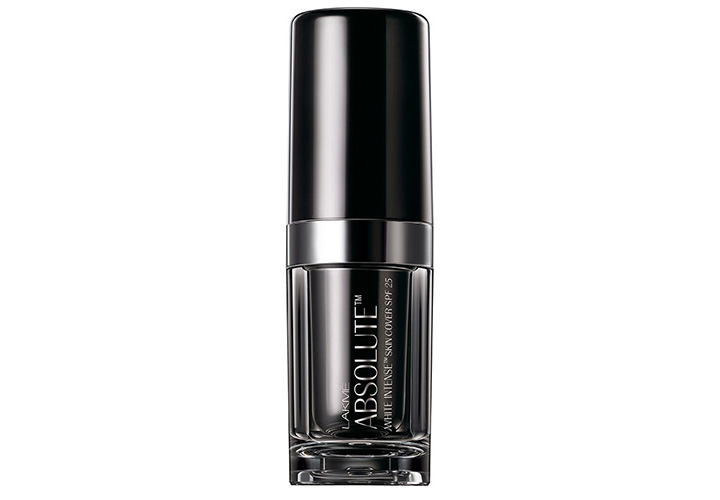 Courtesy of Brand
Shop Now!
Enriched with the goodness of vitamin B3, it merges up with your complexion and leaves a radiant, supple, and velvety soft skin.
SPF 25 (if blended with your regular sunscreen) can act as a potent shield from the harsh UV rays. So, you can easily hop in the sun. An added advantage is its super staying power that lasts up to pretty long hours.
Its aqua-based hydrating formula is sweatproof, waterproof, and smudge-proof. Moreover, its mild composition spreads evenly and conceals blemishes and fine lines.
Pump nozzle is easy to use and hygienic. It dispenses just the right amount suffice for your face. You can also open the bottle to use it till the last drop.
The elegant black metallic look with a click shut cap makes it hard to resist.
Coverage is somewhere between light to medium. So, it is best suitable for everyday college-going or office-going look.
This Lakme foundation comes in five shades namely Rose fair, Golden light, lakfounds_01, lakfounds_03, and lakfounds_05.
Pros

Hygienic pump applicator
Long stay up to 16 hours
Contains SPF 25
Goodness of vitamin B3
Lightweight consistency
Doesn't oxidize
A boon for oily skin

Cons

Limited shades
Dry texture is difficult to blend properly
Ideal for summers only
You may need to apply some facial oil or need to moisturize your skin liberally to get the best results.
If your skin is on the oilier side, this is one of the best Lakme foundations for you. Vitamin B3 brings a healthy lustre on your face. The lightweight formula doesn't weigh you down and sets on your skin to give a polished satin smooth finish.
Lakme is an Indian cosmetic brand that was launched in India when PM Nehru requested the entrepreneur JRD Tata to manufacture a cosmetic range in India. Nehru was concerned that Indian women are investing in precious foreign exchange on beauty products. An interesting piece of information! Isn't it?
3. Lakme Absolute Mattreal Skin Natural Mousse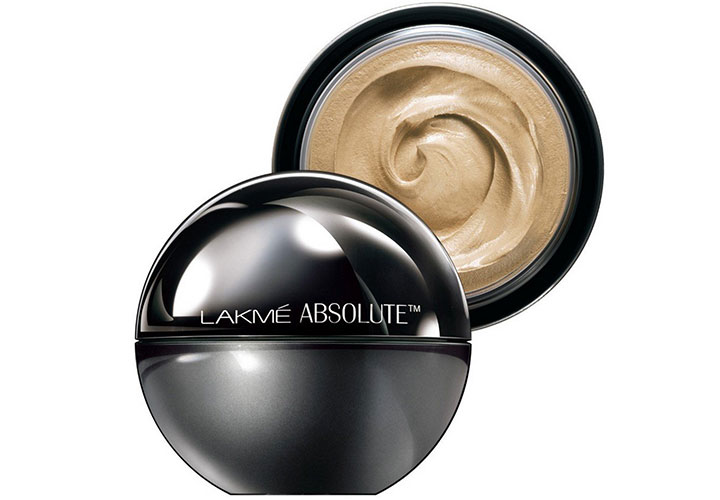 Courtesy of Brand
Shop Now!
If you are looking for a product that can work on all skin types, you can never go wrong with this one. Its breathable fluffy format makes it daily wearable.
The cute spherical bottle takes me to the flashback and reminds me of Harry Potter's Golden Ball.
As light as whipped cream, this mousse claims to blur out pores and contributes to a powder matte finish.
Its micro-air-bubbles blends like a dream and doesn't feel like you are wearing something on your skin. Just a pea size will cover your face and all you can feel is that youthful glow.
This foundation comes 9 shade i.e. Golden medium, Ivory fair, Golden light, Rose fair, Beige honey, Almond honey, Medium caramel, Medium toffee, and Rick walnut.
Pros

Blends effortlessly into the skin.
Feather-light finish.
Favorable for all skin types.
Light-medium coverage, suitable for daily wear

Cons

Does not hide all the imperfections of the skin
It contains SPF 8. So you need to invest in a good sunscreen.
Jar packing is somewhat unhygienic.
Weightless is the word for this Lakme foundation. It makes you forget that you are wearing any makeup on your face. It has a decent long stay and doesn't break out easily. So if you are looking for a comfortable foundation, give it a go.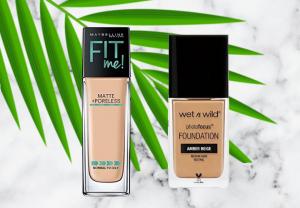 No matter what your skin type is, here, we have covered all skin tones. Get ready to ace the base. Check out the ultimate compilation of this year.
Read More
4. Lakme 9 to 5 Primer + Matt Perfect Cover Foundation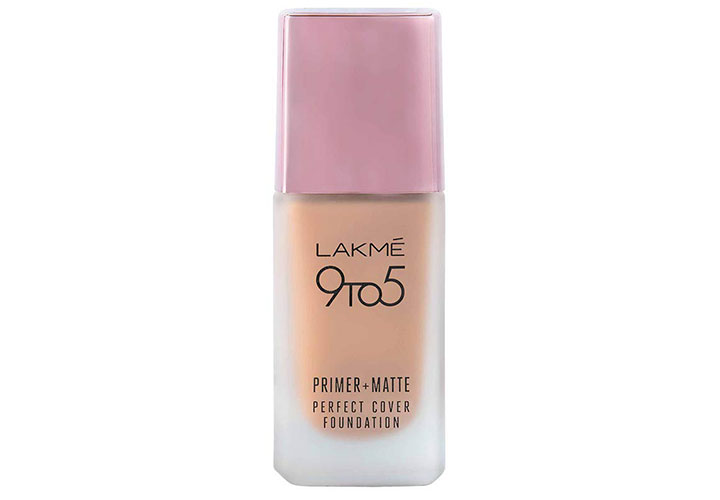 Courtesy of Brand
Shop Now!
Packaged in an attractive glass bottle with a rose gold cap, this time Lakme has come up with 16 shades including shades for dusky beauties and focused on all undertones.
The large shade range includes N360 Neutral Chestnut, C100 Cool Ivory, W120 Warm Crème, C140 Cool Rose, W160 Warm Sand, W180 Warm Natural, N200 Neutral Nude, N220 Neutral Medium, W240 Warm Beige, N260 Neutral Honey, C280 Cool Tan, C300 Cool Cinnamon, W320 Warm Caramel, N340 Neutral Almond, N360 Neutral Chestnut, C390 Cool Cocoa and C380 Cool Walnut. Such a big shade range!
It comes with a built-in primer so you no longer need to wear a primer beforehand.
Specifically curated for those having long working hours, it takes hardly a few seconds for the product to blend into the skin. It hides your blemishes and dark spots like they were never there.
This Lakme foundation offers medium to buildable coverage.
Pros

Good for daily wear
Provides satin smooth finish
The range includes 16 shades
Long lasting coverage

Cons

Oxidizes to some extent
Spatula is not up to the mark
To sum up, it is more than a bb cream and less than a foundation. Be it hiding your skin imperfections or granting a buttery soft skin, this product does its job really well.
It's affordable as compared to its expensive counterparts. The natural finish you get at this price is what makes it one of the best Lakme foundations in the Indian market.
5. Lakme Invisible Finish Foundation SPF 8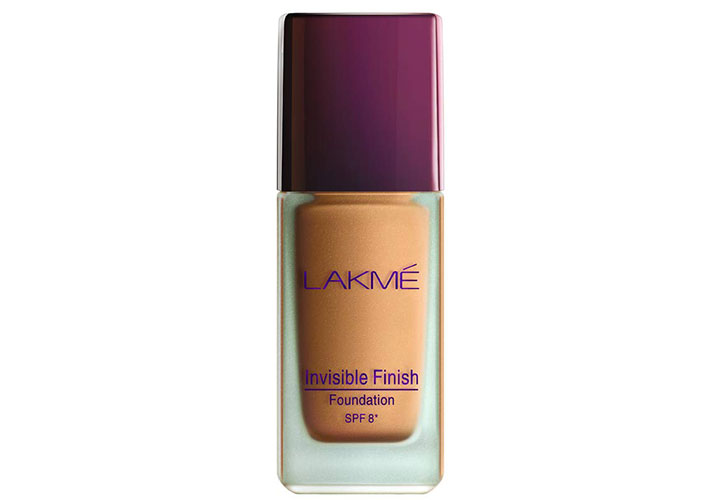 Courtesy of Brand
Shop Now!
Grab this pocket-friendly foundation to get a look as if you are heading out straight from a salon.
Endowed with SPF 8, it's water-based formula gives you an everyday fresh natural look.
The liquid is packed in a glass bottle with a spatula applicator. As the name suggests, it sinks into your skin and imparts that trendy no-makeup makeup look.
The best part is that it settles down into a matte finish but still reflects a subtle sheen for good. Super hydrating in nature, it doesn't crease with time.
The foundation comes in four shades namely Shade 01, Shade 02, Shade 04, Shade 05.
Pros

Affordable price tag
Lightweight formula
Blends easily to give a peachy soft skin
Super hydrating texture

Cons

Doesn't provide full coverage
Available in limited shades
Overall, this is a very good foundation in this jaw-dropping price range. Don't underestimate it for the low price tag!
Remember, it is not long-lasting but the luminous finish it imparts makes it worth a shot.
Delivering a porcelain look, this product has its fair share in the category of best affordable Lakme foundations ever.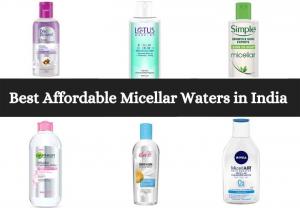 This list is all about the best affordable micellar water in India suitable for all skin types i.e. dry, oily, and sensitive skin.
Read More
6. Lakme 9 to 5 Naturale Bi-Phase Foundation Drops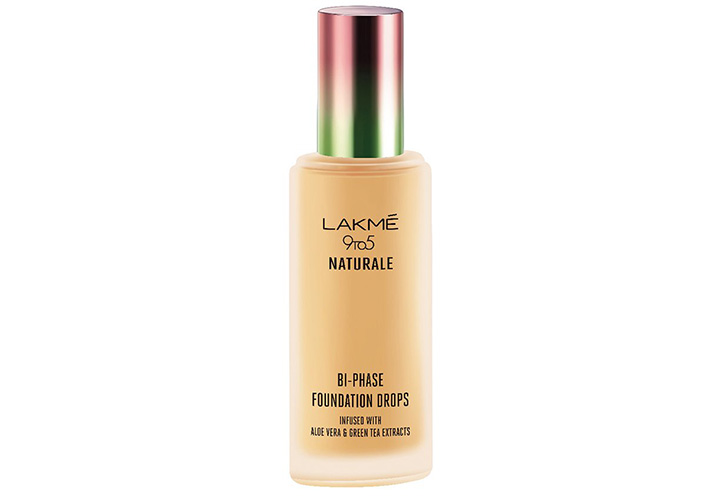 Courtesy of Brand
Shop Now!
If you are tired with the urban pollution, this foundation has stepped up to your rescue. Having aloe vera and green tea extracts as active ingredients, this fluid promises to impart a natural dewy finish.
SPF 30 PA++ is capable to protect you from those nasty UV rays. It provides medium coverage which is buildable. The term bi-phase is used to define the combination of oil and colour pigments that synergistically gives you a sun-kissed glow.
So now, you can easily fix your skin flaws in the best possible natural way. Choose your match among four unique shades i.e. Rose silk, Silky golden, Ivory cream, and Natural almond.
Pros

Lightweight texture
Contains aloe vera and green tea extracts
Evens out skin tone
Gentle on the skin

Cons

Consistency is a bit runny
Limited shades are available
Give your skin a treat with the benefits of botanical extracts. It neither gets blotchy nor streaky; provides decent coverage.
These features definitely make it one of the best Lakme foundations ever. So, give this product a try and look your best all day, every day.
Final Thoughts
Undoubtedly, Lakme has come up with a huge range of world-class cosmetics and has become one of the most trusted cosmetic brands in India. Like many products, Lakme foundation is one of its best-sellers.
A foundation has to pass many tests to live up to your expectation. It should match your skin tone, undertone, skin texture, weather, occasion, and you name it. So finding the right match is a strenuous task.
Nevertheless, a foundation is a very personal thing and what suits one person might not be the cup of tea for another.
Still, I slogged in and tried to generalize the segments so that you can get the cues. Now that you know the pros and cons of these foundations, gift yourself the best suitable one.
So, my dearies! Choose the best Lakme foundation as per your complexion and undertone to accentuate your beauty and rock on!!
And, that's all for today! If you find this article helpful, do not forget to Subscribe to Cosmetics Arena for more such updates.