Hello beautiful ladies, welcome to my blog. Today it is time to review SUGAR Smudge Me Not Liquid Lipstick in the shade Plum Yum #04. I have also bought the shade Brink of Pink. It was launched back in January this year I guess. So, let us talk about this product more. 
I was about to review this one a month back but could not manage to :P. Honestly, I have never tried a liquid lipstick. And also this was my first ever SUGAR product, so overall I was hell lot excited :D.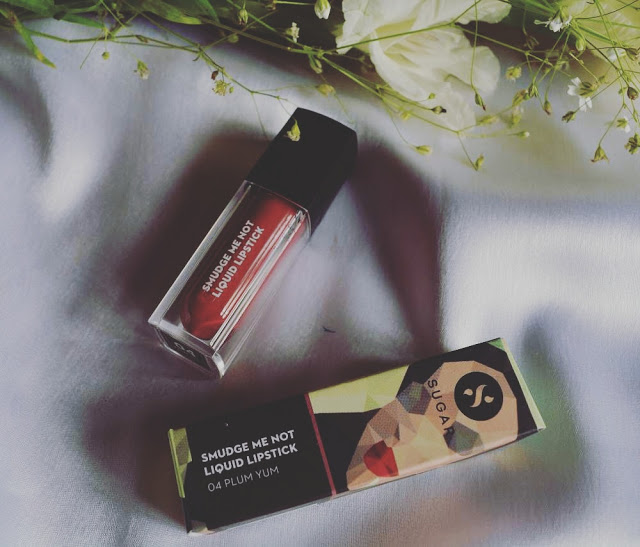 Price: INR 499 for 4.5ml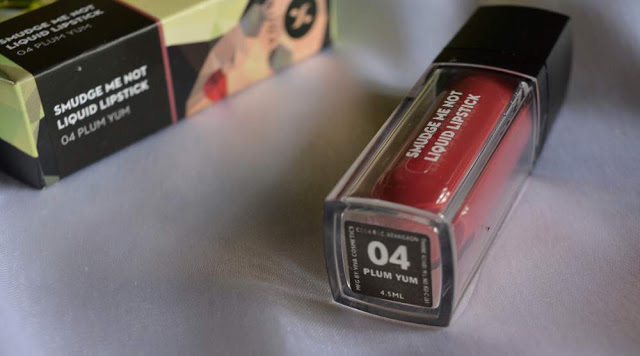 If you've ever lusted for a "one-coat wonder" product for your lips, your search ends here. Get a full-blooded burst of pigment with just a single swipe of the 
SUGAR Smudge Me Not Liquid Lipstick
 that will stay the day and right up till the night! Wine, coffee & date-proof – this is a matte lipstick that is guaranteed to last longer that your longest day. Available in 10 stunning shades that will make it difficult to choose – the question is, are you ready to commit to a lipstick that is built to last? 
Crafting an elegant look that blends the artistic with the stylish? Embrace the mild tones of Plum Yum whose muted berry shade with its immortal appeal is bound to weave an aura of grace around you.
My Experience with SUGAR Smudge Me Not Liquid Lipstick Plum Yum 
Women love lipsticks. And I am no exception :)). I was eager to try these babies. So, I bought the two shades in February. Till then I have wore them in a number of occasions. In fact they have become my staple lippie products. Let me explore this product in a more detailed way :)).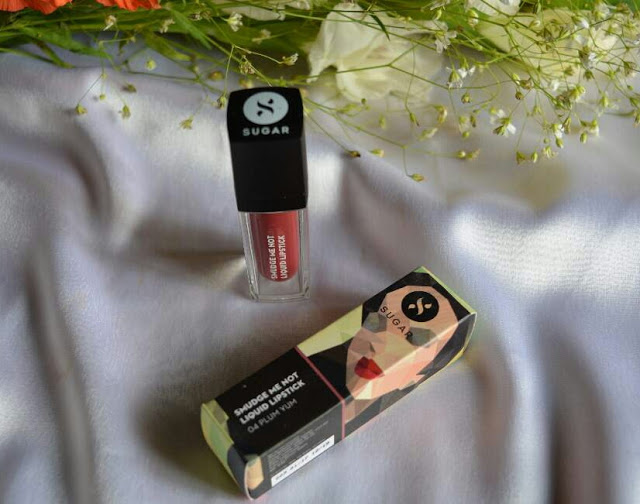 Nothing extraordinary. They are 80% similar to the Maybelline Lip glosses. Plastic made tube. The cap has a doe-foot applicator which glides smoothly on my lips. It also ensures exact application. And of course it is travel friendly. 
Very smooth and does not irritate the lips at all. Though it is quite thick, but after 1 minute when it dries completely, does not feel heavy. Lips feel velvetty in fact.
They are available in 10 gorgeous shades. Plum yum is more on the nude plum shade which would best suit fair to medium skin tone like me. It is a beautiful shade which can be wore on a daily basis.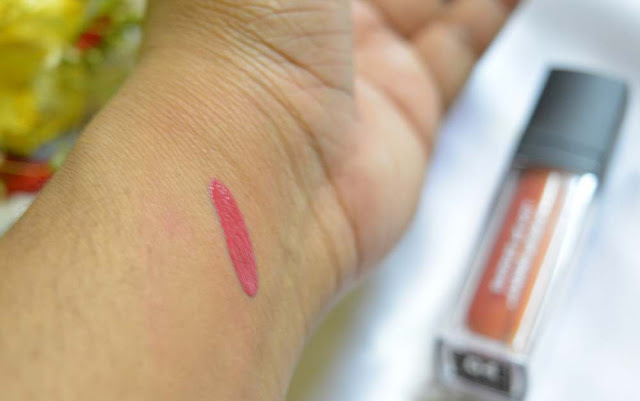 Whoa!! what a mervellous staying power it has. The color stays for a whole day. And they are completely water proof and water resistant. And also 100% smudgeproof. It is hard to remove with water based makeup remover. 
It can be removed only using oil based product. So, if you eat oily food, the color would fade away from the center of the lips. It is a 100% matte liquid lipstick.
Beautiful but subtle sweet aroma. Though it can not detected once the lipstick dries off. 
This lipstick is a total gain for me at such a stealing price!!. My face never looked brighter. It completes my makeup.
The only downside is that my lips become extremely dry after a few hours of application. These are not moisturising an inch. My lips are dry irrespective of any season and somehow this lipstick makes them more patchy and more dry inspite of applying lip butter beneath the lipstick. In fact in the evening when I remove my makeup, I have noticed that this lipstick settles on the fine lines. 
Time for a hazy LOTD (credit goes to horrible front camera of my phone)!! 😛
Budget friendly 100% matte liquid lipstick.

A lot of quantity.

100% smudgefree, water proof and water resistant.

Subtle but sweet aroma.

Comes in 10 gorgeous shades.

Stays on the lips for the whole day. 

Only oil based remover can fade it out.

Travel friendly packaging.
Makes lips dry.

Settles into fine lines.
I would recommend this beauty to everyone. A must have product in your bag. I am eager to buy the Brazen Raisin shade. Those who love liquid lipsticks, they would just love it :)). So, go ahead and pick one shade today. 
Love you my dearies for all your support.  You know guys, next month I would buy some essential oils for myself :)). Just so eager for them. Anyways, take care and celebrate womanhood.
Thank you for reading. Have you used this product. Please share your experiences here. Love you all.