The Ingredient Analysis of Garnier Fructis Hair Food Shampoo
Just two weeks back, Garnier has launched 4 brand new hair food ranges of shampoos in India. The names are pretty interesting for sure. At a glance, every shampoo seems amazing. Here is how the shampoos are named.
1. Deep Nutrition Banana Hair Food Shampoo (for dry hair)
2. Deep Hydration Aloe Vera Hair Food Shampoo (for normal to dry hair)
3. Deep Repair Papaya Hair Food Shampoo (for damaged hair)
4. Deep Smooth Macadamia Hair Food Shampoo (for dry hair)
As you can see, all four are formulated for dry hair which is a bit confusing situation. I wish Garnier had mentioned the scalp type too. Overall, I feel the one with Aloe Vera is going to suit my hair type.
Well! The names are indeed enticing. But, what about the ingredients? The brand claims that the hair food shampoos are all vegan, free from Silicones and Parabens. What about the other components? Are those safe enough for the environment? Let's take a look.
Ingredient Analysis of Garnier Fructis Deep Hydration Aloe Vera Hair Food Shampoo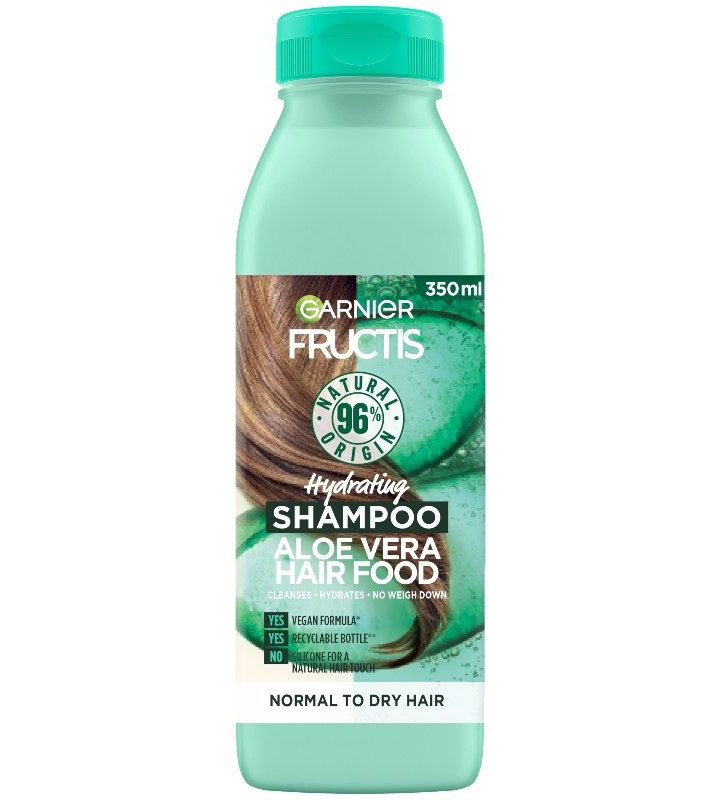 The range of shampoos contains more than 20 ingredients. Most of the ingredients are known except a few. Let's take a look!
1. Water
Water is the base of the shampoo
2. Sodium Lauryl Sulfate
One of the most widely used surfactants. I am glad that Garnier has chosen this surfactant over SLS. It is safe for both the environment and for the human body.
3. Coco-Glucoside
Another mild surfactant that is safe and quite effective in cleaning dirt & oil.
4. Coco Betaine
A moderately safe surfactant that is quite popular in shampoos and in face wash.
5. Aloe Leaf Juice
It is full of enzymes and vitamins that are beneficial for both the scalp and the hair.
6. Coconut Oil
Another nourishing basic hair oil that is quite popular for hair food.
7. Glyceryl Oleate
A safe fragrance ingredient that also works as a hair conditioning agent.
8. Triethyl Citrate
This is also an agent that works as a fragrance component in cosmetics.
9. Lecithin 
A naturally occurring hair conditioning agent that is safe for the environment.
10. Sodium Chloride
Yes, it is our own common salt. But guess what! In shampoos, Sodium Chloride is used as the thickening agent.
11. Sodium Hydroxide
A moderately safe buffering agent (helps to adjust the pH of formulations).
12. Hydrogenated Palm Glycerides Citrate 
It is a safe hair conditioning agent.
13. Hydroxypropyl Guar Hydroxypropyl Trimonium Chloride
Don't worry! The name sounds big only. It is actually a safe hair conditioning agent.
14. Citric Acid
A safe chelating agent that helps to reduce the reactivity of metal ions if any present in cosmetic formulations.
15. Tocopherol 
Another name of Vitamin E which is an antioxidant.
16. Ascorbyl Palmitate 
This component is a safe masking agent ( an ingredient that helps to curb other odours in a formulation).
17. Potassium Sorbate 
A widely used preservative that functions as a fragrance ingredient as well.
18. Sodium Benzoate
It is another preservative, just like the previous one but it is actually moderately safe.
19. Salicylic Acid
This particular component is quite a multi-functional one. In shampoos, it functions as an antidandruff component and also as a hair conditioning agent. As per EWG, it is moderately safe.
20. Linalool
It works as a masking agent; moderately safe component.
21. Geraniol 
The functionality is just the same as the Linalool. And, it is also moderately safe.
22. Citronellol 
Works just like the previous two components.
23. Parfum/Fragrance (F.I.L C243180/1)
Well! I am not a fan of perfume in shampoos, but at least, it is used in the least quantity in this formulation. The only regret is F.I.L C243180/1, this ingredient. I tried a lot to find about this ingredient. But, there is no such information on this.
According to Toronto Research Chemicals, C243180 is an antibiotic. But, I am not sure about the relevance.
As a whole, I must say that Garnier has not disappointed me totally. The surfactants are safe and effective. As the replacement of Parabens, they have at least used the usual popular preservatives.

There are a number of hair conditioning agents that have been used here. So, if you are looking for a budget-friendly shampoo for your family, you can definitely give it a try.
And, that's all for today! Share this article with your friends and family if you find it helpful and informative. Take care; celebrate life.