Hello my dearies! It is time for another review and that is Juicy Chemistry Juicy Chemistry Amla Apricot and Almond Leave in Conditioner. Inspite of being overpriced, JC products have made a special place in my shelf.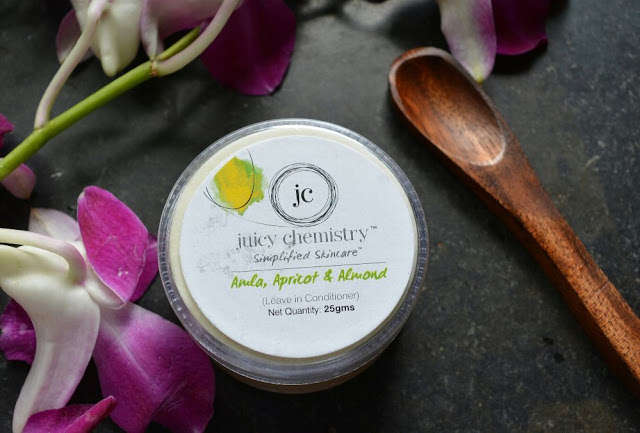 In fact these days I am either buying or receiving only natural and organic products. And I am in love with all of them :P. Many of you might have read my take on Aroma Essentials leave in serum which was also superb. If you haven't, then 👉👉👉 HERE IS THE LINK. Now, let us dig deeper to reveal this conditioner.


Price: INR 350 for 25 g

Shelf Life: 6 months

Product Description and Ingredients: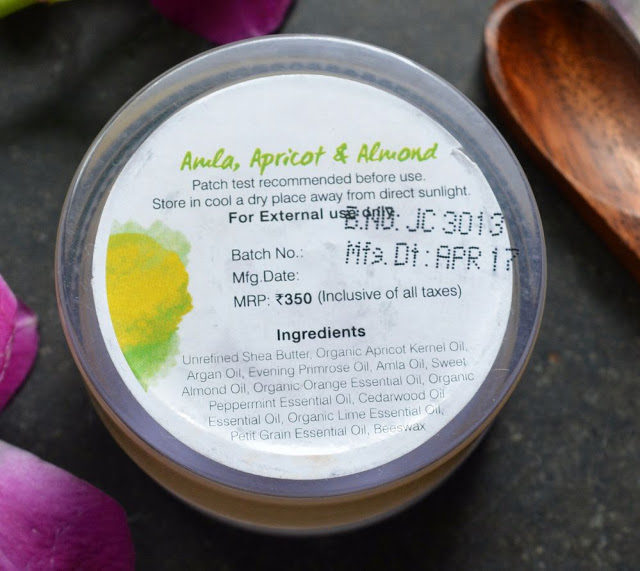 I mean seriously! How beautiful the ingredients are. Truly, whenever I look at the ingredients of JC products, I forget about the price and everything. All the ingredients are beneficial for hair. It has Raw Shea Butter, Argan Oil, Amla Oil, Peppermint Oil, Cedarwood oil and few more essential oils. It also has Bees wax which forms the semi solid base of the product. People who prefer Vegan products, may not like its presence. But overall, it has won my heart and a straight forward 5/5 goes for the ingredients solely. 


My Experience with Juicy Chemistry Amla Apricot and Almond Leave in Conditioner
Packaging: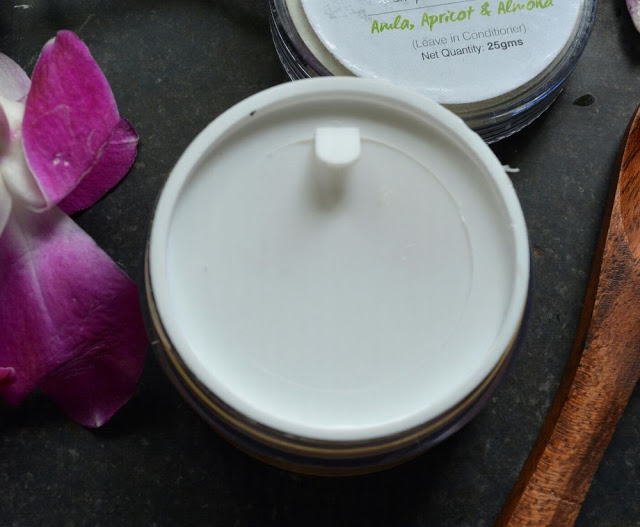 The product came with a wooden spoon. All JC products which are sold in tub, come with these kind of spoons. The body is made of sturdy plastic. The inner lid as seen in the picture comes separately. Though tub products are mostly unhygienic, yet it stands out with pride because of the spoon and this beautiful inner lid. But, somehow this is not travel friendly because to carry the spoon all the time is not possible.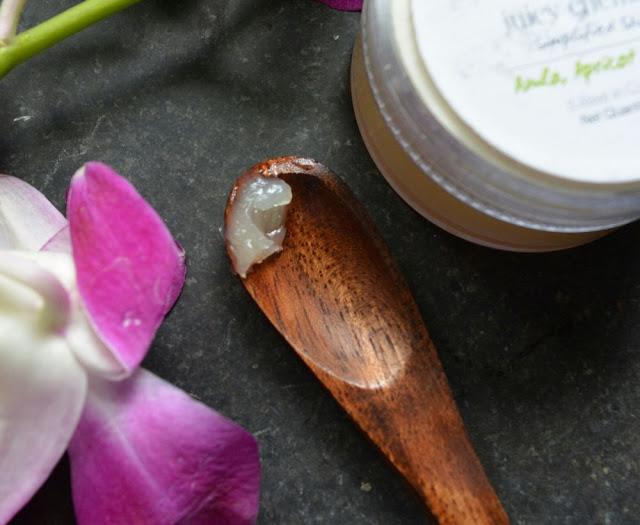 The texture is semi solid. I just take the same amount of product shown in the picture and rub in between my hands. It melts immediately with a slight pressure. How beautiful! The conditioner stays on my hair like a dream. 
While I find the aroma is a blend of Orange and Peppermint EO, my mom finds a strong hint of Cedarwood Oil in it. As a whole, the aroma is completely natural, very fresh and citrusy as well. This kind of fragrance is ideal for summer.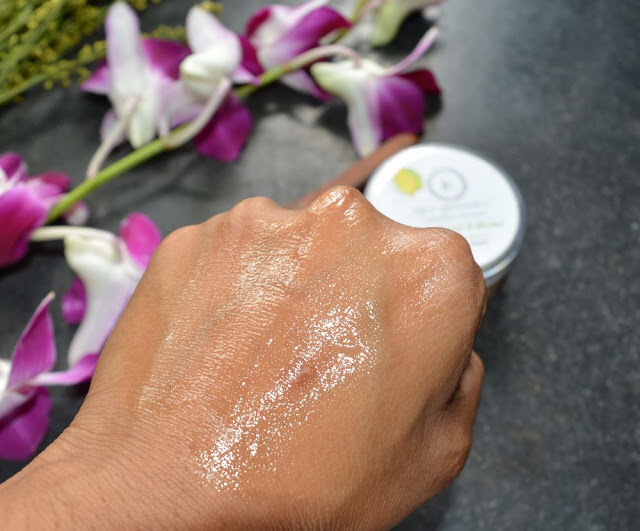 The conditioner reminds me of my childhood days. Earlier, my mom used to dab some coconut or sesame oil after shampoo. That time, conditioner was like a luxurious product for us. This conditioner also gives me the feeling of applying some light oil. Nope nope! It would not make your hair oily. Hair absorbs this conditioner immediately after application. Amazing, isn't it?
I apply this conditioner only on the dry ends and length. But, this is absolutely harmless. So if I touch my scalp accidentally, I do not feel afraid anymore :)). The quantity I take is sufficient for my extremely dry hair. But for oily hair, one would not need much. So, this 25g tub would last a long time which is a total value for money. Happy dance**.
The conditioner makes my hair soft, smooth, shiny and bouncy. And the aroma stays for a whole day. Though the smooth effect o last only for 1.5 day. Overall, these days I am loving my hair a lot :)). 
***CA IMPRESSION: 4.9/5***
Juicy Chemistry Amla Apricot Almond Leave in Conditioner is a natural gift for my mane. I totally recommend it to everyone. Those who are not a big fan of tub products, can also try it atleast once. I am sure that it would be a complete hit for everyone. 
I hope this review helps you. Love you my queens. Celebrate womanhood with pride and joy. Take care. Very soon I would come back with a product review or a DIY.
Thank you for reading. Have you ever used this product? Please share your experiences here. Love you all.