|| Greenberry Organics Rose and Jojoba Oil Face Wash ||
Hello, angel! Today I am going to review Greenberry Organics Rose and Jojoba Oil Face Wash. Well! I have used a number of products from Greenberry Organics that include a Detox Charcoal Face Wash, an Aloe Vera Gel, and two variants of soap. To date, all the products have worked for me. This face wash was a recent addition to my kitty and I was eager to buy it for a long time. So, here I am today with a detailed review of Greenberry Organics Rose and Jojoba Oil Face Wash. Let's begin a detailed discussion.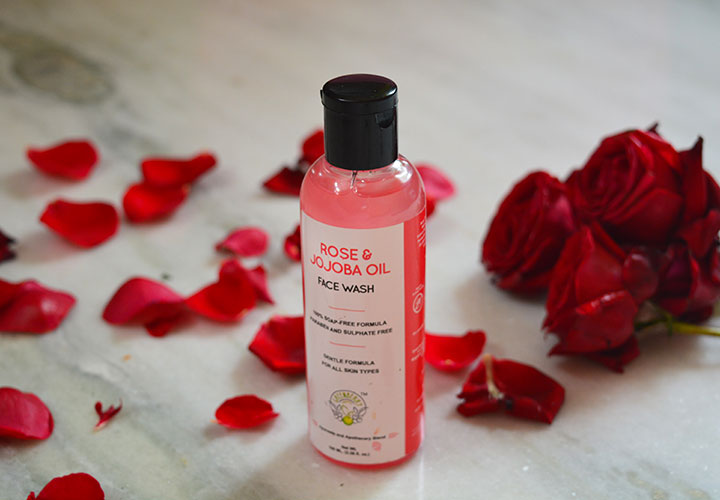 Basic Information about Greenberry Organics Rose and Jojoba Oil Face Wash:
Price: INR 425 for 100ml (Honestly! I bought it at almost half of the price)
Shelf Life: 24 months from the date of manufacturing
What Does the Brand Claim about Greenberry Organics Rose and Jojoba Oil Face Wash?
It is time to delight your skin with the goodness of a powerful blend of Rose and Jojoba Oil. Rose is known as a very strong antimicrobial property that cleanses the skin very well. Jojoba oil has a healing property that soothes and smoothes the skin. It is the key to get spotless skin every day. This oil new formation of this face wash cleanses the skin very well and can also help in getting spotless complexion. This face wash is potent for even the most sensitive skin. This is a paraben free and soap free face wash. Enough to balance the pH of your skin and maintaining the proper hydration level.
Ingredient Analysis of Greenberry Organics Rose and Jojoba Oil Face Wash: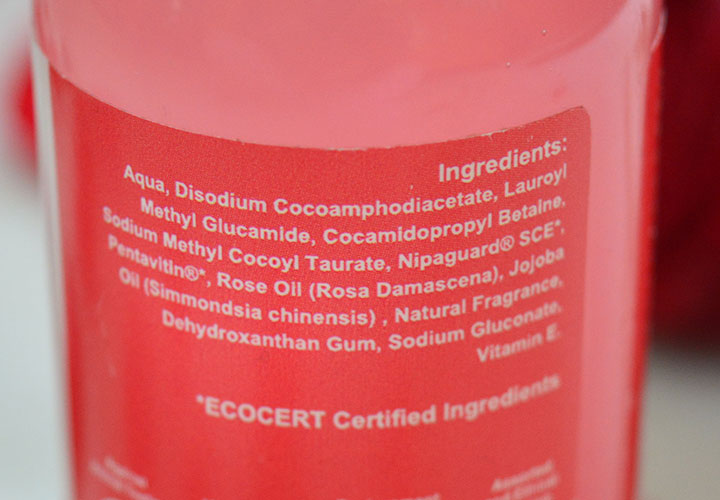 Just like every Greenberry Organics products, this face wash also has some amazing ingredients. I love it when a company takes special care of its consumers and does detailed research before manufacturing any product. Without much ado, let us decode all of the ingredients of Greenberry Organics Rose and Jojoba Oil Face Wash.
Aqua: The basement or foundation of any liquid based product.
Sodium Cocomphodiacetate: This coconut-oil derived surfactant is pretty safe. Lovely it is that Greenberry Organics has done detailed research in choosing a safe surfactant.
Lauroyl Methyl Glucamide: It is a safe skin conditioning agent and also a safe surfactant.
Cocamidopropyl Betaine: This is a moderately safe surfactant which is pretty popular. It is often associated with allergic reactions.
Sodium Methyl Cocoyl Taurate: It is a mild surfactant which can also work as a foam booster.
Nipaguard SCE: It is a broad spectrum agent that has anti-microbial properties. It can protect a formulation from a wide variety of bacteria, moulds, and yeasts. Basically, this component maintains the natural touch in an all-natural formulation.
Pentavitin: It is an effective moisture regulator component that reduces the dryness of the skin. It works in the driest weather as well.
Rose Oil: This is a great component to moisturize skin. Rose oil has excellent anti-ageing properties.
Jojoba Oil: Deep hydration and intense moisturization are the prime benefits of using Jojoba Oil. This oil is popular since ancient times and is nutritious at the same time.
Natural Fragrance: Umm! Not sure about it because the component has not been mentioned.
Dehydroxanthan Gum: This is a component that is used as an emulsion stabilizer.
Sodium Gluconate: Pretty safe chelating agent which is used in the cosmetic formulations to prevent it from discolouration and contamination.
Vitamin E: It is one of the most popular and safe natural emollient ever.
Phew! That's all. All these ingredients are exactly what is written on the label of the face wash that I bought. But, I believe that this is one of the earlier versions. Greenberry Organics has recently reformulated this and the ingredients have pretty much changed in the new one. See the below pic for a reference. If I conclude the safety of all the components in the formulation, then I have to admit that this is pretty much safe to use on the skin. The components have been chosen wisely. When it comes to research, then it is one of the best companies where you can put your trust. Solely for the ingredients, Greenberry Organics Rose and Jojoba Oil Face Wash deserved 5 out of 5.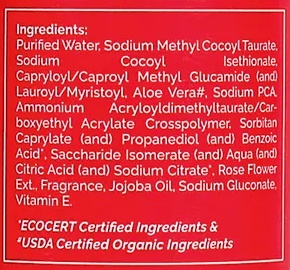 Packaging: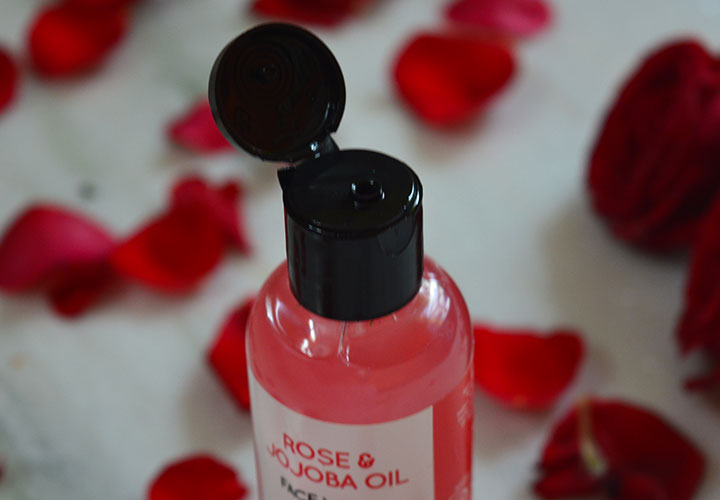 Greenberry Organics Rose Face Wash comes in very basic packaging. It is all over plastic made. In fact, the plastic does not seem good in quality. The cap broke almost after 20 usages. So, I consider it average packaging.
Colour, Aroma, & Texture:
The face wash is almost colourless with a mild red tint which is apparently invisible. The aroma is of artificial roses that would not bother sensitive noses because it goes away once you wash off the formula. The texture is a slightly thin gel which would remind you of any gel face wash.
My Experience with Greenberry Organics Rose and Jojoba Oil Face Wash
So honestly, it's been almost two months that I have been using this face wash. It was indeed an impulsive purchase just because I wanted to try it out. I was looking for a mild face wash and this seemed to be fit within my budget. Greenberry Organics and the formulations they use in all of their products simply blow my mind. This one was no exception too.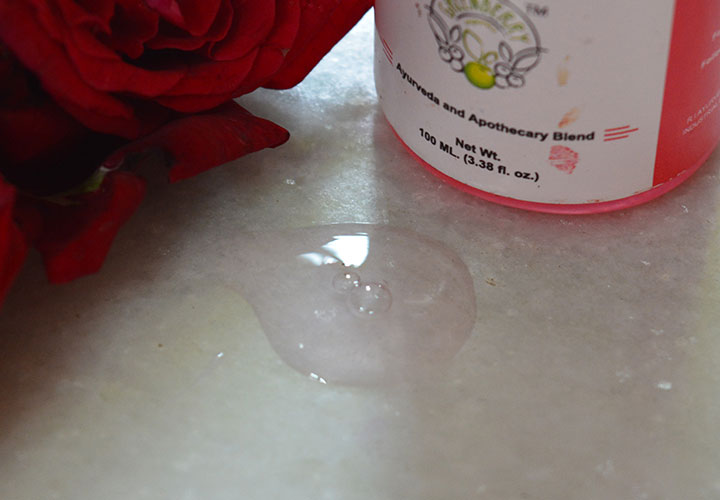 The mild formulation is indeed perfect for a simple and daily usage. It definitely squeaky cleans all the specks of dirt and oils. No! Neither dries out the skin nor it hydrates. It just simply cleanses your skin. But, I must admit that Greenberry Organics Rose and Jojoba Oil Face Wash comes with a feel-good factor. So, at the end of the day, when you lather your face with this one, it feels good. The harmless ingredients make you feel safe.
Pros of Greenberry Organics Rose and Jojoba Oil Face Wash:
Excellent choice of components.
Safe formulations.
Basic and travel-friendly packaging.
Easy to use.
Not a strong aroma.
Easy to lather and foam.
Cleanse skin at one go.
Suitable for ALL SKIN types.
Cons of Greenberry Organics Rose and Jojoba Oil Face Wash:
Cap is prone to tear or breakage.
Slightly expensive.
Would I Recommend/Repurchase Greenberry Organics Rose and Jojoba Oil Face Wash?
Well! I love to use different types of face washes. So probably, I won't repurchase it. I would definitely recommend it though. It is ideal for All skin types. So, yeah! Give it a try.