MCaffeine Naked and Raw Espresso Coffee Face Mask Review with Ingredient Analysis
As a staunch lover of skincare products, I keep juggling different cosmetics. It is not only part of my blogger's life, but also one of my significant behavioural patterns. Honestly, I don't want to change it ever!
So, in my last post, I talked about 4 such products which are newly launched and current on my testing table. One such product is MCaffeine Naked and Raw Espresso Coffee Face Mask. I bought it almost on its launching week.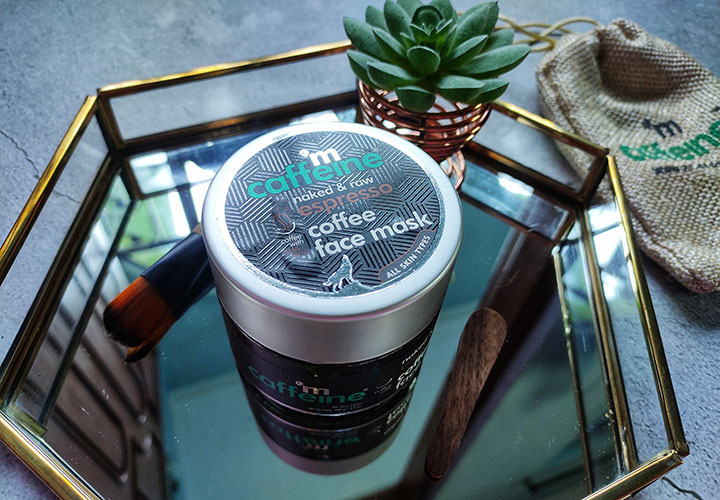 I love everything about coffee. And, rarely do I miss a chance to purchase something which is related to coffee.
It's been 2 weeks now that I am using this face mask. So, how well-put the ingredients are? Is it perfect for All skin types? Would I recommend it? Well! It's time to find out the answers.
Basic Details about MCaffeine Naked and Raw Espresso Coffee Face Mask
Price: INR 575 for 100g
Shelf Life: 2 years
Buy From: Official Website
What does the Brand Claim about MCaffeine Naked and Raw Espresso Coffee Face Mask?
Get ready to indulge in an exquisite facial session with the all-new Expresso Coffee Face Mask. This gel-based mask will immediately give you an all-rounder exfoliation.
And, the aroma will hook you up for a pretty long time.
All you need is 15 minutes to extract the benefits of AHA and BHA present in the formulation. It is absolutely perfect for ALL skin types. Combat all your skin woes and improve the overall texture of your skin.
Let your skin energize in no time with this clean formulation. It is PETA certified and a vegan product. In fact, it is also free from SLS, Paraben, and dermatologically tested.
Ingredient Analysis of MCaffeine Naked and Raw Espresso Coffee Face Mask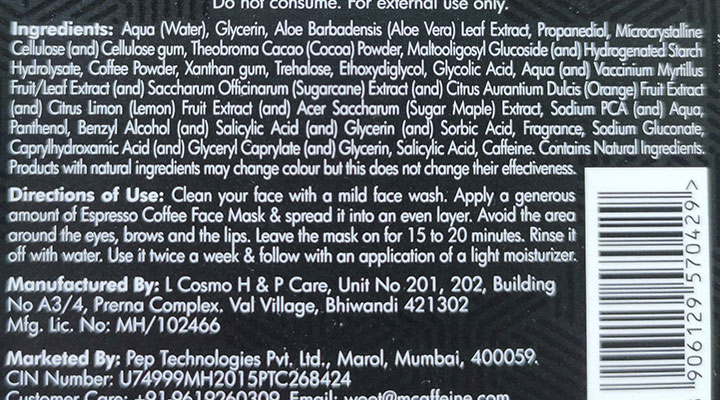 Without ingredient analysis, any review is incomplete and that's what we believe here. Here is a brief analysis of all the components used in the formulation. Take a look!
1. Aqua (Water)
The base for any liquid-based cosmetic
2. Glycerin
A natural humectant that retains moisture
3. Aloe Barbadensis (Aloe Vera) Leaf Extract
It is known as the den of various vitamins and enzymes. From head to toe, this herb is useful for everything.
4. Propanediol
A safe component that functions as a viscosity controller.
5. Microcrystalline Cellulose (and) Cellulose Gum
This combination primarily works as an emulsion stabilizer. It also functions as a viscosity controller.
6. Theobroma Cacao (Cocoa) Powder
Enriched with Theobromine, this amazing ingredient helps to soften and clear the skin.
7. Maltooligosyl Glucoside (and) Hydrogenated Starch Hydrolysate
This combination works as a skin conditioning agent and also as a foaming agent.
8. Coffee Powder
An excellent anti-ageing ingredient that helps to reduce inflammation and soothes the skin texture.
9. Xanthan gum
It works as a binding agent.
10. Trehalose
A safe humectant that moisturizes the skin.
11. Ethoxydiglycol
This component functions as a viscosity controller and also as a perfuming agent.
12. Glycolic Acid
One of the most well-known AHAs that has excellent exfoliation properties.
13. Aqua (and) Vaccinium Myrtillus Fruit/Leaf Extract (and) Saccharum Officinarum (Sugarcane) Extract (and) Citrus Aurantium Dulcis (Orange) Fruit Extract (and) Citrus Limon (Lemon) Fruit Extract (and) Acer Saccharum (Sugar Maple) Extract
Wow! I am glad how the brand has used that many fruits and herbs extracts.
This aqueous solution is rich in antioxidants. It helps to improve the overall texture of the skin by fighting free radicals.
14. Sodium PCA (and) Aqua
An excellent humectant & skin conditioning agent that is known as the wonder ingredient for our skin.
15. Panthenol
This is a form of Vitamin B5. It functions as an excellent moisturizing agent.
16. Benzyl Alcohol (and) Salicylic Acid (and) Glycerin (and) Sorbic Acid
Another surprise! I love the extent of research that has been done in formulating this product.
This long chain of components is a certified preservative that is absolutely safe for both the environment and also for the skin.
17. Fragrance
Well! I had always been against using this additive. I believe that the brand could have easily avoided using it.
18. Sodium Gluconate
It is an excellent chelating agent that helps to reduce the reactivity of the metal ions present in a formula.
19. Caprylhydroxamic Acid (and) Glyceryl Caprylate (and) Glycerin
This natural synergy preservative system is bio-degradable and is certified too.
20. Salicylic Acid
It is one of the most well-known BHAs. The only difference between AHA and BHA is that the latter has deeper exfoliation properties. It penetrates the deeper layers of the skin.
21. Caffeine
The topical application of Caffeine enhances the brightness and tightness of the skin.
Overall, I must say that the ingredients are well-put in the formulation. The eco-preservatives and the aqueous solution of herbs are really beneficial. More or less, the balance between the safe and moderately safe ingredients was perfect. And thus, I would love to give a rating of 4.8 out of 5 for the formulation.
Packaging, Texture, and Aroma
The packaging is quite usual. It comes in a glass jar with a plastic lid. The best part is the jar has an inner lid too. For convenient application, the introductory product came with a brush and also a wooden spatula. MCaffeine has thought of every possibility which is indeed brilliant.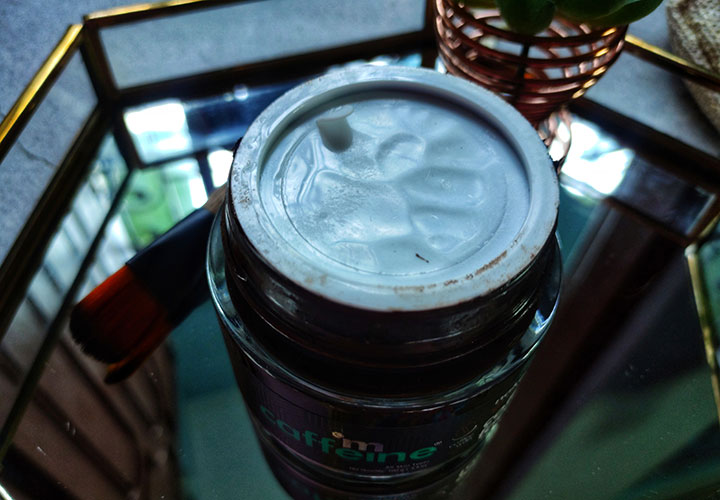 The texture is quite runny. Those who are not habituated with liquid face masks might find the application a bit tricky. But, overall, the texture is quite spreadable and buildable.
And, the aroma! Wow, the sensuous coffee scent is absolutely brilliant for any coffee lover! Whether it is morning or evening, I simply adore it.
My Experience with MCaffeine Naked and Raw Espresso Coffee Face Mask
In these 14 days, I have applied the mask at least 5 times. After cleaning my face, I apply a generous amount of the mask all over my face and neck. After keeping it for 15 minutes, I wash it off.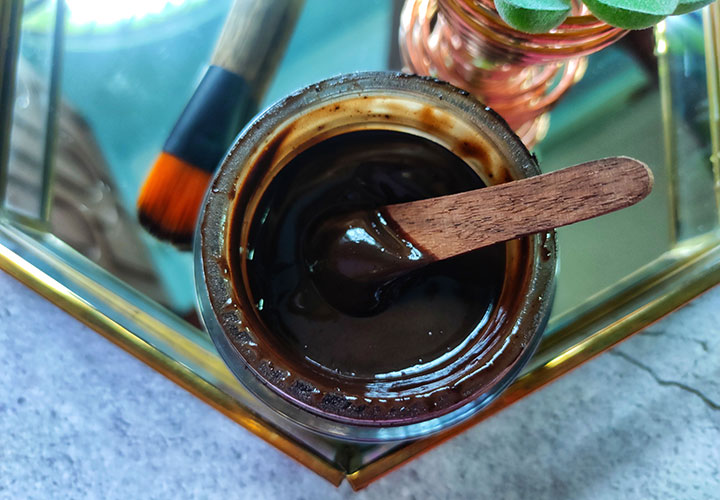 As the texture is quite runny, it would never dry off completely. So, here are the things that I have noticed in those 5 days.
The mask makes my skin feel cool and calm
It does not irritate my super-sensitive skin.
Well! There is a mild tingling sensation I felt right after the application, but it was nothing bothersome.
After wash-off, my dry skin feels smooth, soft, and a bit brightened
Is it Suitable for ALL Skin Types?
Yes! Absolutely. Whether you have dry, oily, combination, or acne-prone skin type, it is suitable for all skin types.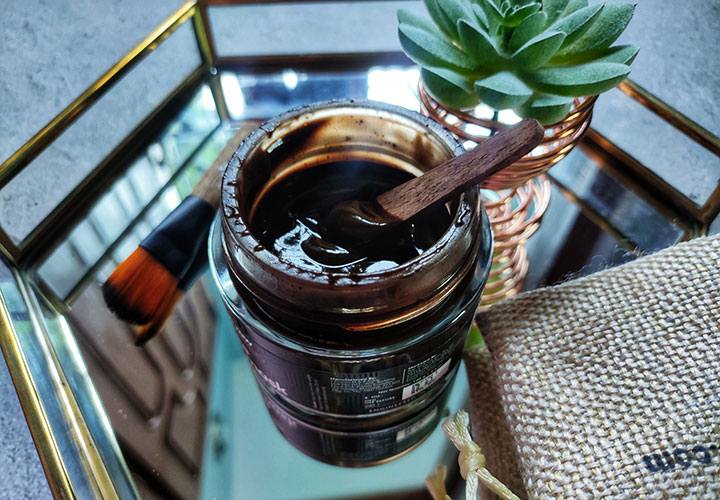 Is there any Con of MCaffeine Coffee Face Mask?
The bulky glass jar is not user-friendly at all. But, other than that, the face mask is perfect.
That's all for today! If you like reading this article, make sure to share it with your friends and family. Take care during this pandemic; celebrate life. And, don't forget to wear a mask.