Pond's White Beauty BB+ Fairness Cream
Well! Honestly, I'm kinda follower of this quote: "Fairness is not an attitude. It's a professional skill that must be developed and exercised". And, by saying this I also want to emphasize that I do not promote any kind of fairness product.
The question arises then, why did I go for this product? No matter how many times Pond's shout out 'fairness cream', the concept of BB or Blemish Balm is nothing but a tinted moisturizer that evens out uneven skin texture like a primer.
So, after giving a fair trial to the product, I am ready to put forward my experience.
So my gorgeous dearies, let's talk about fairness! I mean Pond's White Beauty BB+ Fairness Cream SPF 30 PA++  with an in-depth ingredient analysis.
Basic Information about Pond's BB Cream
Price: INR 82/145/249/390 for 9gm/18gm/30gm/50gm
Shelf Life: 2 Years from the manufacture date
Buy From: Amazon, Nykaa (Available both online and offline)
BB Creams vs. CC Creams vs. Foundation: What's the Difference?
BB cream is a marketing term which stands for Blemish Balm. It serves as a foundation, moisturizer, and sunscreen.
So basically, it works simply all at once. Best to say, it's an alternative to a foundation. Now, if you have a question on Foundation vs. BB cream, then let me clarify!
BB cream gives you coverage, hydration, tinted, and a finishing look, whereas Foundation solely works on coverage and complexion.
So, the question is what difference is there between a and a CC cream?
CC cream stands for only Colour Correction. It tries to accomplish a part that is usually done by foundations. On the other hand, the benefit of BB cream is that it gives you a lightweight tinted look with the touch of hydration.
Well! Now, if you ask what is better among these 3. The answer would not be that simple. Each cream aims to deliver certain results. So, it entirely depends upon the occasion or the look you want to achieve.
I prefer BB creams on all my working days. For a Weekend brunch or lunch date, I mostly prefer a standard CC cream that has huge shade coverage. And of course, I go for foundations for that ultimate diva look. 
What does Pond's White Beauty BB+ Fairness Cream Claim?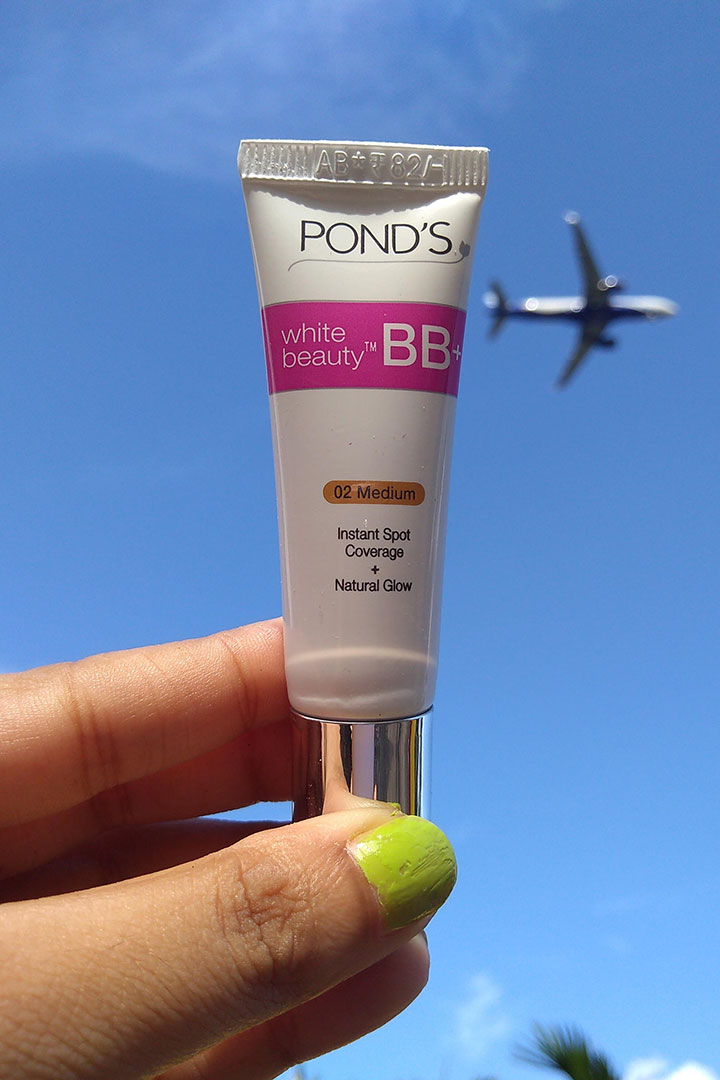 This Pond's White Beauty Fairness Cream is All-in-one, BB+ fairness cream with SPF 30 PA++. It has been specially designed for the Indian skin and aims to give dual benefits.
It works from deep inside the epidermis layer. This is a unique BB+ fairness cream that also works as a
lightweight foundation. It is the perfect balm to cover up light scars and even out skin tone without clogging the pores. The lightweight texture is absolutely amazing to ace the everyday glowing look.
Ingredient Analysis of Pond's White Beauty BB+ Fairness Cream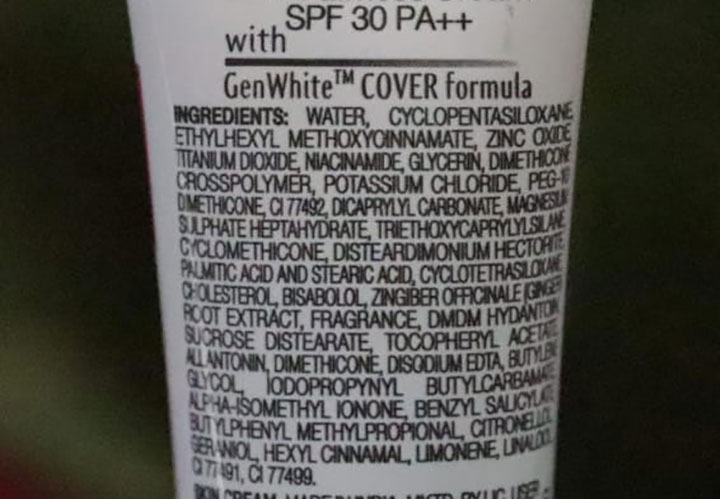 Ingredients are a magical part of any product. Well! Analysing the ingredients are indeed a bit difficult; sometimes it is quite confusing as well.
Every ingredient is a chemical including water. But, the question is which chemical component is safe and which is not.
In order to make things simpler, I have analyzed all the ingredients listed on the label in the following table. This table will help you to understand it easily. And, here we go!
The safety index is based out of 10. It indicates how safety an ingredient is for both the environment and also for the human organs. As per EWg (Environmental Workering Group), here is how the safety index is given.

Between 0-2: It is considered as safe

Between 3-5: It is considered as moderately safe to a bit hazardous

Between 7-10: Pretty harmful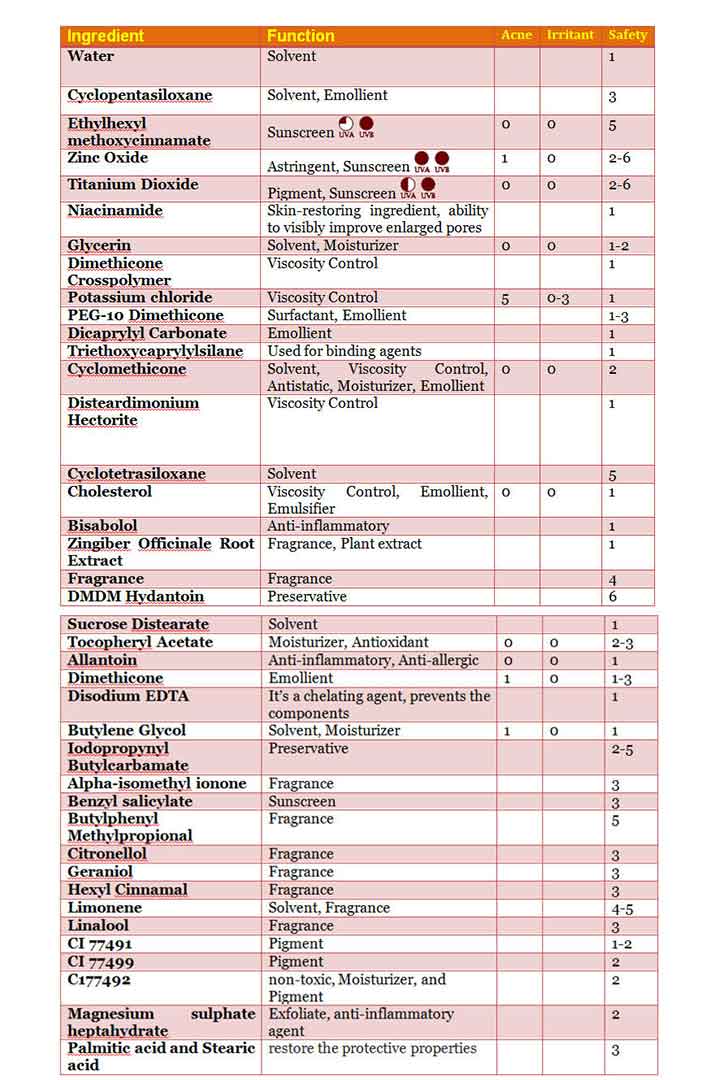 Undoubtedly, there is nothing extraordinary. Some ingredients like way too many fragrant agents and DMDM Hydantoin might pose pretty harmful.  And thus, I cannot rate the ingredients more than 3 out of 5. So, this is how Pond's BB+ Fairness Cream has been formulated.
Packaging
Pond's White Beauty BB+ Fairness Cream comes in a thin tube with a silver screw cap in deep pink and silver colour combined box. It has a long nozzle and oozes out with just one press that means less wastage.
Aroma and Texture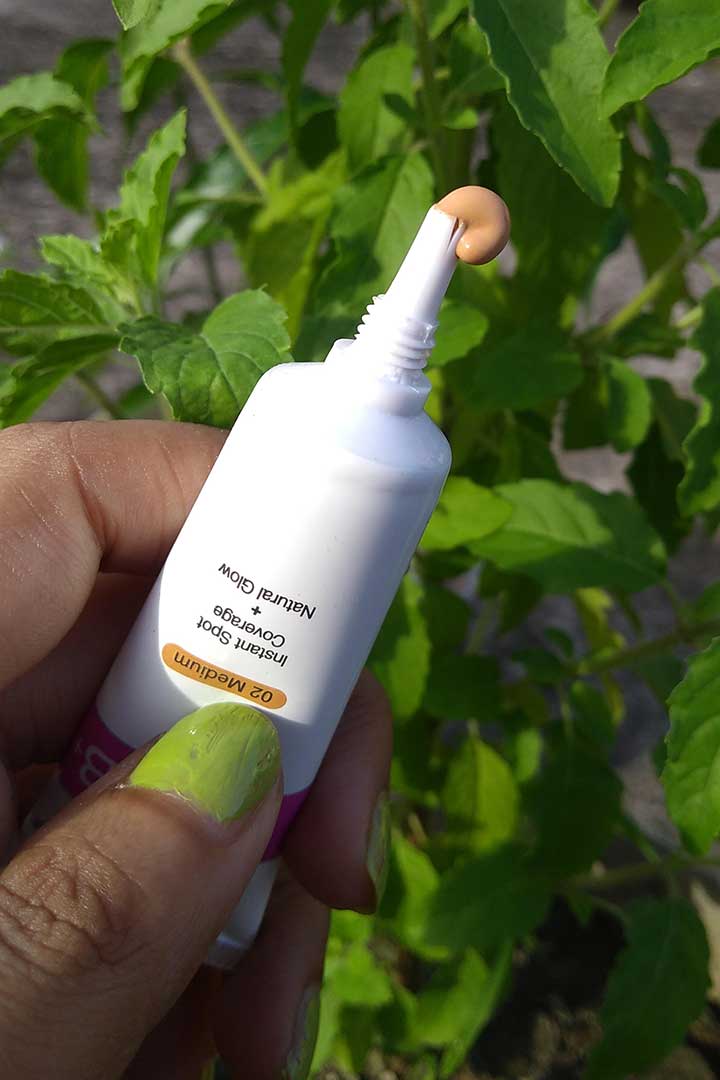 This BB+ Cream has a mild fragrance, not very empowering. And, within a few minutes, you will feel the fragrance has disappeared.
The texture lies between creamy and thick. It is pretty blendable. The cream does not feel heavy on the face; it just quickly melts on the skin.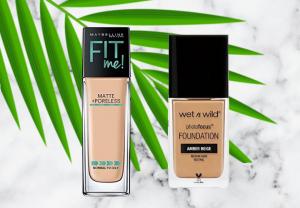 No matter what your skin type is, here, we have covered all skin tones. Get ready to ace the base. Check out the ultimate compilation of this year.
Read More
My Experience with Pond's White Beauty BB+ Fairness Cream
Skin Type: Oily, Acne-Prone
Shade, Coverage, and Longevity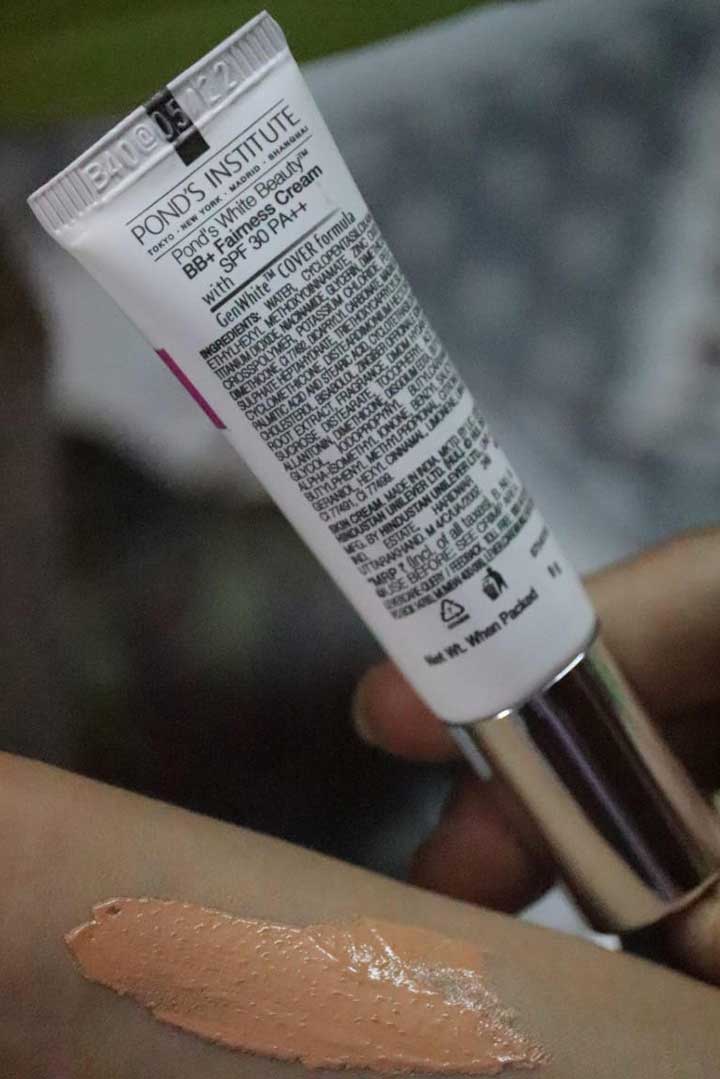 As of now, it is available in two shades namely light and medium. '01' or Original is for light to medium complexion and '02' Medium is for medium to deep medium skin tone.
It has quite medium coverage. Seriously, I am not happy with the end result.
In case you want more coverage from BB creams, all you need is a concealer and a powder puffing.
Talking about longevity, it has a long-wearing formula but not upto the mark. But, if you set with a translucent powder, then it may last longer.
My Experience in Brief
Well! I like to use BB cream. These days it is quite popular; especially when you get BB+ Fairness Cream along with an SPF of 30. SPF 30 is perfect for our daily usage.
As per my skin tone, I chose the medium shade. This BB cream has a pretty light-weight texture is that feels non-oily.
Honestly, I would call it a brightening cream rather than a fairness cream. It gives a semi-matte look and just within a couple of hours, I feel my T zone has become oily. It simply oxidises.
In order to solve this, I have started using lasting powder after applying this. And, now it is okay for me.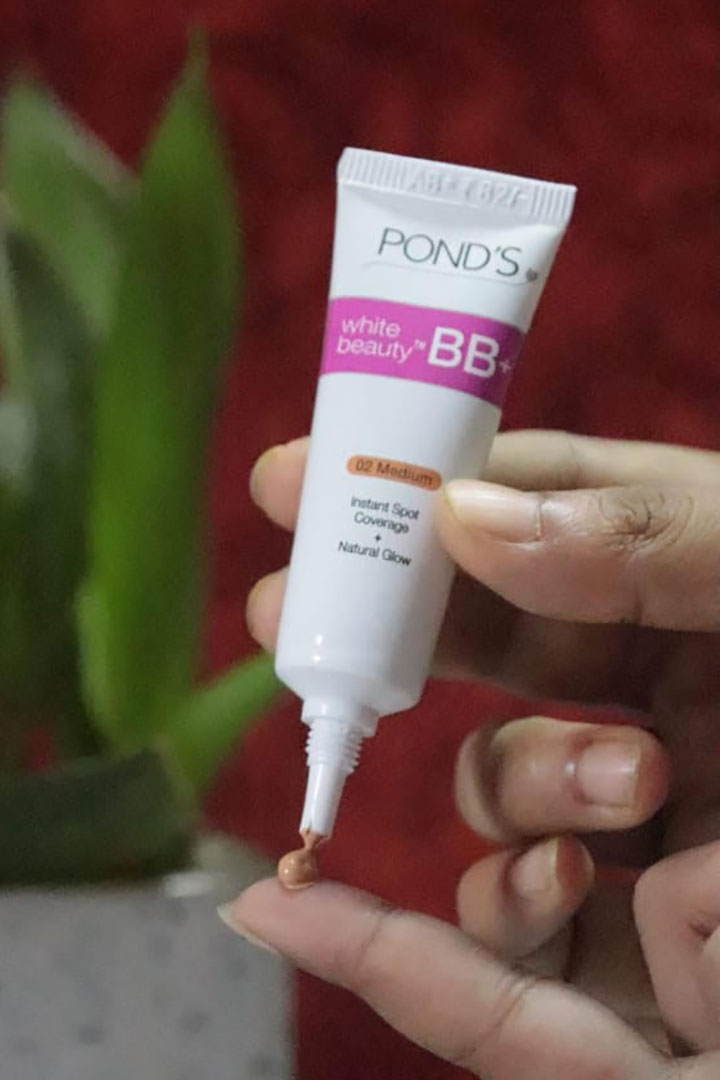 One thing I must say that Pond's BB Cream in the Medium shade doesn't make my skin tone ashy. But, it is entirely my outlook! If you feel that way, then you can go for a good concealer.
Undoubtedly, this BB cream gives you an instant glowing look. It covers up mild blemishes.
All you need is just ½ drop product. And of course, it is quite affordable.
The formula might feel a bit drying especially for people with dry skin. In that case, one needs to mix moisturizer along with it. Overall, Pond's BB+ Cream is an 'Okay' product for me! I am not fully satisfied.
Pros of Pond's BB Cream
Budget-friendly
Need pretty little amount to cover up the whole face and the neck
Easy to spread out and quite blendable
Contains an SPF of 30 PA++
Does not form a white cast (make sure, you do not use too much )
Adds an instant glow
Provides light to medium coverage
Light-weight texture
Semi-matte finish
Travel-friendly packaging and available in many sizes
Does not feel irritating
Tested by Dermatologists
Cons of Pond's BB Cream
If you have fine line or wrinkles, it would settle along the lines. So, avoid this
Does not cover dark circle
Pretty average coverage makes it a tinted moisturizer with SPF
Limited shades
Makes T zone oily with 2 to 4hrs
If you guys have already used it, we would love to hear your experience. Let us know your thought, buy or not? Leave a comment!
And also, if you like reading this article, do not forget to shower some love by sharing this article with your friends and family.