Nykaa Naturals Face Scrub: Review with In-Depth Ingredient Analysis
Around a month back, I received a big parcel from Nykaa Naturals. I was quite surprised to find 7 big size physical exfoliants inside!! Guess what!? The scrubs were launched yesterday.
Many of you might know that it's been a few months that I am associated with Nykaa. Just a week back, I reviewed 10 shades of Nykaa All Day Matt Liquid Lipsticks.
As a skincare enthusiast and a beauty blogger, I always try to portray the truth only. But, this is also the reason why I have almost stopped collaborating with brands.
Most of the collaborations usually come with loads of pressure and somehow, the review sounds judgemental. In past, I have faced such situations many a time.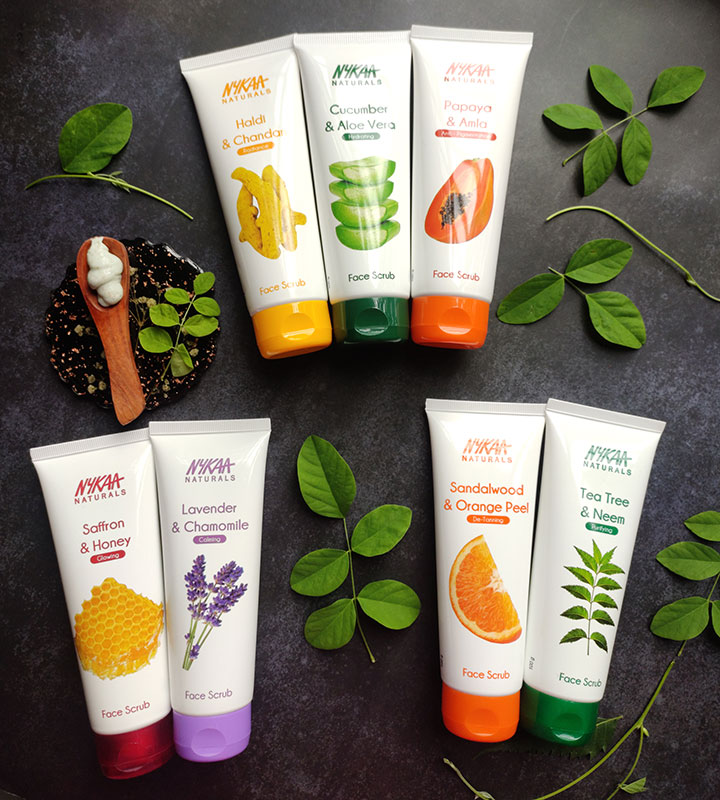 Well! Fortunately, all those experiences have taught me quite a good lesson. And thus, I try not to compromise with the truth ever. No matter how big and popular a brand is, all the products cannot be hits.
And, this thing is applicable to these scrubs too. It's been more than a month now that I have been using the scrubs. So, how are these? How safe the ingredients are? Are these truly effective? It's time to reveal the answers.
Basic Information about Nykaa Naturals Face Scrub
Price: INR 249 for 100g
Variants: Saffron & Honey, Tea Tree & Neem, Sandalwood & Orange Peel, Lavender & Chamomile, Cucumber & Aloe Vera, Papaya & Amla, Haldi & Chandan
Shelf Life: 3 years
Buy From: All Nykaa Stores and Official Website
What Does the Brand Claim about Nykaa Naturals Face Scrub?
Lightweight, Cream-Based Texture
Removes Dirt & Impurities
Walnut Shell Powder Exfoliates Dead Cells
Suitable For All Skin Types
Paraben-Free, Cruelty-Free, Mineral Oil Free, SLS Free, Vegetarian
Ingredient Analysis of Nykaa Naturals Face Scrub
Well! I guessed it right. All 7 variants of face scrubs have the same bunch of inactive. The positions might vary from one variant to the other. But, the ingredients remain just the same.
The active ingredients are mentioned almost at the last positions that mean the percentage of actives are low in the scrubs. Different types of colourants have been used in these scrubs. Walnut shell powder works as the main exfoliating ingredient in these products.
Are the inactive ingredients safe? Let's bring forth the analysis to answer this question.
1. Purified Water
Water acts as the base for these scrubs.
2. Cetearyl Alcohol
This safe inactive works as an emulsion stabilizer and also as a foam booster.
3. Isopropyl Myristate
This is another safe component that functions as a fragrance ingredient and also as a skin conditioning agent.
4. Glycerin
It's a humectant that retains moisture.
5. Caprylic/ Capric Triglyceride
According to EWG, it is another safe skin conditioning agent that also functions as a fragrance ingredient.
6. Stearic Acid
Stearic Acid is known to primarily get extracted from the fat of domestic and farm animals. But, the brand claims these face scrubs to be vegan products. So, the best could have been if Nykaa Naturals had mentioned the source of this component here.
Stearic Acid functions as a surfactant and as a fragrance agent.
7. Olive Oil PEG-7 Esters
It is a moderately safe surfactant that also functions as a skin conditioning agent.
8. Cetyl Alcohol
Quite a multi-functional component it is. Primarily, this component functions as a foam booster and also as an emulsion stabilizer.
9. Glyceryl Stearate
It functions as an emulsifying agent.
10. PEG-100 Stearate
A moderately safe cleansing agent it is.
11. Phenoxyethanol
Another moderately safe ingredient; widely popular as a preservative.
12. Decyl Glucoside
A safe and mild surfactant.
13. Acrylates/c10-30 Alkyl Acrylate Crosspolymer
Don't worry! The name sounds big but it is absolutely a safe ingredient. It functions as a viscosity controller and as an emulsion stabilizer.
14. Xanthan Gum
A widely used inactive that primarily works as a binder in cosmetics.
15. Allantoin
A safe naturally occurring skin conditioning agent it is.
16. Sodium Gluconate
A safe chelating agent (deactivates heavy metals) that also functions as a skin conditioning agent.
17. Sodium Hydroxide
A highly caustic pH adjuster that also works as a denaturant.
18. Methylisothiazolinone
A widely used preservative that is pretty effective. But, it is often associated with allergic reactions and thus, rated as a problematic component by the Environmental Worker's Group.
19. Methylchloroisothiazolinone
Just like the previous one, this component is also another preservative that is not safe on our skin.
20. Fragrance
I could have loved it if they had mentioned the name of the fragrance agent specifically.
Apart from all these inactive components, a number of colourants have been used herein low quantity e.g. CI 15985 (Sunset Yellow), CI 19140(Tartrazine), CI 61570(Acid Green), CI 17200(Red), and CI 42090(Brilliant Blue).
Overall, most of the inactive ingredients are safe which is definitely good news. But, the percentage of active ingredients could have been improved a bit. The formulation is made overall safe as a whole. And thus, I would rate the ingredients of Nykaa Naturals Face Scrub 3.5 out of 5.
Packaging, Texture, and Aroma
The scrubs come in usual flip-flop plastic tubes that are quite convenient to use and travel with at the same time. In fact, the colour coordinated packaging is worth praising for.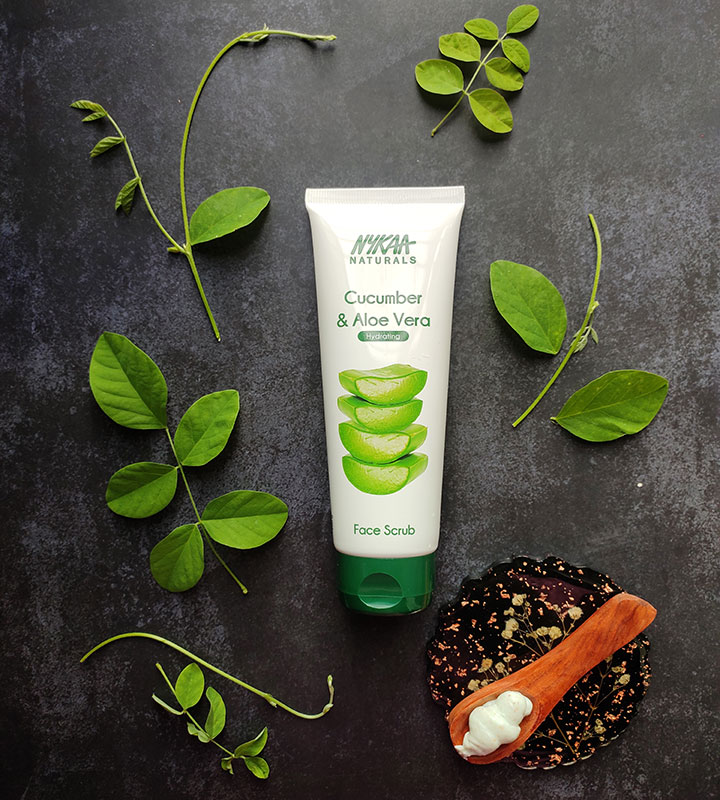 The texture of these scrubs is very creamy. None of the scrubs is gritty. Rather, I found the textures very soft, creamy, and easy to blend.
Every scrub has two featured ingredients. And, the aroma resembles that. For example, the Haldi and Chandan variant has a faint aroma of Turmeric and Sandalwood. The same is applicable to the other ones. As always, I found the aroma of Lavender and Chamomile pretty soothing and interesting.
All New 7 Variants of Nykaa Naturals Face Scrub at a Glance
Saffron and Honey Face Scrub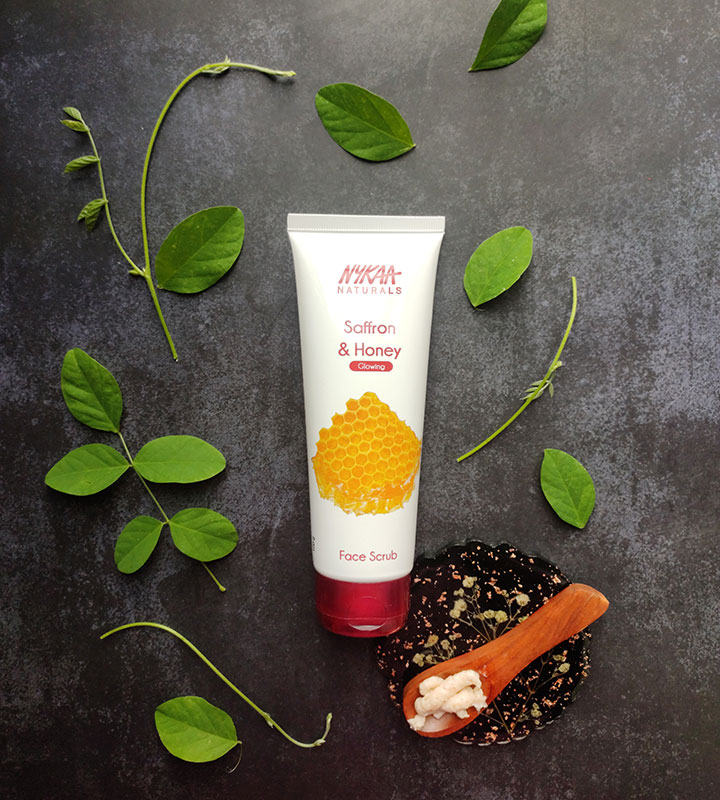 Lavender and Chamomile Scrub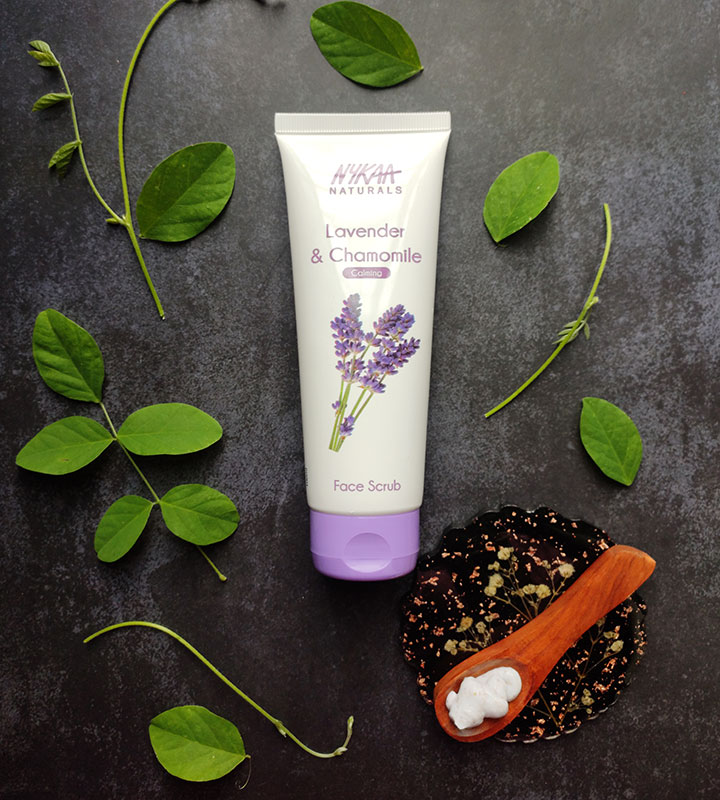 Haldi and Chandan Face Scrub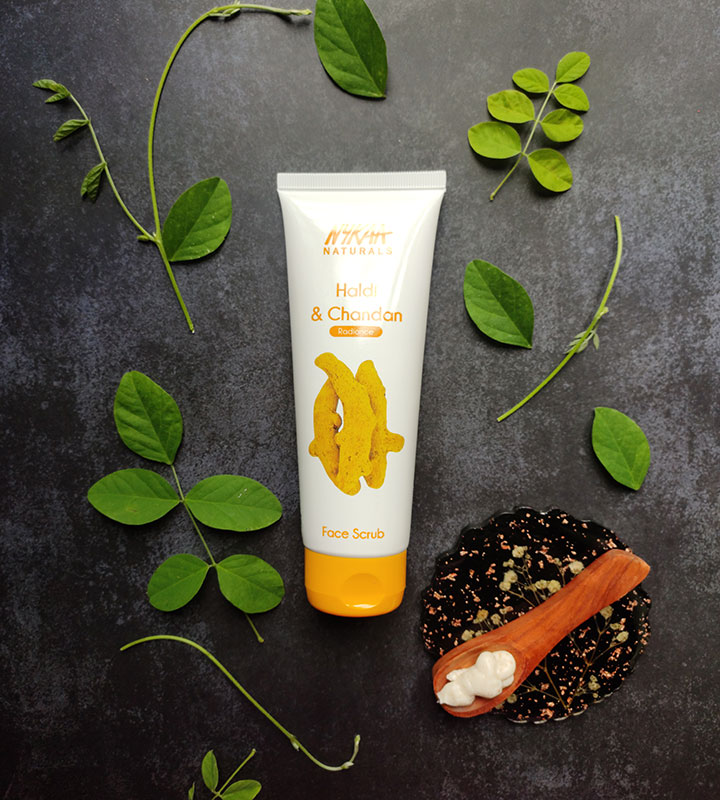 Cucumber and Aloe Vera Face Scrub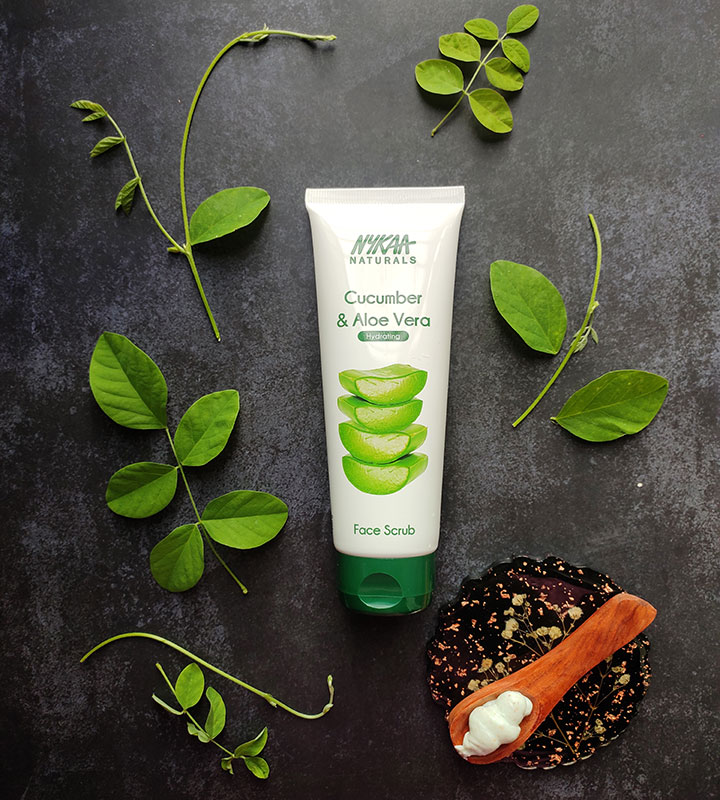 Tea Tree and Neem Face Scrub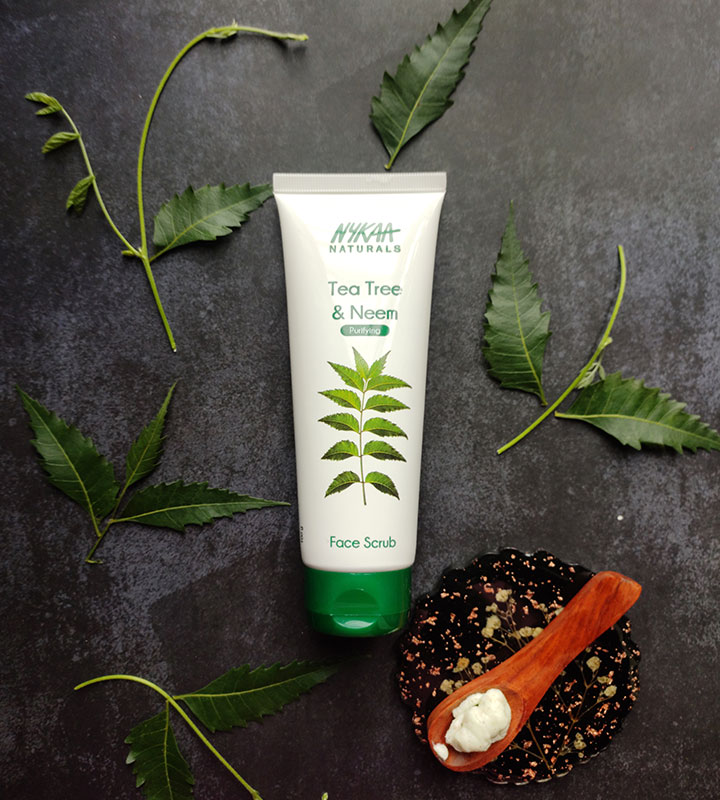 Papaya and Amla Face Scrub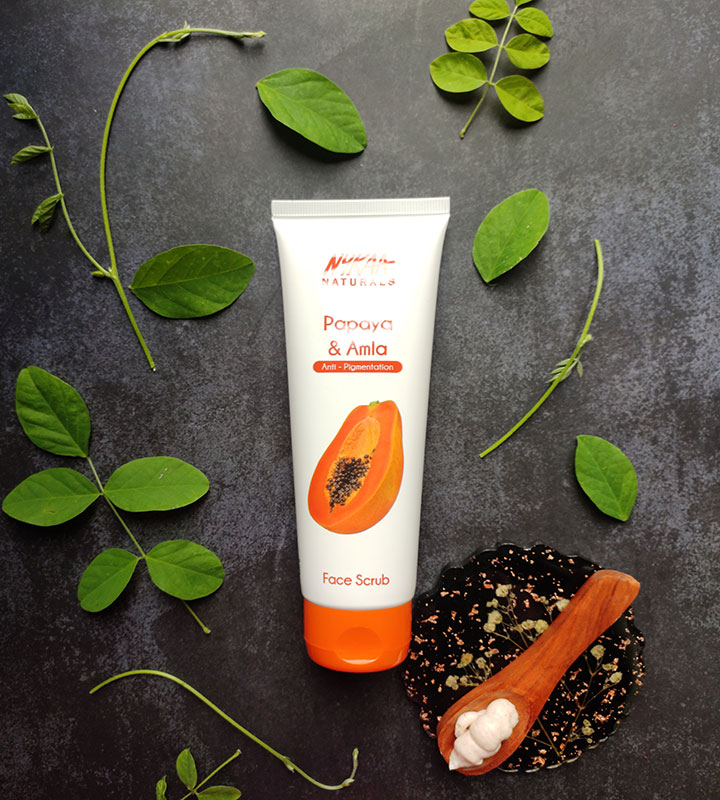 Sandalwood and Orange Peel Face Scrub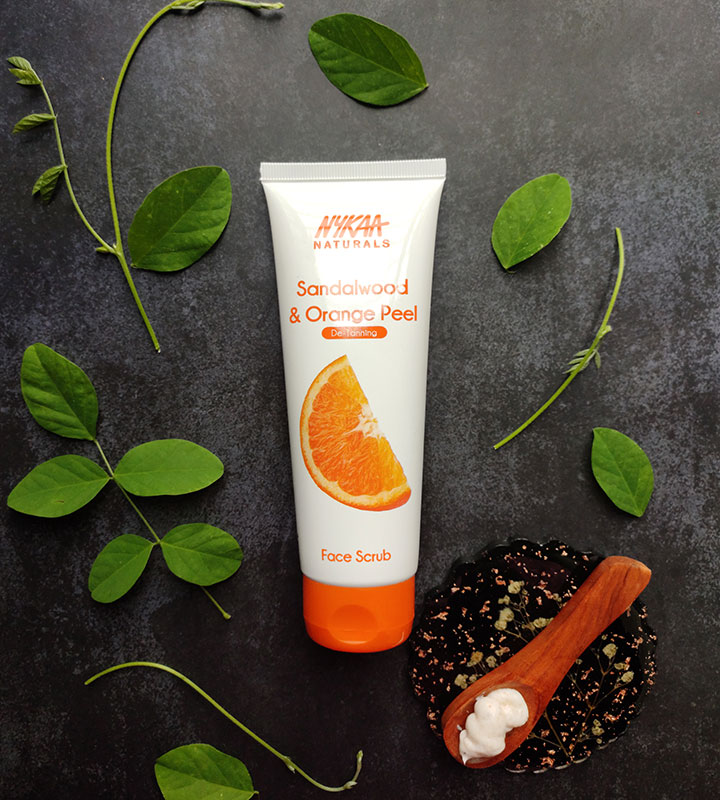 Nykaa Naturals Face Scrubs: My Observations In-Detail
As I said, it's been a month now that I am using these scrubbies. I have used two varieties per week.  And, here are my observations (where the red ones are the cons and the green ones are the pros).
These are easy to apply and spread. In fact, it's easy to wash off these too with just cold or lukewarm water. 

Paraben-free, Sulfate-free, and Mineral oil free formulation which is quite great. 

The scrub particles of walnut shells are not harsh on even sensitive skin. The texture is not much gritty so you would not feel anything harsh. 
The scrubs are more on the creamy side which makes these quite moisturizing. So, if you are a dry skin person, you would love it.

But, people with oily and acne-prone skin might not enjoy the formulation much. 

I expected that the variants would be different from one another especially in terms of texture. But, it seemed, apart from the fragrance and the colour, the scrubs are almost identical. And, this is indeed surprising. 

The aroma does not last long. It fades away the minute you wash it off. 

Last but not the least, let's talk about the claims made by the brand! As I said, the percentage of active ingredients in all the face scrubs are pretty low except for a few where Aloe Vera is used. In those scrubs, the aloe vera is mentioned in the middle portion. And, that means that Aloe Vera is used in those scrubs in moderate quantity. But otherwise, the active ingredients are placed almost at the last few positions. So, I really doubt how far the claims of being anti-acne/de-tanning/depigmentation etc. can be true. 

And now when you know almost every important thing about these face scrubs, it's time to answer the question. Would I recommend these?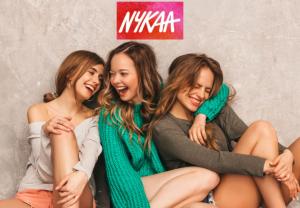 Check out all the popular launches by Nykaa. The compilation includes skincare, body care, makeup, and many other interesting products.
Read More