Skin Type: All skin 
Hello sweeties, welcome to CA. Today I am gonna review Aroma Essentials AHA Scrub. Many of you know that I have already reviewed two products from Aroma Essentials and I just loved them. 
I love the fact that gradually everyone is trying to adopt a natural way of living. And companies like Aroma Essentials is trying hard to motivate people into doing so. Now, let us see that how satisfying is this AHA Scrub. 
Product Description and Ingredients: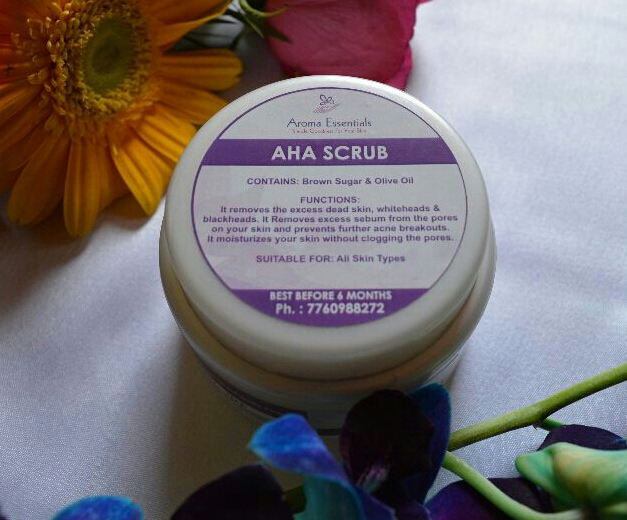 Brown sugar and Olive Oil are the main ingredients. in this formula. Brown Sugar is an excellent exfoliator. It does help to remove the dead cells and impurities. Olive oil in this formula moisturizes skin and acts as a lubricant element. Overall the ingredients are basic, logical yet impressive.
My Experience with Aroma Essentials AHA Scrub
Aroma Essentials has a wide range of products. And each of the product is exotic and unique. This AHA Scrub has been in my skincare kitty for around one month. So, let me share my experience on the basis of the following parameters.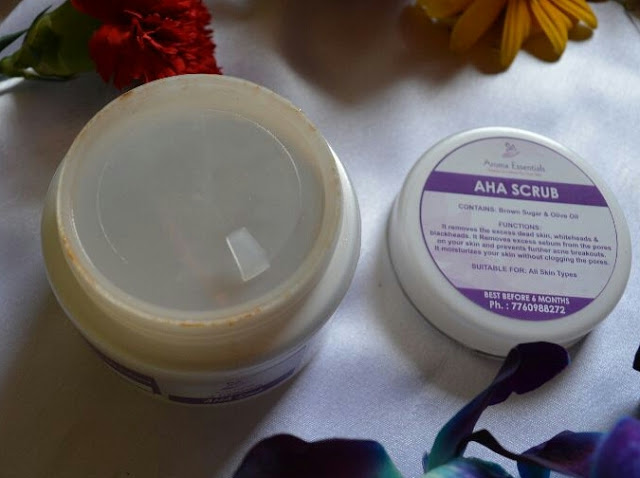 Simple plastic container with an inner lid. It is a perfect package to carry along with. Overall I love it.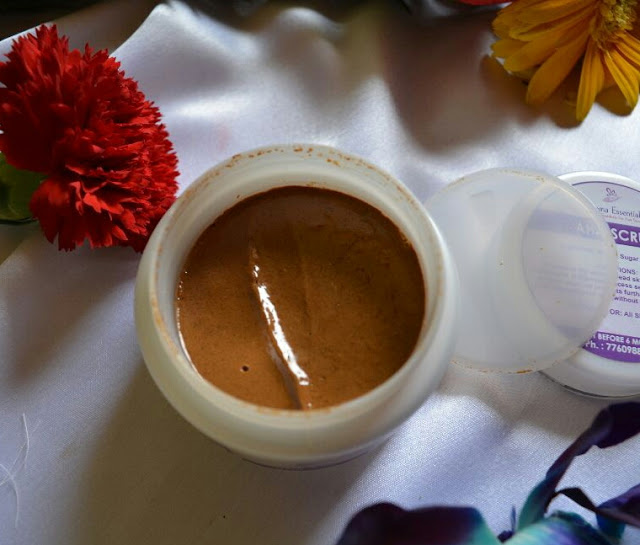 The texture of this scrub is quite smooth and it is full of sugar granules. It is brownish in color. The color completely justifies the presence of brown sugar. The scrub is not harsh at all. 
Completely herbal. The aroma is fresh and natural. And I love it :)).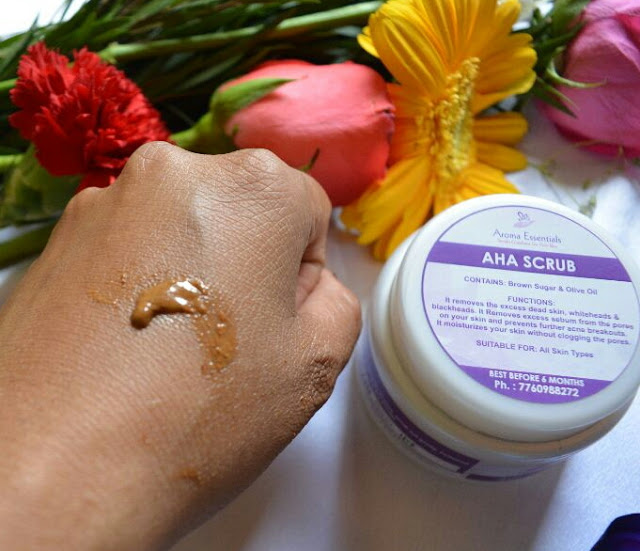 I use this scrub thrice a week. It not only removes the dead cells and impurities but also moisturizes my skin. It is very very refreshing. Anyone would love the aroma and the scrubbing effect. 
So, here goes the pros and cons.
Enriched with completely herbal ingredients.

No preservatives or additives.

Ample amount of brown sugar particles.

Refreshing aroma.

Gives a glowy and clean skin.

It also moisturizes.
Could not find any. I love the effort.
***CA IMPRESSION: 4.9/5***
This scrub is quite close to my heart. I am totally in love with this scrub. Sometimes I feel like applying a DIY scrub because of its simplicity. Overall, I totally do recommend this scrub. Everyone who loves natural product would fall in love with :)). 
It is a wrap-up time. Love you, my sweethearts. Take care. And celebrate womanhood.
Thank you for reading. Have you used this product? Please share your experiences here. Love you all.
*
PR sample sent by Aroma Essentials. But the review is self-opined and genuine. 
***Stay tuned to Cosmetics Arena for the Giveaway notification.