Greetings folks! I am back with a bang :)). Today I am gonna review Healthbuddy Zerotox Amla and Bhringraj Shampoo. Healthbuddy Zerotox shampoos are my HG products. Months ago I reviewed another shampoo of this same brand.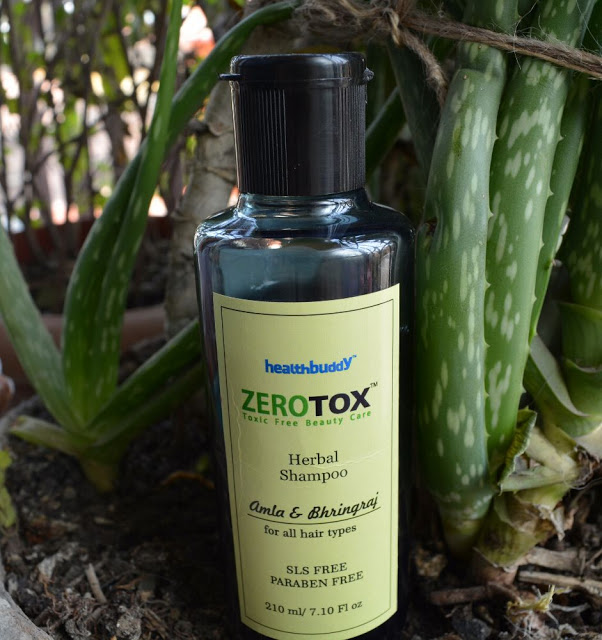 Price: INR 210 for 210ml
Shelf Life: 24 months
Snapdeal, Sastasundar, Craftsvilla, Healthcart.
Product Description and Ingredients: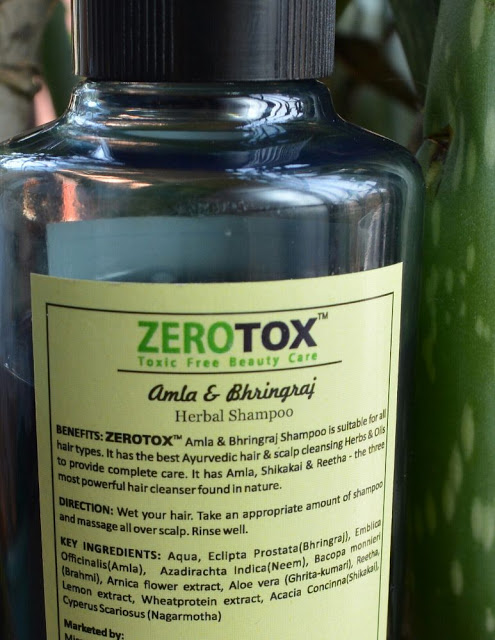 This shampoo is a blend of some reknowned herbal ingredients like Amla, Bhringraj, Neem, Brahmi, Aloe Vera, Arnica flower etc. It also has Wheat Protein. These are quite intriguing as hair conditioning and hair growth agents. 
But as always, the percentage of these ingredients are not mentioned. In fact the list is incomplete because the surfactant , emollients and preservative are missing. 
Though it claims to be SLS and Paraben free. But the alternative surfactant is not mentioned. And I find this tradition is similar to Khadi Naturals, Biotique, sometimes Patanjali as well.
My Experience with Healthbuddy Zerotox Amla and Bhringraj Herbal Shampoo 
I have been using this shampoo for a month now. So, I would like to share the experience through several categories.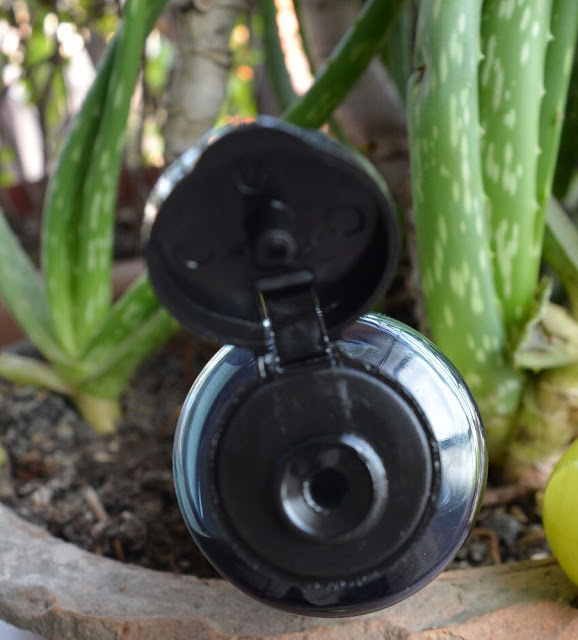 Nothing extraordinary. It looks almost similar to Khadi products. Transparent plastic PET bottle with a black flip flop cap easily make this quite a travel friendly. 
Neither thick nor runny. The color is semi black with a bluish effect.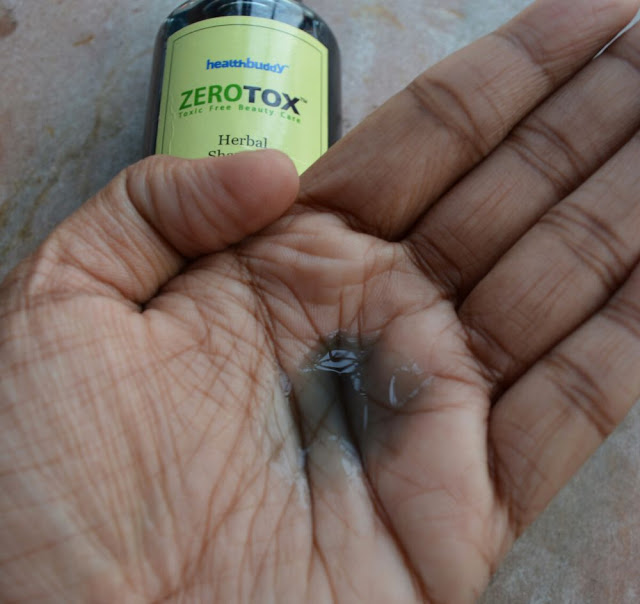 Same like Amla shampoos, refreshing.
What I love about this shampoo is that it cleanses hair properly and moreover it is pH balanced. It is taking care of my dandruff problem. Since when I have started taking Vitamin B complex capsules, my hairfall problem has become zeroed. This shampoo further maintains the overall health of my hair :)). So, here goes the good and bad things.
Pocket friendly.

Sufficient quantity.

pH balanced.

Refreshing aroma.

Travel friendly bottle.

Enriched with several important herbs.

Hair feel clean and hydrated.
Detailed ingredient list is amiss.

Boring packaging.

Added color.
***CA IMPRESSION: 4.5/5***
I really love this shampoo. It is pH balanced, cheap and nourishes my hair. I do recommend this shampoo to everyone. If you are about to finish your regular bottle, do give it a try. You would not be disappointed :)).
So it is pack up time. Take care sweethearts. Love you immensely and as always celebrate womanhood with glory :)). 
Thank you for reading. Have you used this product? Please share your experiences here. Love you all.