The Beauty Co. Coffee Sugar Scrub Review with Ingredient Analysis
Does this happen to you as well when you wish for a particular product for a long time but somehow fail to buy it? If the answer is 'yes', then you can surely relate to me. Honestly, such things keep happening with me.
As a blogger, I always want to try out new products. And, this coffee sugar scrub from the house of The Beauty Co. is indeed one such. I was eyeing to this product for the past three-four months.
Finally, I bought it, just a week back.
In this one week, I have used this scrub at least 4 times.
In a market that has varieties of coffee scrub, the real question is how unique or interesting the formulation of this scrub is? Can it beat its peers?
Let's find out the answers below.
Basic Details about The Beauty Co. Coffee Sugar Scrub
Price: INR 399 for 100 gm
Shelf Life: 24 months
Buy From: Amazon
What does the Brand Claim about The Beauty Co. Coffee Sugar Scrub?
It's time to pamper your body with a luxurious coffee body scrub. The high-quality coffee beans are filled with antioxidants.
Detoxify your skin from inside and outside. Get rid off all those dry and dead skin cells with this brilliant formulations. Get ready to indulge in the goodness of coffee beans and moisturize your skin like never before.
Ingredient Analysis of The Beauty Co. Coffee Sugar Scrub
As many of you know already that reviews on Cosmetics Arena never appear without analyzing the ingredients present in a product. Sometimes, certain brands do not disclose the components; well! I hate such brands.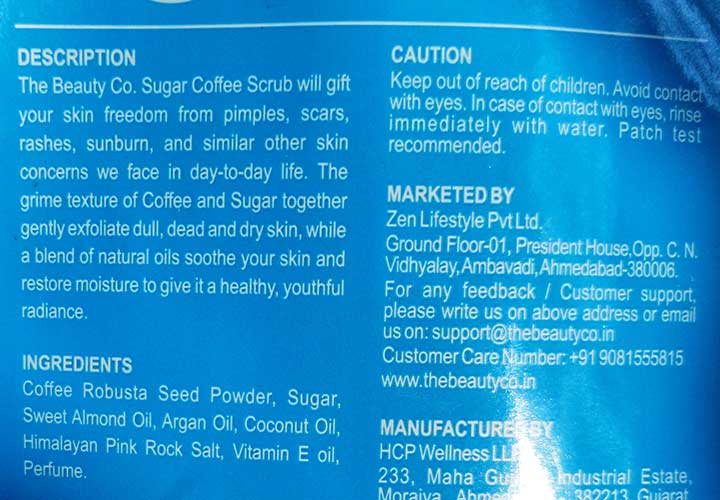 Fortunately! The brand has disclosed the components. So, let's talk about them all.
1. Coffee Robusta Seed Powder
It feels good to see that the formulation has the highest amount of coffee powder as coffee is mentioned in the first position.
Coffee is indeed an excellent ingredient for dehydrated and hyperpigmented skin.
2. Sugar
A natural humectant that is hydrating and retains moisture.
3. Sweet Almond Oil
This is an excellent oil loaded with natural antioxidants like Vitamin E.
4. Argan Oil
Known as Liquid Gold, this oil is loaded with antioxidants. It is one of the best natural oils to nourish any skin type.
One thing I must that comparing the cost of the product with the cost of Pure Argan Oil, I was taken aback to find Argan Oil right there in the list.
Well! I do not want to question the purity of the oil but indeed I found it strange how they have used Argan Oil into this not-so-expensive product.
5. Coconut Oil
Another oil that not only nourishes your dehydrated skin but also helps to enhance collagen production.
6. Himalayan Pink Rock Salt
Probably, one of the best salts we could have asked from mother nature. Apart from immense health benefits, this salt is also excellent to wash away all the dead cells.
7. Vitamin E Oil
This component works as a mild preservative and is also a great skin conditioner in this formula.
8. Perfume
Well! This is definitely not something I was expecting. I wish the brand had disclosed the name of perfumery agent.
Short and sweet! I love how the brand has kept the ingredient list short yet hitting just the right chord.
Except perfume, every ingredient is essential and minimal. Exactly what is necessary to make the formulation interesting. I would love to give the ingredients 4.8 out of 5 for keeping it low profile yet high in terms of efficacy.
Packaging, Texture, and Aroma
The scrub basically comes in a zip pouch that you can restore after every use. Indeed, quite a new packing style. But, I prefer tubs more to keep on my shelf.
The texture is pretty harsh. So, you need to massage the scrub with much care.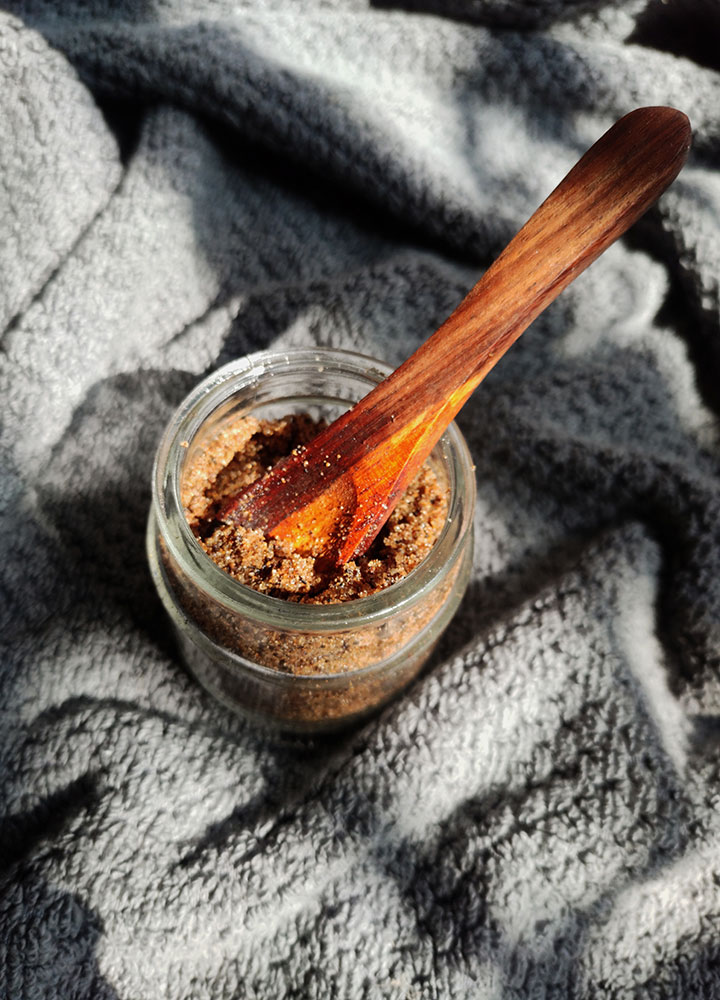 What a disappointment! I was literally expecting a heavenly aroma of coffee.
The aroma has no resemblance with coffee; in fact, the scent feels bitter because of all the oils.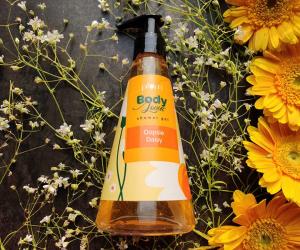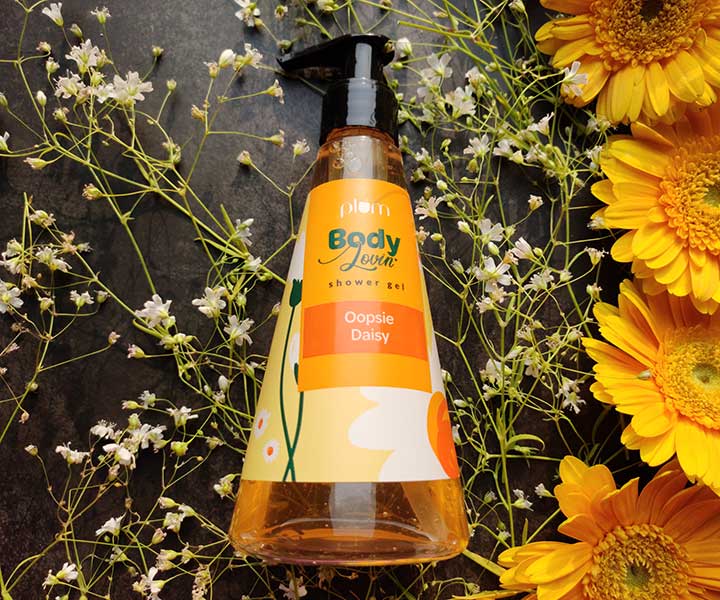 Are the ingredients safe? Is it worth a giving shot? How unique the texture is? Know all the answers here.
Read More
My Experience with The Beauty Co. Coffee Sugar Scrub
So, in this one week, I have used the scrub quite a number of times. After wash off, all the oils helps to nourish the skin.
But, as I said the texture is quite harsh. It could have been better if the coffee powder was smooth. In fact, the coarse texture of the salt is another problem here. Moreover, the texture is quite uneven.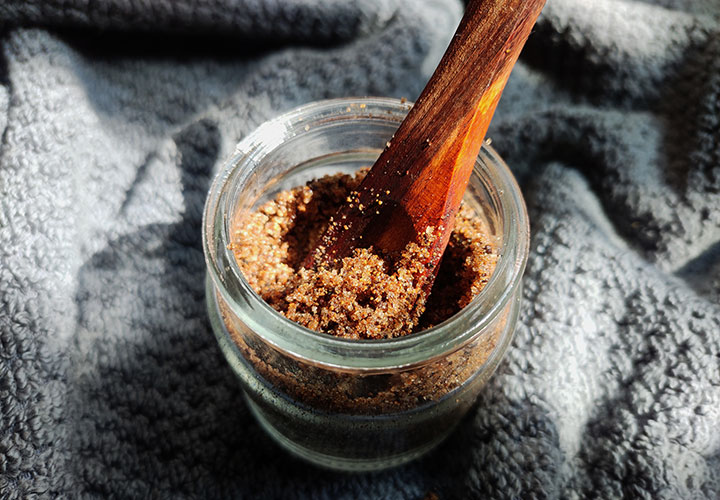 Thus, whenever I start massaging the scrub over my dry and flaky skin, it doesn't feel nice. Uneven texture and the harsh grains make me feel irritated. On top of that, I simply cannot tolerate the weird fragrance. How amazing it could have been if I could smell the aroma of raw coffee.
The brand does not specifically say that the scrub is for your body care only. But, I think you have already understood that if my body skin cells felt it harsh, then how harsh it would feel on your facial skin cells.
Honestly, my shelf still has the tub of MCaffeine Coffee Body Scrub. After using it for two months at a stretch, I was genuinely looking for a replacement. I had loads of expectations from The Beauty Co.
But, it seems that as of now, I have to stay with the one already sitting on my shelf.
Pros of The Beauty Co. Coffee Scrub
Affordable
Enriched with the goodness of Coffee powder and Himalayan Pink Salt
All the oils present in the formula nicely moisturize the skin
It comes in a zip-lock pouch
All the details are mentioned on the label
Cons of The Beauty Co. Coffee Scrub
Presence of perfume might be harmful
The texture is coarse enough to make you feel irritated; poor scrubbing property
And, that's all for today! If you like reading this article, make sure you share it with your friends and family. Also, follow us on Instagram for more such updates. Take care; celebrate life.