Aloe vera
Best Aloe Vera Gels Available in India
(Last Updated On: September 9, 2018)
|| Best Aloe Vera Gels Available in India|| 
Hello Angel! So, today I am going to talk about the top 9 Best Aloe Vera Gels Available in India. I believe that Aloe Vera is one such gift from mother nature that does not need any introduction. It is a multipurpose natural ingredient that is beneficial for probably every part of our body. Since the ancient times, it has been used by people. They used to call it "The Plant of Immortality" or "The Shining Bitter Substance". Aloe Vera has 99% water and the rest contains 75 active nutrients including Vitamins, Minerals, Enzymes, Hormones etc. The excessive amount of water makes Aloe Vera prone to stale. And thus, it cannot be preserved very easily. When the cosmetics industry realized the importance and popularity of Aloe Vera Gels, the market flooded with varieties of products.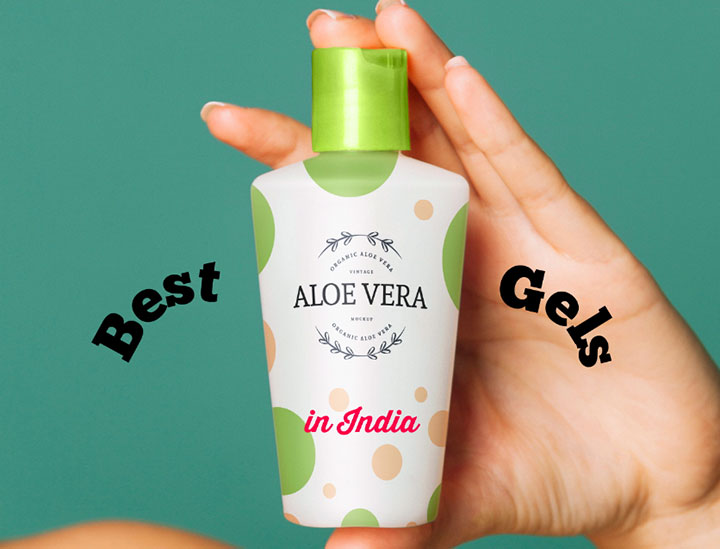 Today, almost every alternate cosmetics company manufactures Aloe Vera Gels. But, mostly the brands process the gels with harsh chemicals. Recently, I reviewed Lakme Aloe Vera Gel here and if you have read that, you might have noticed how Lakme had used way too many perfumery substances.
I believe that a natural component works better when it is preserved using natural techniques.
In this list, I would cover a list of Aloe Vera Gels which do not have harsh chemicals and are devoid of artificial colors. Let's talk about the top 9 best aloe vera gels available in India at this point in times.
Also Read: Best Face Wash for Oily Skin in India
1. Blend It Raw Apothecary Aloe Vera Gel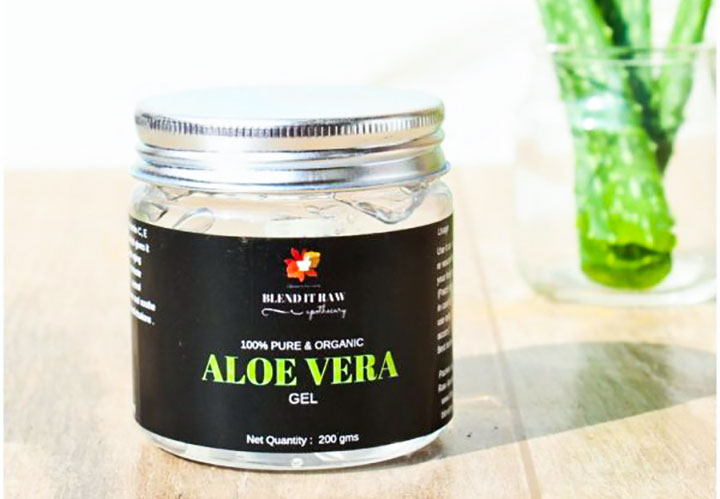 ---
Price: INR 350 for 200g
Ingredients: 99.5% Aloe Vera Gel, Xanthan Gum (thickener), Potassium Sorbate (food grade preservative)
---
So, very recently I came across this brand and its potential. This aloe vera gel and its components have literally blown my mind. I believe that at this point in time, this is the purest form of aloe vera gel available in the market. The brand has used more than 99% aloe vera gel which is pretty impressive. And moreover, they have used a food grade preservative which makes this product pretty potent. Blend it Raw Aloe Vera Gel is a multi-purpose one and can be used for the top to bottom parts of your body. It has a smooth gel texture and it is pretty affordable too. All these features make this product one of the best aloe vera gels available in India.
Also Read: Best Chemical Free Face Wash in India
2. Greenberry Organics Aloe Vera Hydro 3 IN 1 Gel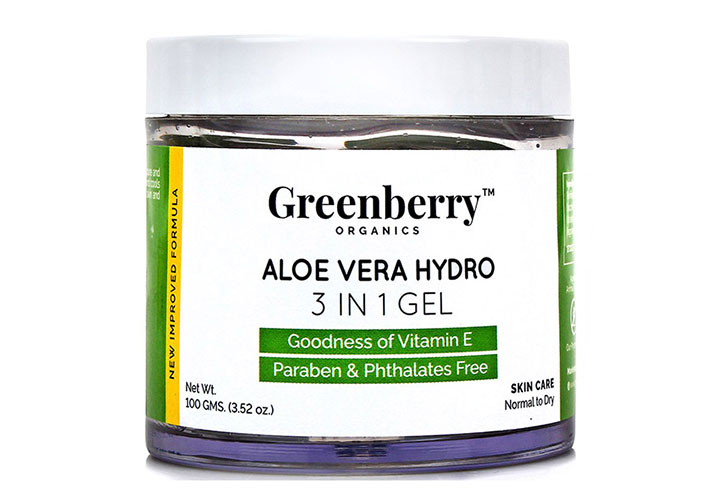 ---
Price: INR 515 for 100g
Ingredients: Purified Water, Organic and Certified Aloe Vera, Glycerine, Polyacrylate Crosspolymer-11 (thickener), Saccharide Isomerate (and) Aqua (and) Citric Acid (and) Sodium Citrate, Sorbitan Caprylate (and) Propanediol (and) Benzoic Acid, Fragrance, Sodium Hyaluronate,, Sodium Gluconate, Vitamin E, Pentavitin
---
Greenberry Organics is another brand that I really trust a lot. I love their products and till date, my experience with this brand has been very satisfactory. As you can see, Greenberry Organics Aloe Vera Gel has a number of interesting ingredients including Sodium Hyaluronate which makes it pretty effective as a whole. I loved the formulation. Most of the products of this brand involve a lot of research work and this 3 in 1 Gel is not an exception too. This is definitely one of my favorites and the best aloe vera gels available in India.
3. Rustic Art Aloe Vera Gel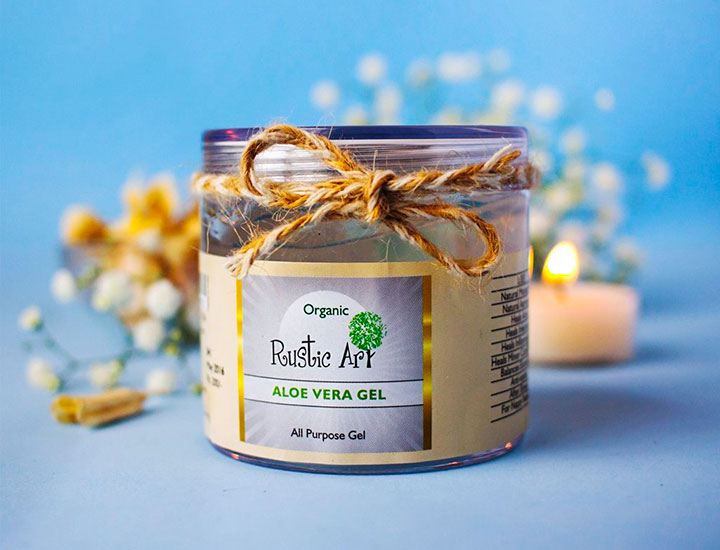 ---
Price: INR 200 for 100g
Ingredients: Aloe Vera, Lemon Extract, natural preservative of TCLS
---
Rustic Art Aloe Vera Gel is one of its kind. When I first saw the TCLS preservative, I was taken aback for its uniqueness. TCLS is actually a natural preservative which is a natural blend of Turmeric Oil, Clove Oil, Lemongrass Oil, and Sesame Oil. Rustic Art has a number of amazing products in its kitty. Just like Greenberry Organics, this brand does a lot of research too before manufacturing a single product. I totally adore the formulation; so I am bound to consider this product as one of the best aloe vera gels available in India.
Also Read: Top 5 Affordable Sulphate Free Shampoos in India
4. Auravedic Pure Aloe Vera Gel with Green Tea and Pomegranate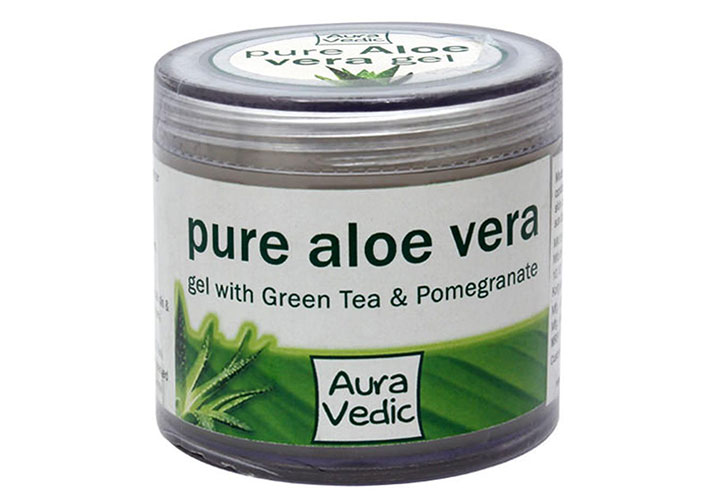 ---
Price: INR 225 for 100g
Ingredients: Aloe Vera Extract, Avocado Oil, Green Tea, Olive Oil, Pomegranate Oil, Grapeseed Oil, Jojoba Oil, Wheat Germ Oil, Purified Water, Carbomer (Increases Viscosity and thickness), Ethylhexylglycerine (weak preservative and skin conditioning agent), Phenoxyethanol (preservative).
---
As you can see, Auravedic Aloe Vera Gel has an enriched list of components. I love that how simple and potent the brand has kept the formulation. Like any other aloe vera gel, this one too is useful for every skin problem. The presence of Green Tea and Pomegranate Oil make this gel a potent solution for oily and acne prone skin. And thus, I feel awesome to include this in the list of the best aloe vera gels available in India.
5. Forest Essentials Aloe Vera Juice and Aloe Vera Gel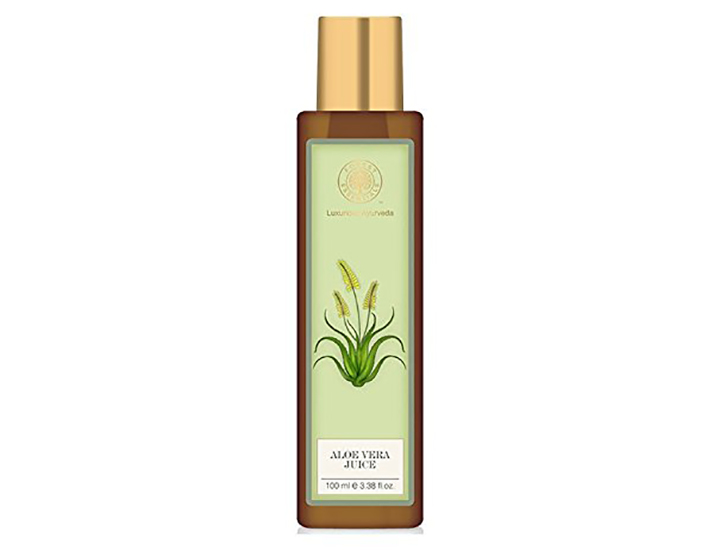 ---
Price: INR 550 for 100ml
Key Ingredients: Pure Aloe Vera juice enriched with Vitamin E, natural preservatives
---
Well! Forest Essentials have both the gel and juice on its shelves, but the gel is quite pricey because of the luxurious brand value. But, I personally love Forest Essentials products, in spite of the fact that all of their products come with only the list of key ingredients. The products are truly effective. This aloe vera gel is pretty popular especially if you are a DIY person, you will find this one pretty amazing to use. I am proud to say that this is one of the best aloe vera gels available in India.  Oh by the way! If you are fond of luxury and expensive products, then you can buy the Forest Essentials Aloe Vera Gel (refer to the picture below) or else, the juice is the perfect one for your need.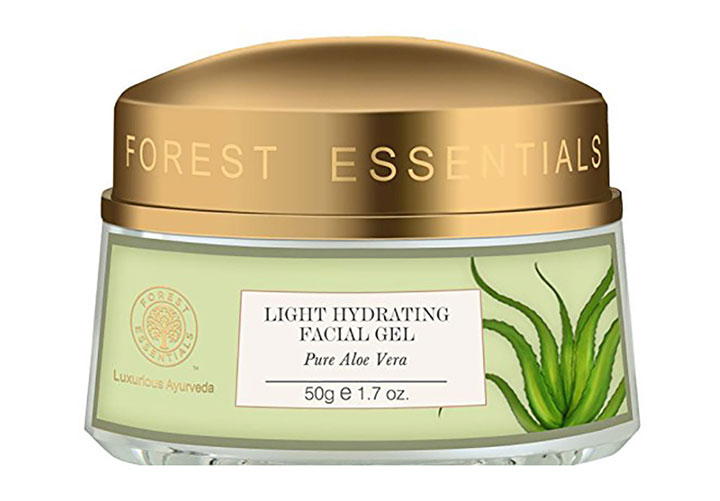 6. Bon Organics Pure Aloe Vera Gel
---
Price: INR 135/265/650 for 100g/200g/500g
Ingredients: Only Pure Aloe Vera Gel is listed.
---
Yes! I have used Bon Organics Aloe Vera Gel and I pretty much liked it. Just like Forest Essentials, this brand does not disclose its full component list. But, I have found the products pretty effective and thus I had to include this one in the list of best aloe vera gels available in India. This is a clear aloe vera gel which can be easily used for skin care and hair care. Surprisingly, both my mom and I found this one pretty effective in 1st-degree burns. Overall, my whole family loved it.
Also Read: Garnier Micellar Oil Infused Cleansing Water Review
7. Tjori Organic Aloe Vera Gel

---
Price: INR 499 for 100g
Ingredients: Aqua, Glycerin, Sorbitol, Aloe Barbadensis (Aloe) Leaf Juice, VitisVinifera Seed Oil
---
Tjori or chest of secrets is a pretty new brand in the market for organic cosmetics. I never knew that they have their own Aloe Vera gels as well. This aloe gel has a very minimal number of ingredients. It is slightly greenish in color. Just like any other aloe vera gel, this one also nourishes and moisturizes skin. One minus point about this product is the high price tag. But yes! If you are looking for one of the best aloe vera gels available in India, then this is something you might want to try.
8. Innisfree Aloe Revital Soothing Gel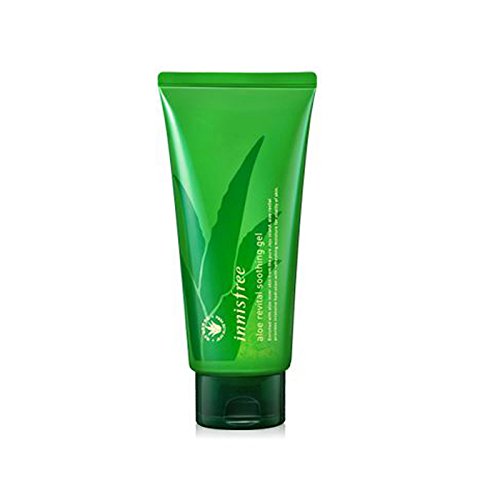 ---
Price: INR 550 for 300ml
Ingredients: Aloe Barbadensis Leaf Extract, Butylene Glycol, Madecassoside, Citrus Unshiu Peel Extract, Orchid Extract, Camellia Sinensis Leaf Extract, Camellia Japonica Leaf Extract, Opuntia Coccinellif.Era Fruit Extract, Menthoxypropanediol, Sodium Polyacrylate, Water, Carbomer, Tromethamine, Phenoxyethanol
---
Well! Who doesn't know about this most popular Korean brand? Innisfree has a number of amazing and popular products and this is one of them. Not one or two people, but millions of people have voted positive for this. I personally believe that in spite of being a commercial brand, Innisfree has done a much better job with respect to the selection of components in this case. This is a total value product where the quantity is pretty much a lot. So,  if you are looking for a popular brand that provides good ingredients and also provides a value pack, then this is one of the best aloe vera gels available in India at this point in time.
Also Read: Satthwa Moroccan Argan Oil Shampoo Review 
9. WOW Skin Science Aloe Vera Gel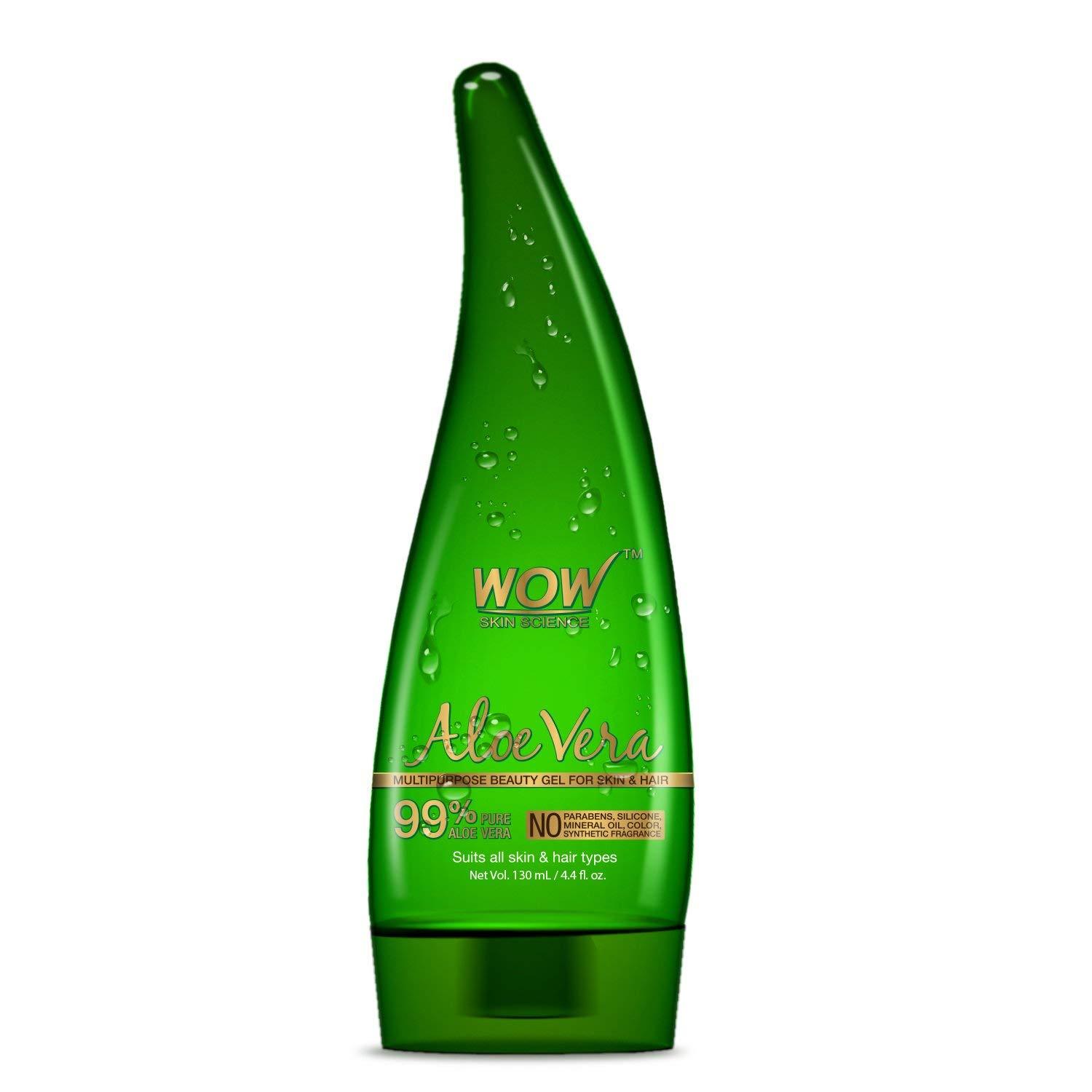 ---
Price: INR 299 for 134ml
Ingredients: 99% Aloe Vera Gel, 1% [Xanthan Gum (natural thickener), Citric Acid, Potassium Sorbate (natural preservative)]
---
So, I wanted to add the best in the last position. Wow Skin Science has come up with a number of amazing products. And, this aloe vera gel is one of the most popular products from the brand. As you can see the ingredient list is pretty simple and does not have any harmful components. I loved how they have designed the packaging; you must admit that it is unique in the market. It is widely acclaimed and thus, I am proud to include this product in the list of best aloe vera gels available in  India.
That's all! Now, you might be wondering why I didn't talk about Patanjali Aloe Vera Gel? Well! It is one of the most affordable aloe vera gels in the market indeed, but I hate it for many reasons. There are a few aloe vera gels that I totally condemn and would not recommend to anyone. Here are the names.
Patanjali Aloe Vera Gel
Natural Republic Aloe Vera Gel
Fabeya Aloe Vera Gel (It is dark green in color which is a big no!)
All these products contain a number of harmful chemicals and thus, I would never recommend these.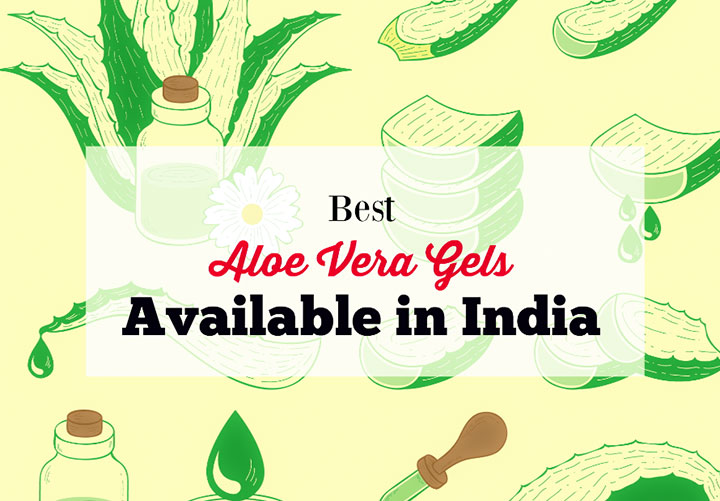 A Few Things to Remember while You are Buying Aloe Vera Gel from the Market:
The gel should never be dark green in color.
Check all the ingredients.
Try not to buy products with added Perfume or fragrance. Because pure aloe vera  does not have that.
Remember that Aloe Vera should be there in the first or in the second  position of the ingredient list.
And lastly, the lesser the better. Which means if the product has a lesser number of chemical ingredients, it would be a safe buy for sure.
And that's all! I hope you find this article helpful. Is there any other aloe vera gel that you would want to add in this list? Then, tell me in the comment section below. Next time keep this list in your mind and checklist the above tips as well. Take care, much love. I would come back soon with another exciting post.