|| Aloe Veda Aloe Calamine Soothing Lotion Review ||
Hello Angel! Today I would review Aloe Veda Aloe Calamine Soothing Lotion. Admit it or not, body lotions are something that we need throughout the year. It is a priority no matter what the season is. A great body lotion not only protects your skin but also improves the overall appearance. Especially when the body lotion is enriched with sunblock properties. So, recently I came across this body lotion which works as a sun guard. Am I happy with it? Well! That's what I would share with all of you here. Let's talk about Aloe Veda Aloe Calamine Soothing Lotion in detail.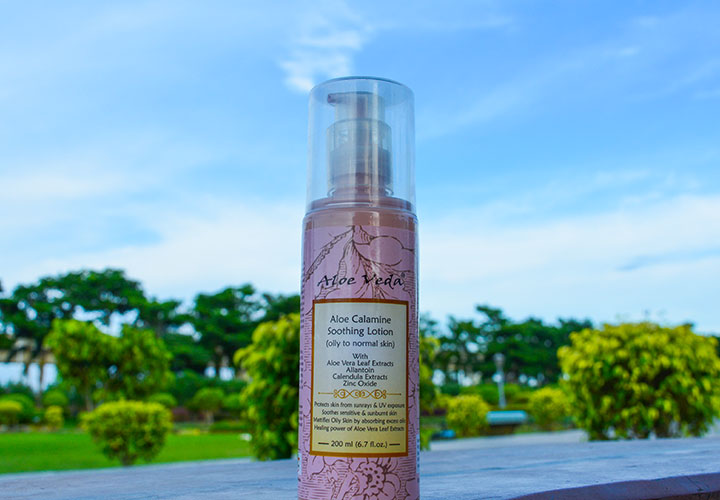 Also Read: SUGAR Kohl of Honour Intense Kajal Review
Basic Information about Aloe Veda Aloe Calamine Soothing Lotion:
Price: INR 275 for 100ml
Shelf Life: 2 years
Buy From: NYKAA
What does the Brand Claim about Aloe Veda Aloe Calamine Soothing Lotion?
It is a lightweight, grease-free lotion that is the best substitute for oily skin. It has the goodness of Aloe Vera, Wheatgerm Oil, Almond Oil, Marigold Oil, Calendula Oil, and Calamine. All these ingredients combinedly help to soothe the skin. It can be applied all over the body. Calamine lotion softens the dead skin cells and controls acne/pimples. It has astringent and antiseptic properties that help to protect the skin from Eczema, blackheads, and acne spots. Zinc oxide helps to absorb UVA/UVB and prevents suntan. In fact, this lotion can also work as a primer or makeup base. As a whole, this is a one-stop solution for everything.
Ingredient Analysis of Aloe Veda Aloe Calamine Soothing Lotion:
So, Aloe Veda has mentioned almost all the ingredients on its label that I feel is quite amazing. Surprisingly, the brand has mentioned the percentage of most of the components present in the formula. Here, I would analyze the features and benefits of every component. Without further ado, let's talk about the ingredients of Aloe Veda Aloe Calamine Soothing Lotion in-depth.
Aqua or Water: The base of any water-based cosmetic.
Aloe Vera Leaf Extracts (10%): Aloe Vera has 99% water and the rest contains 75 active nutrients including Vitamins, Minerals, Enzymes, Hormones etc. It is a great moisturizer and treats sunburn.
Wheatgerm Oil: It is rich in Vitamin E that helps the skin from damage and prevents the formation of free radicals.
Calendula Oil: It is an excellent antiseptic that helps to soothe skin and cures Eczema. It has also an antifungal property.
Almond Oil: Another natural source of Vitamin E which is an excellent moisturizer.
Glyceryl Mono Stearate (2%): It basically acts as a lubricant that forms a smooth appearance on the skin. It acts as a barrier to the skin.
Propylene Glycol (2%): Moderately safe ingredient that acts as a skin conditioning agent and a humectant.
Licorice Extract (5%): This plant extract has the ability to provide light complexion and helps to reduce dark spots.
Zinc Oxide-1: It is an excellent antibacterial and deodorant. And, of course! It is a safe sunscreen. Zinc is a mineral that sits on the skin and prevents the harmful rays of the Sun. So, yes! Zinc Oxide is a physical sunblock, not the chemical one.
Calamine Powder (10%): It helps to lighten the dark spots on the skin. It also improves the texture and hydrates the skin.
Lecigel (0.7%): Well! This was a pretty new component for me indeed. It is basically a gel substance that has emulsifying properties. So, this component increases the viscosity of cosmetics.
Vitamin C (1%): This is a natural antioxidant that improves complexion and prevents free radicals to form.
Vitamin E (1%): As I already mentioned, this is an excellent emollient that always prevents free radicals to form and helps to protect the skin.
Micro Care ITO (0.2%): This is another new one for me. And, I have come to know that it is a broad spectrum highly pure liquid preservative that prevents molds and bacteria to form in a cosmetics. Well! That is amazing. I am glad that Aloe Veda has done an extensive research to find out a pretty safe preservative.
Blend of Essential Oil (Quantity Satisfied or Q.S.): The nature of these oils have not been disclosed.
So, that's all about the ingredients of Aloe Veda Aloe Calamine Soothing Lotion. Honestly, I think that this time, Aloe Veda has done a great job. It has a physical sunblock and is enriched with a number of skin nutrients. In fact, the choice of preservative is pretty amazing too. I love when a brand does an extensive research work before launching a product in the market. So, this product deserves a separate 4.8 out of 5 for its components only.
Also Read: Juicy Chemistry Sweet Orange and Chamomile Eye Mist Review
Packaging: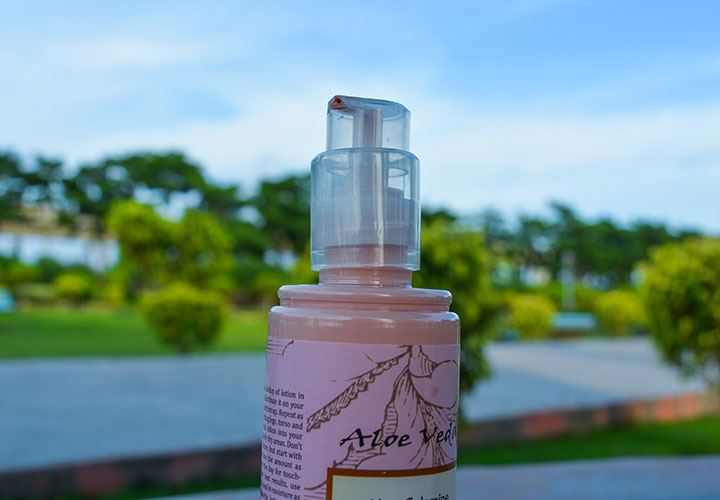 Wow, that is just brilliant! Honestly, the packaging of Aloe Veda Aloe Calamine Soothing Lotion is absolutely mind-blowing because it is travel-friendly, easy to use, not bulky, and moreover it is hygiene. I totally loved it.
Texture, Color, and Aroma: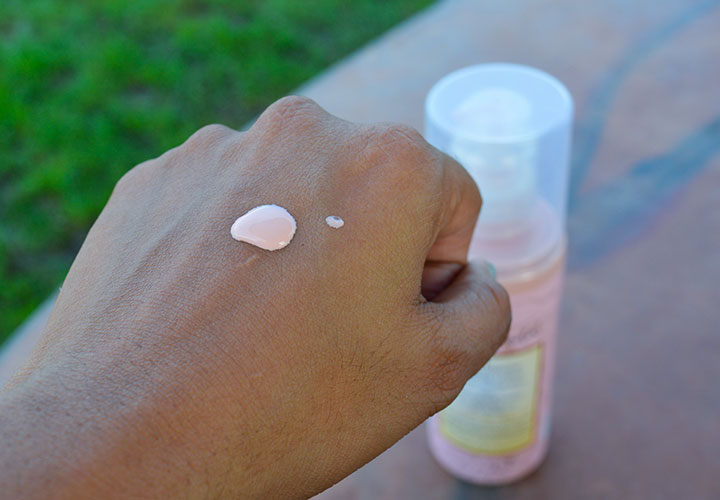 The texture is moderately thick and runny. It is easy to apply. But, one needs to blend it properly, otherwise, it may leave white patches on the skin. Especially, if the person has dry skin.
As you can see, the color is slightly pinkish which would remind you of Lacto Calamine lotion.
And, the aroma has a lot of resemblance with the Lacto Calamine one. The reasons are simple. Both the products have Calamine and Zinc Oxide that have a slightly strong aroma.  I totally loved the aroma and I think every oily skin beauty would love it too.
Also Read: Best Aloe Vera Gels Available in India

My Experience with Aloe Veda Aloe Calamine Soothing Lotion
So, I received this product around 2 weeks back and since then, I have been using it every day. And, this is the only body lotion that I tried during this period. Honestly, I have dry and super sensitive skin; so, when I received it, I thought that the presence of ZnO (Zinc Oxide) would dry out my skin even more. But, the surprising part was that Aloe Veda Aloe Calamine Soothing Lotion properly hydrates my skin. For the rest of the day, I feel secure and protected from the harsh sun rays.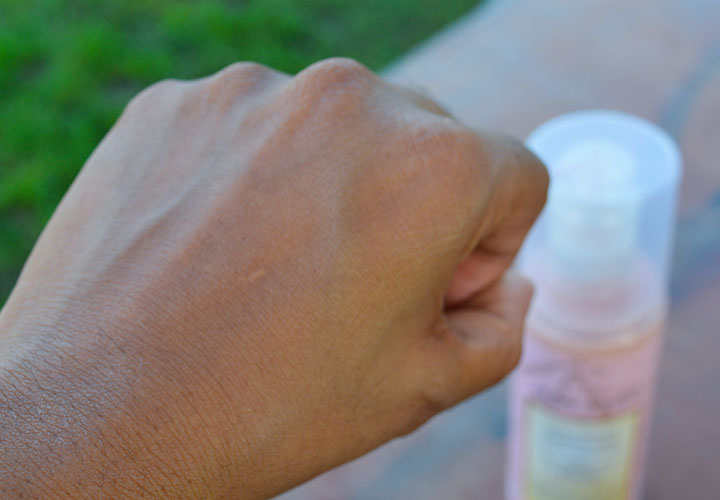 Generally, the presence of Calamine and ZnO leaves a white cast on the skin. But, this body lotion has no such issue. If it is blended properly, no such thing is going to happen.
This body lotion is perfect for combination, oily, and normal skin. During the experimentation, I realized that the skin of my legs is way drier than that of my hands; well! That was crazy indeed. So, this lotion requires a lot of proper blending for my legs. And, that's what I have observed. But never mind, as the brand has clearly mentioned that the lotion is perfect for oily to normal skin people. So, any judgment based on the dry skin type would be wrong.
Also Read: Best Face Wash for Oily Skin in India
Pros of Aloe Veda Aloe Calamine Soothing Lotion:
Super duper affordable.
The quantity is great.
A bunch of amazing ingredients.
It has Calamine and Zinc Oxide that make it a potent physical sunblock.
A great choice of preservative.
Stunning packaging.
Easy to apply texture.
Soothing aroma.
Cons of Aloe Veda Aloe Calamine Soothing Lotion:
Well! This is not a con. Just make sure, you blend it minutely. Otherwise, white patches may appear.
And that's all! I hope you find this review helpful. Don't forget to subscribe. Take care, much love. I would come back soon with another exciting post.