Table of Contents
What Does the Brand Claim || Price and Quantity || Ingredient Analysis of The Derma Co Sunscreen || Packaging, Aroma, and Texture || My Experience with The Derma Co 1% Hyaluronic Sunscreen Aqua Gel with SPF 50
Summer is literally in its full form right now. Especially in Kolkata, the situation is horrible. There is not a moment without patchy sweating.
As many of you know that I had spent the last summer days with Re'equil Ultra Matte Dry Touch Sunscreen Gel with SPF 50. Undoubtedly, it comes with a drool-worthy formulation but the price is a bit high especially considering the quantity. Thus, I was looking for something else.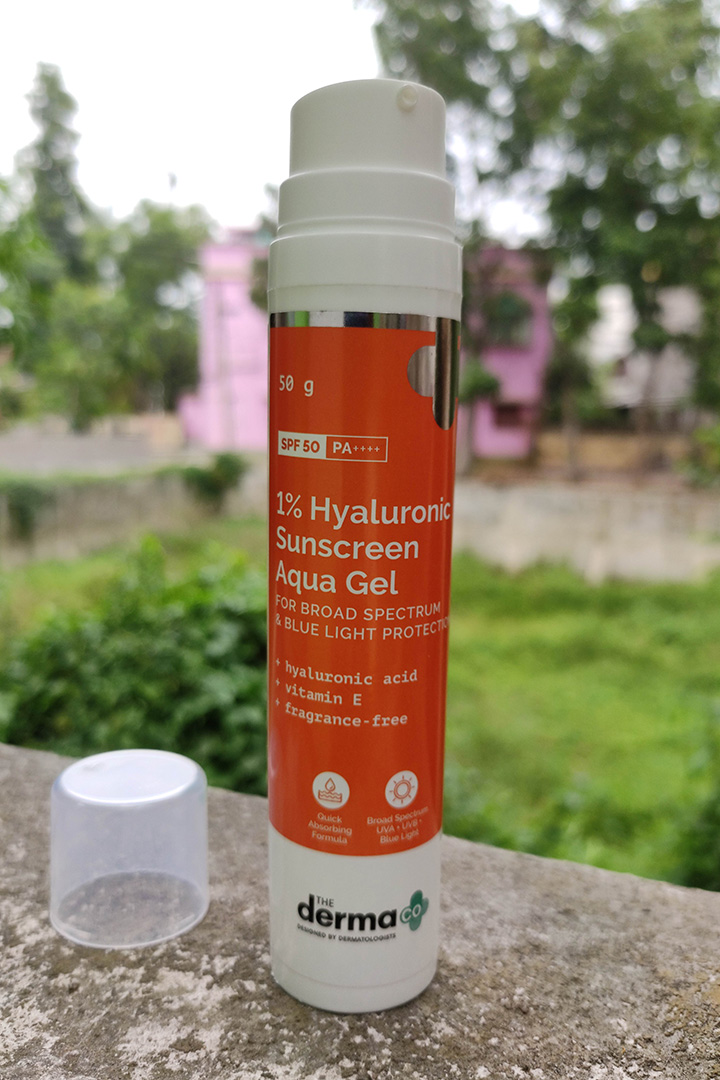 In recent times, I have heard a lot of buzz about The Derma Co. The brand has a range of sunscreen formulations that are quite popular. Some of the most popular products are Pore Minimizing Priming Sunscreen, 2% Hyalacalamine Sunscreen, 1% Hyaluronic Sunscreen, etc.
In fact, the Hyaluronic range has a number of sunscreens e.g. Invisible Sunscreen, Sunscreen Aqua Gel, Ultra Matte Sunscreen Gel SPF 60, etc. As someone who is using The Derma Co product for the very first time, I picked up the best-seller 1% Hyaluronic Sunscreen Aqua Gel with SPF 50.
It's been 2 weeks already that I have been using it every day without any skip. Let's find out why it is one of their best selling products.
What does The Derma Co Claim about the 1% Hyaluronic Sunscreen Aqua Gel with SPF 50?
Your quest for the perfect broad-spectrum sunscreen ends here. The ultimate safeguard is finally here! Get the ideal sun protection with 1% Hyaluronic Sunscreen Aqua Gel that comes up with the power of SPF 50 & PA++++.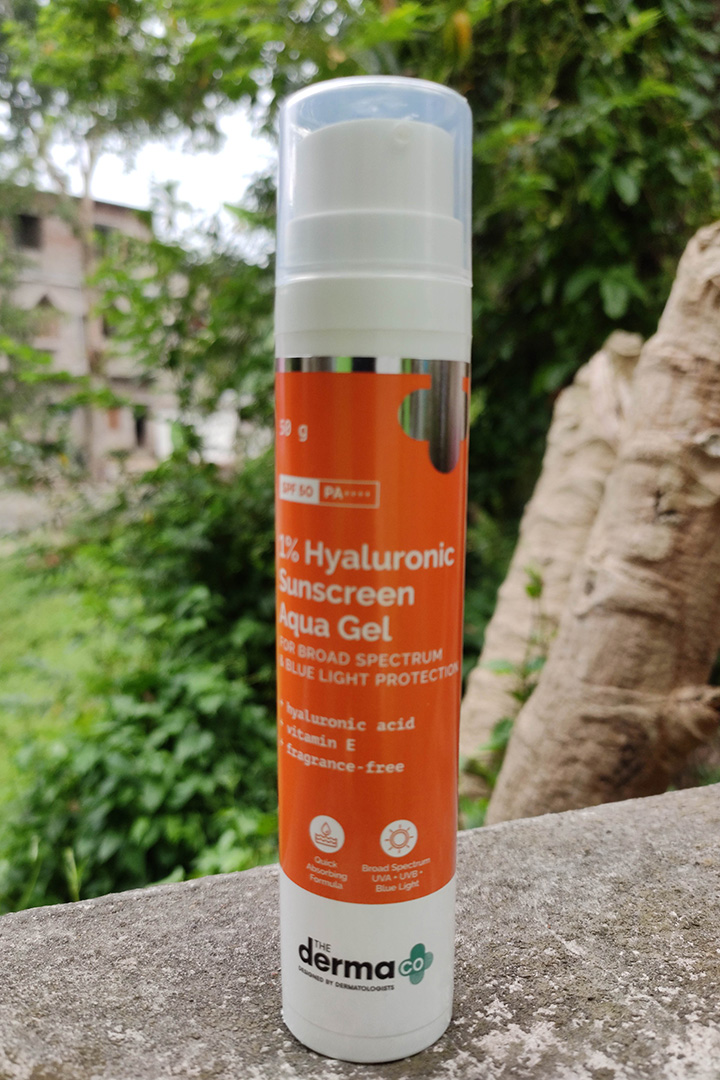 Your skin stays guarded against the blue light too without any greasy residual! The super lightweight, fragrance-free formula dissolves like water.
This sunscreen is an effective combination of Hyaluronic Acid & Vitamin E that not only helps you to fight against the sun damage but also acts as an anti-ageing pair.
Basic Details about The Derma Co Sunscreen
Price: INR 499 for 50g
Shelf Life: 24 months from the date of manufacturing
Ingredient Analysis of The Derma Co 1% Hyaluronic Sunscreen with SPF 50
Well! There are more than 30 ingredients that this sunscreen is made of. I have analyzed each component so that we can understand the formulation better. Let's find out what's inside the viral Derma Co Sunscreen.
1. Aqua
Water is the base of this sunscreen
2. C12-C15 Alkyl Benzoate
An emollient that works as a moisture-sealant and makes the skin soft.
3. Ethylhexyl Methoxycinnamate
An Ultra Violet protective agent that protects the skin layers from the UV-B rays of the sun.
4. Dimethicone
A silicone component that let the skin appear smooth and prevents moisture loss
5. Sodium Acrylates Copolymer
A synthetic polymer that works as a binder and also as a film-forming agent.
6. Butyl Methoxydibenzoylmethane
It is a synthetic oil-soluble sunblock agent that protects the skin from both UVA and UVB.
7. Hyaluronic Acid
An excellent anti-ageing element that makes the skin soft-smooth from inside and outside.
8. Glycerin
Popular humectant like honey that helps to retain moisture
9. Benzophenone-3
Works as a sunscreen agent that can absorb a wide range of UV rays.
10. 1,3-Butylene Glycol
Basically, a popular humectant just like Glycerin.
11. Phenoxyethanol
A synthetic preservative that is widely used in personal care products.
12. Lecithin
A skin softening emollient that is quite popular among brands.
13. Aloe Barbadensis Leaf Juice (Aloe Vera)
It helps to nourish the skin from the inside and outside.
14. Xylitol
Improves the skin hydration level and improves the skin barrier function.
15. Glucose
An excellent humectant and skin conditioning agent.
16. Sodium Levullinate
It is the salt of Levulinic acid that helps to increase the shelf life of cosmetics. Honestly, this component was new to me as well.
17. Phospholipids
Works as an excellent emulsifier and helps to bind oil with water.
18. Propylene Glycol
Quite popular in personal care products as humectant and preservative. 
19. Ethoxydiglycol
A safe skin conditioning agent that helps the penetration of products into the layers of the skin
20. Anhydroxylitol
Usually derived from the Sugar Cane fermentation, it is used as a humectant and emollient.
21. Oxothiazolidine
It has a range of applications such as anti-spot, anti-wrinkle, etc.
22. Helianthus Annuus (Sunflower) Seed Oil
One of the best natural skin softening & hydrating component.
23. Glyceryl Stearate
Another widely popular skin conditioning agent
24. Allantoin
Quite popular moisturizing agent
25. D-Alpha Tocopheryl Acetate
Helps to provide better skin texture and a healthy looking skin
26. Phoenix Dactylifera or Date Palm Extract
Works as an excellent natural anti-ageing element in cosmetics.
27. Blueberry Fruit Extract
Rich in Vitamin A, this extract helps to boost collagen production
28. Grapefruit Extract
Makes skin radiant and smooth
29. Zinc Oxide
In the form of nano Zinc Oxide, this component works as an UV filter.
30. Cyclopentasiloxane
A widely used silicone that helps to glide the sunscreen on the skin smoothly.
31. PEG-10 Dimethicone
An excellent viscosity increasing agent that also works as a stabilizer.
32. E-Ascorbic acid
Used as an anti-ageing element in this sunscreen
33. C9-12 Alkane
Excellent solvent that helps to create a smooth texture
34. Hydrogen Dimethicone
A component with a great chemical stability, binds to physical UV filters in sunscreens in order to maximize the protection. It also helps to minimize white casts.
35. Titanium Dioxide
This sunscreen agent has low skin penetration ability. It also works as a colourant.
36. Aluminum Hydroxide and Polyhydroxystearic Acid
Combined with Titanium Oxide, this component works as a coating on the oxide particles to provide better sun protection.
Forgive me if I start comparing this sunscreen with the one from Re'equil. That sunscreen had only 14 ingredients yet my skin felt safe. But, The Derma Co Sunscreen has 36 ingredients but there are only a few handful number of sunscreen agents.
It is worth noting that there is no fragrance agent used nor mineral oil/paraben is used.
As a whole, I will rate the ingredients of the The Derma Co 1% Hyaluronic Sunscreen Aqua Gel, 3.5 out of 5. 
It's quite interesting to note that the brand has changed the concentration of the components and that has indeed tweaked the formulation.

For example, in the old formula, Titanium Oxide was used in higher concentration. Hence, it used to be in the 2nd position of the ingredient list.

But, in this new formulation, as you can see here that Titanium Oxide has been kept at 35th position in the list and inevitably, the concentration of this sunblock component is much lower now. The same happened with Zinc Oxide.
Packaging, Aroma, and Texture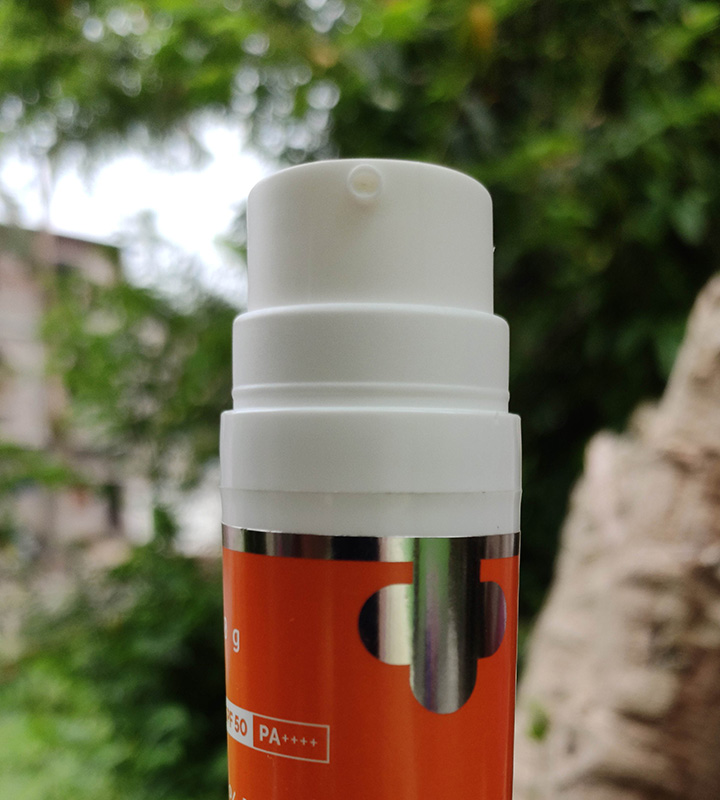 The sunscreen comes in a travel-friendly packaging that has a functional nozzle. There is a cap as well to prevent spillage issues. With each pump, the right amount of sunscreen comes out.
There is no distinguishing aroma whatsoever. It is just some synthetic smell that goes away within just a minute.
The texture is smooth and a bit watery which makes it super easy to blend. At least, I felt so.
Two Weeks with The Derma Co 1% Hyaluronic Sunscreen Aqua Gel with SPF 50
Skin Type: Dry and Sensitive
Well! In these 14 days, I have not skipped this sunscreen even for a day. Right after applying the toner, I lightly massage this sunscreen all over my face and neck. Here are some the things that my skin has felt post-application.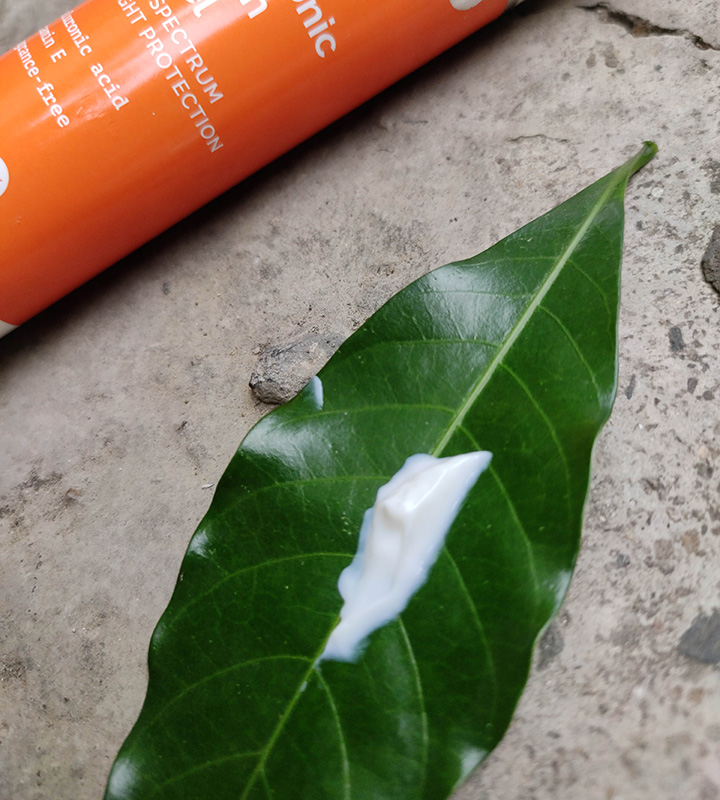 You can skip your moisturizer sometimes while applying this sunscreen as it is hydrating enough. I should not suggest this but at least for this sunscreen, it would not cause havoc.
Non greasy formulation that easily glides over the skin.
If you have a sensitive nose like me, you will love it as it is a fragrance free sunscreen.
It does not control sweating. And, with each wipe (the sweat) of my hanky, I feel less protected.
The brand suggest reapplying it every 4 hours. Honestly, I am not the woman who gets time to reapply the sunscreen. But, I feel that the hydration stays only up to 3 hours. And, after that, reapplication becomes a must no matter what the skin type is.
As of now, I have not seen tanning of the skin which is great.
FAQs
Q1. Is The Derma Co Sunscreen Good for All Skin Types?
Yes, it is. Just note that will not provide any oil control. Hence, if you have oily skin, you can look for matte sunscreens. Rest of the beauties can use it.
Q2. Is The Derma Co Sunscreen Good for Sensitive and Acne Prone Skin Types?
As it does not contain any pore-clogging ingredients, it seems a safe formula for such skin types as well.
Q3. Is Derma Co sunscreen Mineral or Chemical?
The sunscreen is a mineral based sunscreen that comes with a sun protection factor of 50.
Q4. Does The Derma Co Offer the Best Sunscreens?
Well! Indeed, there are a number of sunscreens under the brand name. Keeping in note the Indian skin and different skin textures, the sunscreens have been formulated.
But, there are many amazing brands too out there that offer excellent sun protection formulations. Thus, the answer should not be limited to The Derma Co only.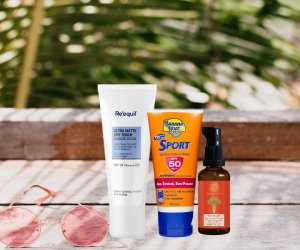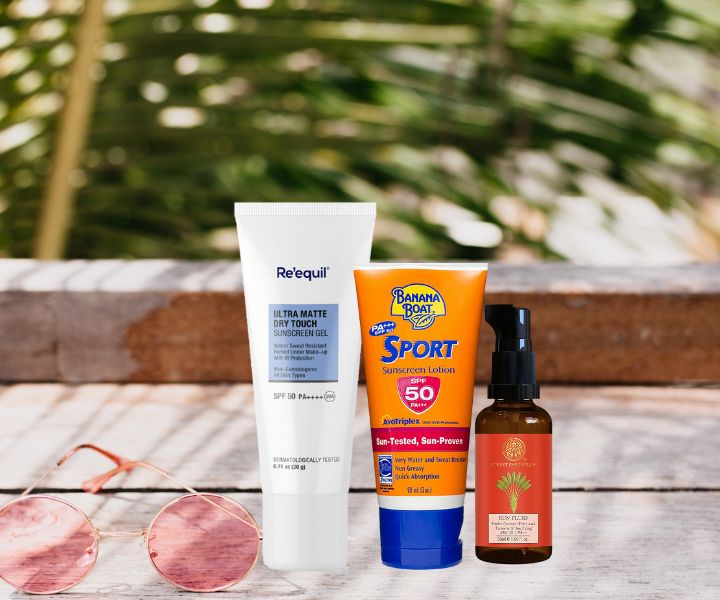 Are you looking for better sun-protection for your skin? Check out these best sunscreens in India and choose what suits the best for you.
Read More