Introducing Forest Essentials' latest addition to their luxurious fragrance collection – The 3 Intense Perfumes.
These perfumes are created with extreme care and attention to detail in order to make a lasting impression and arouse feelings of elegance and attractiveness.
Each perfume is thoughtfully crafted to embody the luxurious and timeless appeal that Forest Essentials is renowned for.
Indulge your senses and elevate your fragrance game with these meticulously curated scents that capture the essence of nature's most cherished blooms.
Get ready to embark on a sensory journey that evokes elegance, passion, and luxury with the Forest Essentials 3 Intense Perfumes.
FE Intense Perfume Collection: Details Inside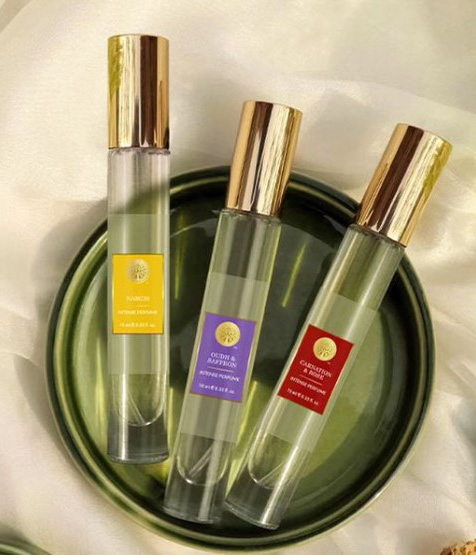 Courtesy of Brand
1. Nargis
Lovely praise to the white petals of the Nargis flower, which blooms in Kashmir's verdant slopes. The heart of this scent is its pleasant, seductive aroma.
Key Ingredients
Pure Grain Alcohol
Aloe Vera
Nargis Floral Water
2. Lime, Saffron & Oudh
An alluring scent that perfectly expresses India. The citrusy, tangy scent of lime pairs well with the woodsy and earthy notes of oudh.
Key Ingredients
Saffron: Kerala Lime
Pure Grain Alcohol
Aloe Vera
3. Rose and Carnation 
A fascinating scent that combines the warm, spicy overtones of Carnations with the sweet flowery notes of fresh Roses from the green slopes of Kannauj.
Key Ingredients
Rose
Pure Grain Alcohol
Aloe Vera
## Each intense perfume has been tagged at INR 1475 for 10ml.
Why You Must Try Out These Intense Perfumes?
A triple sensory treat of seductive scents that surround the senses.
Juice from aloe Vera is included for hydration.
Made with pure, Pure Grain Alcohol according to the ancient Ayurvedic method.
Essential oils have strong scents that linger on the skin for several hours.
Free of petrochemicals, chemicals, and parabens.
Eco-friendly packaging.
How to use
To create an all-day entrancing fragrance mist, spray upon pulse points.
Each Forest Essentials Intense Perfume is meticulously crafted using the finest ingredients, ensuring a luxurious and long-lasting scent experience.

It's the ideal gift for you or a loved one because of its elegant and stylish packaging, which adds a touch of grace to your collection of fragrances.
Cologne Intense Vetiver
Discover the alluring scent of the just released "Cologne Intense Vetiver" from Forest Essentials. This wonderful fragrance was carefully designed to produce a sense of sophistication and elegance. It is an incredible sensory joy.
Pure Vetiver, also known as Khus, is used to create this cool, fresh perfume, and it is sourced from the verdant gardens of Kannauj in Northern India.
The most aromatic and extremely therapeutic variety of vetiver is painstakingly collected from the plant's roots, which are renowned for having a balanced and calming aroma that frequently evokes the beginning of monsoon season and the smell of damp earth.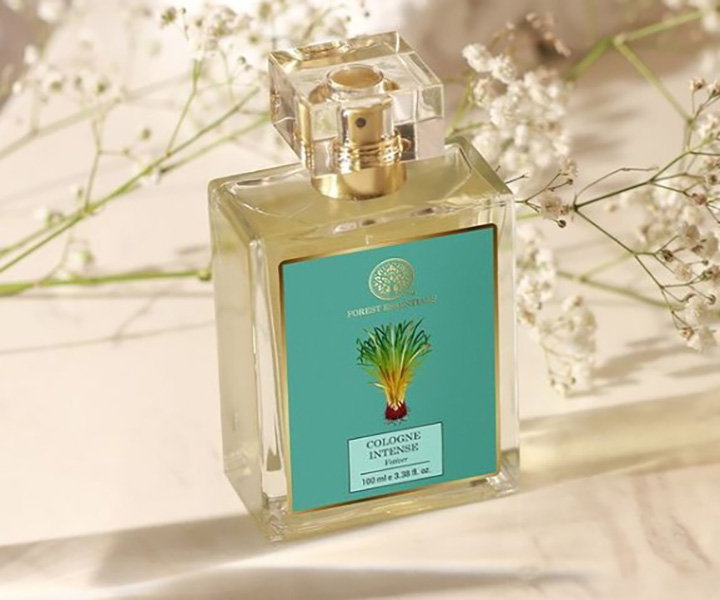 Key Ingredients
Pure Grain Alcohol
Vetiver
Aloe Vera
Benefits of Cologne Intense Vetiver
The senses are calmed and revitalized by this cologne.
A skin-soothing mixture that is cooling.
Free from petrochemicals, chemicals, and parabens.
Sustainable packaging.
How to use
As often as necessary, liberally spritz the entire body to revive and refresh the senses. Also suitable for use following a shave.
Price: INR 3,800 for 100 ml
With its long-lasting formula, this cologne envelops you in a captivating aura that lasts throughout the day.

The luxurious packaging reflects Forest Essentials' commitment to quality and aesthetic appeal, making it a perfect addition to your fragrance collection or an exceptional gift for someone special.

Indulge your senses with the Cologne Intense Vetiver and experience the timeless allure it brings to your everyday moments.