The Ultimate Guide to Makeup for Hooded Eyes
Diversity is what truly makes the human species so beautiful. Just slight variations in hair type, face structure and skin tone can create a wholly different individual.
Similarly, there are several kinds of eye shapes and each one has its own unique beauty. Some people have large round eyes, while others have upturned, almond-shaped eyes.
On the other hand, some have double eyelids and others have monolids. And then there are hooded eyes. Beauty standards often dictate that a certain eye shape is better than the other. Therefore, it is important to book the best makeup artist in Hyderabad for your d-day.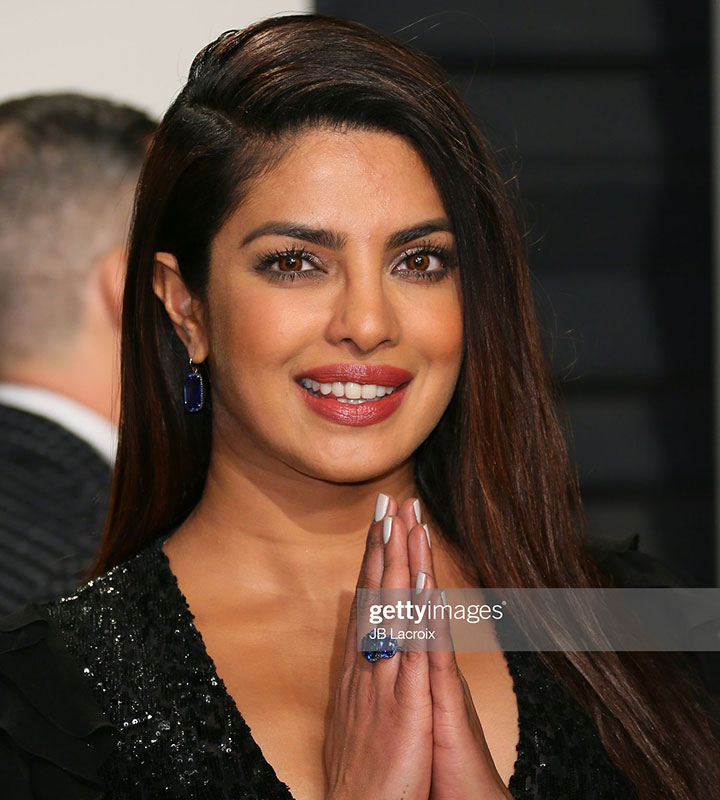 Back in the day, large doe eyes were the most ideal and now, the fox eye makeup trend has made upturned, smaller eyes the most desirable.
Monolids were once considered as not being ideal for makeup, but now large fashion houses and makeup brands choose models with monolids to showcase their products.
The point is that trends change and with them, the definition of beauty also changes. Irrespective of what's trending, it is very important to love and be happy with your natural features and not compare yourself to others.
It is believed that makeup application is difficult if you have hooded eyes, but let me tell you that that is just a myth. With the right tips and tricks, you can master the art of makeup for hooded eyes.
But first, let's understand the meaning of hooded eyes for more clarity.
Meaning of Hooded Eyes
Quite literally, the phrase 'hooded eyes' refers to eyes that have a 'hood' over them. Basically, this eye shape has an additional layer of skin that falls over the crease or the upper lid of the eye.
This makes the eyes appear smaller and the upper lid appears to be hidden.
So, now that we know the meaning of hooded eyes, let me give you all beauties with hooded eyes a confident boost.
First, let me introduce you to some very well known ladies who are praised for their appearance by the entire world. And guess what? They all have lovely hooded eyes.
Celebrities with Hooded Eyes
Blake Lively
Named 'Most Beautiful' and 'Most Desirable' by several magazines several times, Blake Lively is one of the most popular celebrities with hooded eyes. The actress is well known for starring in the TV show 'Gossip Girl' and her eye makeup is often the centre of attention in many of her red carpet looks.
Anne Hathaway
Yet another actress who needs no introduction, Anne Hathaway stole hearts with her iconic role in the movie 'Princess Diaries'. Her sexy, smokey eye makeup in the movie 'The Devil Wears Prada' is a fan favourite, as it is a timeless and classy look that can be worn by anyone.
Priyanka Chopra
It is a complete stereotype that all of us have wide, round eyes.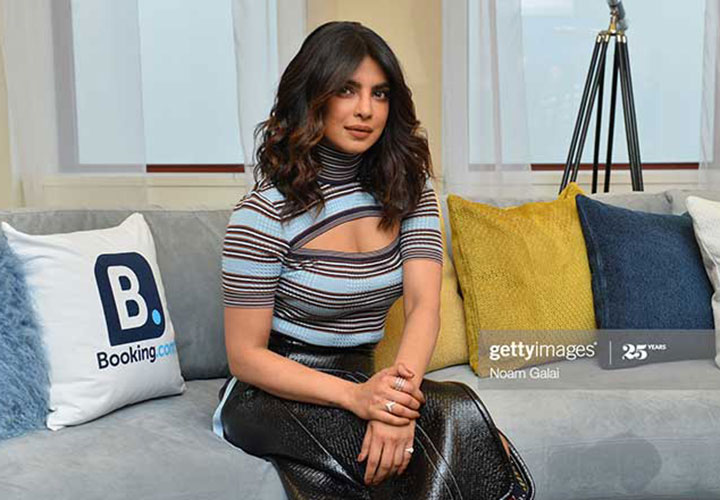 Our very own desi girl has a pair of lovely hooded eyes, and her eye makeup is always stunning, be it an elegant red carpet look or an extravagant Met Gala look. She is one of the most popular celebrities with hooded eyes.
Emma Stone
Perhaps millions have a crush on this Golden-Globe winning actress. But apart from her acting prowess, Emma Stone is globally loved for her pretty features. Her eyes often take the center stage in her makeup looks, and she seems to be a huge fan of eyeliner to bring out the shape of her hooded eyes.
Jennifer Lawrence
This Golden Globe and Academy Award-winning actress seems to love smokey eyes, and many of her red carpet looks feature a sultry smokey eyeshadow look without making the eyes look too small.
Taylor Swift
Does Taylor Swift need an introduction? Her stunning bright blue eyes are deeply hooded, and she seems to have an affinity for eyeliner. Taylor Swift can be often seen sporting winged eyeliner, complete with eyeliner on the bottom lash line to give the eyes strong definition.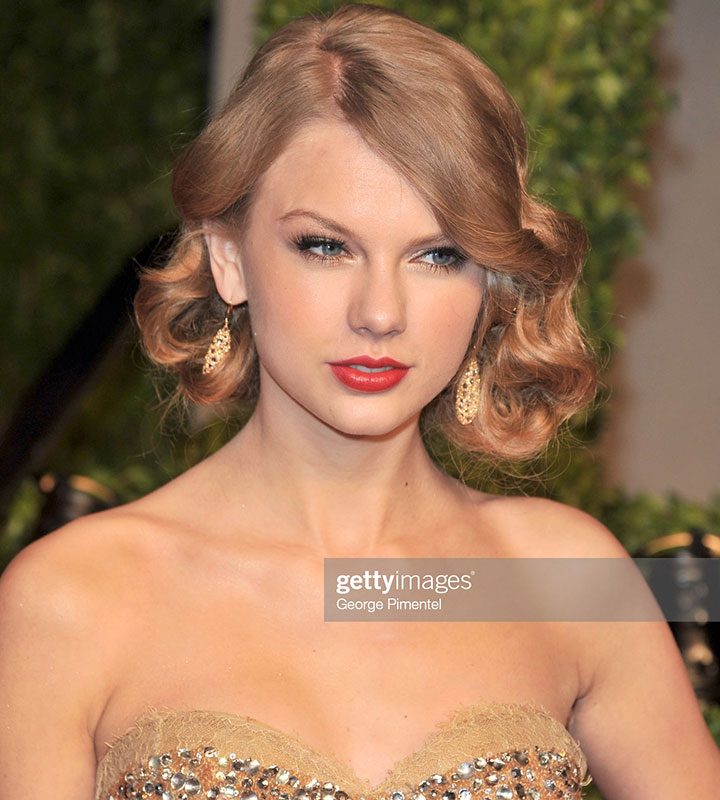 So now that you know that there are plenty of celebrities with hooded eyes who are appreciated for their beauty, I hope that you feel more confident and secure about your own eyes. You also probably noticed that these women aren't afraid to draw attention towards their eyes, and you can do the same. All you need are the right tricks and techniques and you'll be a hooded eyes makeup pro in no time.
Makeup for Hooded Eyes
Now we are sure that no matter the shape of your eyes, you can rock any eye makeup look you want and it is a completely false notion that makeup looks good only on certain eye shapes.
It is also a complete misconception that if you have hooded eyes, makeup is an impossible task. The truth is that there is no universally applicable makeup technique, at least as far as the eyes are concerned. With the right technique and with the right makeup brand like SenseOrient, you can easily make your beautiful eyes more attractive.
In this section of the article, I will break down some basic hooded eyes makeup techniques that will take your looks to the next level. In 2021, let your resolution be to break the stereotype that makeup for hooded eyes is a difficult job.
Eyeliner for Hooded Eyes
Eyeliner is a makeup product that every makeup lover needs to have in their arsenal. Knowing how to work with eyeliner can be a total game-changer.
You can add eyeliner to a simple nude eyeshadow look to add more dimension, or you can skip the eyeshadow and pair winged eyeliner with a bold red lip for instant glam.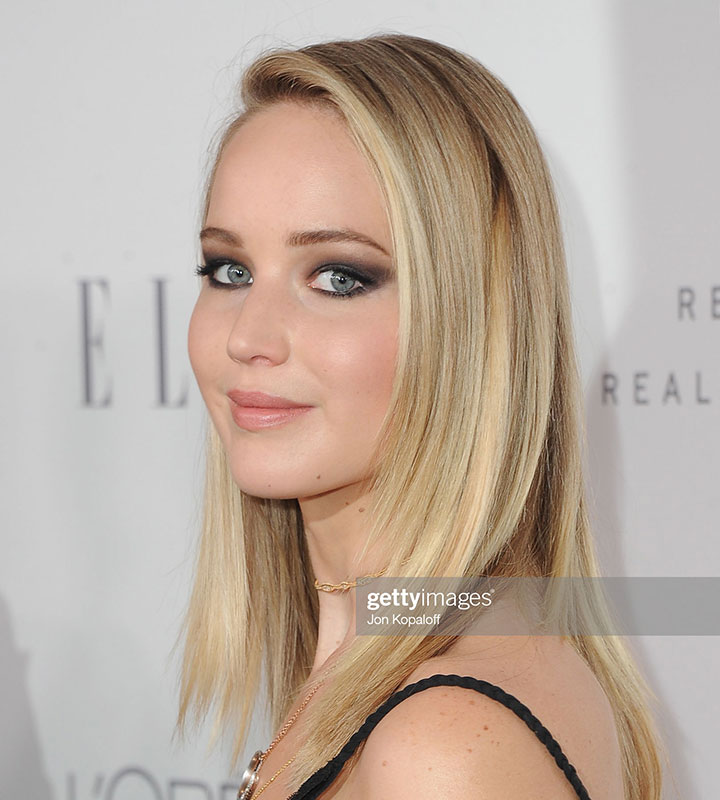 You can even line your eyes using eyeshadow for a softer look. Here's how to draw a classic winged eyeliner for hooded eyes:
Draw a line on the hood of your eye, following the angle where your lower lid slopes up. Draw the outer tip of the eyeliner where the hood begins so that it is not hidden when your eyes are open.
Make sure to do this with your eye open so you know exactly how it is going to look.
Connect the wing by drawing a thin line across the rest of your upper lash line.
Tips
Use a smooth liquid eyeliner that dries quickly and doesn't skip to make the job easier. The NYX Epic Ink Liner has a brush tip and is extremely easy to use.
Before going in with the liquid liner, you can trace the shape of your eyeliner with a soft kohl pencil for additional ease. Rimmel London's Soft Kohl Kajal Eye Liner Pencil is perfect for this.
Now that you have mastered the art of eyeliner for hooded eyes, let's move on to some more looks.
Eyeshadow for Hooded Eyes
The key to perfecting makeup for hooded eyes is to enhance the visible lid space and create the appearance of a more open eye. I will be sharing a simple but chic daytime look and a fun nighttime look, along with some more experimental but easy looks so that you have plenty of options to choose from. Let's go!
Daytime Look
Take a matte eyeshadow that is two or three shades darker than your skin tone. This is going to be your transition shade. Sweep this shade below the brow bone along the shape of your eye and blend well.
Using a matte eyeshadow darker than your transition shade, blend it below the transition shade to create a gradient and apply it all over your eyelid.
Take a light shimmer eyeshadow and apply it to the inner corner to create the illusion of a more open eye.
For extra definition, take a dark eyeshadow on a small detailing brush and softly line your eyes.
This technique can be used with any colour scheme you like, just remember to place the lighter shade at the top and go darker as you reach the lash line.
The Wet n Wild Color Icon Eyeshadow Palette in My Glamour Squad is the perfect everyday palette with some pretty warm-toned shades you can create several looks with.
Nighttime Look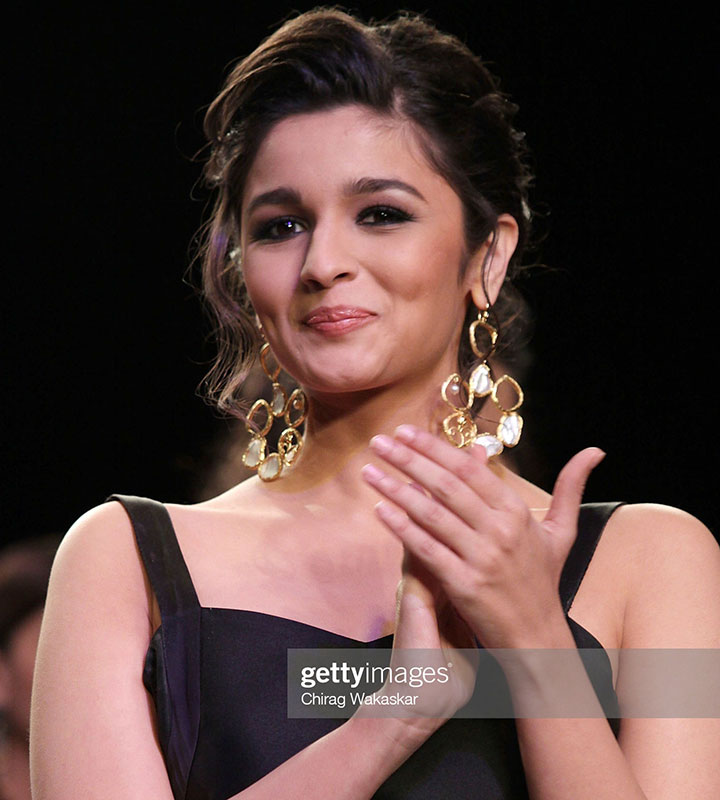 Taking your transition shade, apply it below the brow bone and extend it outwards into a V-shape to create a subtle definition.
Apply a medium shade below the transition colour, and blend it all over the lid, diffusing it into the transition shade.
Taking a dark eyeshadow, line your upper and lower lash lines, creating a soft wing.
Highlight your inner corner and use the same shade on your lower lid, just in the centre. This will draw attention to the centre of your eyes, away from the hood.
You can easily switch up the colours to match your mood, and this look is guaranteed to make you stand out. Highlighting the lower lid is a genius hack to give the eyes a larger appearance. I recommend e.l.f. Bite-Sized Eyeshadow Palette in Truffles because it has all the shades you need to create this look.
Defined Look
Well, what is a girl's makeup kit without some kohl and eyeliner? We love defined eyes, and if you have hooded eyes you don't have to feel left out. Here's a simple trick to define your eyes without making them look even smaller.
Using a liquid eyeliner, line your upper lash line, making sure that the line isn't too thick.
Using a kajal of your choice, line your lower lash-line instead of your water line.
Before the kajal sets, take a small brush and smudge the liner along the lower lash line. You can also use eyeshadow for this step. This will ensure that your eyes don't look too small.
Tip

Try switching out your black liner and kajal for a deep brown, and you will notice that while defining your eyes, the brown doesn't look too harsh and still maintains the appearance of wider eyes.
Glitter Cut Crease Look
You read that just right. It is totally possible to achieve a glamorous cut crease for hooded eyes with the right kind of technique.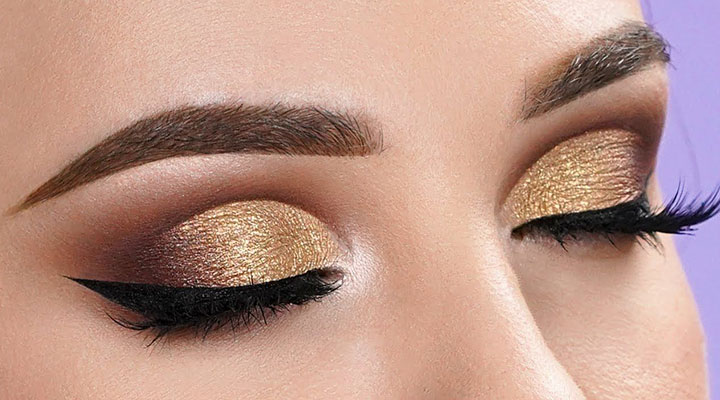 Image Courtesy: Pinterest
Start by placing a matte transition shade of your choice below your brow bone and wing it outwards towards your eyebrows.
Next, take a medium matte and blend it just below the transition shade. Do not take the eyeshadow on to the lid.
Take some concealer on a small detailer brush and apply it all over your lid, taking it slightly over the hood. Be careful while doing this step as it will decide the shape of your cut crease.
Next, take a glitter eyeliner and draw a fine line along the boundary of the concealer, creating a wing below the eyeshadow.
For extra definition, add some liquid liner along your upper lash line.
Add some inner corner highlight and you're good to go!
So simple, isn't it? Eye makeup for hooded eyes is really not as difficult as it is made to be. To create this look easily, go for a glitter eyeliner that is highly pigmented and impactful. I recommend the Focallure Beam Eyeliner for this.
Smokey Eye Look
It is true that smokey eyeshadow makes your eyes look smaller. But, since hooded eyes already appear smaller, you don't need to work very hard to get that sultry, sexy look.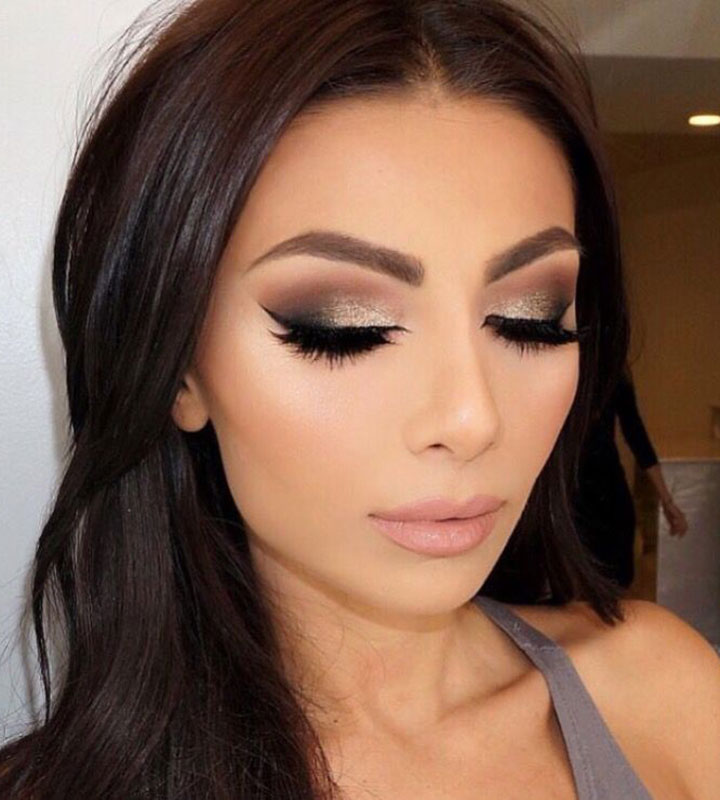 Image Courtesy: Pinterest
Apply a brown-toned transition shade as usual, and blend some medium brown below it.
Add deep brown matte eyeshadow below the medium brown, and keep it close to the lash line.
Blend the shadows upward into a wing
Draw a very thin winged eyeliner using liquid eyeliner.
Apply matte black eyeshadow just above the liquid eyeliner and start diffusing it. Blend it close to the eyeliner.
Apply your transition shade on your lash line and blend the medium shade below it. Remember to keep these shades close to the lash line to maintain definition.
Take your matte black eyeshadow and blend it along the outer part of your lower lash line, blending it into the winged liner that you created.
For extra pop, take some liquid glitter eyeshadow and tap a very thin layer on your inner lid to get a beautiful sparkly effect. The Swiss Beauty Glitter Eyeshadow is perfect to achieve this look.
That's it! Smokey, sultry eyeshadow for hooded eyes in just seven steps.
Bright Colourful Look
If you want to draw attention away from your hood, adding a pop of colour can be an excellent idea. The look is super simple to achieve, all it takes is two steps:
Draw a winged eyeliner
Take a bright matte eyeshadow of any colour of your choice, and pop it right into your inner corners.
If you don't want to invest in eyeshadow, you can always get a bright, hot pink blush and use it as eyeshadow. Remember to opt for vivid tones, as a subtle eyeshadow won't do the trick
Eye-Opening Bright Look
It's easy to stand out of the crowd by switching up your makeup just a little bit. The simplest way to do that is to add some colour to your lower lid.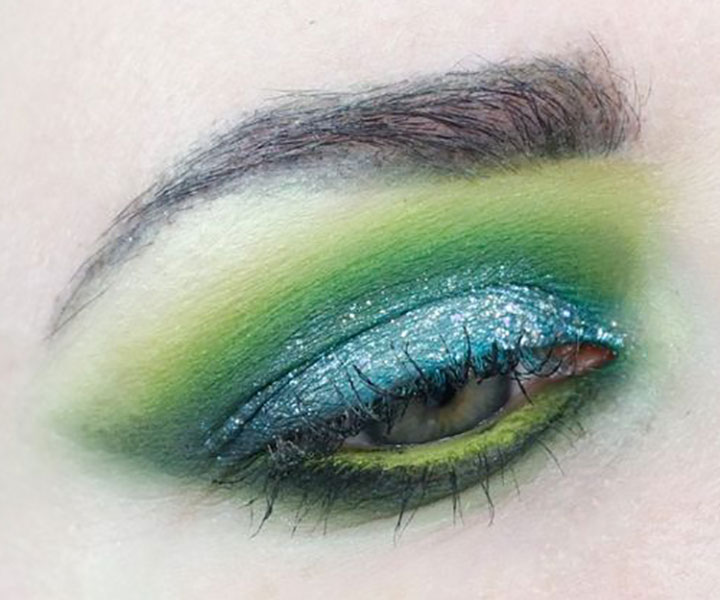 Image Courtesy: Pinterest
Create a nude eye look by using some warm brown eyeshadows on your top lid.
Take a bright coloured eyeliner and line your lower waterline and lash line.
For a softer look, use a bright eyeshadow instead of eyeliner and smudge along your lower lash line.
The Rimmel London Exaggerate Waterproof Eye Definer in the shade Aqua Sparkle is not only a great eyeliner for this look, but it is also ultra pocket friendly.
Foxy Eye Look
This article would've been incomplete without mention of the trendiest eye makeup look right now. Fox eye makeup for hooded eyes can be achieved  In just a few steps, you can achieve snatched eyes like Bella Hadid.
Apply your transition shade, as usual, diffusing it towards the lid.
Take some cool-toned medium brown eyeshadow on a precise angled brush and draw a thin line beginning at the outer third of your lash line and flick it outwards at a 45-degree angle wing.
Take a very little amount of black eyeshadow and blend it into the wing you have created, making sure that the black and the brown are properly blended into a gradient. The wing should be tapered to a point.
To make the wing even more precise, take some makeup remover on a cotton bud and run it along the bottom of the wing until you get the desired shape.
Take a black liquid eyeliner pen and draw a small downturned wing along the inner corner of your eye to make it look elongated.
And that's it! Fox eye makeup for hooded eyes in a jiffy.
Soft But Defined Eye Look
If you feel that the above-mentioned look with the inner corner eyeliner is a bit too harsh for your style, try out this softer, classier version of the fox eye look that you can wear to any event.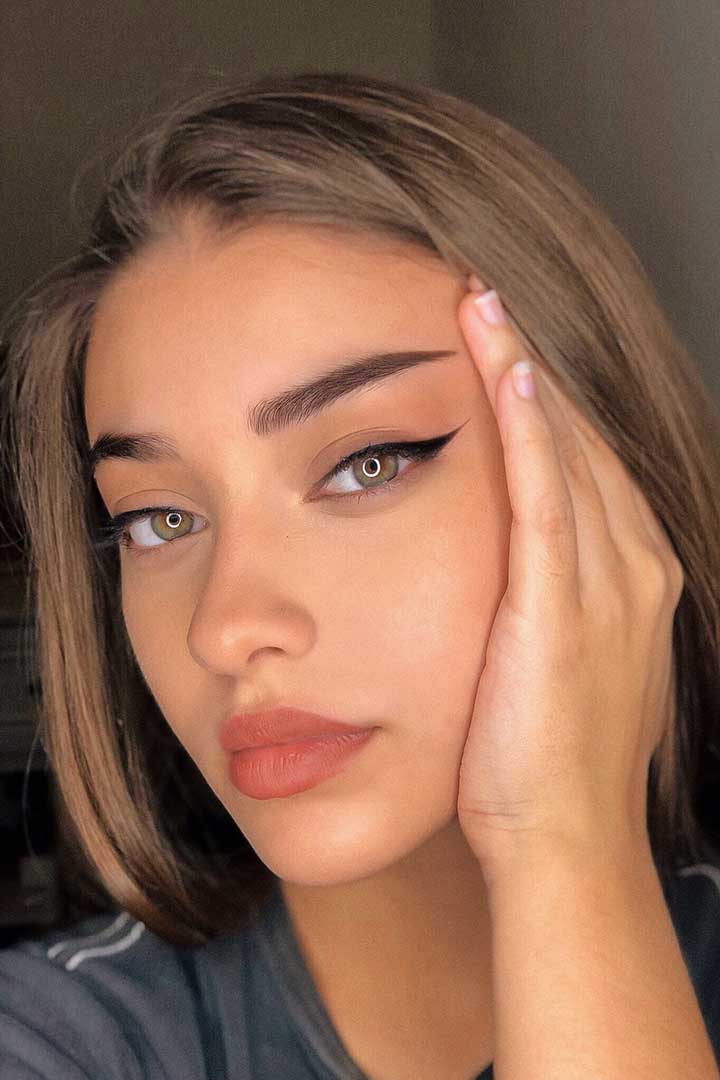 Image Courtesy: Twitter
Take a matte eyeshadow one shade darker than your eyelid and apply it to your crease. Make sure to apply it to the part of your crease right below where your eyebrow begins.
Take a matte brown darker than the previous colour you used, and diffuse it below the crease colour, again making sure to blend it towards the inner part of your crease.
Then, using a cool-toned brown darker than the previous two colours, blend it below the medium brown, applying it only at the centre and the outer part of your lid.
Cut your crease using some concealer, making it so slightly above your actual crease. Cut only the part of your lid that is visible and avoid the hood of your eye.
Use a matte eyeshadow lighter than your skin tone and set the concealer with it.
Lastly, use black eyeliner to create a thin winged eyeliner and add thin kajal on the waterline if you wish.
The cool-toned brown will act as a contour for your eye and the light eyeshadow will shift the focus to the visible part of your lid, thus creating the illusion of a more open eye.
In fact, you can totally use contouring powder and compact powder in place of eyeshadow for this look.
More Tips and Tricks for Achieving the Perfect Eye Makeup for Hooded Eyes
Always look directly in front while applying your eye makeup. Facing upwards or at an angle will be unhelpful as you won't get a clear idea of what your eyeshadow will look like.
Placing your eyeshadow above your natural crease will make your eyes look larger. You don't even have to create a full-on makeup look to achieve this effect. Simply take your bronzer and blend it above your crease.
Using an eye primer will help boost the longevity of your eye makeup and also minimise creasing. The e.l.f. Shadow Lock Eyelid Primer is an excellent affordable option.
Make sure to brush your eyebrows upwards while grooming them. This will create the appearance of a larger eyelid space and make your eyes look larger. The Wet n Wild Mega Clear Mascara is perfect to comb your brows upwards and keep them in place too.
Softly highlighting your brow bone will also make your brows look more lifted.
Finally, practice makes perfect! Not all hooded eyes are exactly the same, and practising eye makeup will give you more insight into your eye shape and will also help you understand what makeup styles you prefer.
Eyelashes for Hooded Eyes
False eyelashes can make any eye look to the next level. Since hooded eyes are already hidden by the hood, it would be counterproductive to wear ultra-long or voluminous lashes, as they would cover up the lid even more and ultimately hide the beautiful eye makeup you put so much effort into.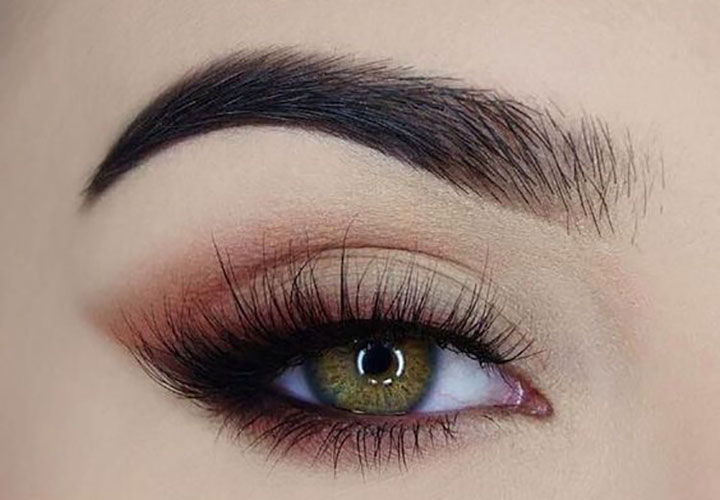 Image Courtesy: Pinterest
But don't worry, you have several options that are also budget-friendly. Here are some eyelashes for hooded eyes that I recommend.
1. Renee Cosmetics Munny – Diadem False Eyelashes
This pair of eyelashes is so natural, no one will be able to tell that they are not your own lashes. The length is just right, not too short and not too long, and the fluttery volume is not intense at all. With these eyelashes, your eyes will be able to achieve a fluttery look without appearing over the top.
2. Pro Arte Eyelashes – 007
My favourite pair of them all, these eyelashes are ideal for events where you want to look glamorous and natural at the same time. Apply them to the outer corner of your eyes, and you will get a fanned out but naturally voluminous lash look.
Phew, that was a long post! But, I hope it gave you some in-depth insight about makeup for hooded eyes. It's really not difficult or impossible, and it is all about knowing the right products and the right technique to suit your eye shape.
A Few Thoughts
Celebrity makeup artists work with a host of people and create eye looks to suit their client's unique eye shape in a way that flatters them. Naturally, this comes with a lot of practice. During the weekend, grab your favourite eyeshadow palette and get to practice.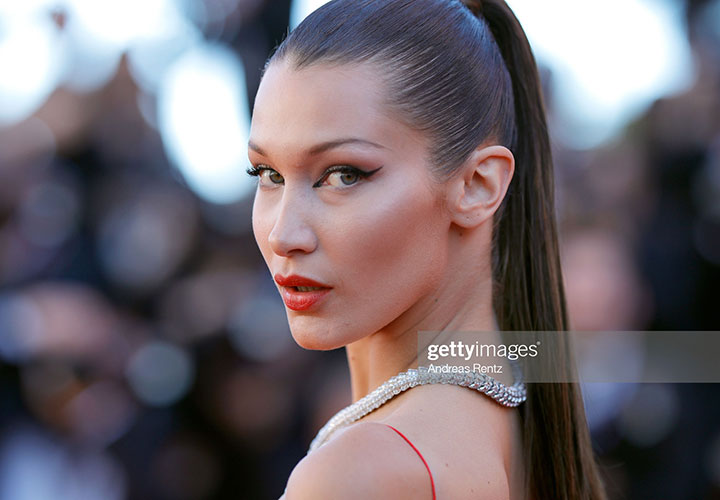 Try experimenting with different colours and styles so that you know what looks the best on you, and so that you can easily create any look you want when an event rolls around. I have mentioned several eye makeup looks for hooded eyes, along with many eye makeup tips for hooded eyes in this post, so remember to bookmark it and revisit it whenever you practice.
Also, it is important to note that you don't need any fancy or expensive makeup products to achieve a stunning eye look. There are plenty of affordable options, and I have mentioned a number of products across this post that work just as well as their pricier counterparts.
Finally, as with everything else, confidence is key. When you feel confident in yourself, it truly reflects on your face and enhances your natural beauty.
Whether you opt for something bright and bold, or natural and subdued, or even no makeup at all, merely feeling confident from the inside will give your looks a boost that no product ever will.
That's all for today! If you find this post helpful, make sure to share it with your friends and family who have hooded eyes or are makeup artists. Which technique did you love the most? Let us know in the comments. Take care; celebrate life.