Hello beauties, welcome to CA. Today I would review the Elle 18 Color Pops Matte Lipstick in the shade Rockstar Red (R32). These Matte lipsticks from Elle 18 have already become showstoppers because of their inexpensive price tag! 
Now let us try to find out whether this particular shade is a genius or not :)).
Price: INR 100 for 4.3g!!
Shelf Life: 24 months
Product Description and Ingredients:
Your new, essential lip color is here. Now you can get that bold and intense color in just one stroke of application. Available in 20 bold and vibrant shades that accentuate your overall look. Give your lips the spotlight they deserve with the New Color Pops Matte Collection! #Matteisin.
As usual, I could not find any ingredient list :((
I had never been a lipstick girl untill recently when I did watch some amazing Youtube Videos. I have literally fallen for lipsticks. I am trying to buy one or two lipsticks each month!! In fact they have become an inseparable part of my daily makeup. 
I bought this shade several weeks ago. And I have used it more than 10 times now. So, allow me to judge this product on the basis of the following parameters.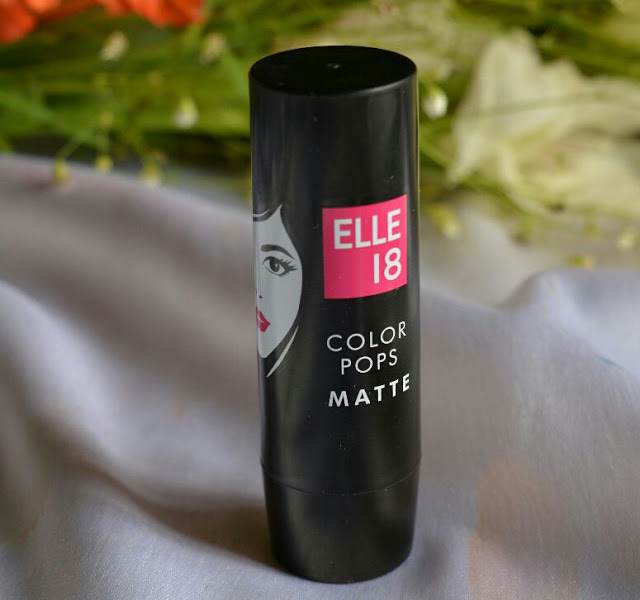 It comes in a sturdy and travel freindly packaging. The cap closes tightly and the graphics on the black cap is really an eye catcher. Anyone would fall for these. In one word, the packaging is just perfect. The lipstick comes out smoothly. Most importantly like the other variants of Elle 18 lipsticks, this one did not break!! yeppieee. I am truly happy for this.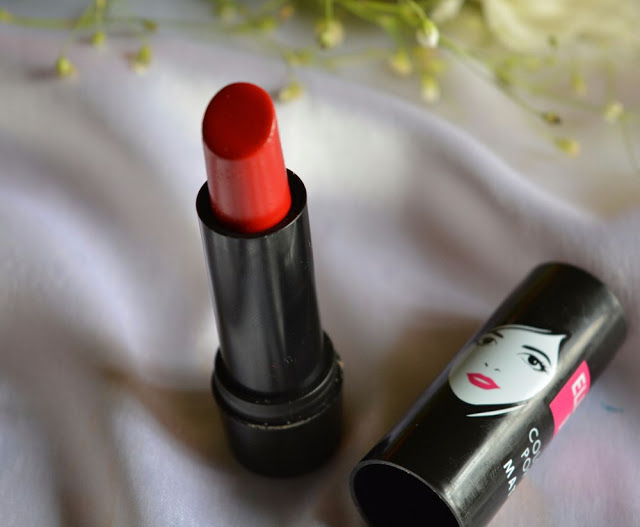 It has a creamy matte finish. In fact more on the creamy side. Positive thing is that it does not irritate or dry out my lips. Overall, the texture is commendable for dry lippies like me. 

Staying Power:
Aha! here comes the most difficult question. Honestly, if you do not have any meal, or do not touch the lips then it stays perfectly for 4 hours. After that it starts fading slowly. But if you touch your lips accidentally, it is gonna trasfer like crazy. And if you take meal, even the lightest meal would transfer. 

Fragrance:
It has a vanilla sort of aroma which is quite amusing. It moisturises lips.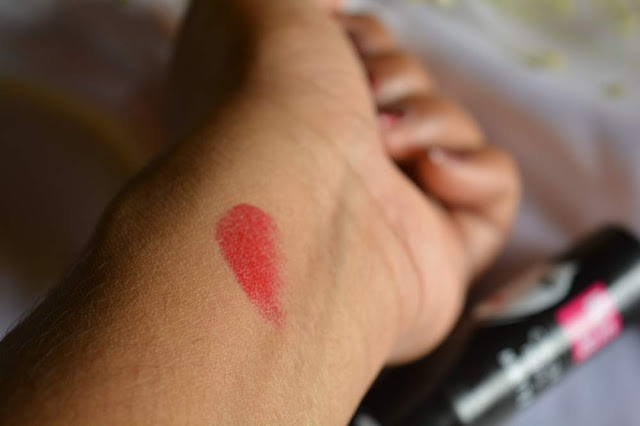 Shade:
This particular shade has an orange undertone. This is a perfect shade for warm tone beauties. It gives a perfect party look. I find the color is amazing for date nights :)). I love this bold red look :)). College goers would fall for it sure.

The thing which I dislike the most is that it is very easy to remove. Just take water and rub on lips, Voila!! it would be completely wiped off. Utterly disgusting. 


PROS:


Very very frugal to pocket.

Beautiful shades.

Nice vanilla fragrance.

Creamy matte in texture.

Sturdy packaging.

Shades are properly mentioned at the bottom.
Low staying power.

Smudges and trasfers quickly.

Easy to remove.
***CA IMPRESSION: 4/5***
You might be wondering that after so much complaints, how could I give a 4 rating. The answer is that Elle 18 has never claimed to be a high end brand. They offer cosmetics at a very low price and has always been targated the college or school goers. So I love their effort to create something trendy at such an amazing price tag.


Take care my friends. That is all for today. Love you all. Enjoy life and celebrate womanhood :)).  
Thank you for reading. Have you used this product? Please share your experiences here. Love you all.
**By the way, I am gonna organise a giveway soon. Just stay tuned for more updates :)).