Patanjali Neem-Aloe Vera Face Pack Review
Skin Type: ALL Skin
Bonjour my beautiful angels, welcome to Cosmetics Arena. Patanjali Neem-Aloe vera Face Pack is the centre of discussion today.
Diwali is on its way..😊😊, and I am kinda busy. So, I was looking for some kind of face pack which can save my parlour cost..😛. As a result I ended up buying this. Let us take a look at the efficiency of the product.
Price: INR 60 for 60g
Shell Life: 1.5 yrs
Product Description and Ingredients: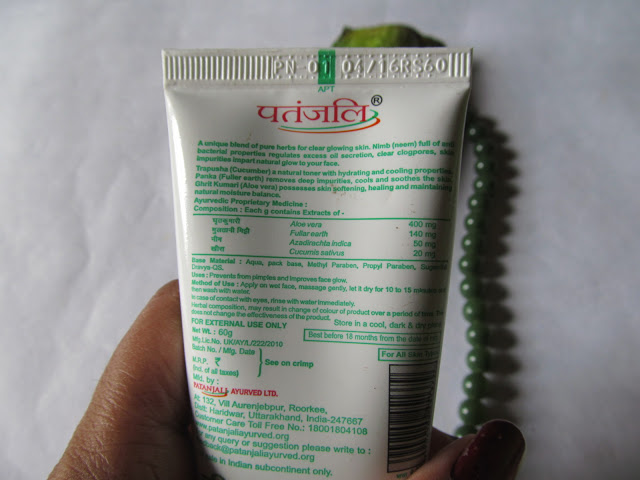 All the active ingredients are mentioned properly along with their proportions in the formula. Aloe Vera has the highest proportion i.e. 400mg in 1g solution. As you can estimate from the picture that I am a big lover of Aloe Vera plants. And I have a little farm of this miracle plant at home. So, if I find anything bearing the name, that comes into my closet immediately. This pack also has Fuller earth or Multani Matti (saviour of Oily skin, removes excess oil, impurities and provides freshness), Neem ( acts as Anti Bacterial) and Cucumber as a skin toner. There is 610mg active ingredients within 1g solution (1g=1000mg)
Packaging: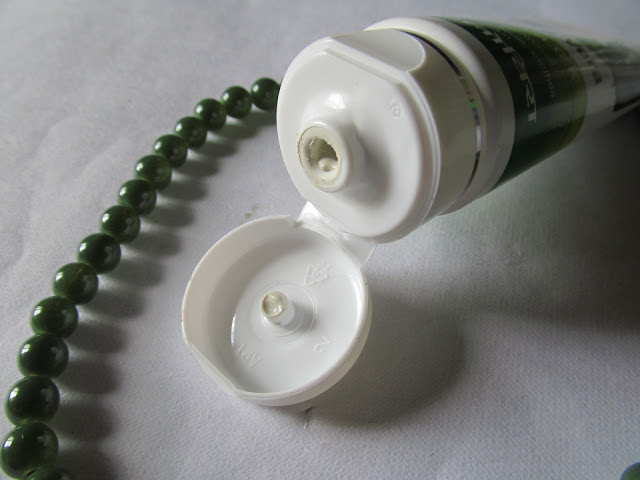 The packaging is a usual one i.e plastic tube with a flip flop cap. The opening hole is perfectly cut, so the product comes out properly and reduces wastage.
My IMPRESSION about Patanjali Neem-Aloe Vera Face Pack
A face pack is a very essential part of a healthy skincare regime. I am using this Face Pack once a week. I squeeze out the product which has a creamy thickness and spreads evenly. The colour is sort of white but with a mild touch of grey because of the Multani Matti.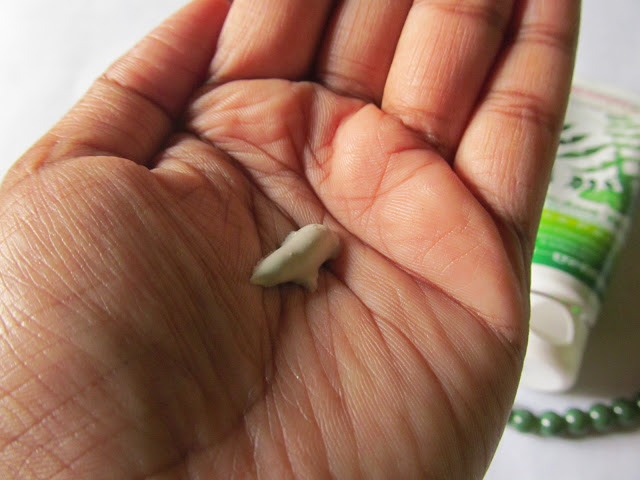 I leave the pack to dry for 10 minutes or until it dries completely. The formula is very balanced and does not tingle or irritate. After wash off, I feel properly hydrated and a divine freshness. Though I have dry and sensitive skin, I do not feel stretchy afterwards, which is great. It properly unclogs pores and provides a cool sensation. Another thing is that it makes my skin soft and visibly smooth. Though the product claims all these, I was dubious about the softness part..😛😛. I felt amazed at the result. One thing is that because I have no pimples or acne, so can not comment upon its effectiveness on that. There are some CONS too along with the PROS. Let us go through both the parts.
PROS:
Extremely budget-friendly face pack.
Enriched with the goodness of Fuller Earth, Aloe Vera, Neem and Cucumber.
It clears oils and softens skin.
Wipes off impurities and provides healthy skin.
Travel-friendly packaging.
CONS:
Parabens are present.
Nature of Sugandhit dravya or perfumery substance is not written.
Neem is mentioned as one of the basic ingredients but only 50mg is used per 1g..😧
***CA IMPRESSION: 4.5/5***
My final verdict is, this is a completely imexpensive face pack which is full of benefits. It would not dissatisfy you an inch. In fact, this face pack is one of the best sellers of Patanjali. So, go grab it. I would definitely recommend it.
Take care, my sweethearts. Love you a lot. Celebrate womanhood charmingly..😊😊
Thank you for reading. Have you ever used Patanjali Neem Aloe Vera Face Pack? Please share your feedback here. Love you all..😊