Hello my dearies, welcome to Cosmetics Arena. Today I will review 

Ecotique Himalayan Saffron Oil. I was supposed to review this one a long time ago :P.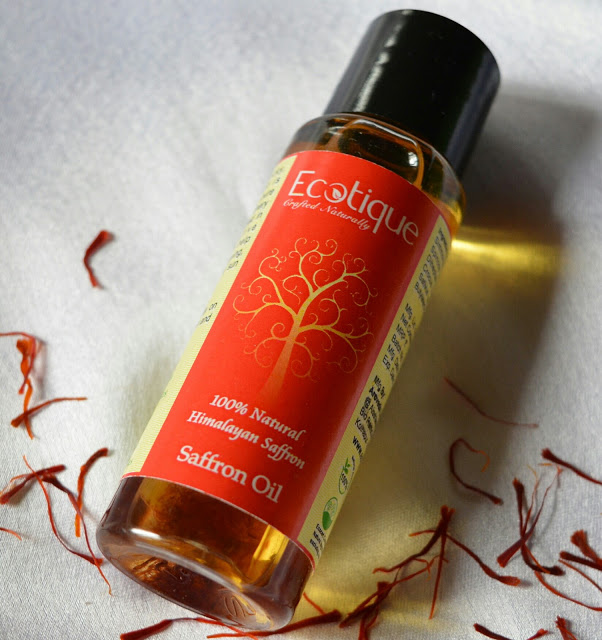 As many of you know that I have already reviewed four of their products. Without much ado, let us look into the details.
Price: INR 349 for 30ml
Shelf Life: 24 months
Product Description and Ingredients: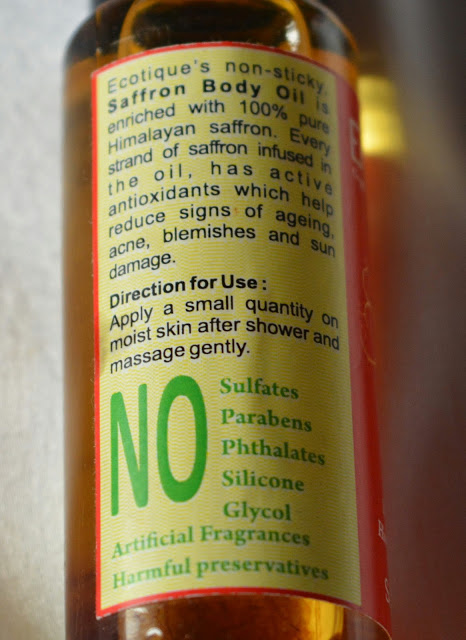 The ingredients include three major oils👉👉 Rice Bran Oil, Jojoba Oil and Argan Oil. There are two emollients. The most visible part is the Saffrons. All the saffrons are immersed beautifully within the oil. Phenoxyethanol and BHT have been used as preservatives. I did not like the presence of BHT. BHT is moderately hazardous. 
So, overall a rating of 6.5/10 would be good for the ingredients only. 
My Experience with Ecotique Himalayan Saffron Oil
Around 2 months ago I received this oil. And obviously I along with my parents has used this oil quite a few times.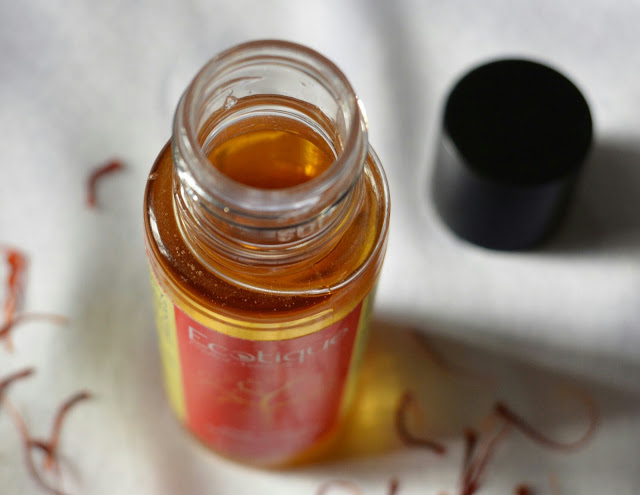 The packaging is very simple. The cap and the bottle is made of plastic. But the design is not a proper one. Because when I opened the cap, I could not find any inner lid or dropper. It was wide open and that makes it very difficult to pour down the oil. One has to be very cautious during the application. Overall, it is not at all travel friendly.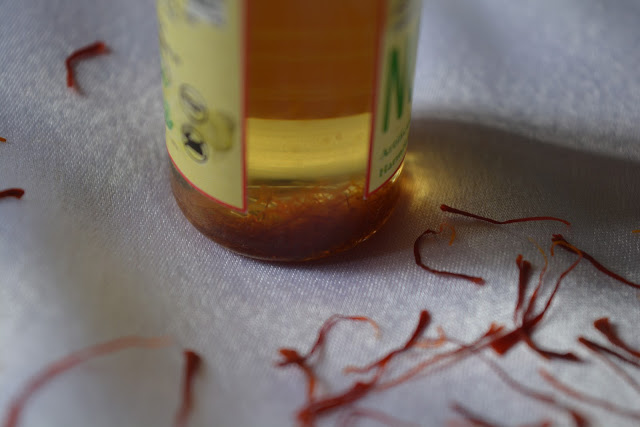 The texture is quite heavy. Skin does not absorb the oil fast. It just floats on the surface. It would be best for night time application. 
The color is light yellow.
Aroma is similar to saffron but more towards an artificial one. Honestly, I did not like the fragrance much.
I am not an avid body oil lover. So, this experience is mostly of my father who loves to use oil throughout the year. According to him, the fragrance stays for quite a long time. And it also moisturises the body. But because of the heavy texture it attracts a lot of dirt. Overall, he has developed a love-hate relationship with this blend.
***CA IMPRESSION: 3.9/5***
This oil has some pros and cons of its own. And you can easily skip if you are not an oil lover. But if you love herb infused oil, then you can definitely go for it. I felt this oil to be an average one. it would not be wrong if I say that I love Coconut Oi more. Thus, I would not recommend this oil to everyone.
I hope this review helps you. Take care sweethearts. Love you all. And celebrate womanhood with pride and joy. I would come back with another review very soon.
Thank you for reading. Have you used this product? Please share your experiences here. Love you all.
**PR sample sent by Ecotique. I am thankful to the. But the review is self opined and genuine.