Plum Candy Melts Vegan Lip Balms in Mint-O-Coco and Red Velvet Love Variants: Review with Ingredient Analysis
Over the years, Plum Goodness has become quite a popular name in the Indian cosmetic market. Since its inception, every year the brand is coming up with unique products.
Plum Natur Studio Black Kajal was the first product I used from the brand and even today, it is my favourite.
Recently, Plum has launched Candy Melts Lip Balm in four variants namely Mint-O-Coco, Red Velvet Love, Melon Bubble-Yum, and Berry Feast. Well! All these names sound not only cute but also pretty juicy.
Honestly, I wanted to buy all the 4 variants. But, after checking out the tint intensity of these lip balms, I decided to give the first two variants a try.
It's been a week that I am using these cute tiny balms. So, are these really good? Is the price justifiable? What about the ingredients? Well! Let's check out all the answers here.
Basic Information about Plum Candy Melts Vegan Lip Balm
Price: INR 295 for 12g
Shelf Life: 2 years
Buy From: Plum Official Website
What Does the Brand Claim about Plum Candy Melts Vegan Lip Balm?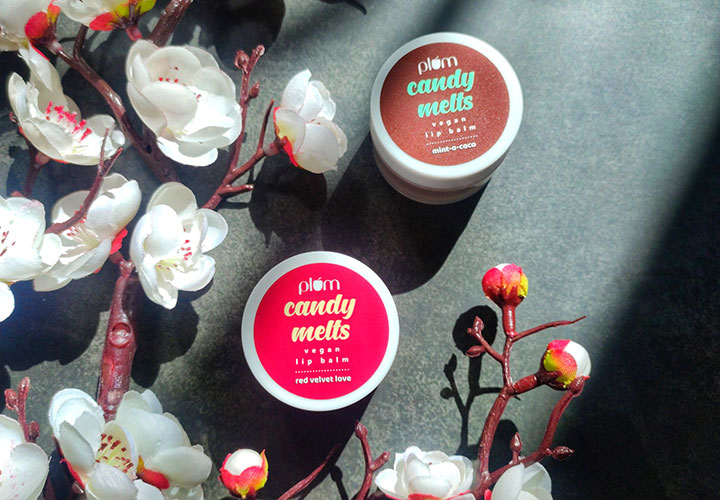 Get ready to drench in the nourishing power of shea and cocoa butter. If you are someone who loves minty chocolaty and red velvet flavours, then these lip balms can be your bff.
These are just what you need for your dry and chapped lips. So, satiate your dessert cravings with the all-new candy flavoured vegan lip balms.
Ingredient Analysis of Plum Candy Melts Vegan Lip Balm in Mint-O-Coco and Red Velvet Love Variants
Usually, I do not complain about the ingredients of Plum Goodness products. But, that cannot be the ruling factor. Every product is different because of the ingredients.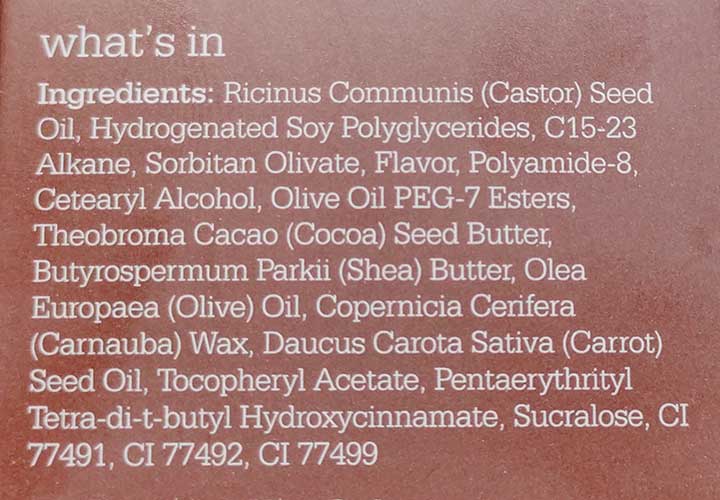 All of these lip balms contain more or less the same ingredients. Mint-O-Coco has almost the same ingredients as the Red Velvet Love. Except, a few colourants that are added to regulate the tint intensity of the balm. Without further ado, let's talk about the ingredients of Mint-O-Coco Lip Balm at first.
1. Ricinus Communis (Castor) Seed Oil
There is no doubt that Castor oil is the best when it comes to treating dry skin and chapped lips. Its emollient power is quite strong.
2. Hydrogenated Soy Polyglycerides
It is a safe skin conditioner that also functions as a viscosity controller.
3. C15-23 Alkane
This component works as a solvent in a formulation.
4. Sorbitan Olivate
It is a safe emulsifier according to EWG.
5. Flavour
The brand has not disclosed the flavour clearly. But, I guess it is the minty chocolaty flavour that this variant is all about.
6. Polyamide-8
This synthetic polymer is popularly used as skin conditioner and emulsifier.
7. Cetearyl Alcohol
Another safe ingredient which is used as an emulsion stabilizer and also as viscosity controlling agent.
8. Olive Oil PEG-7 Esters
Indeed another safe emulsifier. I love to find so many safe emulsifiers in the component list. It shows that the brand does not talk fancy; the formulations are specially tailored to treat chapped lips.
9. Theobroma Cacao (Cocoa) Seed Butter
One of the best and safest natural emollients that not only nourish & moisturize chapped lips but also make the lips smooth & soft. In fact, Cocoa butter is also a boon for the pigmented skin.
10. Butyrospermum Parkii (Shea) Butter
It is also another best buddy for chapped lips. Shea butter nourishes the lips and makes those soft & dry flakes free.
11. Olea Europaea (Olive) Oil
Olive oil is a natural UV ray protector. It helps to soothe dried and chapped lips. Olive oil is quite hydrating.
12. Copernicia Cerifera (Carnauba) Wax
Lip balms are incomplete without natural waxes. I love it how the brand uses Carnauba Wax instead of Bees Wax. Carnauba wax has a high melting point and also a pretty strong emollient power.
13. Daucus Carota Sativa (Carrot) Seed Oil
Carrot Seed Oil is not only nourishing but also comes with an anti-fungal property that helps to ward off corner cracking of mouth.
14. Tocopheryl Acetate
It is another form of Vitamin E which is a natural humectant and emollient.
15. Pentaerythrityl Tetra-di-t-butyl Hydroxycinnamate
Basically functions as an antioxidant in cosmetics. This component is totally safe to use on eyelid and lips. In fact, it is baby safe too.
16. Sucralose
An artificial sweetener which is known to be sweeter than sugar.
17. CI 77491, CI 77492, and CI 77499
These are safe cosmetic colourants namely Red Iron Oxide, Iron Oxide, and Triiron Tetraoxide (light golden brown). All these colourants give the lip balm a dark chocolaty brown hue.
Everything remains the same in the Red Velvet Love except the colourants. Only one colourant is used in the formulation i.e. CI 15850. This is Red 6 which gives a nice red tint to the balm. Red Velvet Love has the highest tint intensity.
Overall, the ingredients of these lip balms are quite safe. The only doubt I have is regarding the flavours added. Although, Plum claims that natural flavours have been used here not the artificial ones. I just wish they had mentioned the name of the flavour.
Packaging, Aroma, Texture, and Tint Intensity of Plum Candy Melts Vegan Lip Balms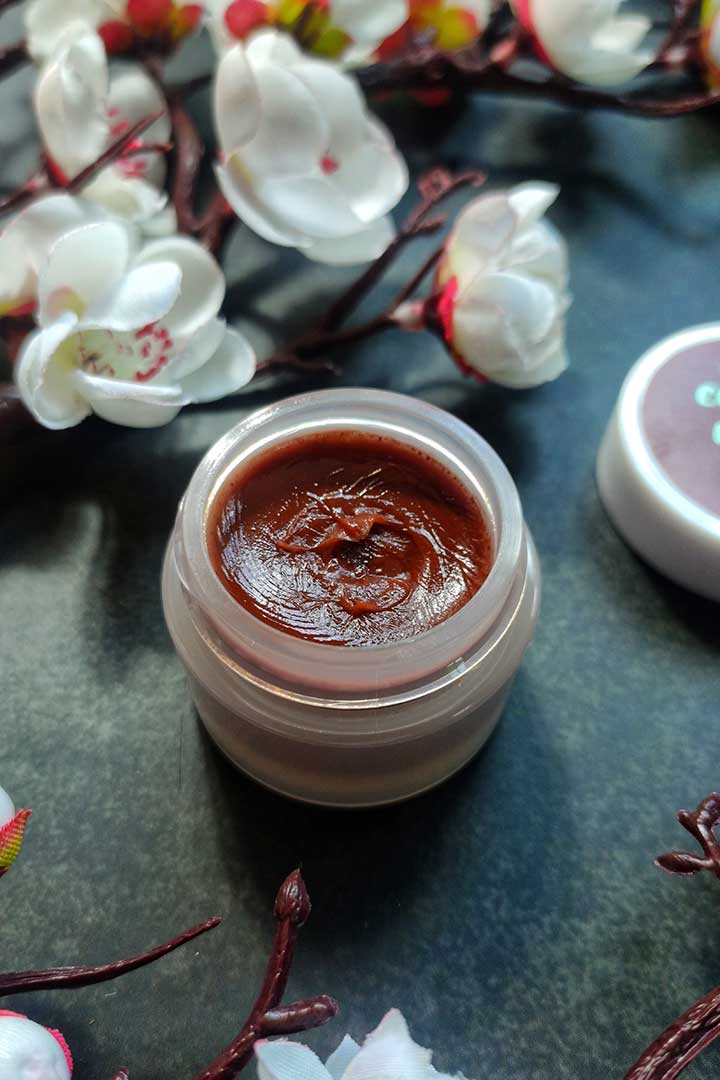 Undoubtedly, the tiny tubs are really cute. The plastic quality of both the body and lid is quite sturdy. To be honest, not only the tubs, I love all those colourful cartons too. Together these things provide with a pretty good impression of the product.
The Mint-O-Coco has a minty chocolaty aroma which would feel divine for any chocolate lover. The Red Velvet Love one does not taste like a red velvet cake for sure. But, the chewing gum sort of aroma feels refreshing too.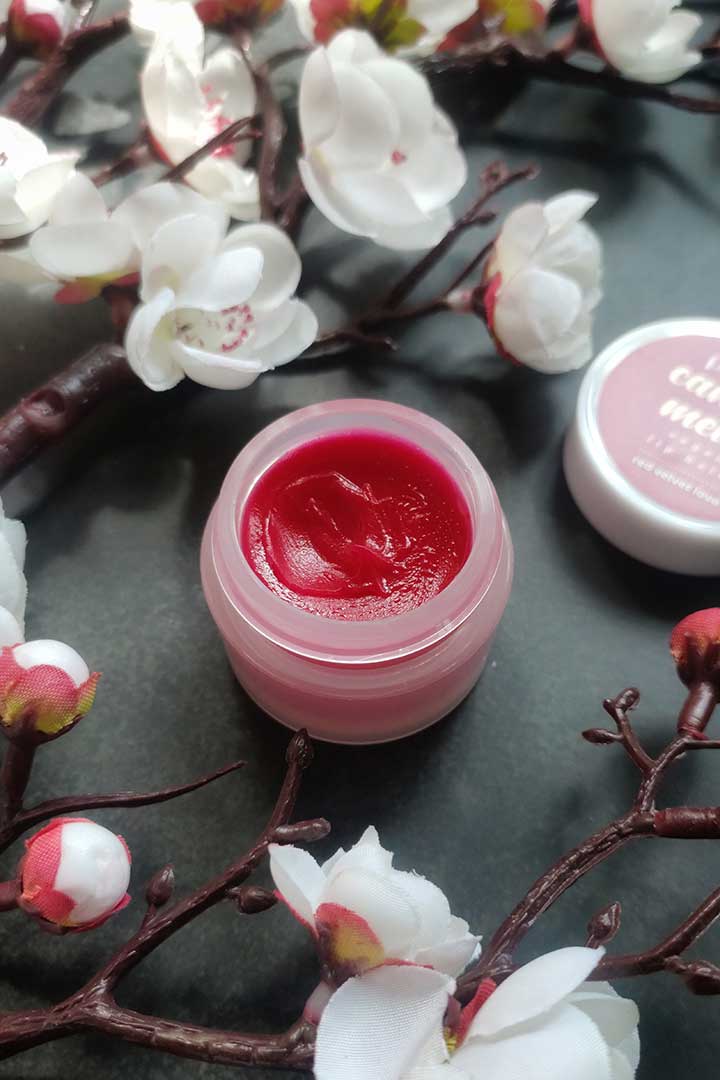 Talking about the texture, I feel that Mint-O-Coco has a harder texture than the other one. The texture plays a pivotal role in guessing the nourishment power of the lip balms.
All the lip balms have beautiful tints. But, Mint-O-Coco comes with the lowest tint and Red Velvet Love comes with a high tint intensity as per the brand.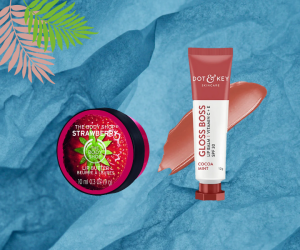 Get ready to find out the best compilation ever. No matter what your budget is, we have got you covered.
Read More
My Experience with Plum Candy Melts Vegan Lip Balms
So far, I have used both the lip balms couple of times. There is no doubt that the lip balms are quite amazing. Especially I love how sweet these balms taste. The aromas are quite enchanting. Once applied, the aroma can last up to an hour.
Surprisingly, in spite of having almost the same ingredient list, the lip balms perform differently. The Minty one is a bit less hydrating. Rather, I found the performance of Red Velvet much satisfying.
I have dry lips round the year. Especially, during the night, my lips become the worse. So, I have a habit of layering lip balm before hitting the bed.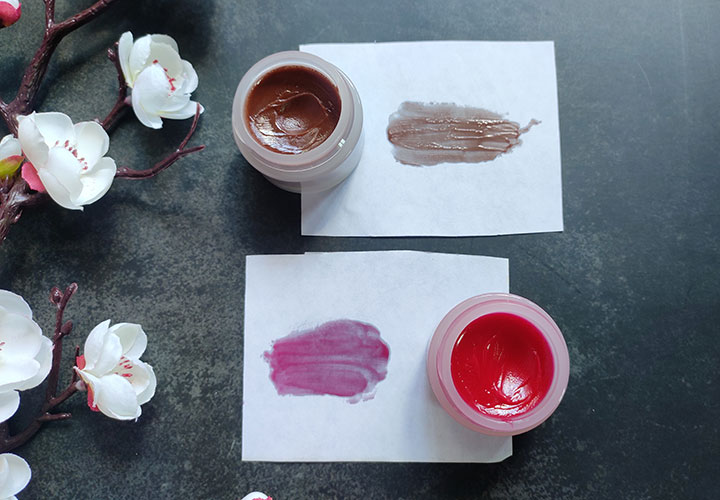 The Mint-O-Coco variant is quite nourishing but a bit drying as well. If it is not layered after 2 hours, then lips might feel dry.
On the other hand, the Red Velvet Love is quite hydrating and I found it more perfect for nighttime application.
Now, when we know about both the lip balms, it's time to take check out all the pros and cons at a glance.
Pros of Plum Candy Melts Vegan Lip Balm 
Vegan ingredients
Natural oils and waxes are used in the formulation
Safe ingredients are used
Sweet and charming aroma
Cute packaging
Affordable in comparison to the quantity
Nourishes lips and makes it smooth
Red Velvet Love gives a nice red hue
Cons of Plum Candy Melts Vegan Lip Balm
The nourishing power of Red Velvet Love is more than Mint-O-Coco. Mint-O-Coco makes the lips a bit dry.
The red tint would not be visible on pigmented and dark lips.
A retractable tube could have been much better in terms of hygiene; at least, I prefer tube lip balms more.
And, that's all for today! Don't forget to share the article with your friends and family if you find it helpful. Also, follow us on Instagram for more such updates. Take care; we'll see you soon with another interesting article.