Are you the one who is constantly in a rush to washrooms for makeup touch-ups or even fixing the makeup?
If the oil, sweat, long-hour parties, or any other reason trouble you to keep your makeup put, then you are at the right place. The answer to all your problems is a makeup fixer. It is one product that saves all the effort and time you put in to do your makeup.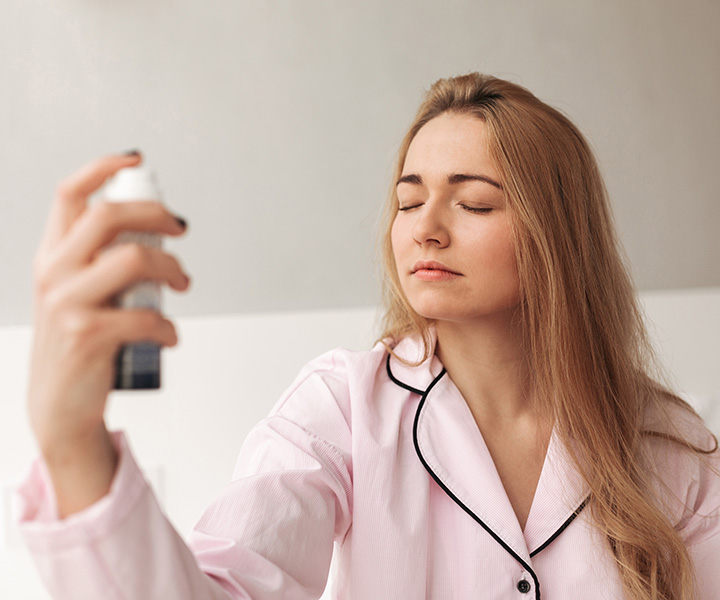 It keeps the makeup on for long hours, all day and all night. Your makeup savior protects your makeup from gliding off and controls the oil on the face. 
Let's know more about setting sprays and see why they need a space in your vanity now:
What is a setting spray?
The best makeup fixer keeps your makeup intact for a prolonged duration. It gives you a flawless look, maintains oil balance, and hydrates your skin. The  also acts as a shield between your makeup and external aggressors, protecting the makeup from smudging, fading, or melting for long hours.
It is generally available in a spray form. The spray provides enhanced makeup coverage and long life. Along with these, it also gives you a fresh and radiant look that lasts long. This product is capable of preventing the transfer of makeup on clothes and letting it withstand environmental factors such as heat and humidity. 
Which is the best makeup fixer for my skin type?
Setting sprays are designed with many formulations to suit different skin types. They also come in various finishes that you can choose from, suiting your makeup and look. 
1. Setting spray for oily skin
If your skin is oily and you fear the greasy look that often shines on your face, use a matte setting spray with an oil-free formulation. These are specially designed to control excess oil and give a matte finish. These sprays also work well on combination skin.
2. Setting spray for dry skin
Look for alcohol-free setting sprays that come with a hydrating feature. It will help to keep your skin nourished, present cracking and flaking makeup, and give you a dewy, party makeup look.
3. Setting spray for sensitive skin
For sensitive skin, too, you need an alcohol-free fixer. Look for paraben-free, preservative-free, and UV protection sprays to keep your skin calm and nourished. 
4. Setting spray for all skin types
Look for a long-lasting, oil-free, lightweight formula to keep your makeup intact and skin healthy and supple, Finish-Up Dewy Makeup Fixer and Mist.
How is a makeup fixer used?
Makeup fixer is the last step in your makeup application. Once you have finished doing your makeup, apply a setting spray to fix it all.
Ensure you have applied all the necessary makeup products before spritzing the makeup fixer. By following the 5 simple steps, you can make your makeup last long and enjoy the time hassle-free:
1. Shake-shake
The ingredients in a setting spray come with different densities; therefore, shake the bottle generously to mix all the ingredients properly. It gives the right proportion of ingredients in each spray till the end, providing equal distribution and coverage of the product. 
2. Put it at the proper distance
Keep the bottle at arm's length distance from your face. It ensures full coverage and wide application of the spray in minimum spritzes. 
3. Spray following the suitable suite
Shut your eyes and mouth to avoid the spray from entering these areas. Form a T-pattern first while spraying across your face, followed by an X-pattern to ensure wide coverage. 
4. Stay calm
Do not touch the face, and let the spray dry naturally. Let it air dry and work for you to adhere to makeup and keep it put all the while. Stay calm while the setting spray does its work. 
5. Another round
Reapply the product if needed. For reapplication, follow the same steps. Remember not to overdo it and use the right amount of the product for the best results.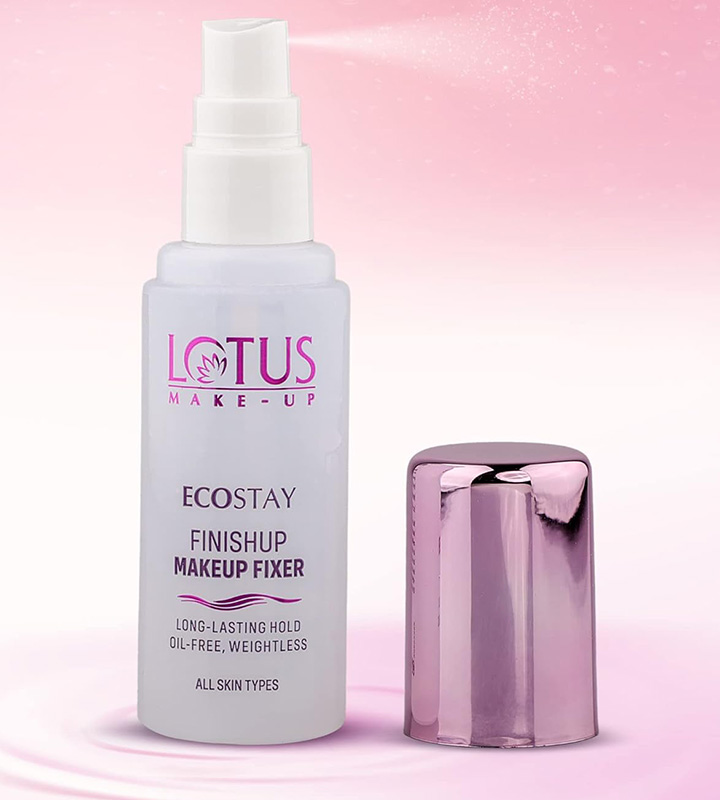 Is Makeup Setting Spray or Fixer Pricey or Affordable?
Though the product sounds magical, undoubtedly it is, it is fairly priced to suit all the pockets. At Lotus Herbals, we make products that are gentle on the skin, environmental-friendly, and budget-friendly so that no one has to compromise on quality products. 
Save your party makeup look with a few spritzes of makeup mixer. A setting spray is essential in your vanity, saving you long hours of applying makeup and the gorgeous look you decided to wear for the celebration—a few sprays to keep you going throughout the night without the need for touch-ups. Enjoy the luxury of putting makeup in a bottle!