|| Aroma Essentials Vitamin C Day Serum Review ||
Hey angel! Today it is time for another review, this time I am going to talk about Aroma Essentials Vitamin C Day Serum. Just two weeks back, I reviewed the Vitamin C Night Serum from the same brand, so if you haven't checked it yet, please go ahead. There are plenty of serums available in the market right now. With the arrival of K-Beauty in the Indian Cosmetics Market, it is literally flooded with a number of day and night serums. But, not all are effective. Sometimes, they use a negligible amount of Vitamin C in the formula that ultimately does not provide any result. So, let's move on to the review to know whether this serum is good or just another useless serum. And, though I love AE as a brand, yet I pledge to maintain absolute transparency throughout my review.
Basic Information about Aroma Essentials Vitamin C Day Serum:
Price: INR 575
Quantity: 12ml
Shelf Life: 6months
Few lines about the brand 'Aroma Essentials':
So, Aroma Essentials was founded in the year 2000 and it is the brainchild of Madhurima Ramakrishna. In the inception period, she used to make simple products using ingredients from the kitchen and special Ayurvedic herbs. At this point in time, this brand has flourished in every aspect. Now, Aroma Essentials produces a numerous number of products such as face washes, sunscreen, masks, scrubs, oils, soaps, serums, shampoos, moisturizers, many more things. Their products can be classified into 4 categories namely Skin Care, Hair Care, Baby Care, and Pet Care. Madhurima never misses asking the skin type of her customers. The brand believes in customer satisfaction and one-to-one conversation which is not possible with online shopping portals, that's why this brand is not available online. Overall, Aroma Essentials is another name of quality, trust, and purity.
Ingredients of Aroma Essentials Vitamin C Day Serum:
Aroma Essentials Vitamin C Day Serum has the simplest ingredients ever. Only 4 components have been used in making this serum. Let's talk about all of them in detail.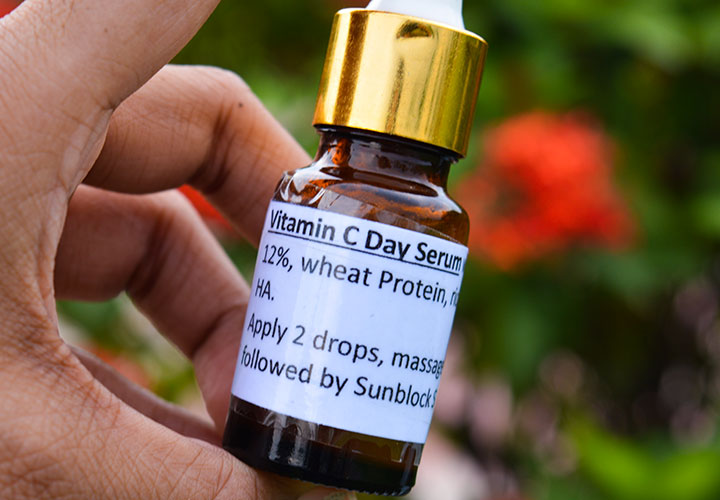 1. 12% Vitamin C: It is the best anti-oxidant ever. Vitamin C or Ascorbic Acid plays a vital role in synthesizing Collagen which firms our skin. This ingredient brightens skin and is an excellent anti-aging component. This is the star ingredient of this product.
2. Wheat Protein: This is a modern-day non-animal source of protein. It is a great skin conditioning and hair conditioning agent. It is a great humectant as well as it retains moisture. Wheat Protein is believed to be a great component in reducing the appearance of wrinkles.
3. Hyaluronic Acid (HA): Another stunning ingredient that helps in boosting collagen and thus, firms the skin. Hyaluronic Acid also protects skin from UVB rays.
4. Rice Extract: Many people believe that Koreans have made this ancient ingredient famous. Korean women wash their face every day with this magical potion and that is the secret of their bright skin. Rice extract has Oryzanol which helps in skin pigmentation. It also has Vitamin E which nourishes skin. Rice water is also anti-oxidant.
I love the way AE has maintained the ingredient list to be very minimal yet potent. All the ingredients have been proven very effective. So, I would rate the ingredient list 5 out of 5.
---
Know more about Aroma Essentials products:
---
Texture of Aroma Essentials Vitamin C Day Serum:
This serum is extremely light-weight in texture, in fact, it has 99% similarity with water. Because of the presence of Hyaluronic Acid and Wheat Protein, it feels slightly oily. Overall, the texture is perfect for every skin type.
Packaging of Aroma Essentials Vitamin C Day Serum: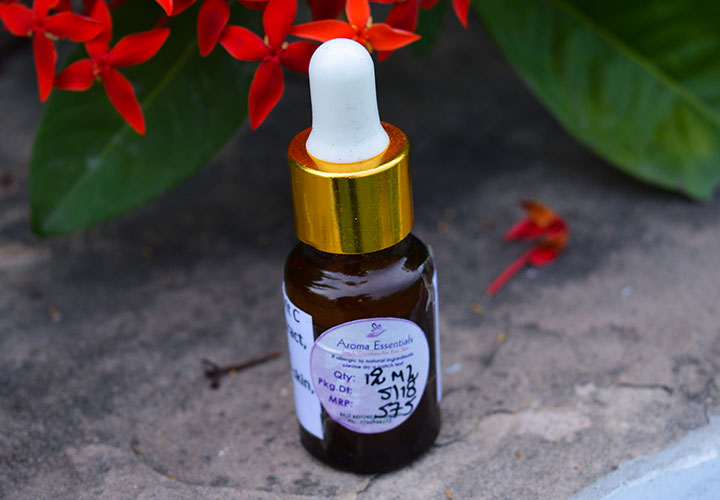 The brand has maintained a cult favorite packaging for this serum. The golden cap and dark bottle complete this packaging. This basic packaging is perfect to protect this product from sunlight and pollutions.
Aroma of Aroma Essentials Vitamin C Day Serum:
The aroma of Aroma Essentials Vitamin C Day Serum has a similarity with Hydrolized Wheat Protein and Vitamin C. Well! You will only understand the fragrance only if you are familiar with the aroma of Wheat Protein. I would not call the aroma very tempting, but a big plus point indeed for sensitive nose people.
My Experience with Aroma Essentials Vitamin C Day Serum
So, I started using this serum around 3 weeks ago. And fortunately, this serum came to my doorstep at the same time when I was out of the Rosehip Oil. I took the right opportunity to use it. It is written that you need only 2 drops, as I have a huge face so I take 3 drops to cover my entire face and neck.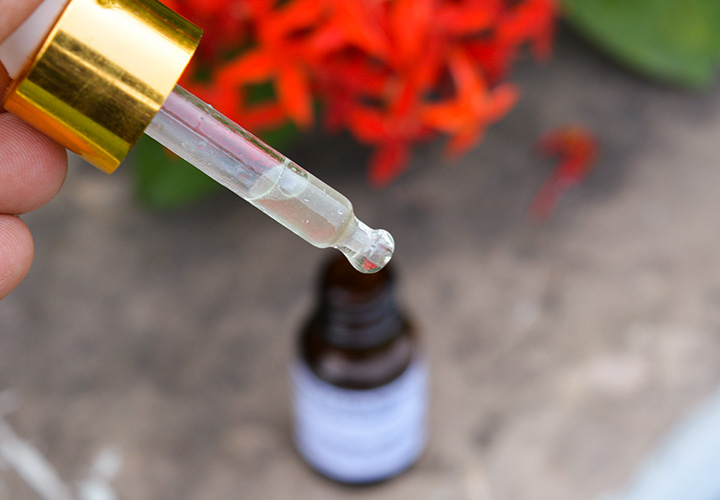 This serum is slightly oily in nature which is a boon for me because I have extremely dry and sensitive skin. It spreads easily and within seconds it gets absorbed into the skin. I think the texture is perfect for daytime.
Within two weeks of application, I have seen a noticeable change in my skin. My skin tone looks more bright and even tone now. This serum does not cause any irritation or rashes. So, even a sensitive skin person can use it. The formulation is absolutely perfect for daytime. And, I would love to finish it as soon as possible.
PROS of Aroma Essentials Vitamin C Day Serum:
Affordable.
Absolutely natural. All the ingredients are effective.
It does what it claims.
The packaging looks beautiful.
An absolutely stunning texture that is easy to apply.
The serum gets absorbed quickly within seconds.
Suitable for all skin type.
CONS of Aroma Essentials Vitamin C Day Serum:
The glass bottle is not travel-friendly. Although this is not a big con and I have absolutely no issue with it.
Tip to use Aroma Essentials Vitamin C Day Serum: Natural formulation and the presence of Wheat Protein might cause irritation. Don't worry! Before you apply it on your face, give it a patch test. These types of irritations are rare though the chances cannot be ignored. In fact, Madhu herself advises her users to do so.
Final Words:
Aroma Essentials Vitamin C Day Serum is a perfect day serum for every skin type. Most importantly, it has a brilliant formulation and it is affordable at the same time. I would definitely recommend it.
---
***COSMETICS ARENA RATING: 4.8/5***
---
So, that was all about my today's review. I hope you find it helpful. If you like it, then don't forget to SUBSCRIBE to Cosmetics Arena. Love you all; Take care. I would come up soon with a fantastic post.
**PR Sample. But my reviews are absolutely honest and self-opined.