The Most Loved Face Wash in India for a Glowing Skin: 2021 Compilation
How light we feel after washing our face after a long field day or heavy makeup and if the facewash effectively cleanses the skin to your satisfaction, it sets everything right.
We all are aware of how crucial a face wash is in any beauty regime. After all, it is the first step of every beauty regime be it makeup, skincare facial or CTM.
But finding a face wash according to skin type, weather and budget are equally taxing. Here we have done extensive research to find out the best face wash in India just for you.
So let's reinvent our skincare regime and find out the top six most loved face wash in India for a glowing skin from the haystack.
1. Mother Sparsh Plant Powered Ultra-Rich Face Wash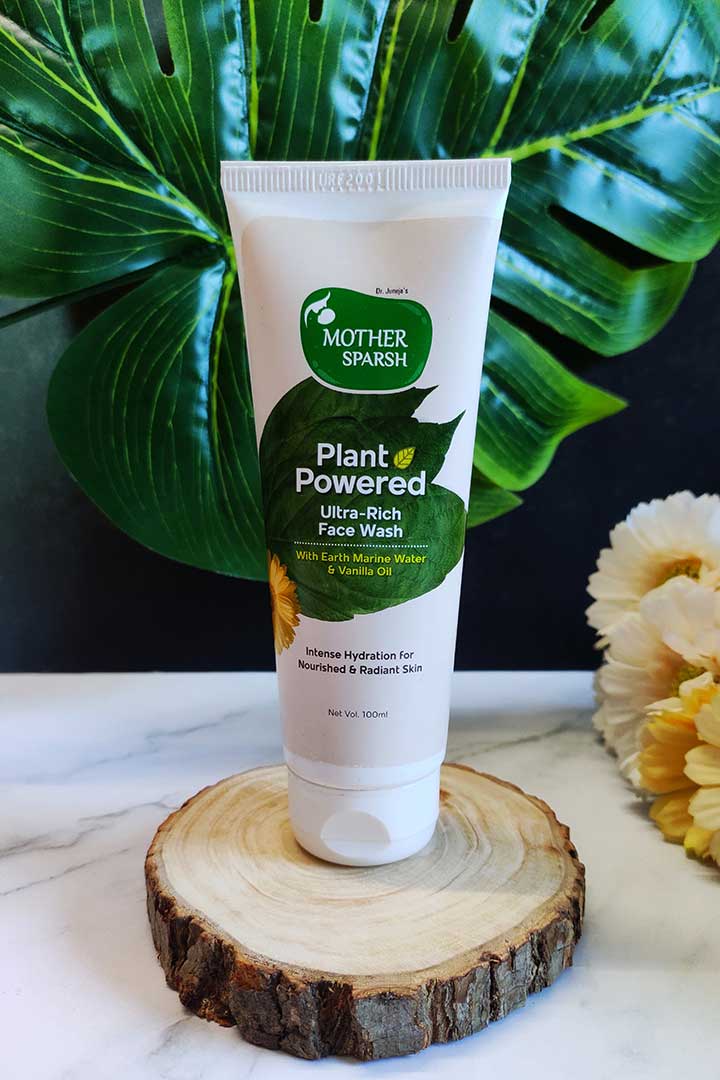 Shop Now!
It is often said that drinking plenty of water keeps your skin hydrated, but honestly, it is not enough. When it comes to skin, we need something that is #plantpoweredskincare.
Well! Worry not. Mother Sparsh Plant Powered Ultra-Rich Face Wash has got you covered. It is enriched with amazing oils like Earth Mineral Water, Vanilla Oil, Tejpatra Oil, etc.
Vanilla oil combats with acne without making the skin stretchy. Tejpatra oil is hydrating enough to heal damaged and inflamed skin.
The inclusion of herbs like Pudina ensures that you become #bebeautifulbotanically. It helps to cool down your skin and also retains the moisture into the deepest layers of the skin.
The balanced formulation is perfect for ALL types of skin. Environmental stress often makes our skin tired, aged, and dull. Thus, #yourskinourcare needs #plantpowerednourishment.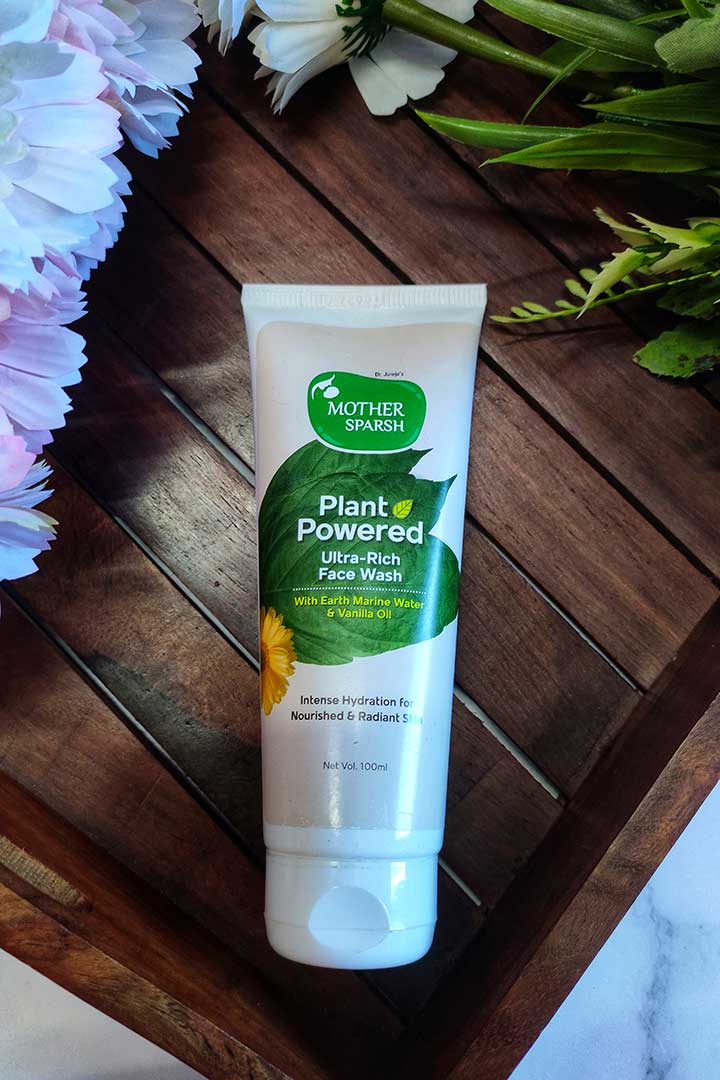 Apart from all those oils, this face wash also contains Earth Marine Water that is rich in rare minerals to re-mineralize and replenish the skin texture. Now, it's time to take a look at all the pros and cons of this face wash.
Pros

Enriched with beneficial herbs and oils like Pudina, Earth Mineral Water, Vanilla Oil, Tejpatra Oil
The face wash is colourless and fragrance-free
It deep cleanses and makes the skin squeaky clean
All the herbs and oils help the skin appear illuminated and radiant
Skin feels hydrated, supple, and smooth
Perfect for ALL skin types including the super-sensitive one

Cons
All these features make this face wash one of the most loved face wash in India for glowing skin in 2021. I believe that the best skincare regime always talks about #nuturalskinwithnature. So, get ready to choose this #plantcareforskincare.
2. Kaya Youth Oxy Infusion Face Wash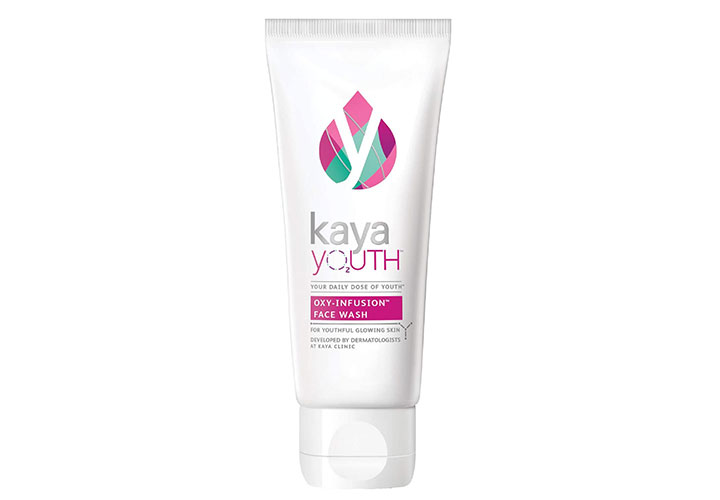 Courtesy of Brand 
Shop Now!
Raise the dripping oxygen level of your skin with Kaya Youth oxy infusion face wash. Like our body, our skin needs oxygen too.
Crafted by dermatologists, the microcirculation complex of this face wash splashes oxygen supply to your skin for instant plumpness.
The texture, the luxury fragrance and the rich lather make it the most loved face wash in India for glowing skin without a doubt.  It feels like the oxygen is getting infused into the skin cells.
It's eco friendly too, takes less water to wash off. The product claims to give youthful skin in seven days but you will start feeling the difference after first use only.
Pros

Replete with oxygen boost complex, coconut oil fruit extract and niacinamide.
A small quantity goes a long way.
Instantly refreshes the skin and creates a moisture layer.
The non-drying formula is suitable for all skin types.
Rich lather deeply cleanses the skin cells removing all the gunk and makeup.
Free from SLS, parabens.

Cons

Tube emits the amount more than required.
This facewash truly deserves to be the most loved face wash for a glowing skin in India. So start your skin pranayam today, your 20s glowing youthful skin is waiting for you.
3. Oriflame Love Nature Tea Tree Cleansing Gel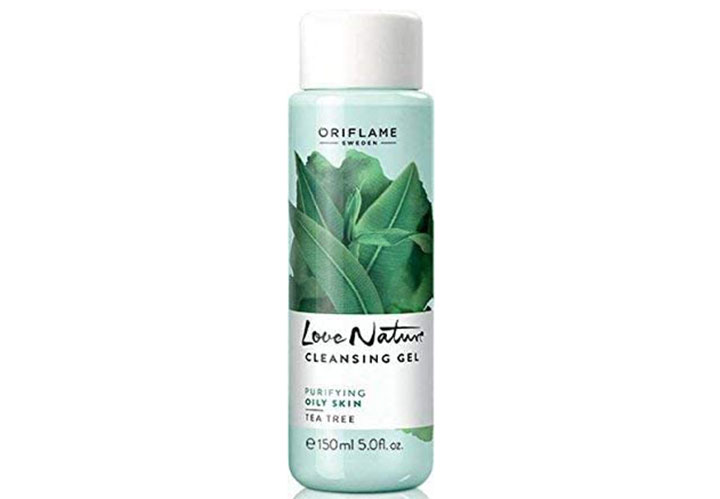 Courtesy of Brand 
Shop Now!
This cleanser is truly the love of nature. Just apply a pea-sized quantity on that hot summer day and you can literally feel the greenery around you.
Tea tree oil is the star ingredient that draws off all your fatigue and stress and you can feel nothing but its scintillating aroma.
The natural botanical elements balance the excess sebum, eliminates pollutants and impurities, combats existing skin ailments and prepare the skin to target the recurrence of acne and blemishes.
The cooling effect is a cherry on the cake!
Pros

Works best to control excess sebum, blemishes and acne.
Amazing texture deeply cleanses dirt and impurities.
Refreshing fragrance.
Infused with tea tree oil.
No parabens and harsh chemicals.
100% vegetarian.

Cons

Not suitable for dry skin.
Enough reasons to be the best face wash in India. Though it might not be the dry skin thing, summer is the best season to use it. So make it your beauty mantra to retain your youth.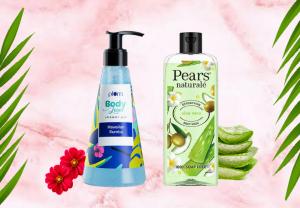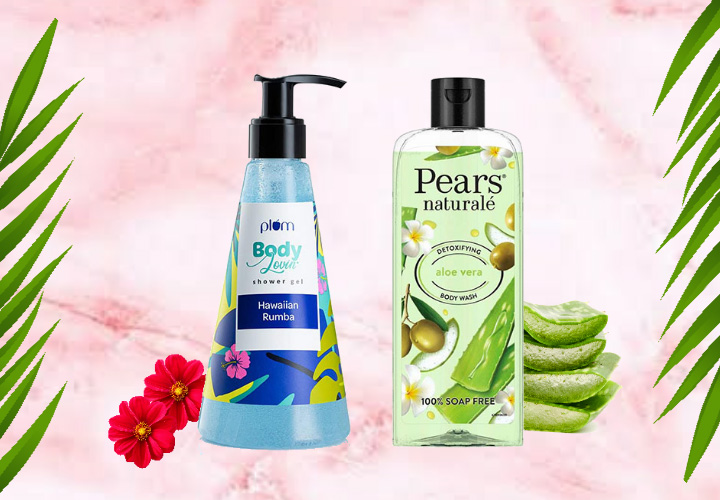 No matter what your skin type is, this compilation is all you need this year to make your summer days refreshing and aromatic.
Read More
4. Aroma Magic Strawberry Facewash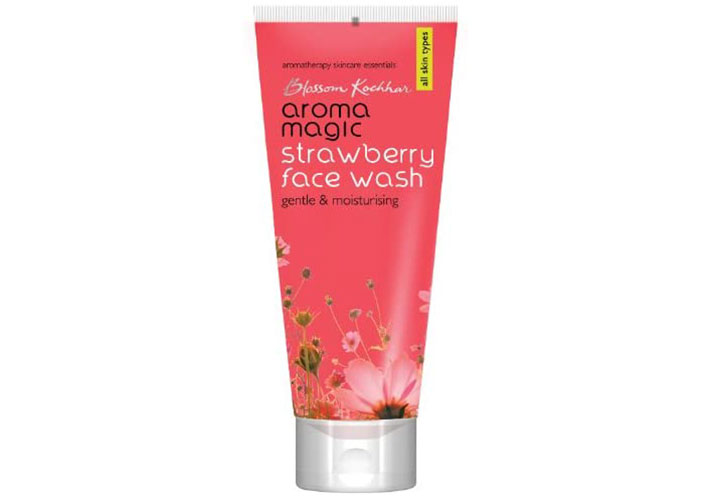 Courtesy of Brand 
Shop Now!
Redefine beauty standards with this pure gentle organic product that has taken inspiration from nature and is far away from synthetics like paraben, artificial colour, fragrance etc. and heals your skin woes with aromatherapy.
When on duty, the tiny exfoliating microbeads present in the gel penetrate deeply to expel deep-seated debris leaving a new fresh skin. The natural strawberry fragrance will instantly refresh your senses.
Pros

Strawberry extracts dig deep to purify the clogged pores.
Enriched with rose, geranium, ylang-ylang essential oils, strawberry fibres, aloe vera extracts.
Free from soap, parabens, artificial fragrance, and colour.
Not tested on animals; 100% vegetarian.
Smells heavenly.

Cons

Can dry out the skin if used in excess.
The fruity goodness of strawberry gives a boost of hydration to your skin. The delicious aroma makes you feel like you are feeding the strawberries to your skin. Precisely, this is the best face wash in India that never fails to impress.
5. Wow Skin Science Brightening Vitamin C Foaming Face Wash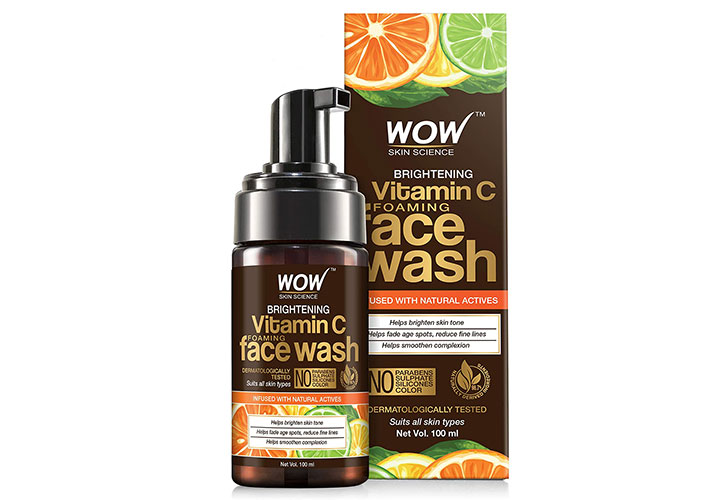 Courtesy of Brand 
Shop Now!
Now advance your face wash regime with this one of a kind face wash that comes with a built-in brush. Its silicon bristles softly glide against your skin to give the deepest exfoliation.
Infused with natural actives, the nourishment of vitamin C, E and B5 is furthermore enhanced with aloe vera extracts, lemon essential oil, orange essential oil, liquorice extracts and mulberry extracts.
Just a single press pops up the foam on the brush. All you need is to twiddle the brush on the face and allow it to cleanse the pores of accumulated dirt.
Pros

Contains the goodness of aloe vera extracts, lemon essential oil, orange essential oil, liquorice extracts and mulberry extracts.
Keeps excess sebum in check.
Face brush gently removes dead skin cells
Vitamin E combats dryness and vitamin B5 evens out skin complexion;
Active vitamin C instantly brightens up dull lusterless skin
Tangy, citrusy smell revives your senses.
No parabens, sulphate, silicon or colour.
Dermatologically tested, cruelty-free, vegan.

Cons

Overuse of brush might damage the skin's natural barrier.
Might cause acne to extra sensitive skin.
Gone are the days of simple face washes. The inbuilt brush is the show stealer of this product. Since it is based on citrus formulation, you need to be careful to do a patch test if you have sensitive skin.
This facewash is bliss for rough, lifeless skin. So make it your go-to facial cleanser and kiss goodbye to all your skin woes forever.
6. Plum Green Tea Pore Cleansing Face Wash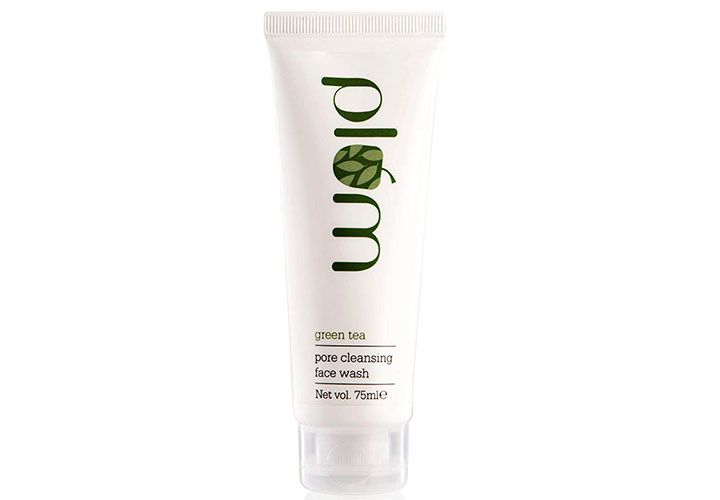 Courtesy of Brand 
Shop Now!
Revamp your skincare routine with this all-natural facial cleanser. Green tea extracts and glycolic acid work together to combat all your oily skin woes without stripping the natural oil.
This facewash promises to fill you up with the same freshness that you feel after sipping your green tea. As mild as water, the natural cellulose beads present in the gel gently exfoliates the skin with its SLS free non-drying formula.
Pros

Loaded with green tea extracts and glycolic acid.
Natural cellulose beads are the bonus perks.
Balances oil secretion, eliminates dirt, grime and leaves the skin squeaky clean.
Heals acne and diminishes acne marks gradually.
No parabens, SLS and mineral oil.
FDA approved.
Best suitable for oily, combination and acne-prone skin.
Skin feels fresh and energised.

Cons

Not suitable for extremely dry skin.
Get ready for a healthy dose of antioxidants with this refreshing Face Wash. This one will surely get you committed towards itself.
Although not for extremely dry skin, you can team it up with a good moisturizer to avail of all of its benefits.
This completes my list of the top six most loved facewash in India. Choose the best suitable one and your mirror will witness the glow.
Some Useful and Informative Tips!
It goes without saying that one should choose a face wash as per the skin type. An ideal face wash is one that removes easily without leaving any residues and feels good during and after usage. However, you must be mindful of these additional tips:
Your skin type changes with time. So never stick to a particular face wash and keep changing as per your skin's condition.
Weather changes also require you to update your skincare products.
Never overlook the ingredients. Even if the face wash is your skin type, there might be some ingredients that are not soothing to your skin. Your little research will help you to avoid any kind of allergies.
Don't go overboard. Using an excess product for a prolonged time will only do more harm than good.
Check reviews. Ecommerce sites are flooded with reviews from different consumers. You can check how the product goes on a particular skin type.
Never use soap on your face. It has a higher pH value, not designed specifically for facial skin and might contain harsh elements.
Your skin is priceless. It needs more than a regular regime. So put the first step right with the right face wash. After all, you deserve to be beautiful and there is no room for mistakes.
Enjoy the happy skin days! Make sure to let #healthyskinalwaysin.
If you like reading this article, make sure to share it with your friends and family. Take care; celebrate life. And, don't forget to drink loads of water.