Plum Body Lovin Oopsie Daisy Shower Gel: Review with Detailed Ingredient Analysis
If you have been following my blog for some time now, then you might know that I love shower gels. I keep switching between shower gels irrespective of variants or fragrances.
Recently, I discovered that Plum Goodness has come up with 5 variants of body lovin shower gels. Hawaiian Rumba, Oopsie Daisy, Drivin' Me Cherry, Lychee Cuddle, and Tropical Tango. Honestly, I have literally fallen in love with the names. So far, I have tried out the Hawaiian Rumba. And, just a week back, I have purchased Oopsie Daisy.
It's been a week now that I am using this variant. Well! It's time to talk about Plum Body Lovin Oopsie Daisy Shower Gel along with an in-depth ingredient analysis.
Basic Information about Plum Body Lovin Oopsie Daisy Shower Gel
Price: INR 380 for 240ml
Shelf Life: 2 years
Buy From: Nykaa
What Does the Brand Claim about Plum Body Lovin Shower Gel?
No matter what your shape is, no matter which complexion your skin belongs to, all that matters is your body that you love the most. It's time to present with a body lovin shower gel formula that would make your skin happy round the year.
Celebrate your uniqueness and love everything you have been blessed with. Jump into the goodness of daisy and bring on the spring forever in your bathroom.
Enriched with the freshness of Daisy and also the Sulphate free formulation is definitely going to make your skin the happiest ever.
Ingredient Analysis of Plum Body Lovin Oopsie Daisy Shower Gel
Whether it's a shower gel or a face wash, I never forget to talk about the ingredients here on Cosmetic Arena. Without this ingredient analysis, I feel the review remains incomplete.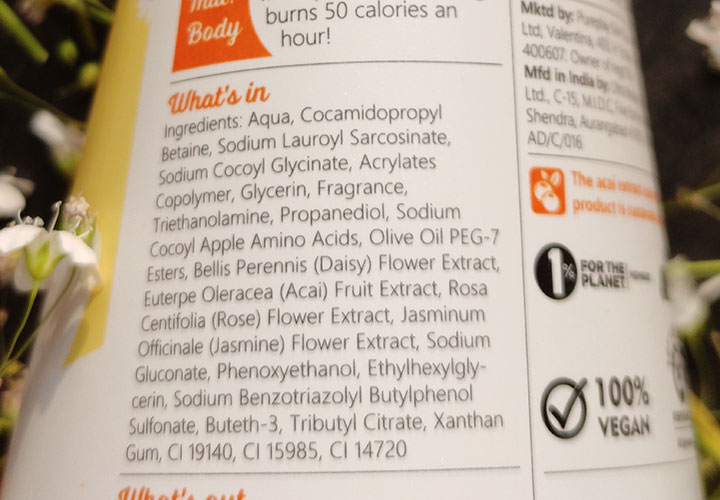 Well! As you can see, there are 25 ingredients. Some ingredients work here as surfactants whereas some are active ingredients. But, are these ingredients safe to use? Is every component necessary in the formulation? Let's know all the answers here.
1.Aqua
Water is the base of any liquid product e.g. face wash, shampoo, conditioner, shower gel, etc.
2. Cocamidopropyl Betaine
A moderately safe ingredient that works as a skin-conditioning agent and also as a cleansing agent.
3. Sodium Lauroyl Sarcosinate
A safe surfactant that is mild yet pretty effective
4. Sodium Cocoyl Glycinate
Another safe and mild surfactant that is effective and also is a great skin conditioning agent.
5. Acrylates Copolymer
This component actually forms a film and thus, it works great as an adhesive.
6. Glycerin
A natural humectant that retains moisture
7. Propanediol
A safe ingredient that works as a solvent or as a viscosity decreasing agent.
8. Sodium Cocoyl Apple Amino Acids
As the name says, this is actually the Sodium salt of the amino acids that are isolated from apple juice. Primarily, it works as a skin conditioning agent.
9. Olive Oil PEG-7 Esters
A moderately safe component that functions as a skin conditioning agent or as an emollient.
10. Bellis Perennis (Daisy) Flower Extract
The flower of spring is known to improve skin complexion and add on a beautiful glow to the skin.
11. Euterpe Oleracea (Acai) Fruit Extract
Rich in antioxidants, this extract is excellent in boosting collagen production.
12. Rosa Centifolia (Rose) Flower Extract
It would be a total injustice if I try to sum up all the benefits of rose in one line. But, overall, it can be said that rose extract is rich in antioxidants, oils, and vitamins that help to brighten up skin complexion.
13. Jasminum Officinale (Jasmine) Flower Extract
Helps to improve skin elasticity and heal dryness. This flower extract is a bomb itself.
14. Sodium Gluconate
A skin conditioning agent that also functions as a chelating agent.
15. Phenoxyethanol
Just like Potassium Sorbate, this component is widely used as a preservative.
16. Ethylhexylglycerin
This is basically a weak preservative which also functions as an aromatic agent.
17. Fragrance
I wish that Plum had mentioned the true name of the fragrance. Moreover, I feel that added fragrance is something that is neither much needed nor desirable.
18. Triethanolamine
This agent is actually moderately safe and functions as a pH adjuster. It also works as a fragrance agent.
19. Sodium Benzotriazolyl Butylphenol Sulfonate
This UV ray absorber is usually used in sunscreens. It is totally safe as per EWG.
20. Buteth-3
This component works as a solvent which safe for both environment and also for our body.
21. Tributyl Citrate
A Safe film-forming agent
22. Xanthan Gum
An excellent binder that also functions as a skin conditioning agent.
23. CI 19140, CI 15985, and CI 14720
Synthetic cosmetic colourants namely Tartrazine or Lemon Yellow, Sunset Yellow, and Red Solid.
Well! Altogether, except a few ingredients like the colourants and the added fragrance, most of the ingredients are safe for both the environment and also for our system. So, for all the herb extract, for all the surfactants, and the skin conditioning agents, the formulation of the Plum Body Lovin Shower Gel deserves a 4.5 rating out of 5.
Packaging, Texture, and Aroma
I must say that the brand has done a pretty amazing job in designing the bottles. The gel comes in a triangle-shaped bottle that looks quite trendy and unique. Everything is made of eco-friendly and recyclable plastic.
The texture of the gel is quite smooth and thick at the same time. Well! The thickness is not heavy at all rather it is buildable and washable.
I find the aroma of this body lovin' shower gel quite intriguing and refreshing. It just elevates the shower experience.
My Experience with Plum Body Lovin Oopsie Daisy Shower Gel
In the past week, I have applied this gel almost twice a day. Honestly, I have not missed even a day. The aroma is charming enough to turn a dull day into a beautiful one.
The formula is quite delicate and is perfect for daily usage. Even, people with sensitive skin (like me) would find the formula quite safe and nice.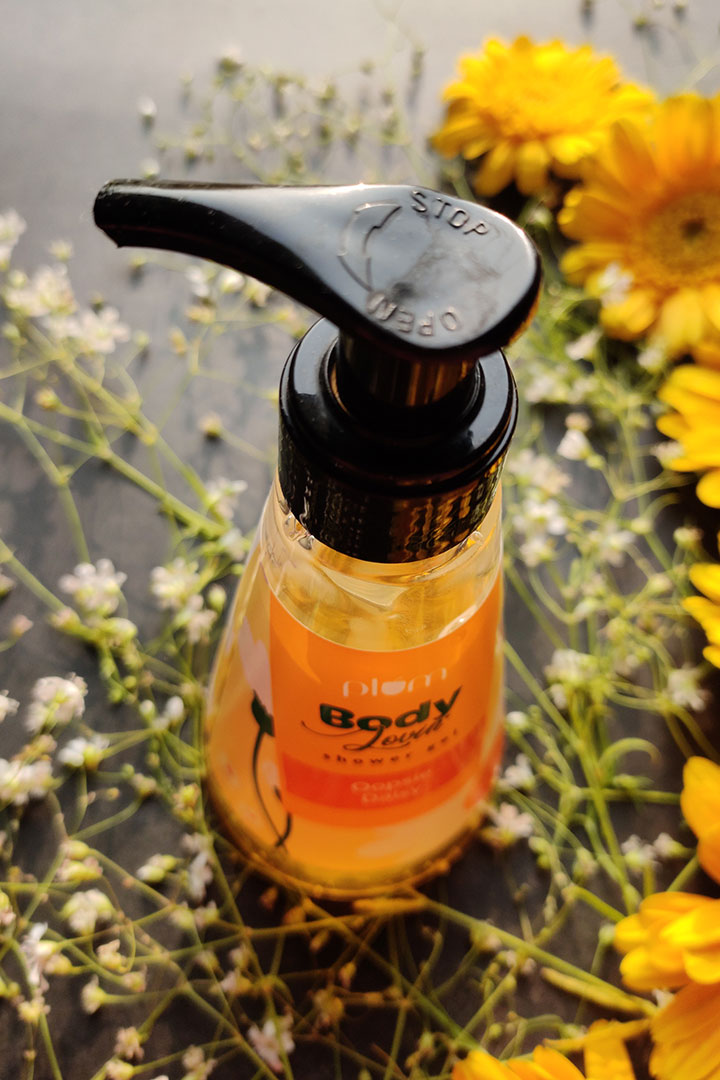 Every time, I rub this gel, it forms a decent amount of lather to wash off all the dirt and pollution.
The aroma is not short-staying. In fact, the freshness stays for quite some time. In my case, I have felt the aroma stays at least for an hour. Don't worry! It would not bother your sensitive nose.
Does Plum Shower Gel Irritate Skin?
Nope! Not at all. The formulation is perfect for all skin types. My super dry skin does not feel stretchy at all even if I do not apply any body lotion. Well! It is definitely not what I would recommend. A body lotion is a must post-shower.
The hydrating power of the shower gel is quite interesting.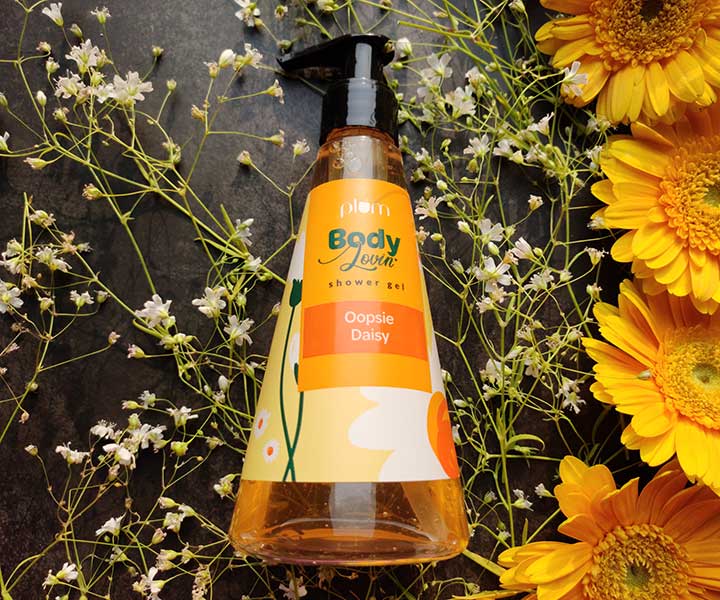 Pros of Plum Body Lovin Shower Gel
Enriched with flower extracts
Interesting and unique packaging
Mild surfactants are used yet cleaning power is good
The beautiful fragrance fills your day with freshness
Skin feels hydrated post-wash
PETA certified and cruelty product
Cons of Plum Body Lovin Shower Gel
Addition of colourants and fragrance are unnecessary
And, that's all for today! If you like this review, share the article with your friends and family. Make sure you follow us on Instagram for more such interesting information. Take care! Celebrate life.