|| Lotus Makeup Remover for Eyes, Lips, and Face Review ||
Hello Ladies, I am Sampurna, for short, it's Sam and I have recently started freelancing for this amazing blogger, Soma! And you're reading her blog 'Cosmetics Arena' right now. My greetings to you! So it's the rainy season, and that doesn't quite stop us from using our favorite matte lipstick, or that amazing waterproof eyeliner that gives you the perfect wing. But what about removing the makeup?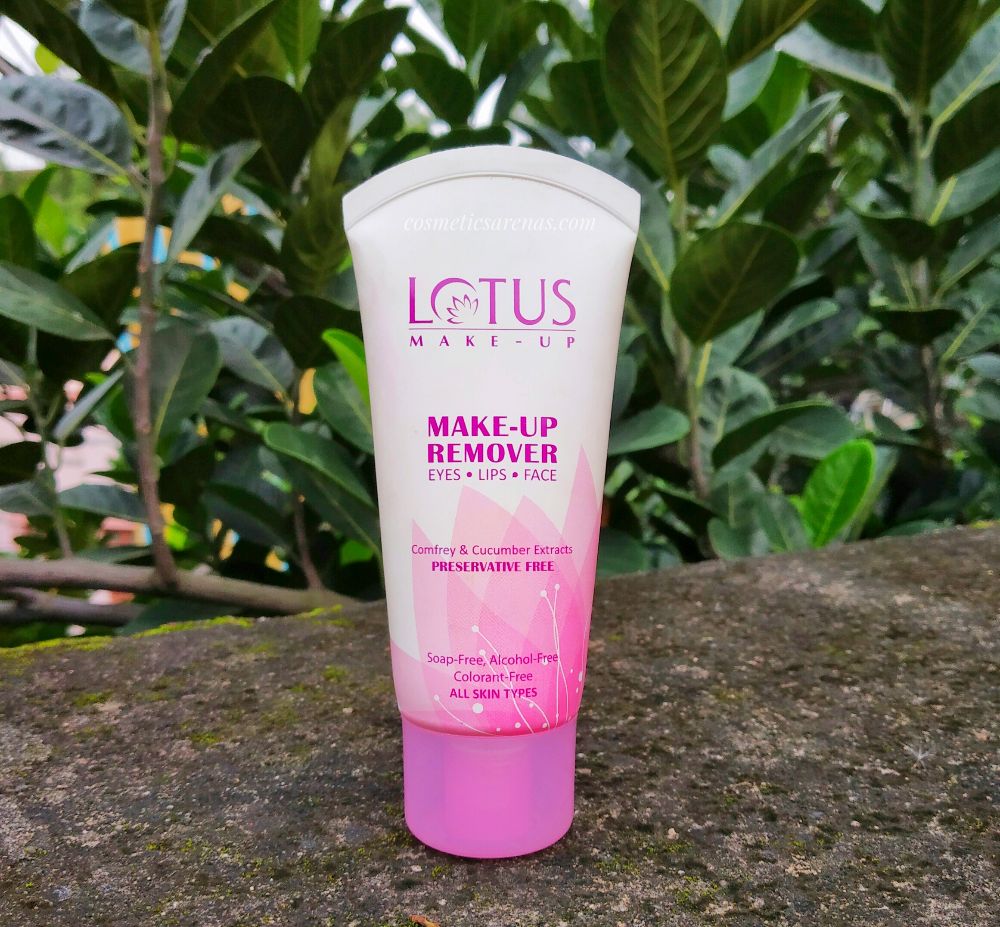 Of course, water or a simple face wash wouldn't even be able to remove it with one swipe. You would have to rub the makeup with water until your skin gets bruised and red.
So today, I shall present to you Lotus Makeup Remover for Eyes, Lips, and Face that will fulfill your wish of magically removing that waterproof makeup with one easy swipe!
PRICE: Rs.375/- for 50g
Lotus Makeup Remover is one such blissful product that is enriched with botanical extracts and comes in an aesthetic box with purple lettering and beautiful pink art. The actual cream is inside a container that can be easily opened by turning the cap.
About Lotus Makeup Remover for Eyes, Lips, and Face: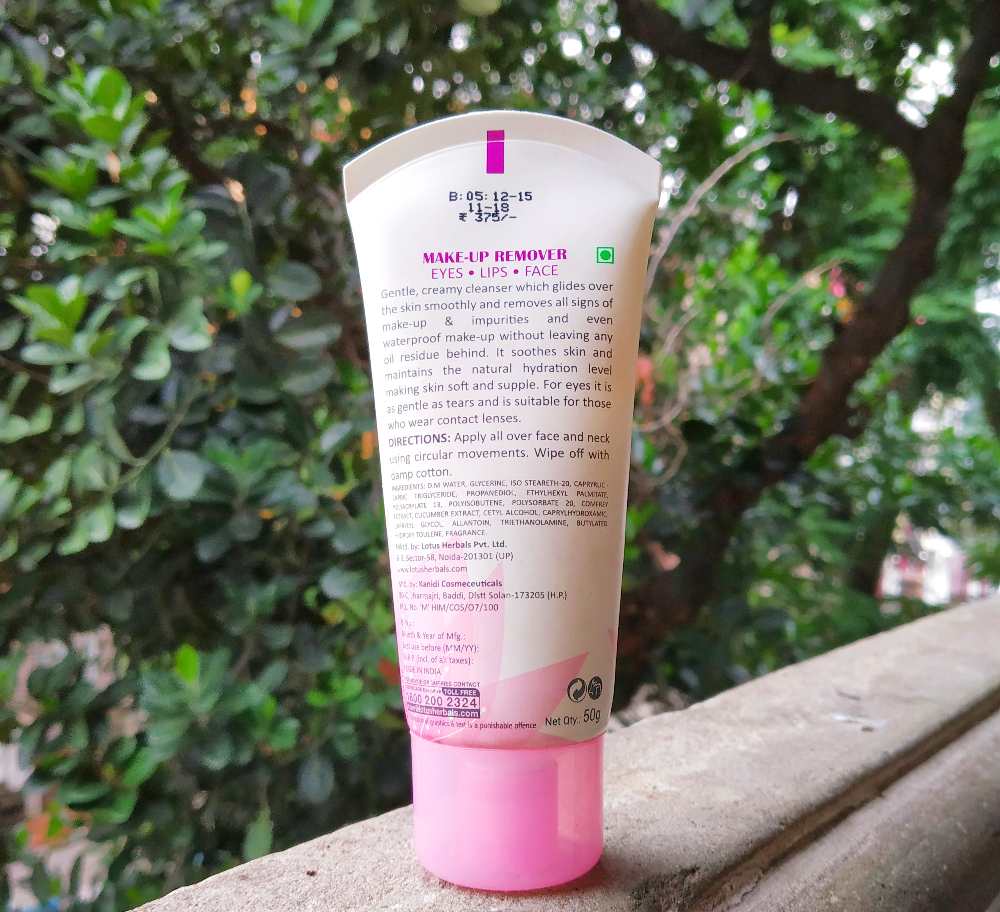 Lotus Herbals claims that this makeup remover is PRESERVATIVE FREE, which instantly makes this desirable as who doesn't want products that don't have that extra amount of possibly hazardous chemicals? And another amazing advantage of this product is, it's 100% VEGETARIAN, so the beautiful ladies out there who believe in using only Vegan products, this brand is just absolutely right for you! They have also stated that this Makeup Remover is SOAP-FREE, ALCOHOL-FREE and COLORANT FREE.
Did you know that the human body works in a pH range of 7 – 7.5, and the soap in products disturb the pH balance of the skin.
Alcohols weaken the skin, except some Alcohols like fatty alcohols which can be beneficial. And of course, artificial colorants are something you would really like to avoid, believe me.
Also, this is for ALL SKIN TYPES, so no matter if you have dry skin, oily skin or normal skin, you could still use this!
The smell doesn't reek of chemicals, instead, it's a pleasant smell and doesn't feel strong. It's mild and sweet to smell.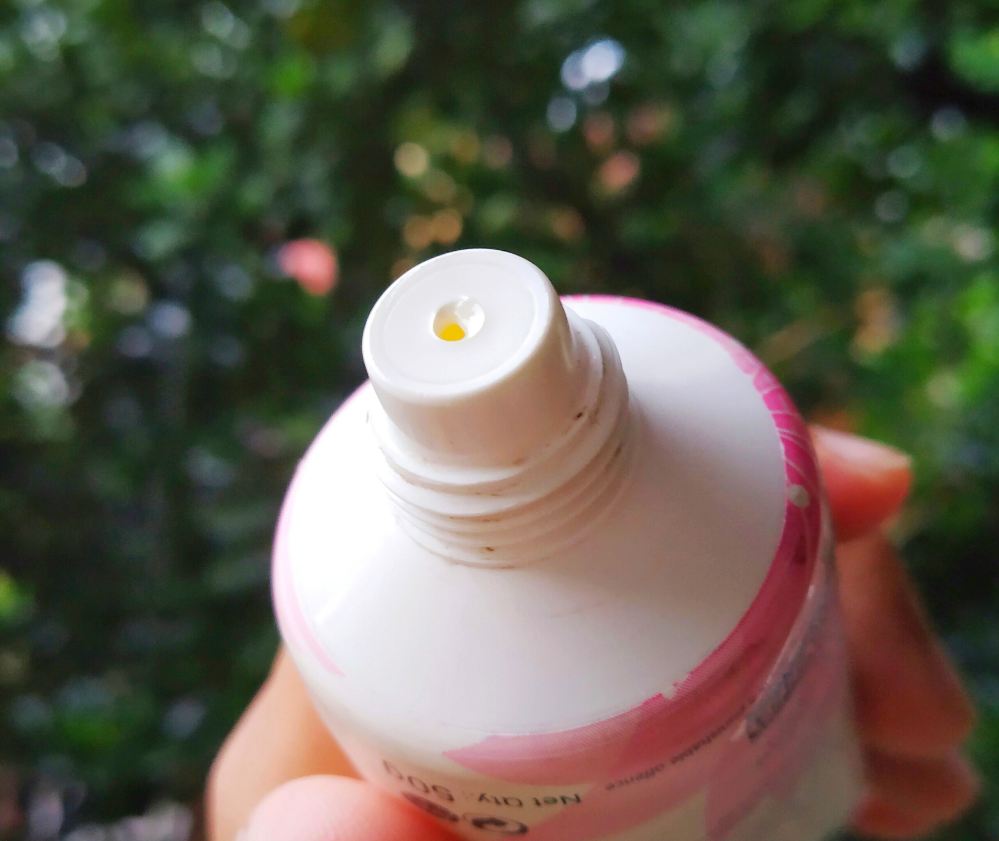 Editor's Note:
Ingredient Analysis of Lotus Makeup Remover for Eyes, Lips, and Face
Lotus Makeup Remover has a number of active and inactive ingredients. Well! The ingredients are difficult to pronounce. So, let's decode every component individually.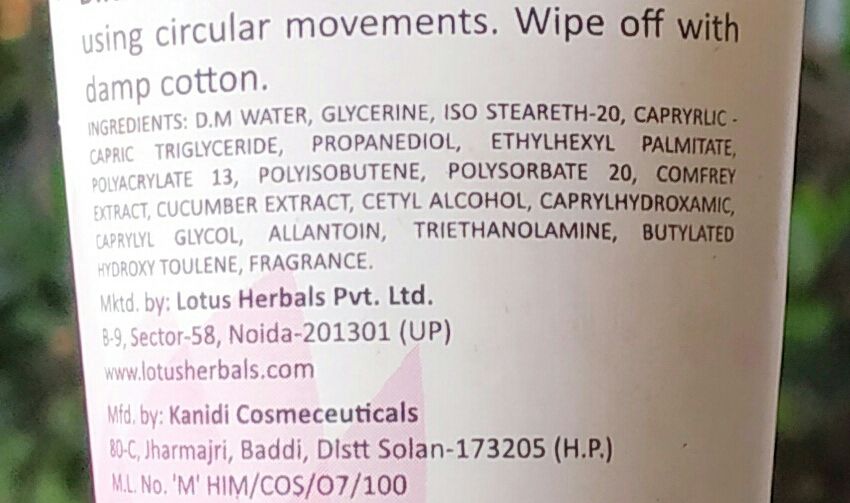 DM Water: It is the purest form of water which is devoid of any chemicals and minerals.
Glycerine: It is a great humectant that locks moisture.
IsoSteareth-20: It is used as a surfactant and emulsifying agent.
Caprylic Capric Triglyceride: It is basically derived from Coconut Oil and Glycerine. It works wonderfully as a skin emollient and skin conditioning agent.
Propanediol: It works as viscosity controllers and is quite safe.
Ethylhexyl Palmitate: Quite a safe ingredient to use in cosmetics as the skin conditioning and fragrance ingredient.
Polyacrylate 13: It is a safe ingredient that forms a film on the skin.
POLYISOBUTENE: It is another ingredient to form films on the skin.
Polysorbate 20: It works as a fragrance ingredient and surfactant.
Comfrey Extract and Cucumber Extract: Comfrey has healing properties and Cucumber can tone skin.
Cetyl Alcohol: It is a safe ingredient that is used as both Emulsion Stabilizer and Fragrance ingredient.
Caprylohydroxamic: It is a very gentle preservative.
Caprylyl Glycol: A safe ingredient to be used as a hair and skin conditioning agent.
Allantoin: Another safe skin conditioning agent that is naturally derived.
Triethanolamine: a Moderately hazardous component that can serve the purpose of surfactant, fragrance agent, and pH stabilizer.
Butylated Hydroxytoluene (BHT): It is basically an additive that has been proven quite a carcinogen. The addition of BHT in this formula was not up to the mark.
Fragrance: I hope it is not Phthalate.
Overall, the ingredients look quite harmless until I found BHT in the formulation. So, I would like to go for a 3.8/5 rating for the entire ingredient. 
My Experience with Lotus Makeup Remover for Eyes, Lips, and Face
I have used this product for more than a year and it has lasted me for so long because I don't frequently use makeup (student life, yeah) And, sometimes I just skip removing my makeup at all because I'm really lazy.
Removing makeup errors:
It has immensely helped me to remove errors while applying makeup, like literally! While trying to wing my eyeliner, I would sometimes ruin it and would find myself panicking because I'm mostly late on schedules when I have an event to attend. But, this remover has always come to my rescue, I would just take a little out on my finger, glide it on top of the error, and use a damp cotton to remove it. And it would always work!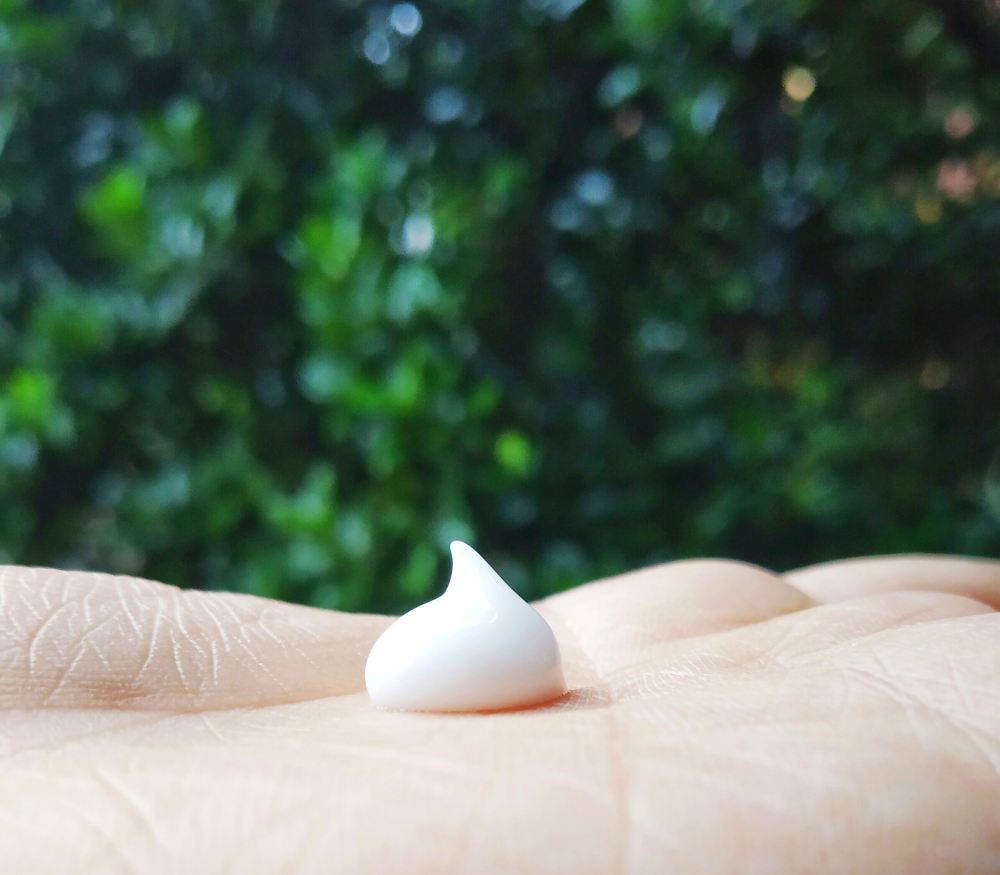 Removing Matte Lipstick and Waterproof Mascara:
When I applied swatches on my hand, I used my black waterproof mascara and a few matte lipsticks, lip pout crayon and normal lipstick. I was scared the remover would fail to do its job. But upon lathering it upon the skin and massaging for a minute or two, the results impressed me. It removed most of the makeup, and multiple swatches removed it completely!
One of the pink lipstick swatches, however, left a tint of my skin and it's mildly visible even now as I look at it. No harm though.
Feel on the skin:
The after-effect of this remover is that it leaves a cool soothing sensation of the skin. I have never noticed a side effect however it might vary for others.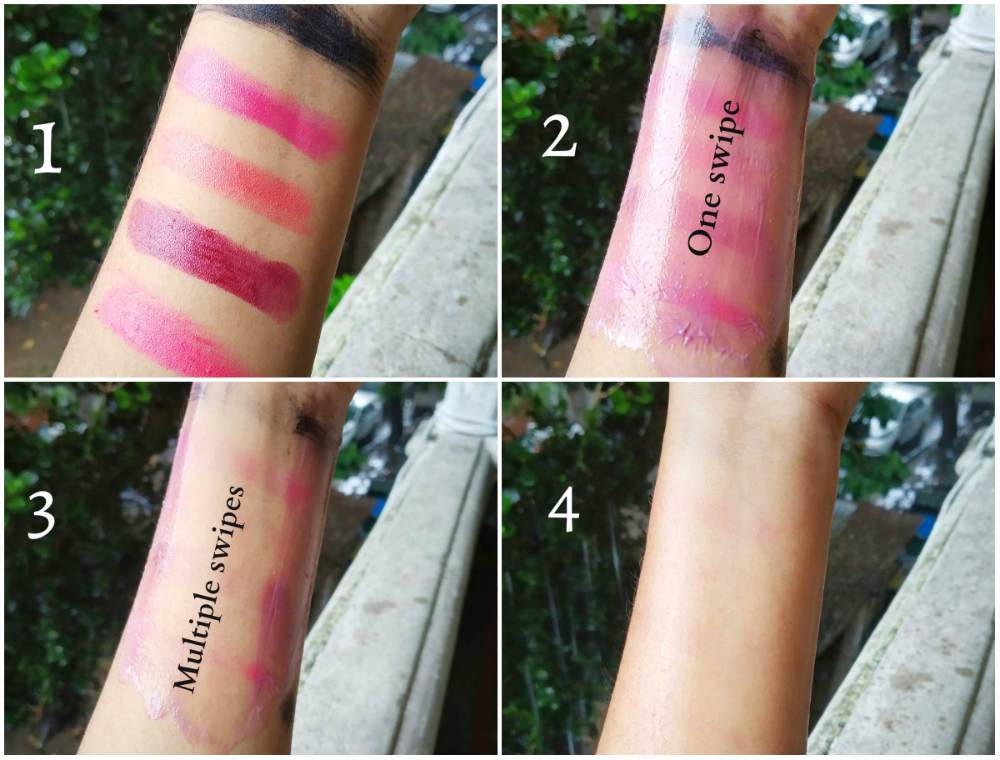 IRRITATION:
There have been times when I had to remove my eyeliner so I would apply it on the skin and then wipe it off with a damp cotton and would find that the skin turned a little red. To this day I wonder if it was the cotton or the cream that sometimes caused me the reddening. But considering that if you keep making errors and removing it, you'd have to wipe it off with the cotton and that causes the area to get bruised upon continuous friction. I haven't a solution to it yet, so I just try to avoid making errors at all.
PROS of Lotus Makeup Remover for Eyes, Lips, and Face
It is soap-free, which is much better for the skin.
It is alcohol-free and colorant-free which makes it a better product to use as it's cut short on chemicals.
The results are amazing, it can easily remove water-proof makeup or matte lipsticks.
It is a 100% vegetarian product which makes it absolutely suitable for VEGANS or people who wish to use Vegan products.
It gives a soothing feel to the skin upon application.
[cosmetic_ad]
CONS of Lotus Makeup Remover for Eyes, Lips, and Face
Really expensive for people on a budget.
Less quantity (50g) hence regular usage or removing heavy makeup regularly will make it run out sooner.
Some products might be harder to remove (i.e. A matte lipstick with a stronger staying formula)
---
***CA Rating: 4.5/5***
---
Would I Repurchase Lotus Makeup Remover for Eyes, Lips, and Face?
I only ever purchased it because the shop-attendant convinced my aunt. I feel like I would want to try out other cleansers and not buy this one again because it's quite expensive.
Would I Recommend Lotus Makeup Remover for Eyes, Lips, and Face?
Lotus Makeup Remover is quite impressive with the results however the price is quite high especially if you're on a budget or an everyday makeup user. However, if you don't have such limitations, then this product might be just the perfect one for you!

Thank you very much for reading. I hope this list helps you a lot for next time when you would go shopping. If you like this post, then don't forget to SUBSCRIBE. Take care; much love.