My Experience with Amazon Affiliate Marketing Program in India
**Nope! It's not a clickbait article. And, it is not sponsored by Amazon at all.
Well! I have been blogging on Cosmetics Arena for the last 4 years. Indeed, the journey was quite a roller-coaster ride.
Specifically, in all these years, I have not only invested my time & effort on this site but a significant amount of fund as well.
During the early days, I had no job. So, in order to keep the site going, my parents used to fund for everything. In short, I had zero sources of income.
Well! I understood one thing pretty soon. Blogging is a journey where one needs to renew the domain and the host on time. Moreover, for beauty blogging, the blogger needs to keep purchasing newly launched products for fresh reviews.
So, in short, a blogger needs a constant source of income to keep things going. And, I was facing quite a hard time to make both the ends meet.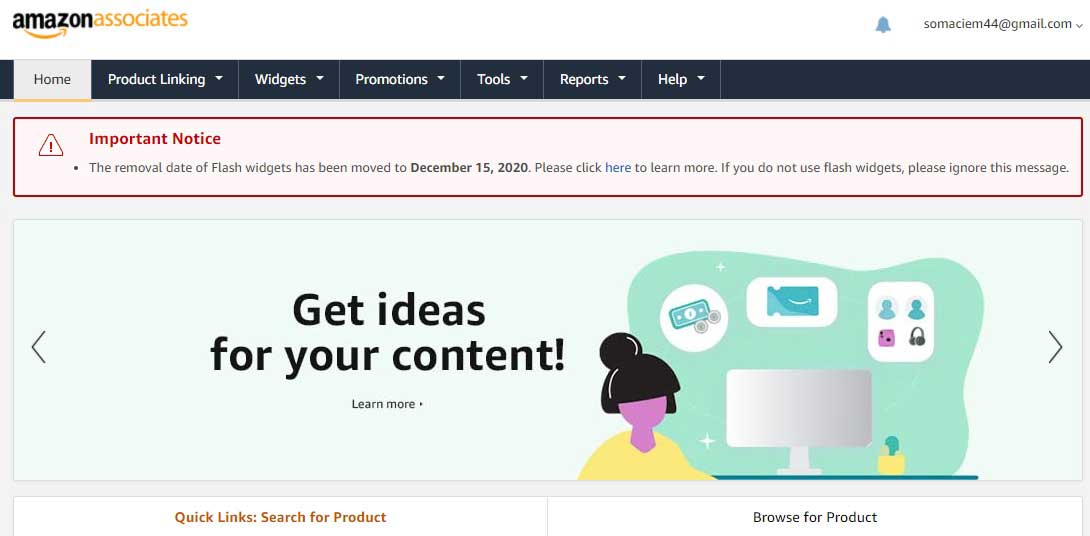 A few months back, I came to know about Amazon Affiliate Program through one of my blogger friends. Honestly, I was quite dubious at first.
Somehow, I just managed to convince myself and I signed up for the Amazon Affiliate India program in August 2020.
What happened next was a complete shock to me!
I earned more than INR 3000 right on the first month itself!!!
Honestly, I felt so overwhelmed with the result that I wanted to share my story with everyone immediately. But then, I decided to wait for another two months.
Guess what! I earned more than INR 5000 for those two months.
In case you are just starting with an amazon affiliate and promoting products with your blogs, here we suggest you use tools like Semrush for finding low-competition keywords which are easy to rank.
Moving on; there is no point in holding myself back anymore. In the following sections, I am going to talk about how I earned through the program, what exactly it is, the commission rates, and many other interesting things.
Get ready with a cappuccino; this is going to be a bit lengthier than usual.
Table of Contents
What is Amazon Affiliate Program India aka Amazon Associates Program?
Basically, if you have a website (no matter, what kind of genre you have), then this program allows you to advertise products on your site.

Whenever your reader (or the end-users) buy something, you get a per cent of commission.
Here, 'Products' mean anything that is listed and is sold on the Amazon site. In fact, not only on products, Amazon pays you commission for certain services as well. In the later section, I am going to talk about that.
Often, it becomes difficult to find the right product from the search category. Here goes a detailed article on how to do product research especially on Amazon.
How Amazon Affiliate Marketing Program is Different from the Other Programs: An Insight
Before signing up for the program, I went through the terms and conditions of another such affiliate marketing program. And, here is what I have found.
Every affiliate marketing program has its own payout system. The program pays you only when you reach the threshold amount. And the amount varies from one program to another.
Just like Amazon, Flipkart has its own Affiliate Program too.
Amazon Pays You once you reach INR 1000 (or Rs. 1000). The amount gets directly credited to your account at the end of the month through Electronic Fund Transfer (EFT).
Whereas, the threshold of Flipkart Affiliate Program is a bit high. This program pays you in two ways. One is EFT mode and the other mode is EGV (or, Electronic Gift Voucher).
If you wish to withdraw money through EFT, then the threshold limit is Rs. 5000 and for EGV mode, the threshold is Rs. 2500. Somehow, I felt that the threshold is a bit high.
Moreover, the documentation process is lengthy for Flipkart Affiliate Program.
So, after thoroughly comparing both the programs, I went on with the Amazon one.
How to Sign Up for the Amazon Affiliate Marketing Program
The process is pretty easy. No such technical skill set is required to maintain the dashboard.
So, here are the steps you need to follow.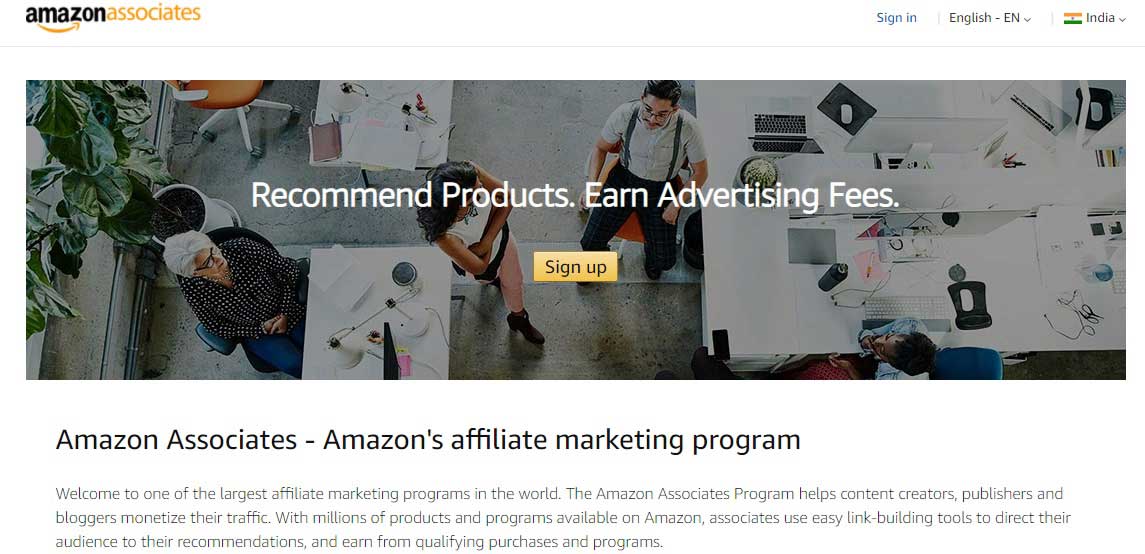 If you have an existing Amazon account, then you can easily sign in with that. Otherwise, click on the 'create a new account' button. Don't worry! It is pretty easy.
Once you sign in, you would be directed to the Home page shown in the picture.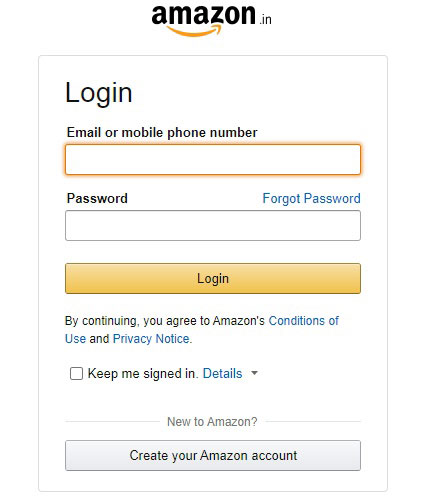 Wait! It is not over yet. Can you see your email id on the right-hand side corner of the page? When you hover your mouse on that, you would find four options.

Click on the Account Settings link.
Now, you would find several other links as shown in the picture. Simply, check each and every link, and put down the necessary information or edit the info the way you want.
Once you edit everything including 'Tax Information', you are done with the process.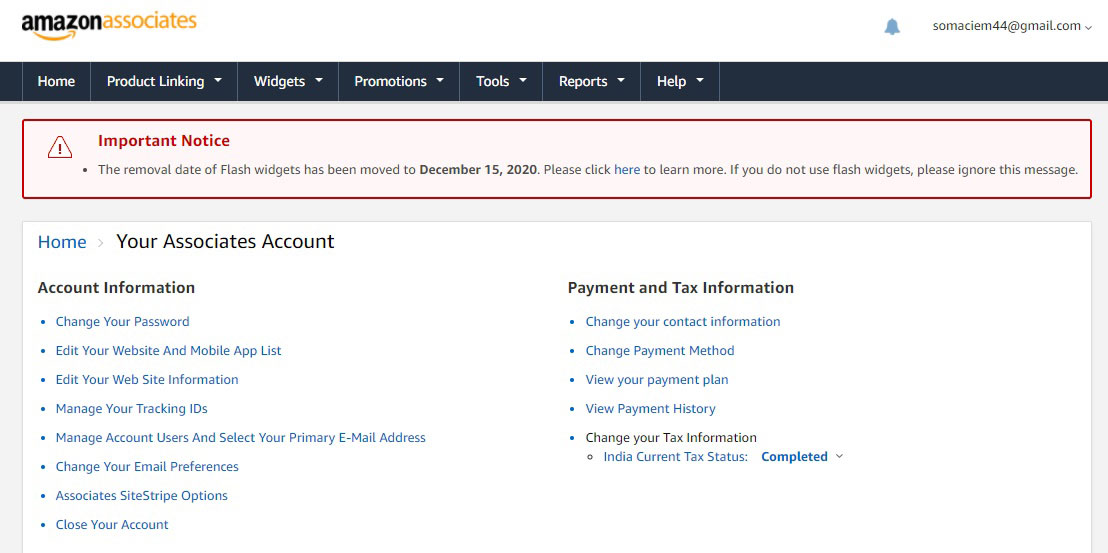 Well! That's all you need to know about the Sign-in Procedure at a glance. It was pretty easy, right?
How Do I Get the Link or the Embedded Code for My Site?
If you have a website, then there are a number of ways to extract the links through Amazon Affiliate Program.
Way #1
Generally, what I do is the simplest idea ever. I simply go to the Home Page of the Program. And, then I write the name of the product for which I am searching for a link.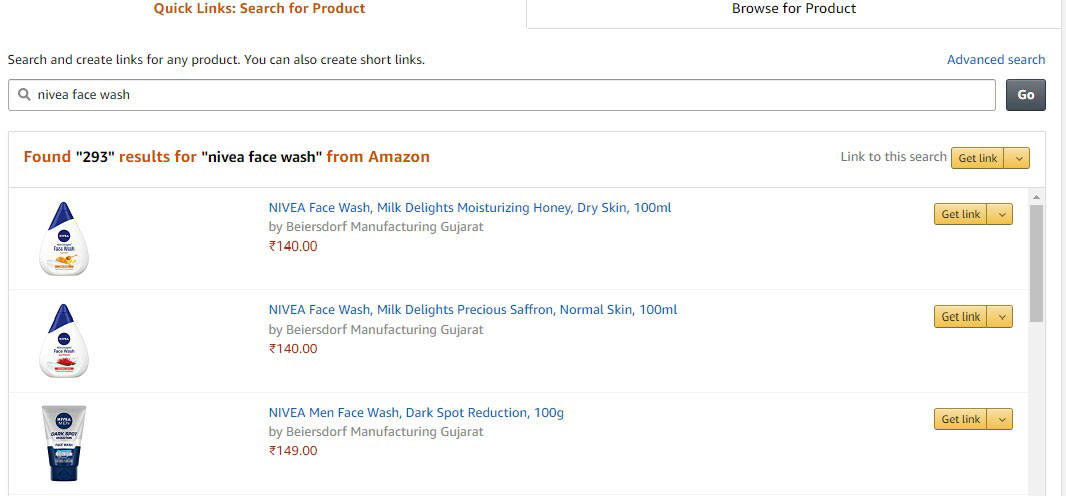 As you can see, after writing 'Nivea face wash', Amazon has given me a number of links with product images. In this particular example, all the products shown are just the right ones.

But, this might not be the same for everything. In that case, the blogger needs to find out the right product. Once I find the desired product, I click on the down arrow juxtaposed to the 'Get Link' button. And, as shown in the picture, I get the desired link that I need to copy and paste on my site or on my social media pages.
Way #2
I usually do not use this way of getting a link. But, trust me! If you have some time, then this is the best way to get an attractive link. This way out supports text and image, both formats of link building from the page of Amazon.

As you can see from the picture, all you need to do is to select a specific line of product. And, Amazon Affiliate Program would give you the embedded code. If you click on the page link, then you would find a number of products are displayed on the page. Simply, copy and paste the embedded code to your site and start earning.
Way #3
This method is another attractive way to extract the embedded link. In this mode, Amazon Affiliate Program allows you to upload an attractive banner (containing the link) on your site.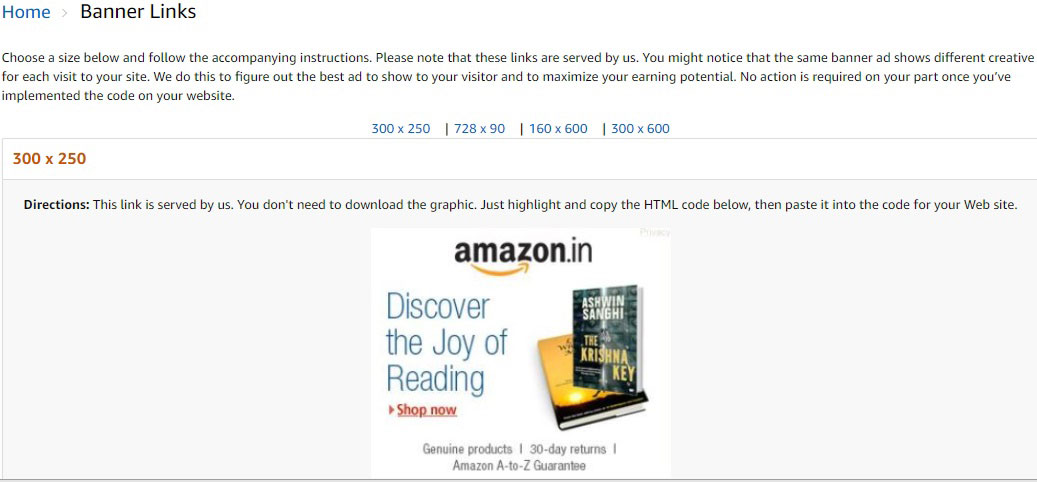 Well! There are several sizes to choose from, as you can see. Simply, click on the size you want to display on your site.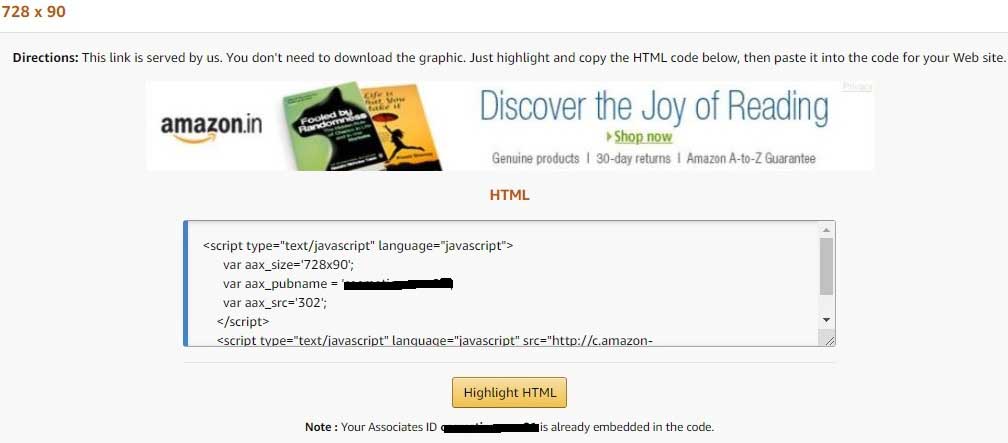 And, you would find the embedded code in a dialogue box. Simply, copy and paste the link on your site. Voila! You are all set to earn.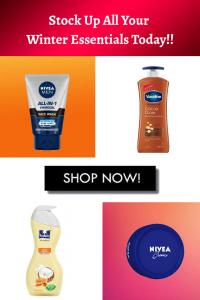 Apart from all these ways, you can also do other interesting things.
Sometimes back, I made this cute banner. And, provided a link back to the Amazon site containing all the winter essential products.
I must say that this banner has helped me a lot to boost my earning.
Amazon Associates Program is full of possibilities. You can do many interesting things with the program. All you need is a brief outline of it.
But, the real question is, how the program works. How did I make money? Well! To know the answers, you need to jump to the next part.
Advertising Fee Schedule or Commission Rates: Everything You Need to Know About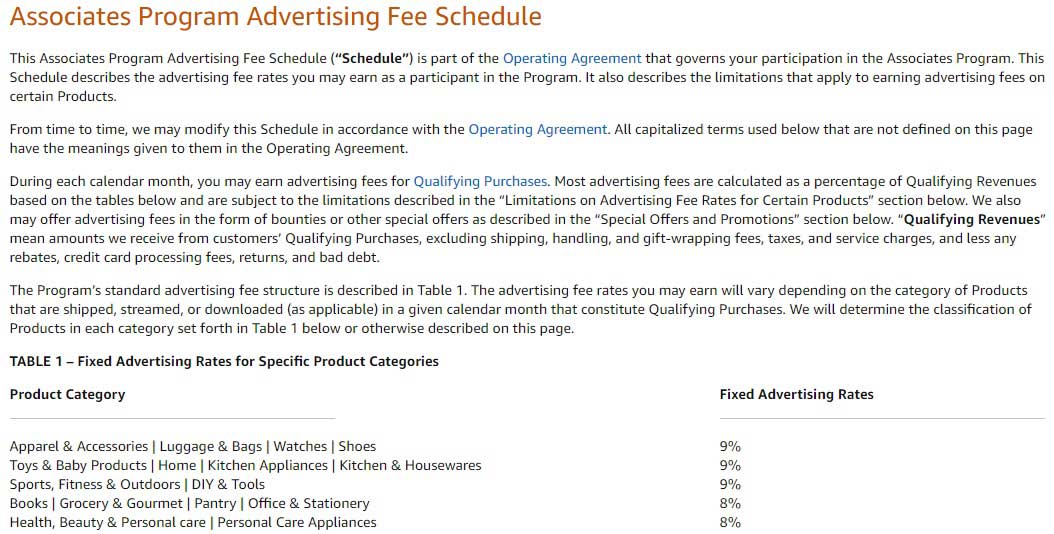 This is the most interesting and the tweaking part. Basically, as a blogger or as an influencer, you are going to earn the commission. I earn a percentage ((which is known as 'commission rates or advertising fee) of the cost involved whenever someone buys a product or a bunch of products. Different products have a different set of commission rate.
As I talk about beauty products on my site, my commission is 8% of the total cost (as you can see on the picture). For example, if someone buys a face wash and a trendy shoe altogether, then I would get 8% of the cost of the face wash+9% of the shoe cost as commission. Interesting, isn't it?
Here is an important twist that an applicant needs to know. Well! It happens sometimes that people return products.
But, when someone returns the products that he/she has purchased through Amazon Affiliate links, the commission amount gets deducted.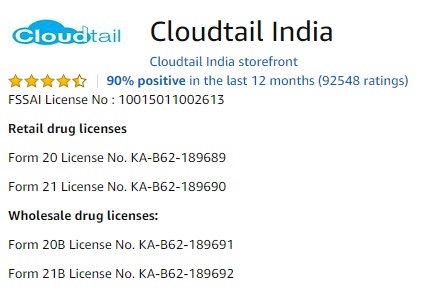 But, do not worry! There is a solution. Try to embed links from such retailer's page who has a good rating.
I have bought several products from Cloudtail India and thus, I always trust this particular seller.
So, make sure that you have chosen the best retailer service. The better the seller, the lesser chances of returns would be there.
How Much I Have Earned So Far
I think this is the most interesting thing to know. It's definitely important to know about the program. But, nothing is more exciting than to assert how useful the program is for all the website owners/bloggers out there.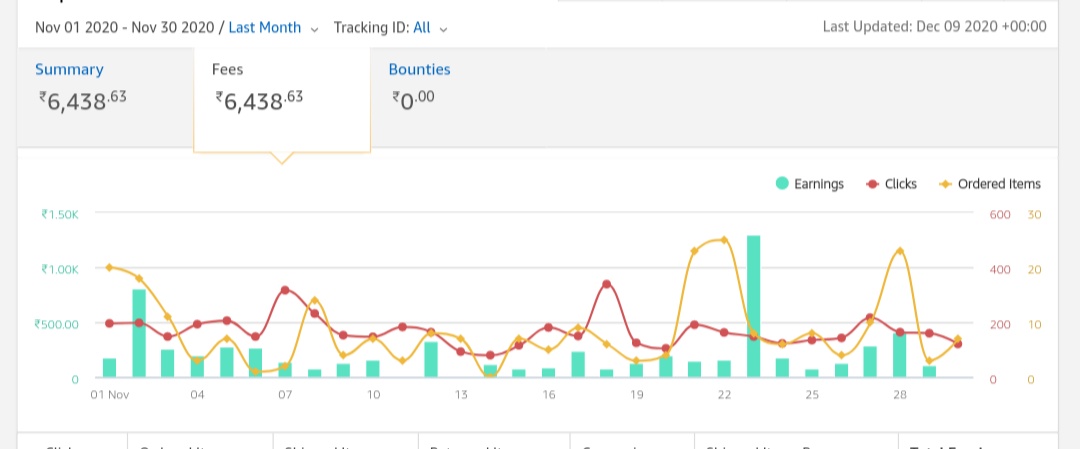 As I said, it's been more than 3 months already that I am part of the program. And, to date, I have already received the payment for August and September.
No worry! Amazon payment structure has a gap of 2 months. That means you will get the payment for September in the month of November and so on.

Well! As you can see in the picture, I have earned more than INR 15k in this quarter. Honestly, the amount is indeed quite satisfactory to me.
And, you are right about one thing! I do not earn the same in every month nor there is any such minimum or maximum.
The earning entirely depends upon the niche, the audience, and the type of products being sold. As different products have different fee schedules, the earning differs too.
Is It Worth to Sign Up for Amazon Affiliate Marketing Program in India? The Final Words
Well! At present, there are a number of affiliate marketing programs in India. But, I find Amazon offering the best among all.
I have found a number of reasons behind loving this affiliate marketing program. Let's take a look.
The payout is really low; INR 1000 is the lowest of all the programs I have found so far
Quick approval
Amazon has a range of products. The genres cover personal care to gaming gadgets, books, and many other things. You would definitely find your website niche.
Easy to handle dashboard
Flawless payout system; pays on time through EFT
Nothing hidden terms and conditions
Amazon keeps offering a number of deals and offers throughout the year. And, such things definitely boost earning.
As a whole, if you are a blogger, then you have got every reason to sign up for Amazon Associates aka Amazon Affiliate Marketing Program. So far, it is the best affiliate marketing program in India.
In fact, if you are an influencer who has a significant social media presence, then Amazon has recently come up with an extension of the Associate Program for you. It is named as Amazon Influencers. To know more about the program, check out the Influencers page.
Overall, I am extremely satisfied with the program. And, I would definitely recommend this marketing program to every site owner/blogger out there. I feel proud that I signed up for the program. There has been no looking back since then.
And, that's all for today! If you find this article helpful, make sure you share the article with your friends and family. Also, make sure to follow us on Instagram as we keep publishing interesting stuff. Take care; let's celebrate life.