The Saga of Coconut Oil and Other Kitchen Ingredients
It is gorgeously true that the Hair is the richest ornament of a Woman! It is a statement of style and an expression of self-love & happiness. And, it's our duty to protect and pamper it! Hola… Divas! Here I have come with protective hair care for your natural hair.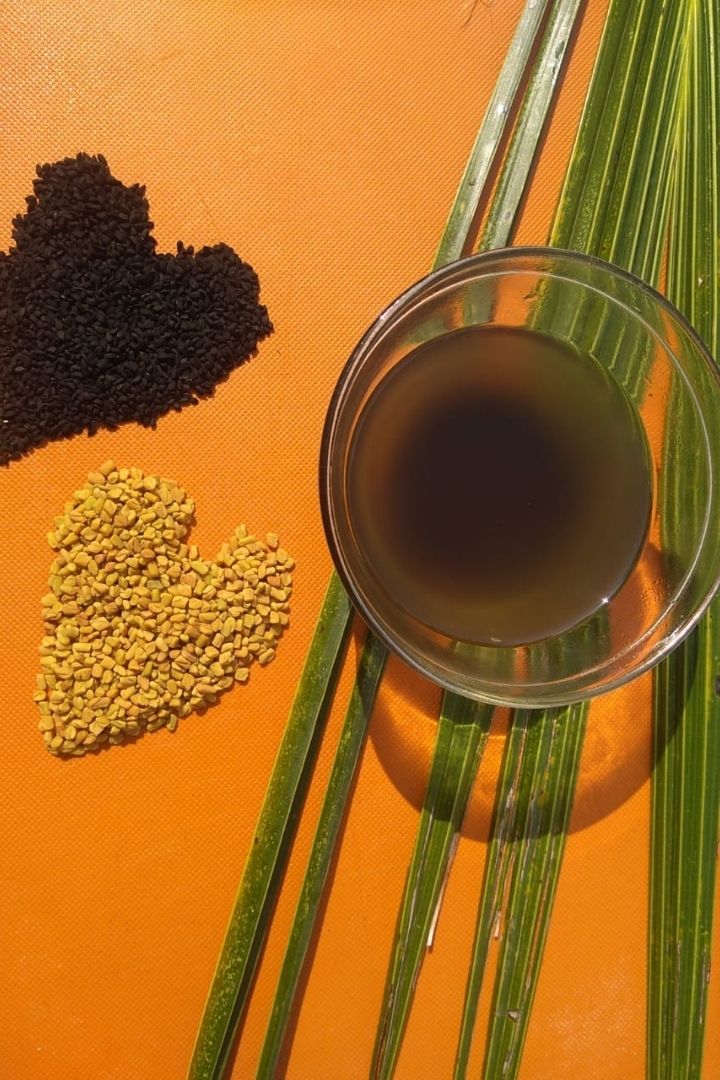 It's a tradition from years after years when your grandmas, moms use homemade hair oil for envy-worthy hair. Amazingly, they never felt tired to make these huge processes!
With time, a number of natural, herbal hair oil have arrived in the market that promise to regrow and care our hair. But, sometimes those are not worthy and don't actually work.
So, how can you grow your hair naturally at home? Or how can you thicken your hair at home? Or are you self-dependent on hair product and like to use raw self-made hair oil? And do not want to use any chemical product? Wooh! So many questions! It's time to solve the puzzle.
A Quick DIY Recipe for the Healthy Hair Growth
Knot a tie with coconut! Whatever your hair is, coconut oil always comes to your rescue
Who doesn't want a want to grow long, sleek and shiny hair! The Virgin king, colourless, edible coconut oil has millions of benefits for hair and skin.
Why Coconut Oil is the Star Ingredient of this Recipe?
This versatile product, Coconut oil is rich in lauric acid, capric acid, myristic acid and quite a few essential fatty acids, and also vitamin E.
Benefits of coconut oil for hair
Coconut oil helps to grow superfast healthy, shiny, strong hair.
Day to day, styling, grooming and pollution can damage, frizzy, dry and broken hair. Coconut oil protects heat damaged, frizzy hair, reduce breakage, as well as split hair, and protein loss problem.
As it has vitamin E, proteins, and minerals, which nourish our hair from the root. It can go deep into hair follicles.
Coconut oil prevents dandruff, flaky scalp, bacterial, lice, fungal infection, and eczema.
Regular use and massage with coconut oil boost blood circulation.
Is coconut oil better than olive oil for hair growth?

Well, both the oils contain antioxidants which protect our scalp from sun and chemical damages and both promote healthy hair. To get the most powerful hair treatment, combine and use as 1:1 ratio.

How to Prepare and Apply the Concoction?

Take coconut oil in a bowl according to your hair length
Heat the oil gently for 30 – 35 seconds.
Let the oil cooling down; remember it should be warm but not hot.
Section your hair and massage the oil into your scalp, from the root to the tip very gently.
Leave it for 1 hour or a whole night
Wash out the oil with your favourite shampoo
Recipe for Healthy Hair Growth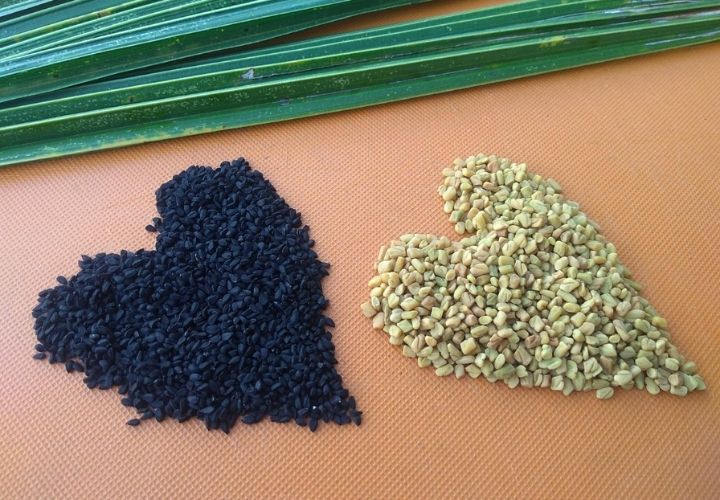 Here are an easy, the most effective, and 100% natural DIY hair oil formula with a few simple kitchen ingredients for hair regrowth, preventing hair fall and dandruff hair as well as premature greying of the hair which is cost-effective and works 100%.
Ingredients
Black Cumin
Fenugreek
And of course, Coconut oil
These 3 ingredients are like magic to stop premature grey hair.
Why kalonji seed or black cumin & fenugreek are beneficial for hair?
It has anti-inflammatory, antifungal, antibacterial, antiviral properties which is the powerhouse of crude fibre, iron, sodium, amino acids, saponin, calcium and potassium, fatty acids like linolenic and oleic, volatile oils. All these components are much-needed nutrients for problem-free hair.
The ingredients of this hair oil impart the following benefits…
Reduce Hair fall
Hair Regrowth
Promotes Blood Circulation
Remove Scalp irritation
Prevents greying hair
Strengthens hair
Controls Dandruff
How to prepare black cumin & fenugreek oil?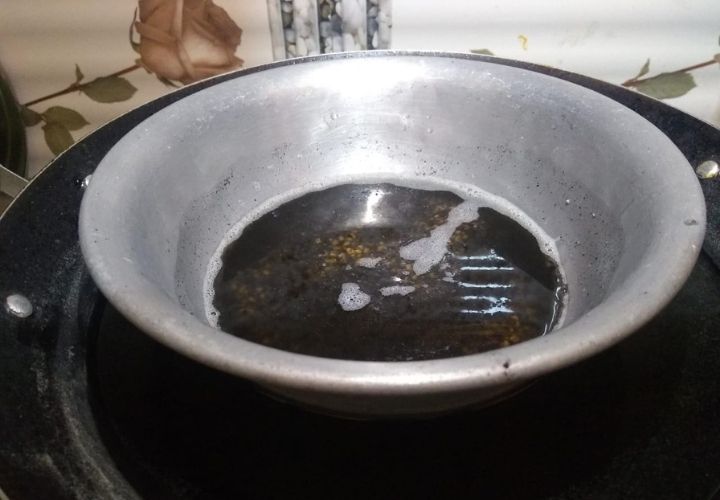 Follow the steps:
Grind well 2 or 3 tablespoon black cumin and fenugreek seeds equally,
Add these powder with a cup of or preferable amount of coconut oil,
Heat water in an iron Kadai first on high flame, when bubbles come, place an aluminium bowl over the Kadai,
Heat the oil in that bowl on low-medium flame
Stir simultaneously for 10 – 15 minutes
Remove it from heat and let it cool. If possible leave it like this for a day or two,
Once it cooled, strain into a clean dry glass bottle or in an airtight oil bottle in a cool, dry spot,
And apply it regularly or twice a week.
The remaining solid can be used later adding with plain curd or oil as a hair pack. I prefer not to boil directly the oil cause, there is a risk of burn and destroy the benefit particles.
If you are using a microwave, I recommend adding cold oil into the bowl. This will reduce the overall heat and make it lukewarm.
How to apply this healthy hair oil?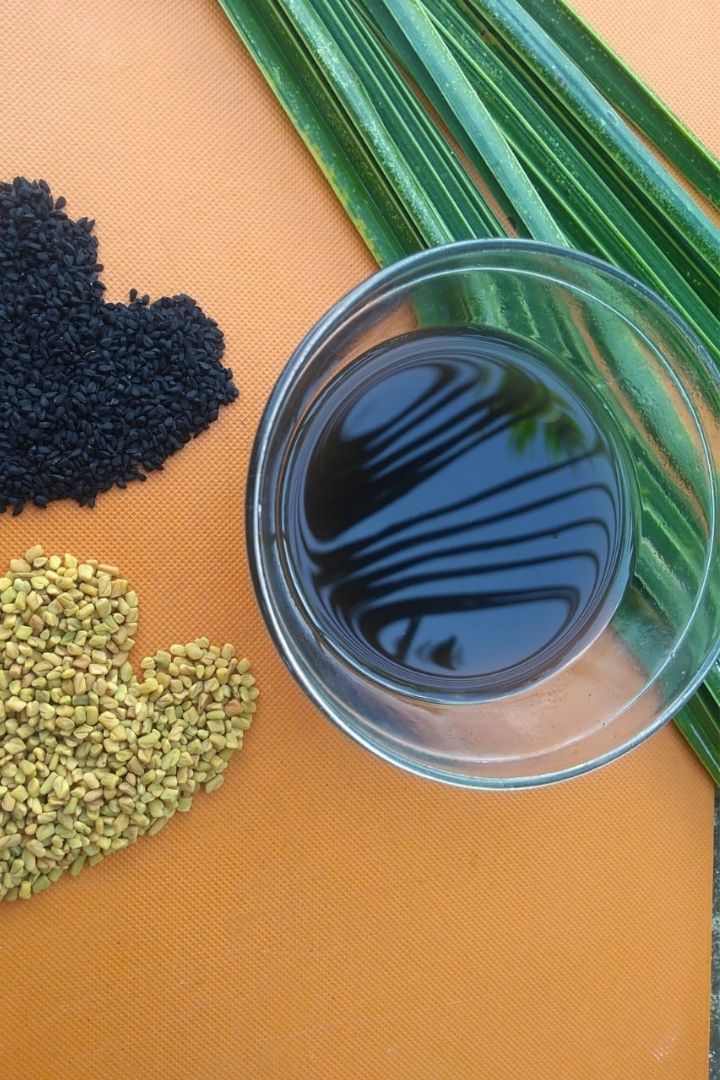 De-tangle your hair before oiling to remove dead hair.
Shake well and apply this healthy hair oil on the scalp and massage gently with your fingertips in a circular motion.
Do not rub on the scalp.
And then apply the oil left on your palms to your hair.
Let it soak for 2 hours. For a better result, cover your scalp with a hot towel and leave it overnight.
After 2hours or the next day rinse thoroughly with your regular shampoo.
Condition as normal
Make a habit of this process regularly for 4months, you will see the results.
Must avoid leaving this oil overnight who have a cold-cough issue.
Now it's time to cover some basic Q n A that often I face.
Q. Do hair growth oils actually work or just a myth?
A. As it is a home remedy and external treatment so stay with patience. Regular massaging of oil into the scalp helps to promote blood circulation and stimulates hair growth, prevents dry hair, split ends hair. When these problems are gone, your hair will be healthier.
Q. How long does hair growth oil take to work?
A. Yes it takes a long time to show an effect. Often it takes a period of 2 to 6 months, depending on the frequency of use and also the individual's hair health.
Q. How many days I can leave the oil in my hair?
A. Maximum of 2days is enough. Otherwise, when you keep it for more than 2 days, your scalp collects specks of dust and germs which block your hair follicles and feed other problems.
Q. What other benefits of coconut oil for hair?
A. Sources says, the common problem of Lice. Coconut oil is effective and prevents it well. It also gives sun protection. As it has antimicrobial properties, it prevents fungus infection or dry dandruff problem. It conditions your hair.
Q. Should I heat this DIY oil before applying it to hair?
A. Using warm oil allows deep penetration through your hair follicles and scalp. So, you can use it warm!
Last but not the least, maintain a proper diet. Drink lots of water. Try to avoid the stress, and most importantly stay healthy and happy.
I hope you have liked this quick and easy kitchen hair care remedy that you can easily prepare at home. Make it a vital part of your hair care routine; you would see beautiful result pretty soon.
Make sure to share your feedback with us when you prepare it at your home! If you find it helpful, make sure to share it with your friends and family. Take care; celebrate life.