Vanaha Botanical Skincare Products Review: The Tale of an In-House Apothecary
** Not a sponsored review! 
Well! Believe it or not, a blogger's life is no less than a roller-coaster ride. We have to keep trying out different products at the same time. And, my life is no less different.
In fact, sometimes, when I am not supposed to review anything, I keep in looking for interesting and unique Indian brands. Recently, in that venture, I discovered a unique brand through an Instagram story of one of my fellow bloggers.
Yes! You are right. The brand is 'Vanaha Botanical Skincare'. I found the texture and the ingredients of their products pretty unique. And, I immediately dropped the brand a message on Instagram.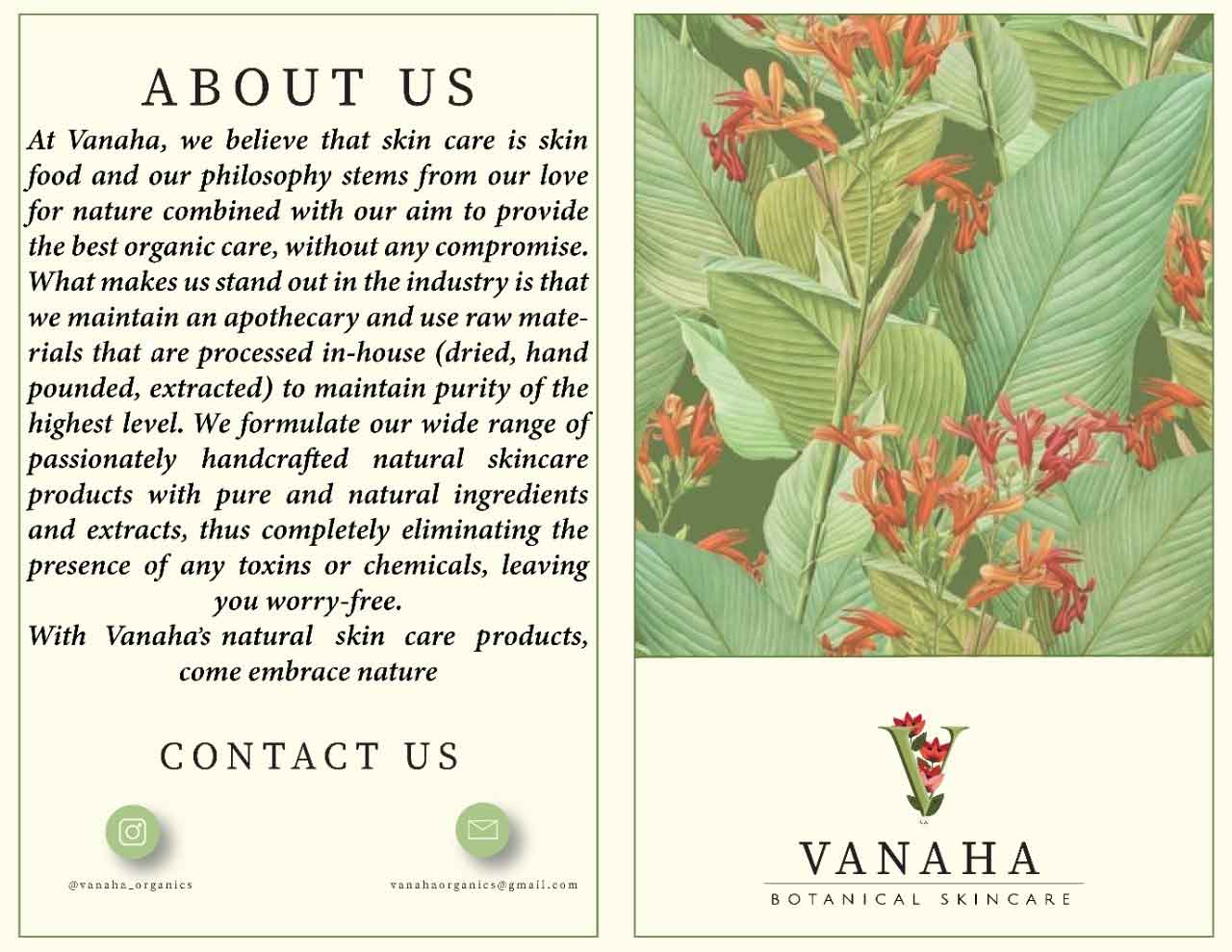 They have a range of products to choose from even though the brand has just stepped its foot. I ordered Vanaha Green Leaves Night Repair Face Balm; the same product that I came across first.
The parcel came with the balm and a face scrub (kindly gifted). Since its arrival, I have given two weeks religiously to these products.
Are these products really as good as the ingredients seem? Is the brand exaggerating the claims? Well! The questions are many for sure. But, to know the real answers, you need to keep on reading.
Chandana Arora is the owner of Vanaha. She is an amazing lady who has just started a beautiful journey with her brand. And, I could relate myself with her dream.
So, there are a few things that I wanted to know in her own words. Without knowing those, the vision behind Vanaha can never be pictured completely. Let's explore Vanaha more!
Q – When and what inspired you to open your business? 
It has been my love for nature, yoga and the holistic approach that I so believe in. My strong faith in the healing powers of the botanicals led to Vanaha. Our products are inspired by nature
Q – What are the challenges you faced?
I haven't faced any challenges as such because it is my passion and when your work is your passion you don't really see an obstacle as an obstacle but as stepping stones to your journey that help you to progress.
Q – What is your U.S.P? 
Vanaha's USP is the own apothecary so that we will be able to provide you products of the finest quality.
We process the raw, ayurvedic ingredients in the house. Beeswax is extracted from honeycombs.
Organically grown plants are plucked, dried, hand pounded, ground, and then used in formulations so that is what makes Vanaha products exclusive.
Vanaha Botanical Skincare Green Leaves Night Repair Face Balm
** For Normal to Dry Skin
Price: INR 850 for 30g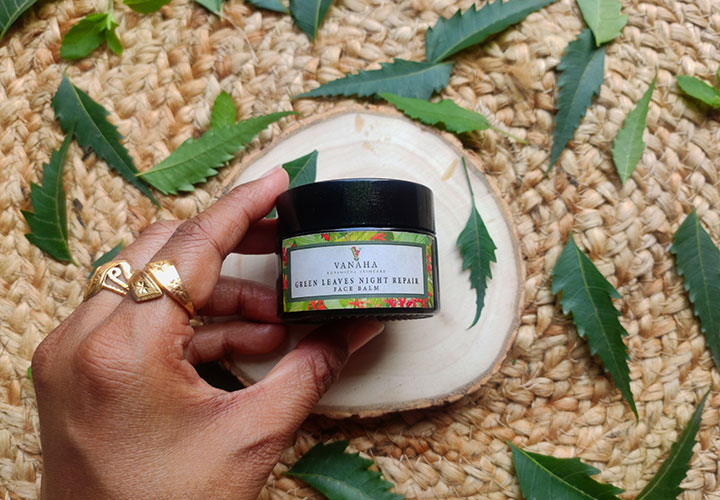 Packaging, Texture, and Aroma
The balm comes in a glass made tub. To protect the product from sunlight and other environmental factors, the brand has chosen a dark coloured tub. There is an inner lid as well.
The greenish balmy texture is surely its USP. It might look heavy at a glance. But, it gets melts the moment I start applying on my face.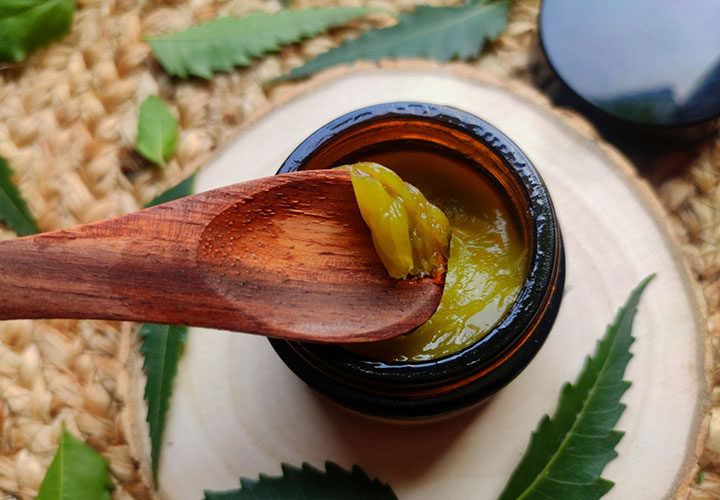 There is no such distinct aroma; at least, my senses could not find any such. But, indeed, the aroma seems pretty soothing and calming. It keeps reminding you of the purity of the product.
How to preserve and use Vanaha Botanical Skincare Products
There are no preservatives in the products. So, make sure you do not dip your fingers inside the tubs. Also, let water droplets not enter inside the tubs.
If the temperature is high outside, then you must refrigerate the products. In fact, it is best to preserve Vanaha products to preserve in refrigerators.
Ingredients of Vanaha Botanical Skincare Night Repair Face Balm

As you can see, the ingredients are all-natural. The balm is a combination of the purest natural butter, carrier oils, and essential oils. It was surprising to see how it has Tamanu Oil and Rosehip Oil as well.
I believe most of us are acquainted with the ingredients. But, if not, then here is a brief on the benefits of these in a skincare regime.
1. Shea Butter
The healing and soothing benefits of shea butter make its one of the best natural butter.
2. Cupuacu Butter
It is known to be one of the best emollients for its water-loving properties. This super-moisturizer makes skin super smooth and supple. Honestly, I was surprised to come across this ingredient. This is the first time ever that I have heard the name.
3.Bacuri Butter
Usually, the source is Brazil. Bacuri butter is actually extracted from the seeds of Bacuri fruits. If applied regularly, this butter can help to get rid of blemishes and scars.
4. Mango Butter
All the fatty acid and antioxidants make the butter one of the best choice for ageing and mature skin. In fact, for people with psoriasis and eczema, this butter is like heaven.
5. Yellow Beeswax
It does double duty. Not only, beeswax is a mild exfoliator but also is an excellent humectant. It would surely keep your skin soft and hydrated.
6. Pomegranate Seed Oil and Raspberry Seed Oil
Pomegranate seed oil is full of anti-ageing properties. It gets rid off free radicals and unclogs pores.
Raspberry seed oil, on the other hand, reduces swelling and itching to a great extent. And thus, it is the best for psoriasis and eczema-prone skin.
7. Tamanu Oil and Passion Fruit Oil
Well! This is the first time that I am using Tamanu Oil infused product. Full of fatty acids, Tamanu Oil keeps skin moisturized and nourished. The antioxidants present in the oil also help to fight back the free radical formations.
The abundant amount of Vitamin C and other antioxidants in Passion fruit oil make the skin firm, rejuvenated, and ever-youthful.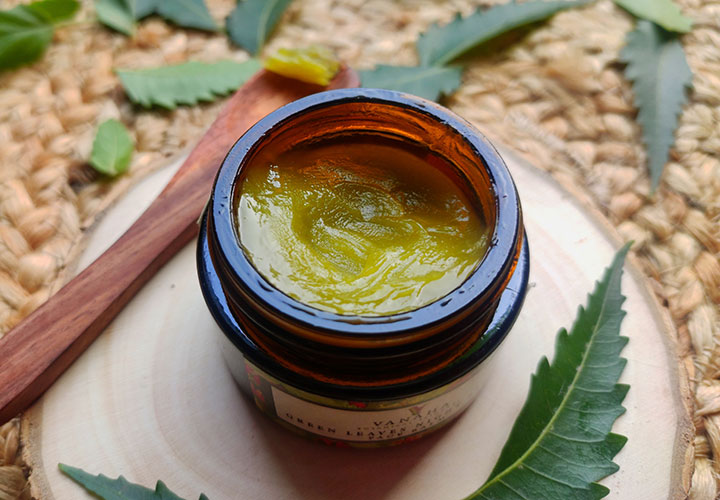 8. Carrot Seed Oil and Sea Buckthorn Oil
The cold-pressed carrot seed oil is full of anti-ageing, anti-inflammatory, and antioxidant properties.
Sea buckthorn oil promotes elasticity and dryness protection. It also has strong healing benefits.
9. Rosehip Oil and Virgin Coconut Oil
Rosehip Oil is full of benefits. It has anti-ageing properties; it also helps to hydrate skin. In fact, rosehip oil also helps to get rid off blemishes and scars.
All the nourishing fatty acids in Virgin Coconut Oil make it one of the best natural hydrators ever.
10. Moringa, Guava, Mango, and Hibiscus Leaf Extracts
Moringa leaf makes the skin more firm & elastic, guava leaf slows down the ageing process, mango leaf shortens the wrinkle lengths, and hibiscus leaf boosts the natural collagen production.
11. Vitamin E
It is pretty well-known how amazing this naturally-found anti-oxidant is.
12. Basil Essential Oil Extract
Another anti-oxidant loaded ingredient that helps to heal eczema.
I must say that just by looking at the ingredients at a glance makes me feel good and more confident. For all the natural goodness and such a brilliant formulation, the brand owner, Chandana definitely deserves a huge round of applause; 5 out 5 ratings from my side for such a beautiful job.
My Experience with Vanaha Botanical Skincare Night Repair Face Balm
As I have said already that since the last two weeks, I have been using this face balm. As the name suggests, I use it just before hitting the bed.
At first, I clean up my face with a face wash free from harsh chemicals. Next, I apply a chemical-free toner. After that, I just scoop out the desired amount with a wooden spatula and apply on my semi-hydrated skin.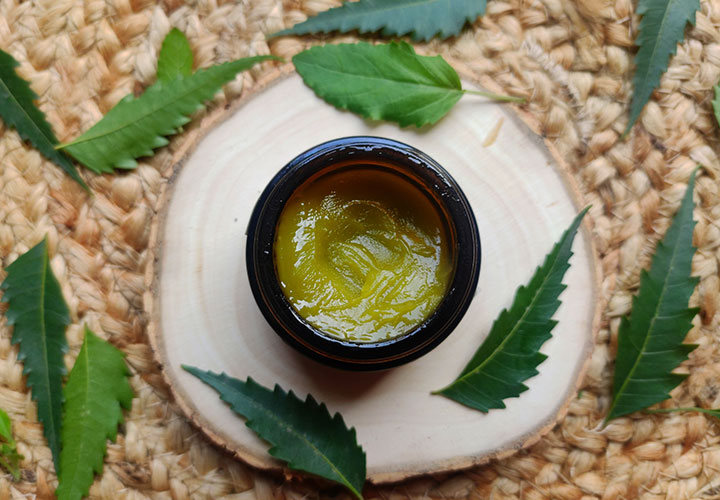 Trust me! The texture only looks hard. But, as soon as I start massaging the balm light-handedly on my skin, it just starts melting beautifully. Within 2 minutes, the balm disappears into the layers of the skin. The aroma is calm enough to give me a good tight sleep at night.
On the first morning after the application, when I woke up, I was really surprised to find how supple and smooth my skin looks.

My super dry and sensitive skin did not seem itchy. Not only the balm made my skin smooth, but also I did not find any rashes or breakouts. 
Trust me! This face balm has all the traits to go international. It is not just any other apothecary product, but a luxurious ayurvedic one with affordable price tags.
I am not only happy with the face balm. The Vanaha Botanical Skincare Orange Manjistha Face Scrub has equally made me happy. With the finest and the simplest ingredients, this scrub is an excellent exfoliator.
The goodness of oats, honey, manjistha, orange, etc. can instantly make your tired skin happy.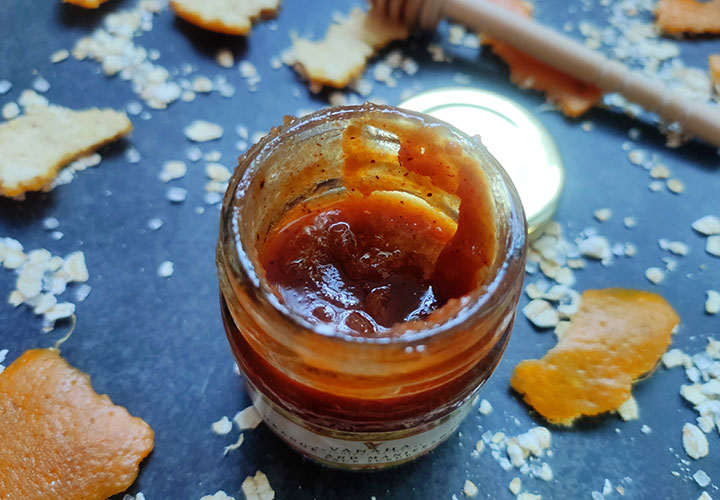 The sweet fragrance has a faint resemblance with the aroma of both manjistha and honey.
I love how mildly it exfoliates my skin without making it further dry. Rather, I love the hydrating feel right after wash off.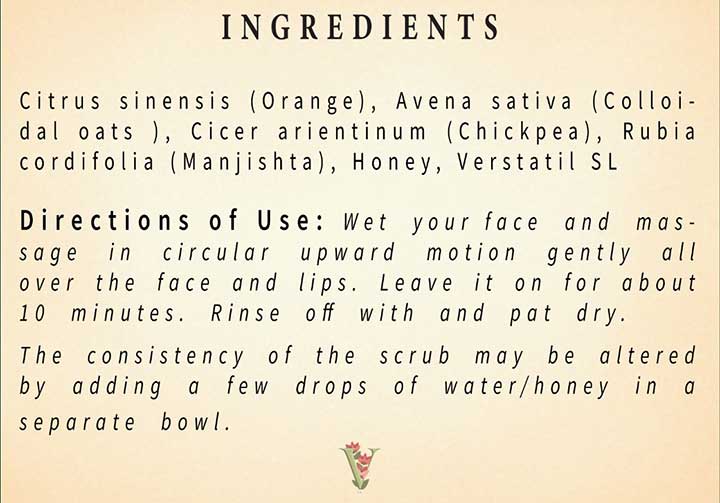 If you have super sensitive & dry skin and you are looking for a mild natural exfoliator, then nothing can beat this manjistha orange face scrub. In fact, the formulation is perfect for all skin types.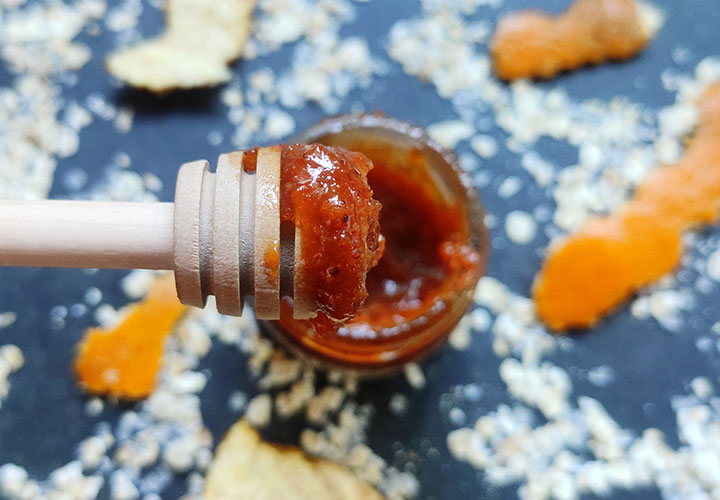 How to Buy Vanahana Botanical Skincare Products
At present, the official site is yet to launch. So, you can order your products simply by sending the brand a Direct Message (DM) on the official Instagram Handle of Vanaha.
You can also ask the brand if you have any particular skin problem. Chandana would definitely suggest products as per your concern.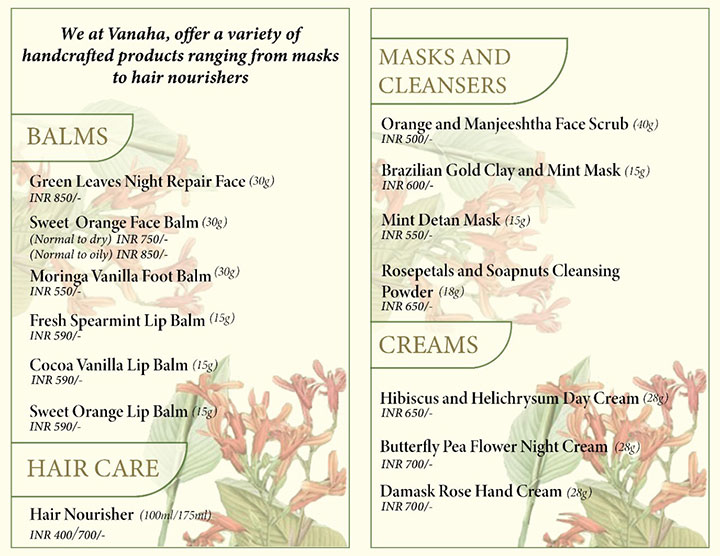 Here is the brochure that you can check out before ordering anything. Although, the prices might change in future.
So, that's all for today! If you find this article interesting, make sure you share it with your friends and family. Also, follow us on our Instagram handle as we keep bringing out interesting stuff there as well.