||Ancient Living Rejuvenative Shampoo Review||
Hey angel, welcome! Today I would review the Ancient Living Rejuvenative Shampoo. This is a brand that I have recently discovered. And, I was also wondering that why this brand did not get any attention. The brand does not have a prominent social media appearance though, so that might be a probable reason behind that. I myself love to try and test natural brands, especially a brand that does not use harmful chemicals. And, Ancient Living is one such brand which has products with minimal yet effective ingredients. I was so moved by the fact, that I immediately decided to buy their shampoo. Don't worry; I won't be biased with the brand or the product. So now, let's move on to the genuine review of Ancient Living Rejuvenative Shampoo.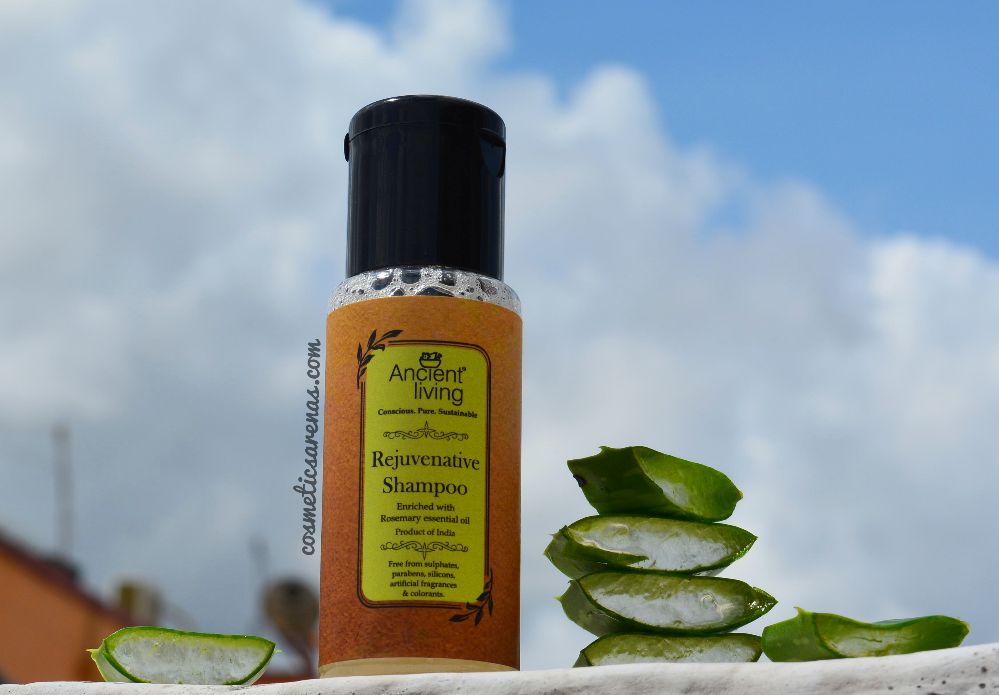 Ancient Living is an Organic company that was established in 2010. This brand works on the motto of connecting artisans and farmers which directly creates a positive socio-economic impact. This brand aims at producing superior quality organic and safe products using the ancient Ayurveda. They procure the raw ingredients from organic farmers across India. They also have a woman empowerment program under their venture which is named as 'Vidya'. Think pure, live pure – this is what the brand believes.
Basic Information about Ancient Living Rejuvenative Shampoo: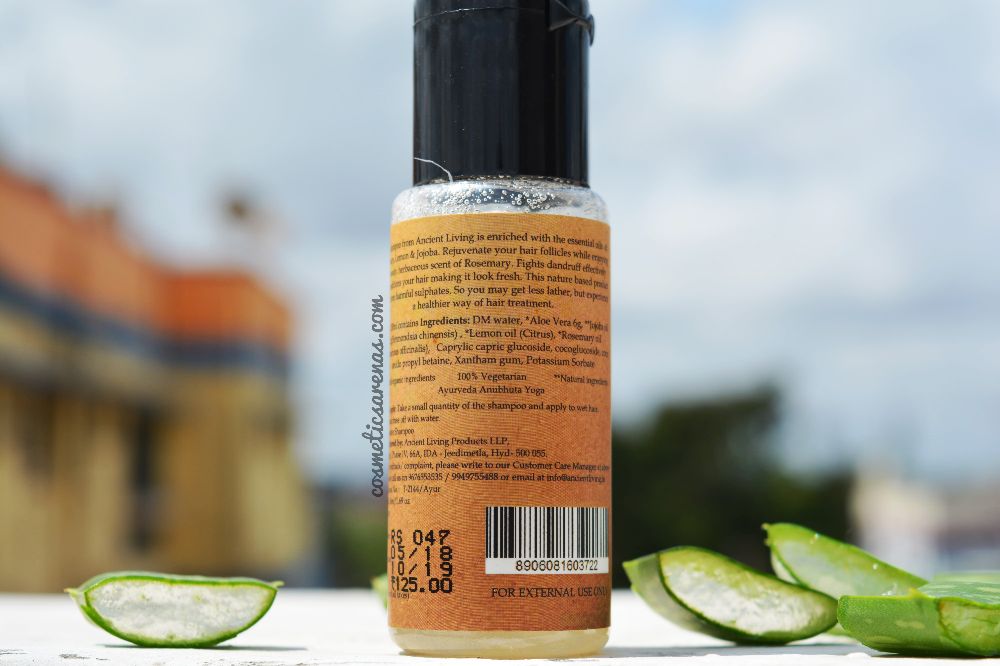 Price: INR 125/INR 395 for 50ml/200ml
Shelf Life: 1.5 years
What does the Brand Claim about Ancient Living Rejuvenative Shampoo?
This shampoo is enriched with the goodness of Rosemary, Lemon, and Jojoba Oil. It has a divine woody aroma of Rosemary which rejuvenates the hair follicles. Lemon fights dandruff and conditions your hair. This shampoo is free from harmful Sulphates and other chemicals, so it might not lather much. But, you are definitely going to experience a healthy way of hair treatment.
Ingredients of Ancient Living Rejuvenative Shampoo: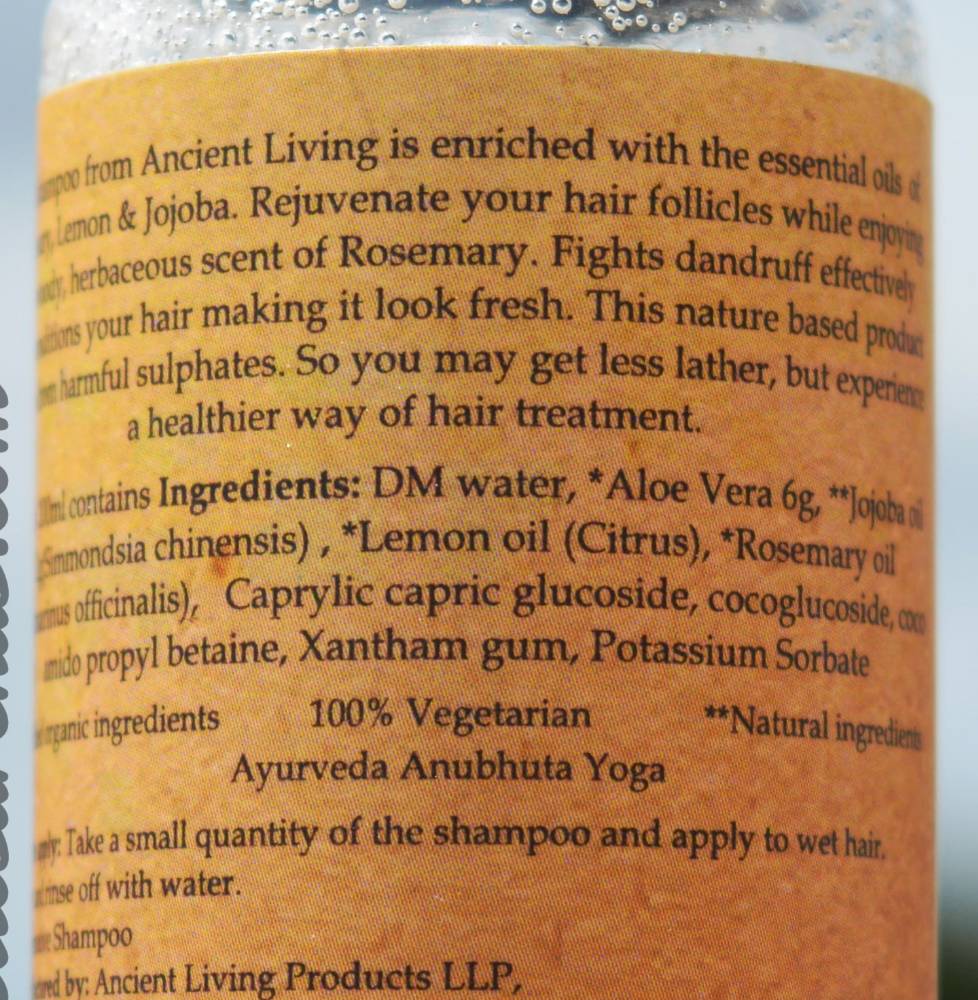 The brand claims that their products are free from Sulphates, Parabens, Silicones, artificial fragrance, and colorants. I was pretty curious after seeing this line. Interestingly, Ancient Living does not want to hide anything; they have written full information about their products both on labels and also on the website. The list is pretty short and hopefully, you would not feel bored while reading it. If you want to read it later on, simply click on this LINK (Ingredients of Ancient Living Rejuvenating Shampoo) and download the file to read offline. Now, let's decipher the ingredients.
DM water: Demineralized water is actually purified water that is devoid of any salts or minerals. Water is the base of any liquid product.
Aloe Vera Gel: It is capable of repairing dead cells of the scalp; it reduces dandruff and promotes hair growth. AL has used 6gm of Aloe Vera in this formulation which is pretty good.
Jojoba Oil: Jojoba oil is a great moisturizer for hair. It can help in the regrowth of hair.
Lemon Oil: It has the power to stimulate the scalp, which helps in the growth of new hair.
Rosemary Oil: It rejuvenates hair follicles and has been proven to regrow hair.
Caprylic Capric Glucoside: I truly loved the fact that how AL has chosen a wise surfactant. This component is a pretty mild surfactant. It is basically produced from renewable raw materials; has 60% active matter. Overall, this particular ingredient in the formulation is an excellent foaming or surfactant agent.
Coco Glucoside: This surfactant is produced by a chemical reaction between Glucose and Coconut Oil derived ingredients. It is another cleansing agent which is mild in nature.
Coco Amido Propyl Betaine: Umm..this ingredient is not at all of my taste. It is low to moderately hazardous to the ecosystem according to EWG. It works as a hair conditioning agent, as a surfactant, and also as an anti-static agent.
Xanthan Gum: It thickens a cosmetic formula and is widely used. It is indeed a safe ingredient.
Potassium Sorbate: It works as a fragrance ingredient and also as a preservative.
That's all; I think Ancient Living Rejuvenative Shampoo has a very defined line of ingredients. The functions of each and every ingredient are easily understandable. Actually, this is how a shampoo is made. You need a few active (herbs) ingredients and inactive ingredients like Surfactants to clean all the oil and dirt, Thickening agent, Hair Conditioning agent, and a preservative. So, I really liked the list of ingredients as a whole.
Packaging:
It comes in a very simple yet travel-friendly packaging. The packaging is devoid of any kind of glamour. But, I find the graphics on the label to be very soothing to the eyes. Somehow, the products are bound to catch your attention. So overall, I have absolutely no complaints about it.
Texture:
The texture of this shampoo is extremely light-weight and very runny. I love this type of consistency because it is perfect to apply on hair.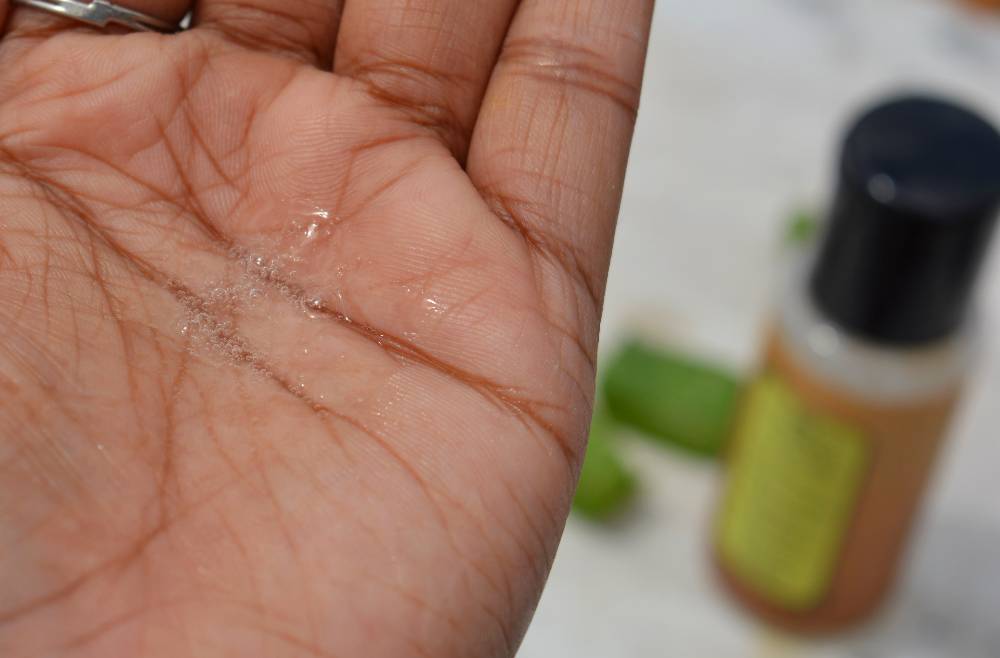 Aroma:
The aroma is a divine blend of the woody aroma of Rosemary and Citrusy aroma of Lemon. I simply love it. It doesn't linger onto hair more than a day, because the aroma is not artificial. So, I love this aspect of the product too.
My Experience with Ancient Living Rejuvenative Shampoo
So, I bought this shampoo when literally I was running out of my regular tomato pumpkin shampoo. And, I thought of giving it a try. First of all, the aroma is very earthy and has a calming effect.
I have mid-length hair. The consistency is so smooth that can easily be spread all over my head. Surprisingly, in spite of being a Sulphate free formula, it produces the right amount of lather which was remarkable.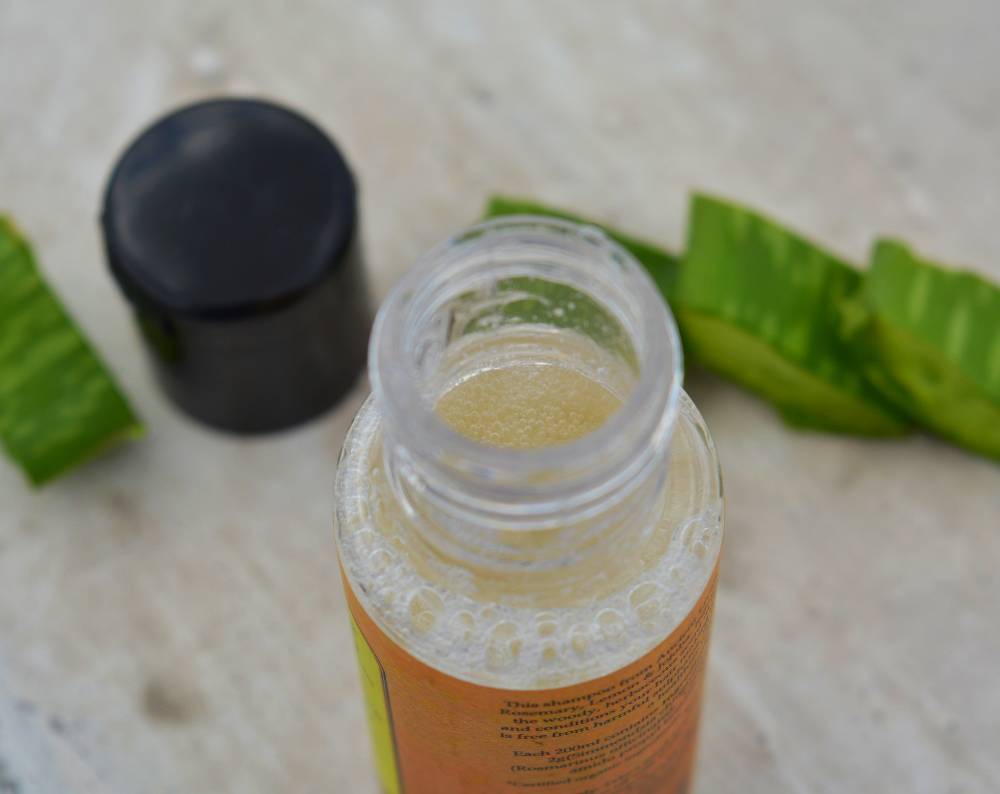 On the previous night, I had applied oil. Surprisingly, just within two washes, I saw zero oil, dirt, and grimes. You ought to see my happy face and dancing brows.
Another thing is that you need a very little amount for each wash. So, even a 50 ml bottle would give me more than 5 washes, which was pretty feasible and a deal-breaker for me.
Does it cause any hair fall?
Each time I buy something new, and I close my eyes in excitement. Sometimes, products become hit, often they give me nightmares. Thankfully, it did not give me any extra hair-fall. Phew! I was so damn relieved.
Pros of Ancient Living Rejuvenative Shampoo:
Full of nourishing ingredients.
Travel-friendly packaging.
It lathers pretty well.
Has the capability to clean any type of dirt or oil.
Does not give any extra hair fall.
Hair feels smooth and soft afterward.
Cons of Ancient Living Rejuvenative Shampoo:
For some, it might sound pricey.
The packaging might have been stylish, though it is not a con.
Final Words:
Ancient Living Rejuvenative Shampoo is a beautiful blend of active and inactive components that effectively cleanses the scalp and nourishes the follicles. It is a shampoo which everyone must try at least once.
---
***COSMETICS ARENA RATING: 4.9/5***
---
Would I Recommend Ancient Living Rejuvenative Shampoo?
Yes! Of course. I loved this shampoo.
Would I Repurchase Ancient Living Rejuvenative Shampoo?
Oh yes! I have already ordered my second bottle :D. I am definitely going to stick to this shampoo for a while now until I find something better (You know, blogger's tough life :P)
That's all my dear angel. I hope this review helps you a lot. If you like this post, then SUBSCRIBE to my blog, because I come up with new things every week. Take care; love you loads. I will come up soon.