Welcome my angels! How are you? Today I am gonna review this newly launched Dearpacker Lab Collection Sheet Mask. These were exclusively launched for the online beauty store Nykaa just a month ago I guess.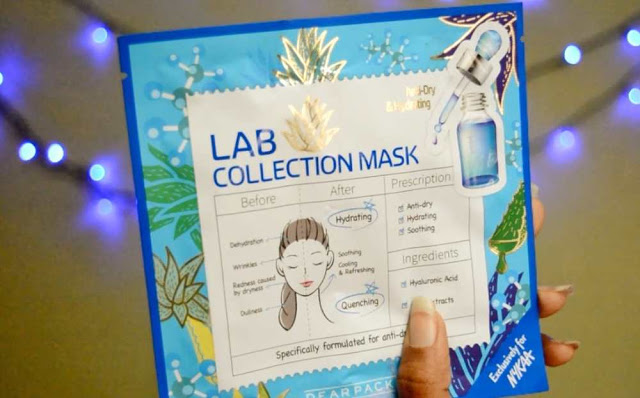 I picked up two sheets. The Lab Collection Sheets are available in four variants. I chose the Anti Dry and Hydrating one. So, let us proceed to the insight.
Product Description and Ingredients: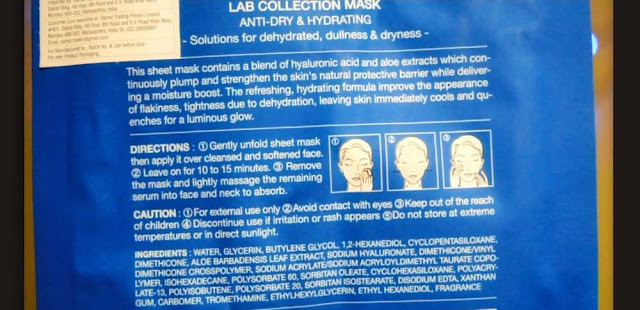 It has quite a long list of ingredients, phew! Here is the detailed analysis of its ingredients:
Water

Glycerine: Moisturiser or humectant.

3. Butylene glycol is a small organic alcohol used as solvent and conditioning agent.

1, 2-Hexanediol is a synthetic preservative and moisture-binding agent.

Dimethicone: Silicone component that is used as a lubricant and skin conditioning agent.

Aloe Barbadensis leaf extract or Aloe vera juice.

Sodium Hyaluronate is sodium compound of Hyaluronic acid. 

Sodium Acrylate or Sodium Acrylates Copolymer is a sodium salt of a polymer consisting of acrylic acid, it is used as binding agent.

Isohexadecane is used as a cleansing agent and texture enhancer in cosmetics, 

Polysorbate 80 and Polysorbate 20 are a surfactant and emulsifier used in cleaners and personal care products.

Sorbitan Oleate works as Fragrance Ingredient; Surfactant – Emulsifying Agent.

Cyclohexasiloxane is a synthetic silicone used in haircare and skincare.

Sodium Polyacrylate is used as an absorbing agent, emulsion stabilizer, film former, emollient, and viscosity increasing agent.

Polyisobutene increases the thickness of the lipid (oil) portion of cosmetics and personal care products. Polyisobutene dries to form a thin coating on the skin, hair or nails, 

Sorbitan Isostearate is a surfactant composed of sorbitol and isostearic acid, a fatty acid. Function(s): Surfactant – Emulsifying Agent

Disodium EDTA works as a Chelating Agent; VISCOSITY CONTROLLING.

Xanthan gum is a polysaccharide, a sugar-based polymer produced by bacteria; it is used as a viscosity agent in personal care products and foods.

Carbomer works as an Emulsion Stabilizer, Viscosity Increasing Agent – Aqueous;

Tromethamine: Masking ingredient in cosmetics. Little is known.

Ethylhexanediol: Fragrance ingredient.

Ethylhexyglycerine is a weak preservative and skin conditioning agent.
And that is all.
My Experience with Dearpacker Lab Collection Sheet Mask
The packaging is really an eye catcher and unique too. The glossy finish looks quite nice.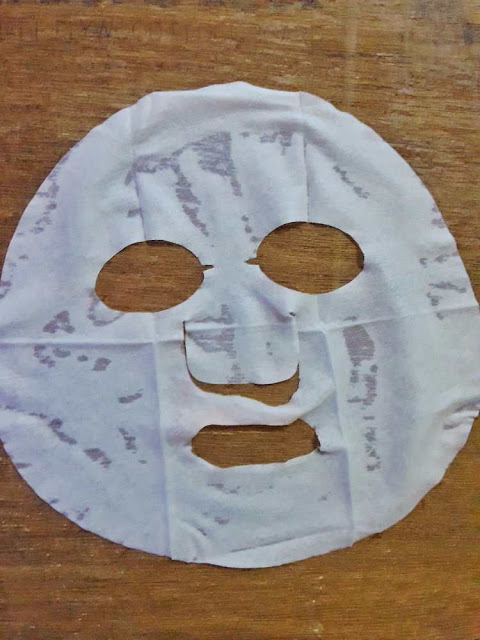 The sheet mask did not have any extra layer. It is like open the packet and put on the mask. I liked the fact.

I did not like the smell though. It was more like Pantene conditioner.

The mask gave me a cooling sensation. But I felt tingling around my T-zone which was suspicious. I did not like the feeling.

For application and all, please check out the following video.


Overall, I did not like the mask that much. According to my opinion, this was just another ordinary sheet mask. Apart from the cooling sensation, I could not feel anything extraordinary.
****CA IMPRESSION: 2.9/5****

Honestly, I would not recommend these Dearpacker sheet masks unless you are a fan of these. They are not effective at all. Though not pricey, yet I do not think these are good investment. 
That is all for today. Take care. I love you all. Let us be online friends. Join me on Instagram. It would be fun. Celebrate womanhood with me.
Thank you for reading. Do you like sheet masks? Please share your thoughts here. Love you all.