Hola my beautiful queens. Today it is time to review a brand new product and that is Skincare Villa Oats Almond Cleanser. Yes!! my blogger friends have correctly guessed and the owner is our blogger friend Sonali :)).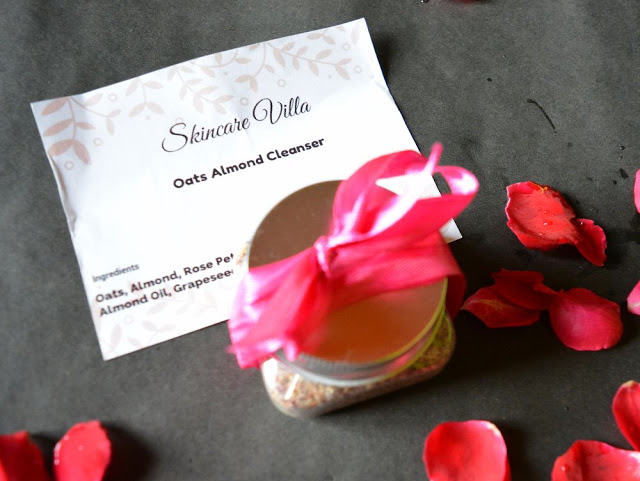 When she first introduced this product on her blog, I could not believe that she is gonna sell it :P. So, without much ado, allow me to go through the details and the experience. 
The product came to me with a beautiful card where all the basic details have been written. It actually made my work easier :).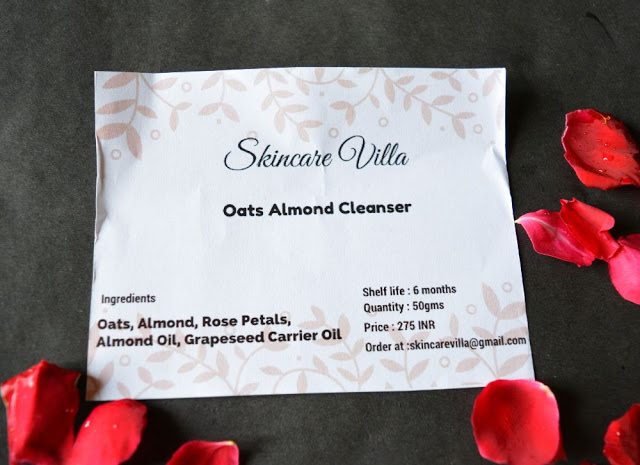 Ingredients:
This ingredient list honestly took my heart away. It is like short and sweet. All the ingredients are individually beneficial irrespective of skin type. Oat is acting as the saponin agent, the almonds and rose petals are posed as mild exfoliators. Rest of the two oils are actually providing hydration to the skin. I think this combination is just perfect for a healthy skin. So, a separate 5/5 rating goes to the ingredients solely :)). 
My Experience with Skincare Villa Oats Almond Cleanser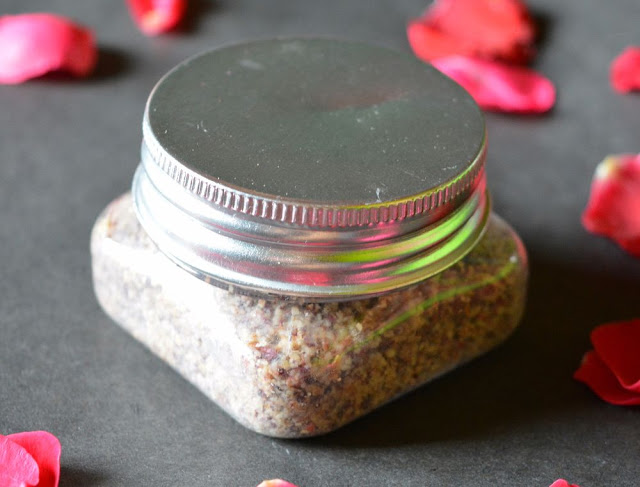 Packaging:
The product comes in a tiny plastic container with a metal cap. In fact as for now, the brand has opted for this type of packaging only. I love the tiny nature because it is very very travel friendly. I just use a wooden spoon to take out the product. No unnecassary labels are sticked to the tub. So, overall the packaging is neat and clean.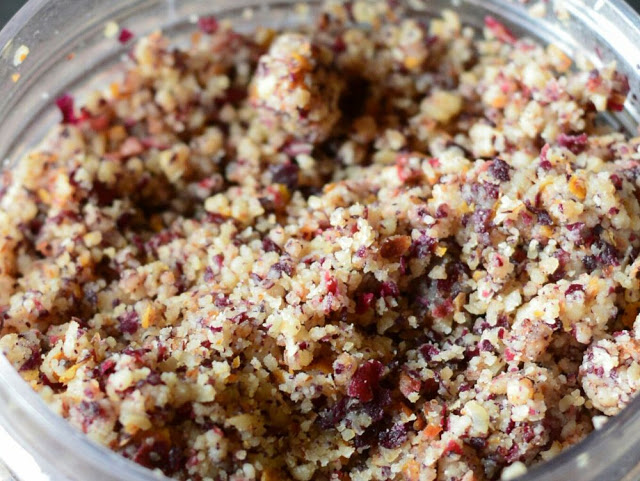 Texture:
Oats, almonds and rose petals have been crushed into tiny pieces. So, basically the cleanser comes in a granulated form. Honestly, it has a beautiful visual sight :)). I love to stare at the texture.
Nop nop! this cleanser has no artificial smell. I could only smell almonds but that is also very faint. Only sensitive nose d people can notice that :P. If you are familiar with the aroma of Almonds, you will understand what am I talking about! Overall, this product has a very natural and positive vibe.
*Many of you may think that because of the rose petals, it would smell of roses. Actually dried rose petals do not have any distinguishable fragrance.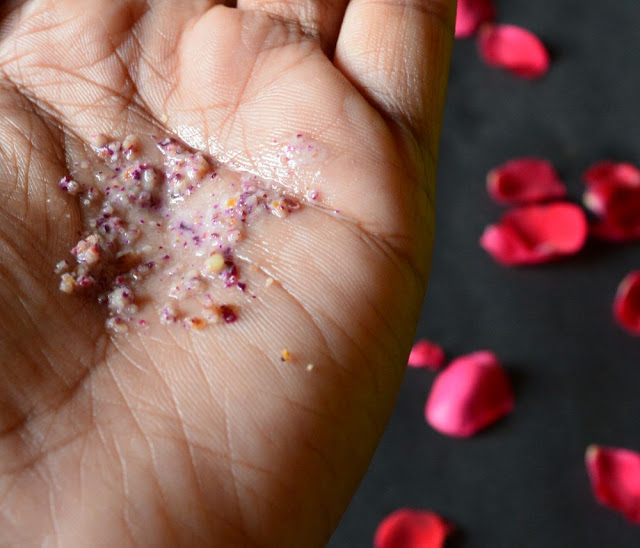 The day I received the product, I immediately applied this on my mom. She too has severe dry skin but not sensitive like mine. I was surprised to see the mild saponin effect of the Oats. Just look at the picture my dearies! doesn't it look like an original cleanser? My mom loved the cleanser and it left her with a visually soft, smooth, clean and glowing skin. Yaay!
As many of you know that I have extremely dry and sensitive skin. I always have to be very cautious about the products I choose. I took a small wooden spoon and scooped out a tiny amount. Seriously! a very small amount is needed for cleansing. So, 100% value for money.
I added three drops of water with the mixture and started rubbing my palms. Thus created a mild lather and applied on my entire face-neck. The results made me really happy. No breakouts, irritations or dryness. I would not exaggerate while saying that it truly made my skin healthy, glowing, soft and smooth. It did not make me greasy or oily. Rather gave hydration to the right amount. It would suit All skin types. Happy me!
***CA IMPRESSION: 5/5***
Obviously, I am in love with Skincare Villa Oats Almond Cleanser. And I would also recommend it to everyone. If you love natural products or if you believe in  healthy skin, then this product is gonna become your staple product for sure. Try this cleanser and gift your skin a healthy regime today. 
I would like to wrap up today's blog with this message that take care my sweethearts, love you all. And never forget to celebrate the womanhood within you.
Thank you for reading. Have you used this type of cleanser which has oats? Please share your experiences here.