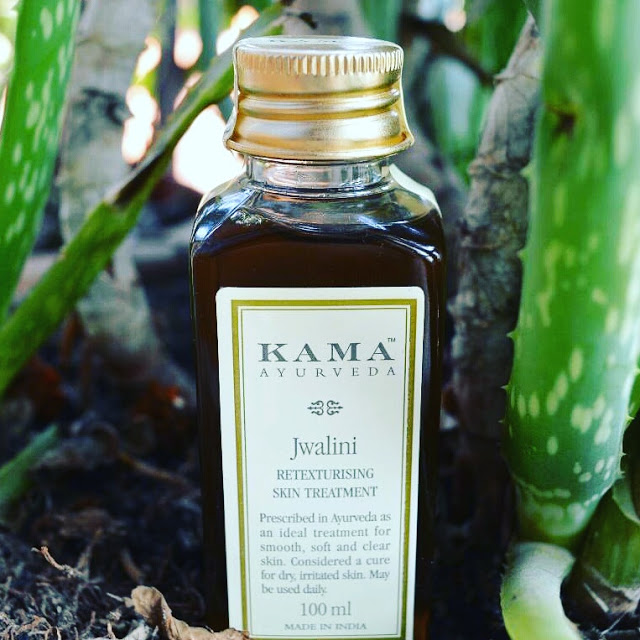 Kama Ayurveda Jwalini Retexturising Skin Treatment Oil: My Experience
Holla beauties, welcome to CA. Today it is time for a review on Kama Ayurveda Jwalini Retexturising Skin Treatment Oil. I bought this oil a month ago along with several other products. I must admit that it was a compulsive purchase. I just went for it as I was in a dire need for a facial oil. Since then I have been applying this oil religiously day and night. After using it for quite some time now, I am ready to share my experience onto this. Let's begin the journey.
Basic Details on Kama Ayurveda Jwalini Retexturising Skin Treatment Oil 
Price: INR 750/1625 for 100ml/200ml
Product Description and Ingredients (From official website)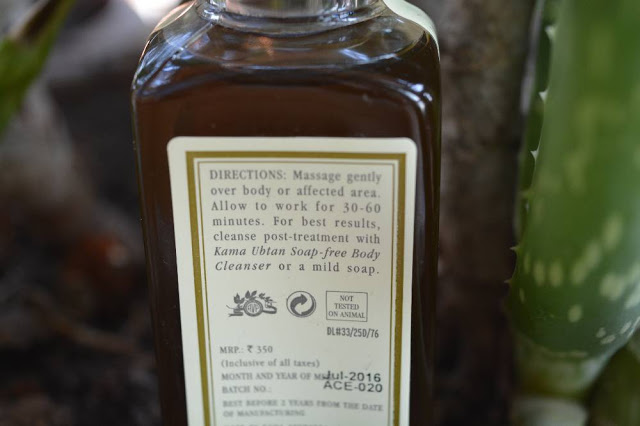 Prescribed in Ayurveda as a treatment for smooth, soft and clear skin, this oil treatment is formulated from natural herbs processed in pure Coconut milk and Sesame oil. The blend helps clear up skin irritation and itching.
It is an excellent after-sun remedy for sunburn, tanned or hyper-pigmentation. Contains Costus and Cardamom which are known for their 'Varneekarana' properties – the ability to enhance skin texture and treat irritation.
Regular use results in healthier, softer skin that is visibly smoother and radiant. I could not get the whole ingredient list.
The active ingredients are Coconut Oil, Green Cardamom, and Sesame. The oil has a fragrance which strongly reminds me of Cardamom and Coconut Oil. It is unfortunate that Kama Ayurveda has not disclosed its complete ingredients.
My Experience with Kama Ayurveda Jwalini Retexturising Skin Treatment Oil
Jwalini Oil is very versatile. And it can be used all over the body including hair and face. But I have made this my Holy Grail facial oil.
I heard a lot of good things about this oil and thus, I had to buy it.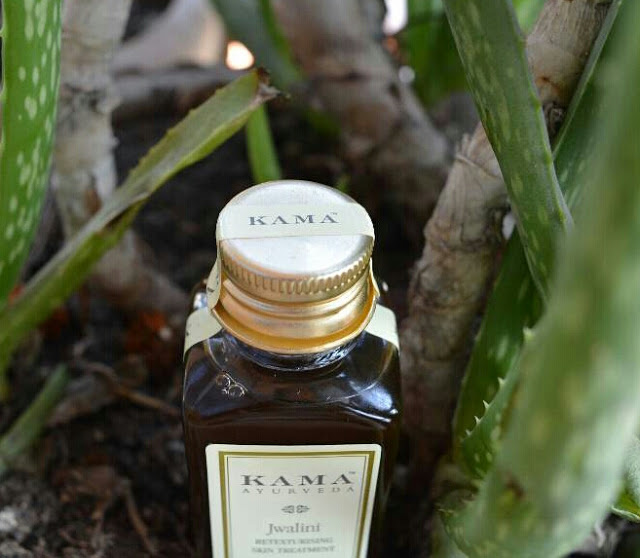 Packaging
The Packaging of this oil is typically a Kama Ayurveda one. Full plastic body and a golden cap that make it extremely haul-able. It is travel-friendly too. As you can see, it has two nozzles which dispense a little amount of oil and thus prevents wastage.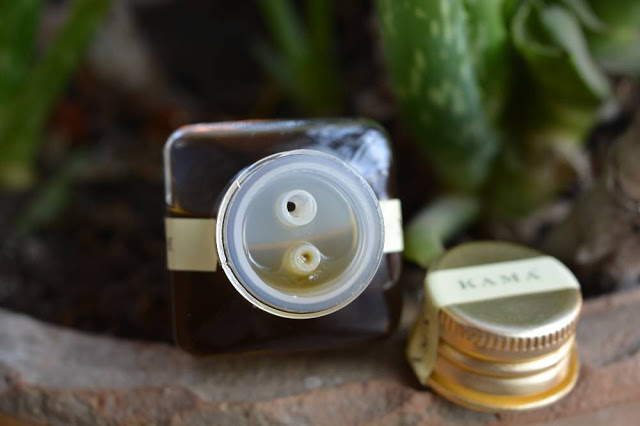 Texture, Colour, and Fragrance
The Texture is very lightweight and non-greasy. But it also takes some time to get absorbed. Dry skin people would surely love it.
The Colour is deep amber and it has a strong fragrance.
The fragrance is herbal but sensitive nose may not like it at all. But as it is a herbal product, I have no objection; in fact, my day starts with this aroma.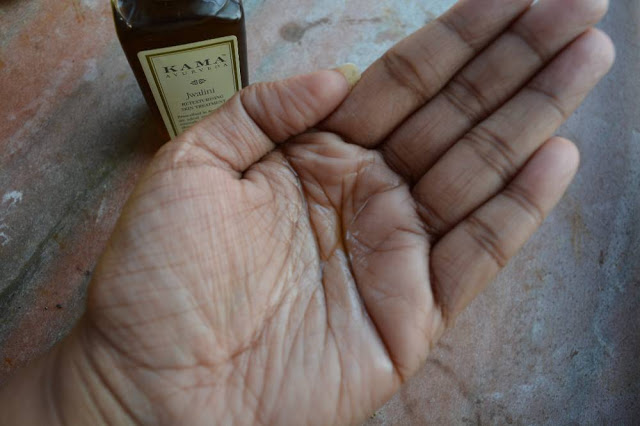 I personally love everything about this oil. My skincare regime is incomplete without it.
It makes my skin nourished, smooth, well-toned, soft and it has also improved my complexion a little bit. What more I can expect from an oil!
It is so lightweight that can be easily applied to hair as well. I have tried that several times and absolutely loved the result.
I usually mix this oil along with raw mango butter. It works great when you mix this oil with your regular moisturizer or serum. In fact, if you apply this oil at night, it helps to rejuvenate skin.
I have some mild pigmentation on my skin. Lately, that has been improved a lot and I am in love with the depigmentation effect this oil has given me.
Especially, for suntan and hyperpigmentation, Kama Ayurveda Jwalini Oil is absolutely marvellous.
PROS:
Budget-friendly.
Totally adorable and travel-friendly packaging.
Natural ingredients.
Makes skin soft, smooth, nourished and moisturized- a complete skincare package.
It has a beautiful but strong natural aroma.
Lightweight and non-greasy texture.
Depigments skin.
CONS:
Takes time to blend and get absorbed completely.
The full ingredient list is missing.
The aroma may be strong for some people.
Now, before wrap up, I would like to say that take care, my sweethearts. Love you extremely and do not forget to celebrate womanhood :).  
Thank you for reading. Have you used this product? Please share your experiences here. Love you all.