Hello my sweethearts, welcome to CA. Today I would like to talk about Kara Nail Polish Remover Wipes Rose. This is my current love affair :)).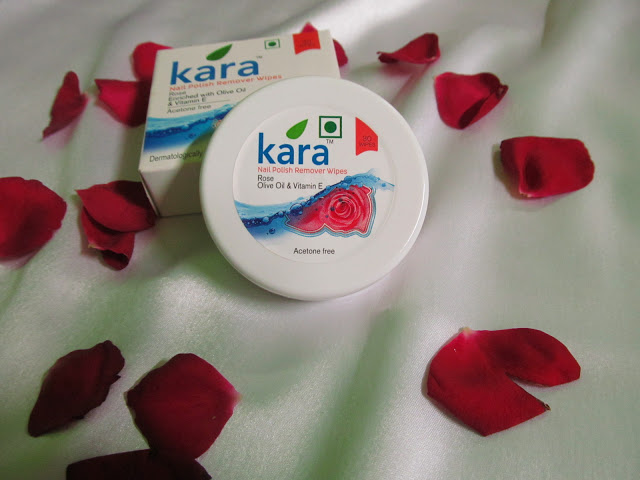 Earlier I was using Lakme Nail Polish Remover. In the last week I bought this one from Nykaa. Let us try to know more about this newly launched product.
Price: INR 100 for 30 wipes.
Size: 45mm dia of each wipe which is pretty easy to hold.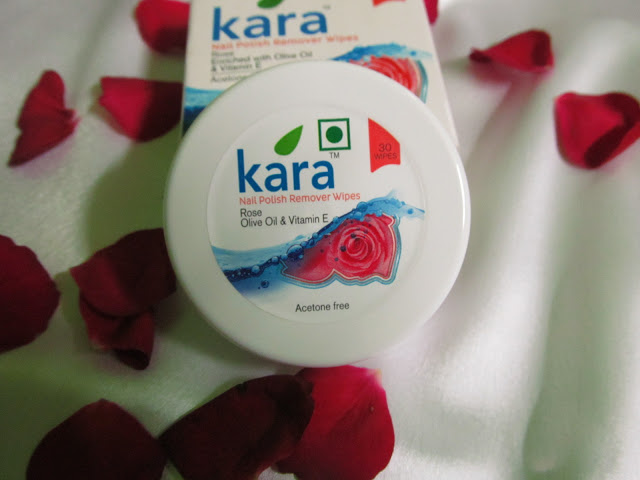 Shell Life: 18 months
Fragrance: I bought the Rose one but it is also available in Orange, Lemon and Strawberry aromas.
Product Description and Ingredients: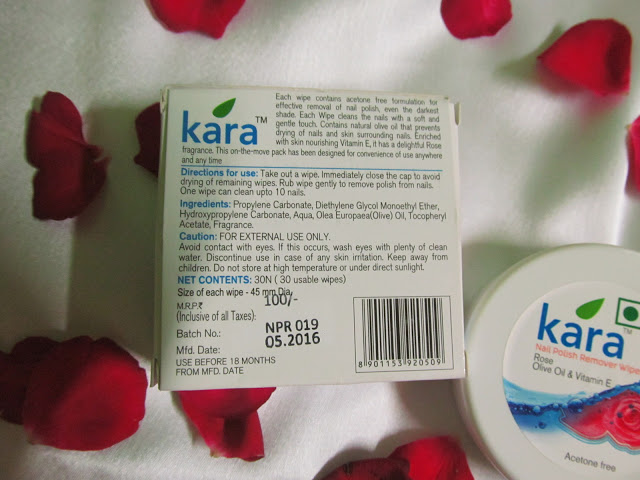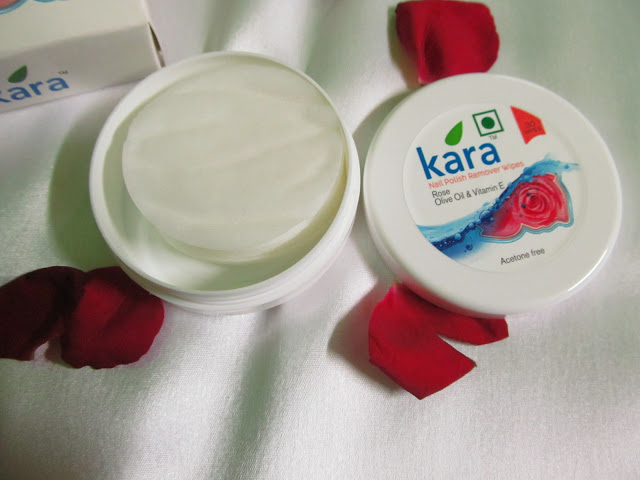 The packaging of the product is the most intriguing factor. The wipes are placed one by one in a stack within a white plastic container. This is absolutely travel friendly. 
All the wipes are wet and moisturises properly because of the presence of Olive Oil and Vitamin E or Tocopheryl Acetate. There are some curvy patterns made on the wipes which makes them more user friendly. 
My IMPRESSION about Kara Nail Polish Remover Wipes 
The remover wipes have actually impressed me a lot. Kara has literally saved me from the mess. The wipes are acetone free which is another amazing thing.
It wipes off the paint in a hassle free manner and no pressure is required at all. Just rub it over the paint and the pads would erase the color as shown in the picture.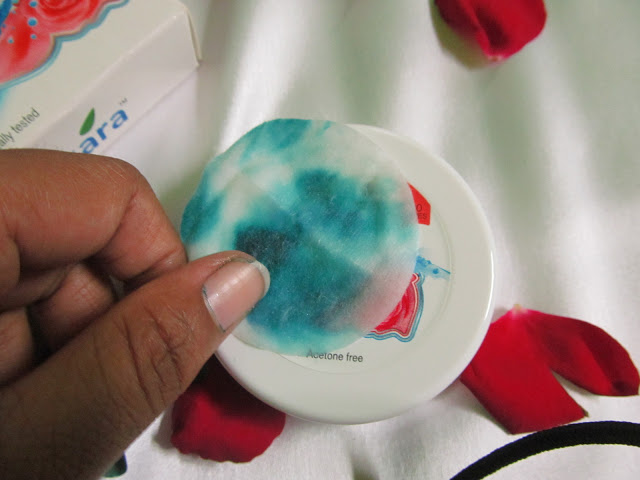 My nails do not feel starved like earlier. In fact they look more healthy and moisturised after wiping off the nail paints. 
But one thing needs to be taken care of. I accidentally placed the used cotton pad on my bed sheet and immediately the colors were transferred to my white bed cover. And obviously mom was not impressed me :P.
So, let us take a look at the PROS and CONS.
Extremely travel friendly.

Quite affordable and sufficient number of wipes.

All the wipes are wet and dipped in Olive oil and Vitamin E.

Removes nail paint without any effort.

Very easy to use.

Nails feel properly moisturised.

Beautiful rosy aroma.

One pad is enough to clean at most 10 nails.

Acetone free.
The soaked color transfers a lot.

The cap must be closed tightly otherwise the wipes may become dry.
You might have understood my answer. It is a big YES. I recommend it strongly. Not because it is travel friendly but it is affordable too. I would buy another flavour soon.
Love you all, keep visiting Cosmetics Arena. And celebrate womanhood always.
Thank you for reading. Have you used this product. Please share your experiences here. Love you all.