Many of you might remember that lately, Limese has become my one-stop destination to purchase Korean products.
These days, I am trying out a couple of Cosrx and One Thing products. Around a month back, I bought One Thing Hyaluronic Acid Complex. And, I have started using it just two weeks back.
Well! I have always believed in a simple skincare routine. I have severely dry skin with sensitivity issues. So, I do not pile up products unnecessarily nor do I ask people to do it.
A harsh chemical-free gentle face wash, a toner, and two facial oils are what my skincare routine consists of. I love to use facial oils as both serum and moisturizer.
Question is, if I had a moisturizer already in my stash, then why do I have to add this thing to my Skincare routine. Let's find out the answer.
What is Hyaluronic Acid?
Hyaluronic Acid is a clear and bit sticky component. Surprisingly, it is naturally produced by the human body.
In the skin and eyes, this acid which is also known as Hyaluronan can be found in large quantities.
With ageing, the production reduces and thus, wrinkles happen. And this is the time when we need to apply Hyaluronic Acid topically or through supplements.
The basic function of this component is to keep the skin cells hydrated and moist. But, there are many other scientifically proven theories as well. Let's take a look.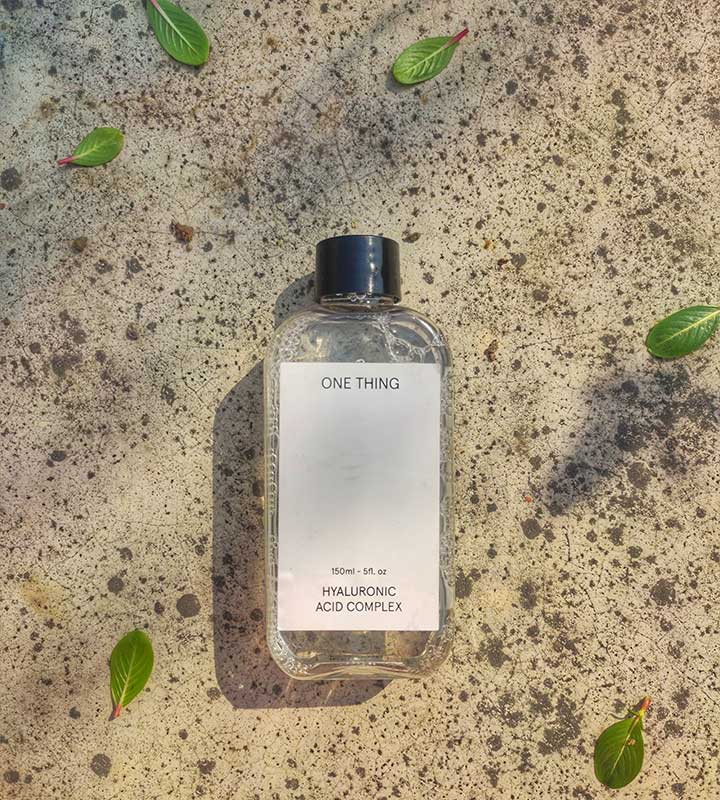 Benefits of Hyaluronic Acid
This component helps to make your skin feel supple, soft, and smooth. Not only dry skin, but people with oily and acne-prone skin also find it amazing.
It has been seen that if you take a supplement of 120-240mg per day, it can improve the moisture level of your skin significantly.
Regular application also helps to reduce the wrinkle appearance and other signs of ageing. Eventually, the skin looks soft and supple.
Moreover, Hyaluronic Acid can reduce skin redness and dermatitis. In fact, dermatologists inject Hyaluronic Acid fillers too. It makes your skin youthful.
Two Weeks with Hyaluronic Acid
In these two weeks, I have used this skin-loving ingredient twice a day. I was already using a facial oil, but somehow I felt that the hydration is not staying long. Especially, this year, winter is staying for a long time.
It's the end of January, but the weather is chilled yet. So, I needed long-lasting hydration. And that's when I decided to give pure Hyaluronic Acid a try. One Thing is an emerging Korean brand in India. They bottle up pure active ingredients.
This component comes with three inactive which are there to protect the active ingredient from microbes or other environmental factors.
Indeed, the texture of the component is a bit sticky but pretty easy to spread all around. In fact, it gets absorbed pretty fast too. I have either used it solo like a moisturizer. Or, I have mixed it with my regular facial oil. Both times, it has worked well.
Here are the changes I have noticed since then…
The skin looks a bit bright and I am not exaggerating even a bit.
There appears a beautiful and subtle glow on the cheeks. Don't expect something like you have put on a highlighter. It looks natural and soft.
The skin appears soft when touched. It is a beautiful feeling for sure.
Hyaluronic Acid also makes the skin visibly smooth. No, I would not tell you that it can disappear fine lines. But definitely, with regular application, skin appears visibly smooth. So, I believe that with the regular application for two or three months, the signs of ageing would definitely get reduced in reality.
It is perfect to treat skin inflammation too. I found the texture is similar to our age-old aloe vera gel. And, its functionality resembles the latter component too. I was indeed surprised.
All these changes happened just within two weeks. I am already excited to continue my application for a few more months.
Caution
No matter what your skin type is, Hyaluronic Acid is considered safe and sound for all. But, here is a caution. If you are pregnant or a breastfeeding mother, then you should use it only after consulting with your doctor.
In fact, there have also been some case studies where it is found that Hyaluronic Acid can make cancer cells grow fast. So, if you are a cancer patient or you have a medical history of cancer, you should not use it or consume it.
Lately, I am all into active ingredients both naturally and synthetically extracted. Do you think that I should try out Niacinamide or Ceramide too? Let me know in the comment section below.
And, that's all for today! Take care; celebrate life.