Motherhood is an exciting phase for any woman. Despite the physical and mental exhaustion, one cannot deny the sheer happiness that carrying a child brings. Along with excitement and joy comes terrible mood swings and body stretching. The body no longer retains its previous shape as it enlarges to accommodate the growing baby.
Fortunately, long gone are the days when oversized clothes or baggy pants were the only options for pregnant women. With a wide range of maternity gowns online, you can easily pick the one that suits your needs the best.
Are purchasing maternity dresses really necessary?
Whether you need maternity clothing or not depends on your personal preference. Some pregnant women feel comfortable with the clothes they wore previously. If you have a wardrobe filled with loose-fitting maxi dresses or gowns, you might not even need to go maternity shopping.
However, some pregnant women feel comfortable with maternity dresses. These dresses are particularly designed to make you feel relaxed and safe without restricting your movements. Besides, pregnant women are advised to avoid tight-fitting clothes for health issues.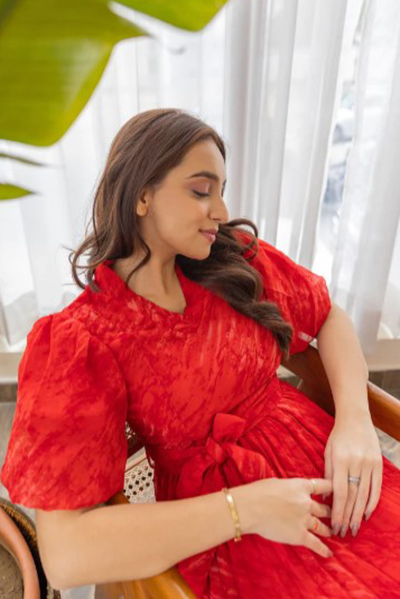 Polago Clothing offers a gorgeous collection of maternity gowns online. The brand keeps in mind comfort, safety, and style while designing these maternity maxi dresses.
When to purchase maternity dresses?
One of the most asked questions would-be mamas have is – "when to grab your hands on those stunning maternity clothes?"
Well, there is no concrete answer. And that is because different women have different pregnancy experiences. Some women feel the need to have a closet full of maternity clothes right from the go, while others wait for the obvious symptoms. 
Look out for clues that your body gives, and voila! You will know it's time to go shop. Wondering about these clues?
When the regular bra feels tighter and uncomfortable, ditch it for a new one, more focused on maternity. If you can't button your jeans or your shirt fails to cover your bump, it's indeed time for that cherished maternity dress shopping!
What to keep in mind while choosing your maternity dress?
When the second or third trimester approaches, it's time to look around for the best maternity gowns online. However, that doesn't mean you pick the first you come across. There are several factors that must be considered before making a choice.
Check out the factors to keep in mind –
1. Breathable fabrics
Often, pregnant women feel warmer when compared to others. That is why maternity gowns online are made with breathable fabrics. In that case, opt for materials that offer a cool sensation, such as cotton, bamboo, etc. These fabrics lend a soft feeling to the clothes, making them comfortable and breathable. Moreover, it is advisable to avoid wearing synthetic fibers at this phase. Synthetic fibers tend to make people feel warmer.
2. Loose fitting
With pregnancy comes certain restrictions that need to be followed religiously. Refrain from wearing tight clothes. It can affect your health negatively.
For instance, dresses that are excessively tight around the waist can cause heartburn. As per American Pregnancy Association, it also increases the chance of having a vaginal yeast infection. When you are pregnant, the foremost concern is to keep yourself safe. For that, let go of the tight clothes!
3. Simple styles
When searching for maternity gowns online, go for styles that are universal. Consider the fact that your body will undergo constant changes throughout the pregnancy.
Buy clothes that can adjust to the contour of your body. For instance, free-flowing maxi dresses, wrap dresses, gowns with an empire cut, etc., are perfect for any occasion, any time.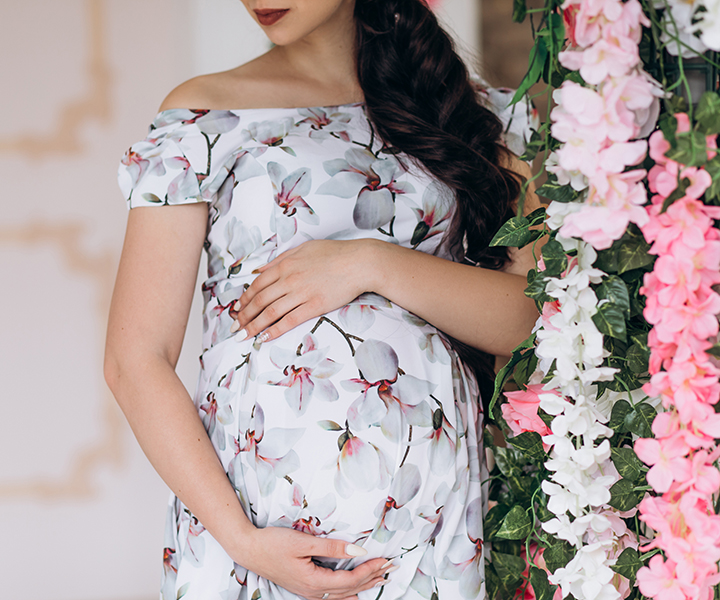 4. Stay away from harmful dyes
All of us love wrinkle-resistant clothing. But is that actually safe for pregnant women? In fact, would-be mamas are often advised to stay away from harmful fabrics and dyes. The wrinkle-resistant dresses undergo a formaldehyde treatment.
The chemical is considered dangerous at this stage. Besides, it might also lead to skin irritations and other issues.
5. Go with neutral colors
Apart from natural fabrics, neutral colors are a go-to for pregnant women. That is because, with neutral hues, you don't have to worry about color combinations. Moreover, you can stay calm and relaxed.
If you opt for brighter shades, you will always feel the need to ensure nothing screams as a fashion disaster. You can also choose light colors to get a laid-back feeling.
6. Personal style
Another thing pregnant women often overlook is the aspect of personal style. Every woman has a distinct preference for clothes. And being pregnant does not mean those styles can't have a place anymore.
It's true you won't fit into tight bodycon or flattering tops anymore. But you can still get the same designs on your maternity clothes. That way, there will be no grudges.  
Tips for excited would-be mamas
Pregnancy comes with a lot of excitement, mood swings, and changes in your body. Here are some tips for would-be mothers searching for maternity gowns online.
Overbuying is a hazard: Owing to sudden mood swings, shopping loads of maternity gowns online is an actual possibility. In that case, take active measures to ensure you don't purchase everything you see. After all, you must check the quality, measurements, etc., before buying.
Check out the price: Getting stylish maternity clothes doesn't have to burn your wallet. You can easily opt for dresses that are stunning, comfortable, and affordable. It is critical to compare the prices and other features before buying.
Size issue: Whatever maternity dress you choose must be the same size as your regular clothing. You don't have to opt for larger sizes due to your pregnancy.
New and would-be mothers do not need to compromise fashion for comfort or vice versa. To make your maternity journey memorable, Polago Clothing offers a wide range of stylish yet comfortable maternity gowns online.
Here, you will get a variety of options to choose from as per your personal preferences. These soft and breathable fabrics ensure you enjoy motherhood while donning the latest fashion!
That's all for today. Take care; celebrate life.