If you are a coffee lover, you might be enjoying the nuanced experience of drinking coffee. The rich aroma, the warmth, loveliness of sitting down on your favourite spot with a fresh cup and taking the coffee; sip by sip.
I have always wondered why I like coffee this much. Well, there are reasons and today, I'm letting you in on a couple of them.
The Aroma:
There is not better feeling than waking up to the aroma of freshly brewed coffee. I actually love the coffee aroma so much, that I have chosen my skincare and candles with this scent.
The Taste:
I appreciate the plain taste of coffee without any sugar. When one appreciates the love for coffee more than the caffeine it provides that's when the true love for coffee begins.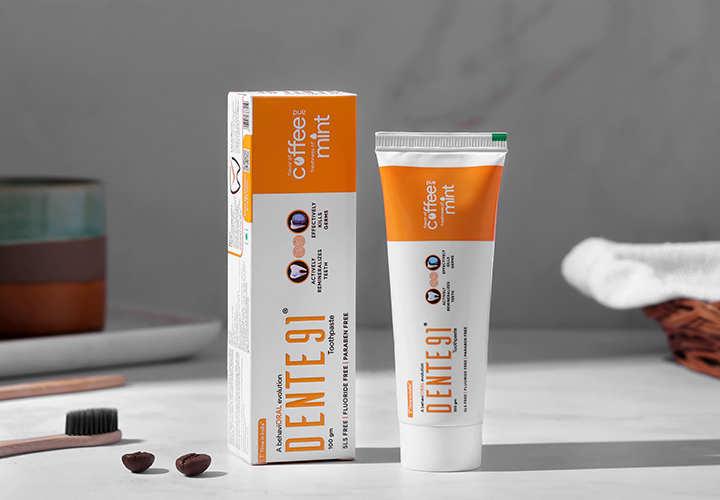 Relaxation:
Coffee helps me to relax after a long day at work. I feel comforted and at ease when I sit down to enjoy my cup of coffee after a long and hard day.
My love and quest for coffee lead me to Dente91 Coffee Flavoured Toothpaste. I had earlier tried their Cool Mint Tootpaste and was all the more excited to try this one out. And the toothpaste did not fail my expectations. I am sharing it with you below.
Dente91 – Coffee Flavoured Toothpaste
Dente91, the Oral Care brand has launched Coffee Flavoured toothpaste. The toothpaste has an amazing aroma and taste of freshly brewed coffee. So, if you are a coffee lover (just like me), just go for it.
Apart from the mind-blowing aroma and taste there is more to this toothpaste. Upon doing some research, I also found out that this is the first ever brand in India to launch toothpaste with Lactoferrin and Nano Hydroxyapatite.
Lactoferrin is a multifunctional protein found in mother's milk and bovine milk. It has antimicrobial properties. Hydroxyapatite is a mineral and 89% of our teeth's enamel is made up of it. Powered with these 2 ingredients, the toothpaste reduces hypersensitivity, remineralizes teeth and supports oral hygiene.
My tip to anyone hunting for a perfect paste? When it comes to strengthening your enamel and remineralizing your teeth; Nano Hydroxyapatite is an essential ingredient. Need more information?
An article published in researchgate.net mentions that Nano Hydroxyapatite is incorporated in tooth pastes to provide ions that reduce demineralization and improve remineralization.
The nano particles can penetrate tooth porosities and nonetheless they can produce a protective layer on the tooth's surface.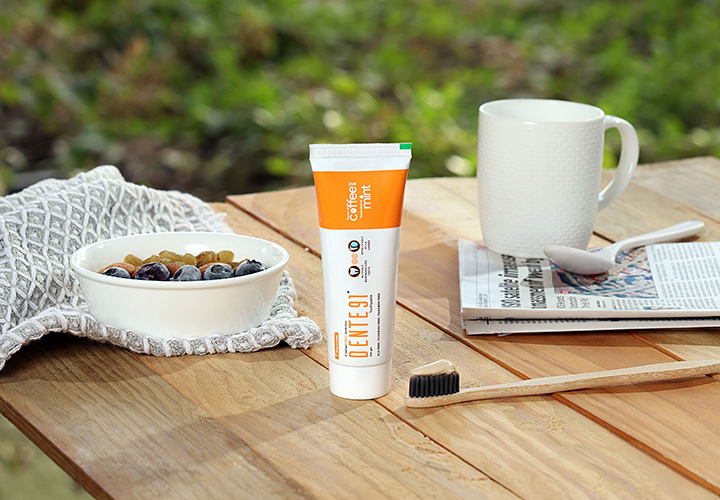 A Brief on Dente91 Coffee Toothpaste
Product Type:
Dente91 Coffee & Mint Toothpaste with active remineralization and antimicrobial action.
Suitable for:
All, and a must try for Coffee lovers.
Key Ingredients:
Lactoferrin and Nano Hydroxyapatite
Extra benefits:
Fluoride, SLS & Paraben Free
Why do I like Dente91 Coffee Toothpaste?
Great aroma & texture
Refreshing feeling
Coffee aroma and taste makes it a delight to brush once I wake up and before hitting the bed.
Visible results
Price: INR 199 for 100g
Dente91 Coffee & Mint Toothpaste – that's my recommendation for anyone looking to perk up their morning brushing routine with flavour some coffee and zesty mint or just to maintain a healthy oral hygiene routine.