8 Best Hair Dryer in India: Time to Flaunt Those Fleeks
One hair appliance that I believe everyone needs to have is a hair dryer. It is one of the most
versatile hair appliances out there.
From simply drying wet hair to creating blown out curls and even straightening, there's a lot you can do with a hair dryer.
Since there are many hair dryers available in the market these days, it is normal to feel confused about the best suited for your needs.
Just because a hair dryer is affordable, it doesn't necessarily mean that it is good. And, it is important to do your due diligence if you don't want to waste your money.
Your tresses deserve the best, and you can pamper your hair without spending a fortune. No matter
what your budget is, you're bound to find the best hair dryer in India for you in this list. Let's dig in!
1.Nova Silky Shine 1200 W Hot And Cold Foldable NHP 8100 Hair Dryer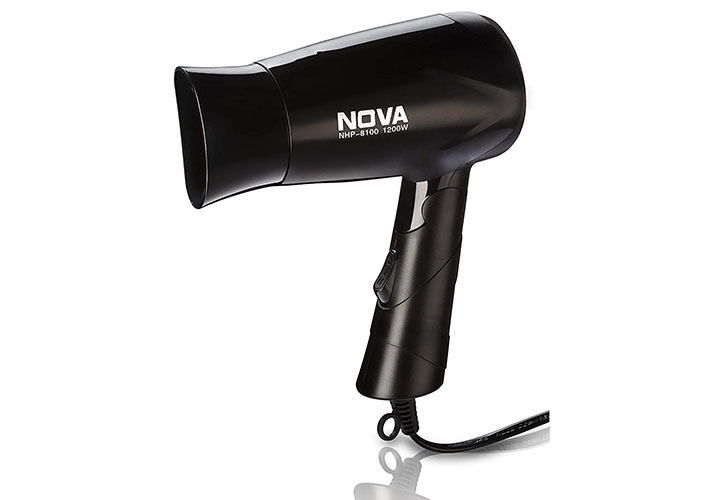 Courtesy of Brand
Shop Now!
This hair dryer from Nova combines effectiveness and functionality, all at a very affordable price.
It is foldable, which means that you can throw it in your bag and take it anywhere. Never have a bad hair day even if you're on the go.
It features hot and cold settings. So if you want to simply dry your hair without styling it, you don't have to expose it to heat.
The hair dryer is designed to distribute the heat evenly across your hair to ensure minimal heat damage.
The sleek black design also features a loop so you can hang the dryer while styling. It comes with one year warranty and has a wattage of 1200 W.
I would recommend this hair dryer for ladies who don't use hair dryers a lot and don't want to
invest much but want to have the option of a cool setting.
In fact, it is also a great option for college girls. Check out the plus and minus things that make the dryer the best hair dryer in India.
Pros

Travel friendly
Hot and cold settings
Sleek design
Affordable

Cons

The quality of the material of the dryer is not good
So, if you're on the hunt for a hair dryer that has hot and cold settings and is under INR 1000, then your journey ends right here.
2. Syska HD1600 – Teal Hair Dryer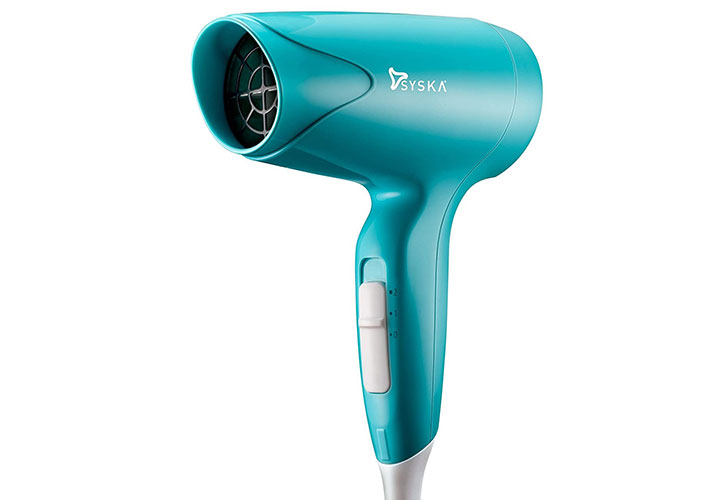 Courtesy of Brand
Shop Now!
If you're looking for a basic, affordable product and don't want to feel confused with too many settings, then this beauty from Syska is the best hair dryer in India that you can find in
this category.
It has an attractive teal coloured body which is unique and is quite lightweight to provide maximum comfort.
The dryer has two heat settings i.e. low and high. So you can choose one according to your requirement.
The body of this hair dryer is smaller than the standard size, which makes it more convenient to keep in the shelf.
Moreover, it has a heat balance technology which ensures that the heat is distributed in an even manner.
It comes with a 2-year warranty, which is a reassuring factor about the quality of the product.
Indeed, this is the most affordable product on this list but the minimal features and design place it at par with its more expensive counterparts.
I would recommend this hair dryer to women who don't style their hair regularly but want a highly effective yet basic hair dryer.
Pros

Affordable
Attractive colour
Unique design with minimal yet basic features
Lightweight

Cons

Not foldable, so a bit difficult to travel with
So, beauties on a budget, your search for the best affordable hair dryer in India ends right here.
3. Vega Blooming Air VHDH-05 Hair Dryer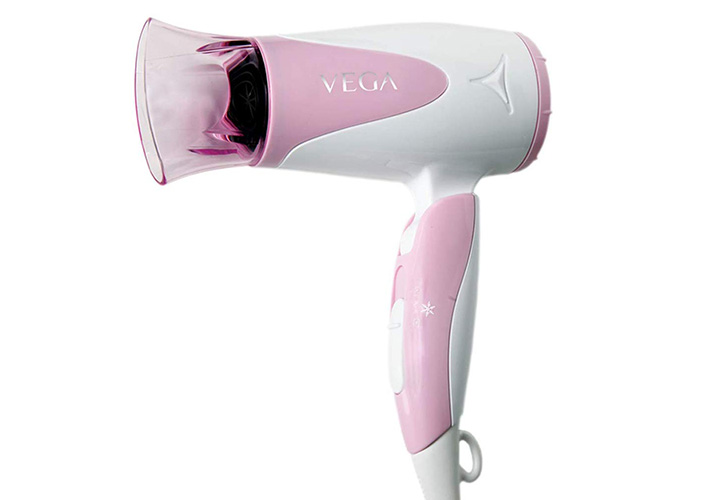 Courtesy of Brand
Shop Now!
Vega is synonymous with hair appliances in India. Easily available online and offline across the country, this brand makes some high-quality products at really affordable prices and this hair dryer is no exception.
Don't be fooled by the price, because it offers some really incredible features. It has a detachable nozzle which allows you to get concentrated or wide heat distribution, depending on your need.
The foldable handle allows for a travel-friendly experience while the pretty pink design is an added bonus.
Hot and cool settings mean that you have got great flexibility. It detects overheating and
automatically cuts the power, which is an excellent safety feature.
The end cap can be detached, making it super easy to clean the dryer. And all this with a price tag under INR 1000! For College girls, or for anyone looking for a hairdryer with high-end features, this is indeed a low price tag. Voila! You've just found your match.
Pros

Affordable
Hot and cool settings
Easy to clean
Overheating safety feature
Travel friendly

Cons

Only one heat setting might feel a little intense on the hair
Ladies, if you want a hair dryer that does it all without breaking the bank, this one from Vega is the answer.
4. Philips Hair Dryer (HP8120/00)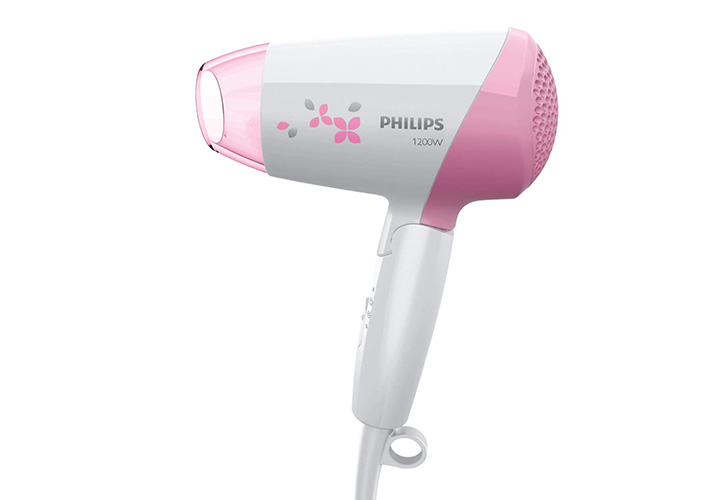 Courtesy of Brand
Shop Now!
Just like Vega, Philips is a brand that makes premium quality products at pocket-friendly prices. It is equipped with a Thermo Protect feature, which ensures protection for your
delicate hair against the heat.
It also has three heat settings, allowing great flexibility during drying and styling. Along with that, it has a cool air setting which is the best setting if you want to avoid heat damage altogether.
The handle is ergonomically designed to allow easy usage and it can also be folded if you need to travel or store the dryer in a smaller space. The body has been designed keeping functionality in mind and
is quite lightweight and easy to work with.
The concentrator ensures that heat is focused on one area, making it a great hair dryer for ladies who love to do styling.
Pros

Easy to store
Travel friendly
Hot and cool settings
Multiple heat settings
Ergonomic design

Cons

Great for styling, not so great for drying
If you're someone who loves to style and are willing to go for a mid-range hair dryer without compromising on quality, look no further than this baby from Philips. It is truly the
best hair dryer for you and well within a budget.
5. Vega VHDH-17 X-Style 1200 Hair Dryer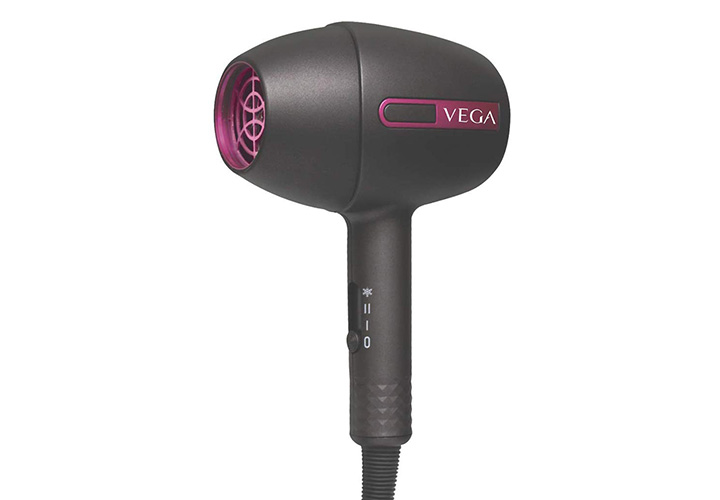 Courtesy of Brand
Shop Now!
This list couldn't have been complete with just one Vega recommendation. Vega's products are just that good (and affordable)!
The stunning black and purple design is very reminiscent of Dyson and lends it a luxurious feel. It is an upgrade from the previous Vega hair dryer in this list and features 2 heat settings along with a cool setting. So that you truly get a lot of versatility.
The handle is quite sleek and has a grip to avoid any instances of slipping and damaging the product. It also comes with a nozzle that can be detached, which means that you can customise the heat distribution according to your needs.
The dryer is also equipped with an automatic power cut feature in case there is any
overheating, which is an amazing add-on to avoid any mishaps.
The body is not very bulky, making it perfect to hold. The only con is that the handle is not foldable which makes it a bit difficult to travel with.
Pros

Beautiful design
Three heat settings
Cool setting
Non-slip handle
Detachable nozzle
Overheating safety feature

Cons
For those of you looking for a mid-range hair dryer with a high-end feel, this one is indeed the best hair dryer in India for you.
6. BaByliss D322WE Expert Hair Dryer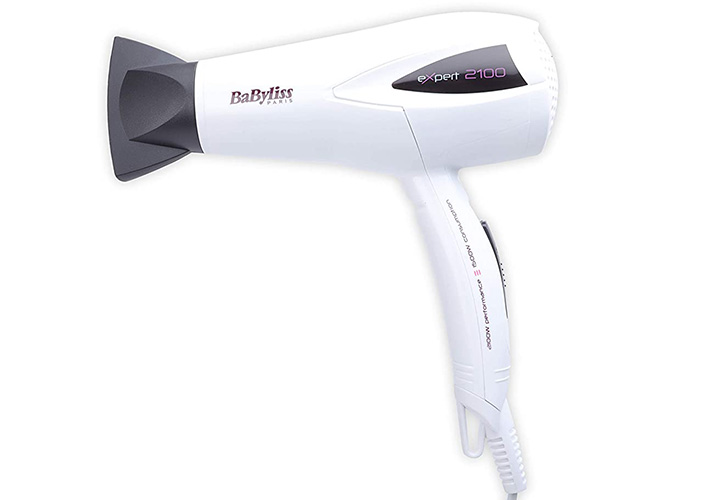 Courtesy of Brand
Shop Now!
Now, if you're willing to splurge on your mane, let me introduce you to this hair dryer from BaByliss. You must have heard of hair dryers with multiple heat settings, but this hair dryer is also equipped with multiple speed settings.
If you're looking to create an elaborate blown-out look, a lower speed setting can be really helpful because it won't dry out your hair super quickly, thereby giving you more time.
The cool setting is great to set your hairstyle in place or to dry your hair without the heat damage. Another incredible feature includes how incredibly lightweight it is.
It does not weigh even an entire kilogram! This means that it is super easy to travel with and won't make you feel like you're working out at the gym every time you use this product. Personally, I am a fan of the sleek black design and think that it looks very chic.
I recommend this hair dryer to professionals or people who want to invest in a high-quality hair product.
Pros

Ultra-lightweight
Two heat settings
Two-speed settings
Cool hair setting
Travel friendly

Cons

The handle is not foldable, might be a bit difficult to store
If you're willing to invest in a good quality hair appliance that has thoughtful features and
is ideal for styling, this one from BaByliss is the best hair dryer for you.
7. Remington D5000 Compact 1800W (Eco) Dryer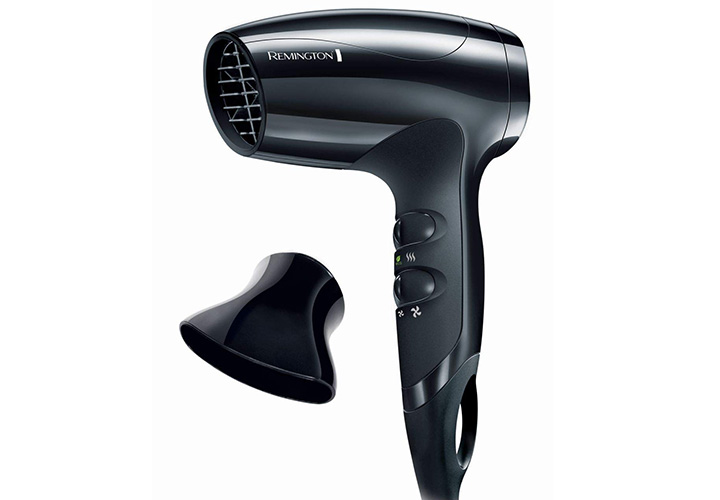 Courtesy of Brand
Shop Now!
Remington is one of the most well-loved hair appliance brands in the beauty world because their products are of high quality and user friendly. This hair dryer is equipped with some
very unique features.
It has a detachable front grille, which makes it easier to clean. It is also an excellent feature because the grille is the part of a hair dryer that tends to get the dirtiest. Moreover, the grille is designed with an anti-static feature which reduces frizziness in the hair.
It features 3 heat settings and 2 speed settings, offering you a fully customisable styling experience.
The nozzle can be easily detached and allows you to change the heat distribution according to the hairstyle you have in mind.
Finally, this hair dryer has an Eco setting, making it highly energy-efficient while also styling your hair just fine.
The overall build of Remington hair appliances is known to be highly reliable, and this hair
dryer is no exception too. It'll last you for ages!
Pros

Three heat settings
Two speed settings
Lightweight
Detachable nozzle
Detachable grille
Easy to clean
Easy to store

Cons

No cool setting
Handle is not foldable, so not very travel friendly
So, beauties! If you're looking for a salon-like hairstyle makeover at home without actually going to a salon, Remington's D500 is the best hair dryer for you.
8. Dyson Supersonic Hair Dryer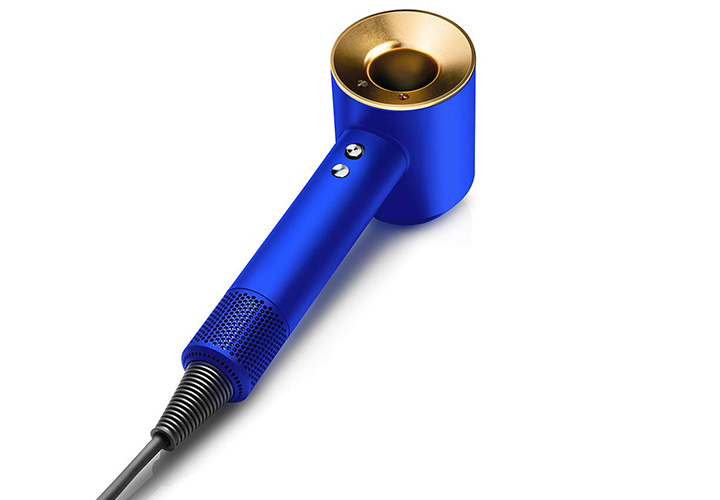 Courtesy of Brand
Shop Now!
Yes, yes, the price of the hair dryer comes with a hefty price tag! But the features it offer are too good to ignore.
It has three-speed settings and three heat settings. This also has a cool setting. It is designed to produce minimal noise, which is a great thing if you want to style your hair in the morning without waking up the entire house.
Because this hair dryer intelligently regulates heat, it protects your hair against heat way more than any other hair dryer. You get three nozzles with it. Namely a concentrator for focused styling, a smoothener for reducing frizz, and a diffuser for increasing curl definition.
The sleek, purple and black design is absolutely stunning.
But, I must say that the biggest drawback of this product is its non-travel friendliness. It
has to be stored in a certain way to ensure longevity.
I would suggest this hair dryer only if you style your hair after every wash, want to minimise heat damage, and are willing to invest for the long term health of your hair.
Pros

Minimises heat damage
Multiple speed and heat settings
Cool setting
Less noisy
Multiple useful nozzles

Cons

Very expensive
Not easy to store, takes up space
Not travel friendly
If you're looking for a salon-style spree at home, it doesn't get better than Dyson. The various settings, attachments, and the amazing heat protection make it the best hair dryer for those willing to splurge on their tresses.
In a Nut Shell
So like I mentioned before, it is important to research before investing in any hair appliance and ensuring that it is the best match for you.
But at the same time, I know that researching might seem like a chore. And, that is why I have done all the hard work for you.
I have compiled this list of the best hair dryer in India and I'm sure that you've found at least one that suits your needs and fits your budget.
Well! If you find this article helpful, make sure to drop a comment down below and let us
know about the one you are about to buy.
Also, don't forget to share it with your friends and family. Follow us on Instagram as we keep posting interesting stuff there too.  Take care; celebrate life.