When it comes to oral care, the Indian market offers a number of brands. Every brand claims to formulate amazing products that give brilliant results like white teeth, preventing tooth decay, etc. But unfortunately, rarely do people take a look at the ingredients. As a result, the commoners fall into the trap.
Well! Recently, Dente91 has introduced two revolutionary products to the Indian oral care industry. The products are namely Dente91 Natural Cool Mint Toothpaste and Dente91 Cool Mint Alcohol free Mouthwash. Of course, the brand is new here! But, the products seem promising. Don't worry guys! Like always, I would come to the point with a detailed ingredient analysis of both products.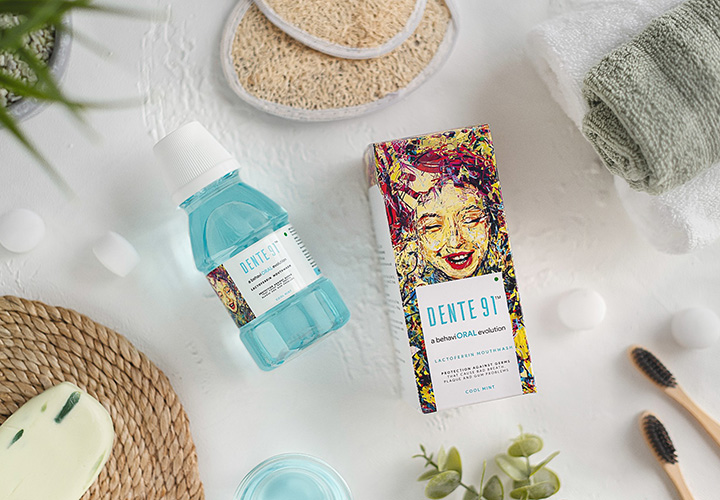 Almost every one of us knows the importance of proper oral care to maintain the hygiene of the inside of our mouth. And thus, you need the right products. Are these newly products worth giving a shot? Or, these are just marketing gimmicks? Let's find out the truth.
Dente91

Natural Cool Mint Toothpaste
Price: INR 199 for 100g
Buy From: Amazon
Ingredient Analysis of Dente91

 Toothpaste
1. Nano-hydroxyapatite
I am glad that the first two ingredients are the actives here. This is the first time that an Indian brand has introduced this revolutionary ingredient to an oral care product. To understand the potency of the component, let's know the backstory.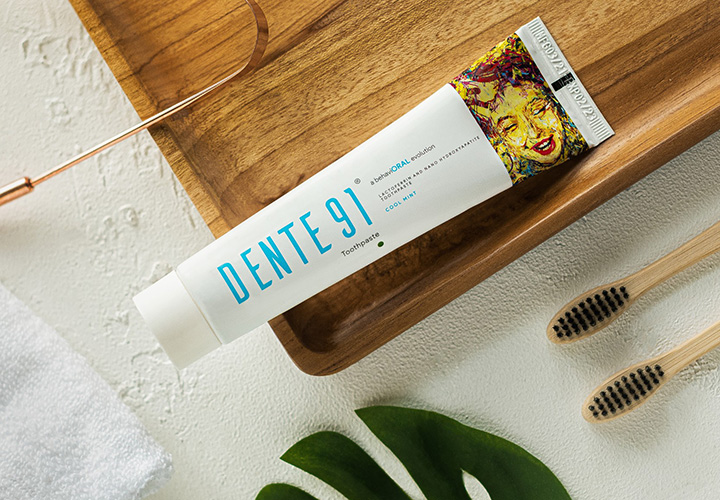 During space missions, astronauts always used to suffer from Demineralization of Teeth till 1970. It used to happen as gravity is not there in space. In 1970, NASA scientists developed a repairing material and it was named Hydroxyapatite.
This component can mimick the tooth structure and can repair and re-mineralize the teeth. With the advent of new technology, now it has become possible to develop a Nano-Hydroxyapatite. N-hap is quite potent to treat not only tooth demineralization but also hypersensitivity. It can heal cavities and reduces tooth decay!
2. Lactoferrin
Lactoferrin is another magic ingredient in this toothpaste. It is popularly known as Pink Gold. This protein has enchanting properties like antibacterial, antifungal, and anti-inflammatory.
Basically, Lactoferrin takes away the Iron from bacteria bodies. The bacteria bodies do not get the nutrients and eventually, the structure gets destroyed.
It especially promotes the growth of bacteria with low iron requirements such as Lactobacillus and Bifidobacteria which are beneficial to the body.
You would be surprised to know, human body gets Lactoferrin from mother's milk. The other primary source is bovine milk. But Lactoferrin depletes from the body with ageing and due to diseases.

Babies get the Iron from mother's milk. It also helps the babies to form a strong immunity system.
3. Xylitol
Xylitol has the same taste and structure as sugar. But, it is an artificial sweetener. It has, in fact, 40% fewer calories than sugar.
4. Aqua
Aqua or water acts as the base in the toothpaste. It is great to see how the brand has added the actives first and then the other ingredients, unlike the other brands.
5. Sorbitol
Sorbitol is actually a humectant that is widely used in toothpaste. It traps water. So, whenever we squeeze the tube, a smooth substance comes out.
6. Silica
Hydrated Silica is widely used in oral care products. It functions as an abrasive agent in tubes of toothpaste.
7. Glycerin
This natural humectant holds onto water and the toothpaste does not get dried inside the tube.
8. PEG 8
This component makes the toothpaste squeezable.
9. SLS
Sodium Lauryl Sulfate or SLS is a widely used surfactant in toothpaste. This is the reason why toothpaste produces foam. It is safe to use and is not carcinogenic. Well! The same can definitely not be said about Sodium Laureth Sulfate which is often mistaken as SLS.
10. Xanthan Gum
It works as a safe binder in toothpaste.
12. Fragrance
Umm, it was definitely not necessary, in my opinion. But, it is not harmful at the same time.
In this formulation, this component helps to create the minty aroma of the toothpaste.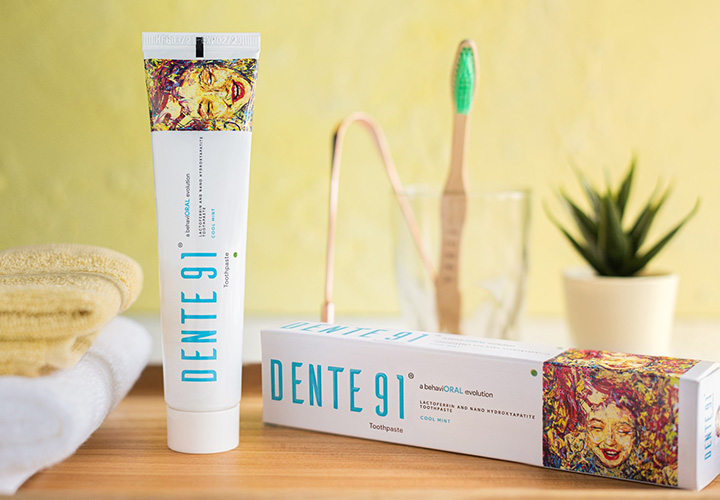 13. Titanium Dioxide
It is absolutely safe to be used in toothpaste. It gives white colour to the product.
14. Sodium Saccharin
This sweetener does not offer any oral health benefits. It is added to enhance the overall flavour of the toothpaste.
15. Sodium Benzoate
It is a moderately safe preservative that is widely used in oral health care products.
Well! The inactive ingredients are safe. The actives are quite beneficial and revolutionary. What else do you need in toothpaste? Dente91 Toothpaste is worth every penny to give a go.
Dente91 Cool Mint Alcohol free Mouthwash
Price: INR 199 for 150ml
Buy From: Amazon
Ingredient Analysis of

Dente91 Cool Mint Alcohol free Mouthwash
1. Lactoferrin
Just like in the Dente91 toothpaste, Lactoferrin serves the same purpose here as well.
2. Purified Water
Water is the base of this product.
3. Propylene Glycol
It works as a thickener and a sweetener in mouthwash.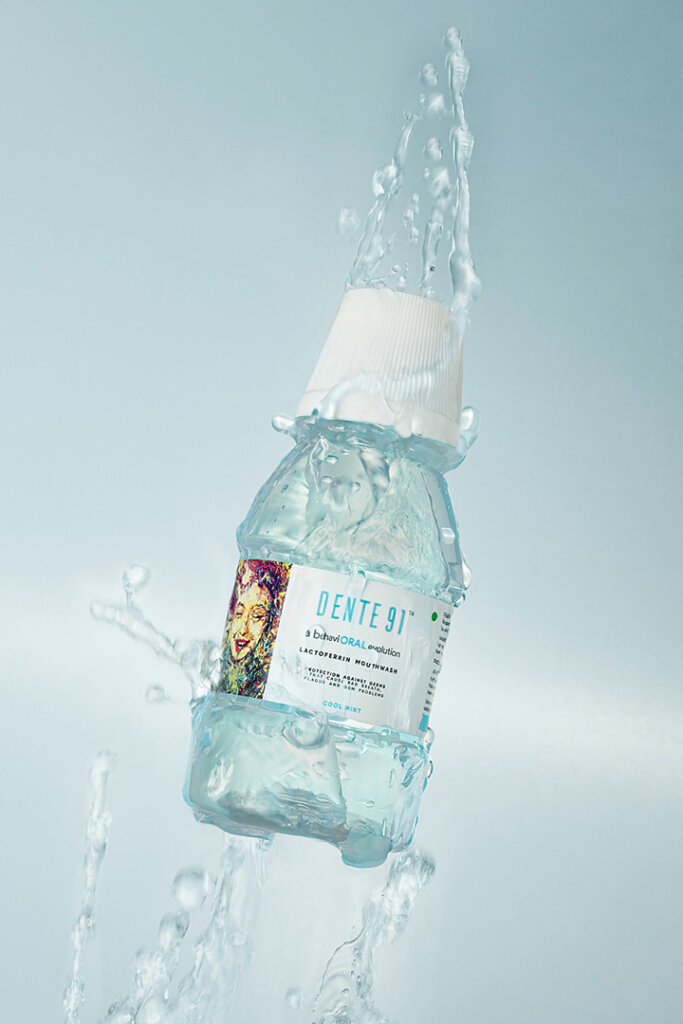 4. Glycerine
Glycerine activates the saliva glands and is also sweet in taste.
5. Xylitol
Xylitol is a non-fermentable ingredient that stops bacteria from forming tooth decaying acid.
6. Poloxamer 407
This inactive component helps to blend the ingredients in a formulation.
7. Potassium Citrate
It is a potent component that helps to desensitize sensitive teeth.
8. Zinc Citrate
In toothpaste and mouthwash, this ingredient helps to freshen the breath.
9. Peppermint Oil
Just like the previous component, it also helps to eliminate bad odour or bad breath.
10. Sodium Benzoate
This is a food-grade preservative that is widely used in toothpaste and mouthwash.
11. Menthol
Menthol is known for its anti-plaque ability. Undoubtedly, it is a great addition to this product.
12. Sucralose
An artificial sweetener with 600 times sweetening power than regular sugar.
13. CI4209
It is a colourant. Brilliant Blue is its common name. Among personal care products, CI4209 is pretty popular.
Overall, the ingredients are quite good. Both the actives and the inactive are placed scientifically in the formulation. The mouthwash has every reason to go for at least once.
And, that's all for today! Let us know in the comment section below, which of the Dente91 products you found interesting? Don't forget to share with your friends and family if you find the article helpful. Take care; celebrate life.