Why is Specialized Oral Care Required for Women? 
Women go through many stages in their life like Puberty, Menstruation, Pregnancy, Lactation and Menopause.
During these phases and all through their life they go through hormonal changes. I did some research on this and was surprised to find out how hormonal changes have a much powerful effect on the body, brain chemistry and mental health too.
So, what are these hormones? Made in the glands of the endocrine system; hormones are regulators of our body and control metabolism, mood, reproductive function and sexual health.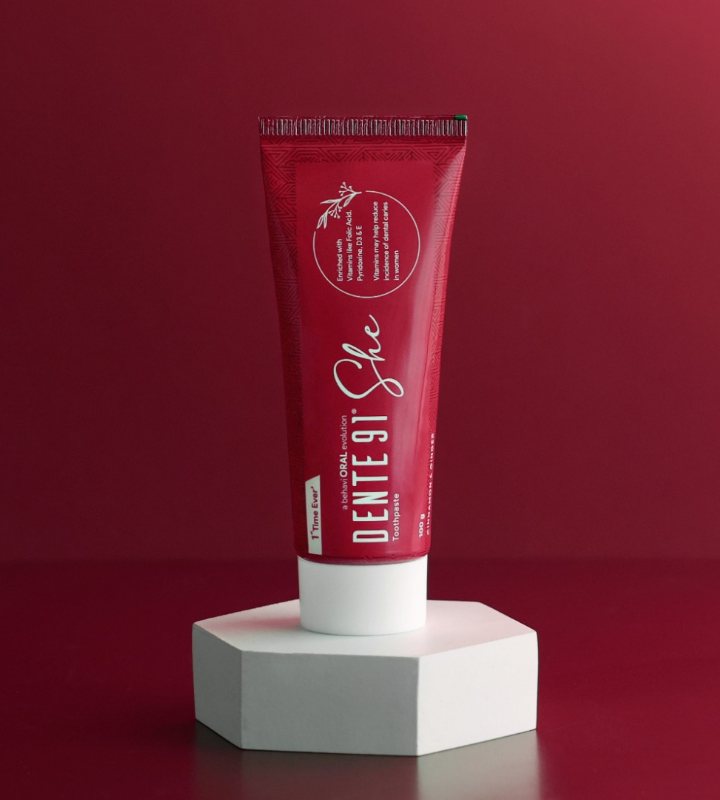 Women experience fluctuations in their hormones which affect their health. This includes their oral health too. For example; during puberty women are at risk of gingivitis a mild form of gum disease.
Pregnancy gingivitis is quite common due to increase in progesterone and estrogen levels. During lactation decrease in salivary concentration of calcium might affect remineralization of teeth which may lead to oral issues.
When going through menopause decreasing estrogen may cause dry mouth and gum issues.
Hence it is more important for women to take care of their oral health throughout their lifespan.
When it comes to choosing oral care products, there is a plethora of products stocked on the store shelf, so it is more important to know which ones you can choose and those which are ideal for long term use.
While choosing a toothpaste, it is important to check out the ingredients.
Why I Chose DENTE91 SHE Toothpaste
When it comes to choosing a toothpaste with quality ingredients, my choice is Dente91 Oral Care Range.
I have been using their Cool Mint Toothpaste, and also tried their recently launched Dente91 She Toothpaste. This is the first ever toothpaste in India specially created to support oral health of women.
It contains unique ingredients like Folic acid and Pyridoxine along with other Vitamins D3 and E. It also contains their 2 hero ingredients; Nano Hydroxyapatite and Lactoferrin.
Nano Hydroxyapatite helps to strengthen teeth enamel, reduce hypersensitivity and plaque and repair cavities. Lactoferrin kills bacteria and fungus, reduces bad breath and is effective against gum disease.
And that's not all. The toothpaste is free from SLS, Fluoride, Paraben, Gluten, Peroxide and Triclosan making it ideal for long term usage. Let's take a detailed look at the ingredients.
Ingredient Analysis of DENTE91 SHE Toothpaste: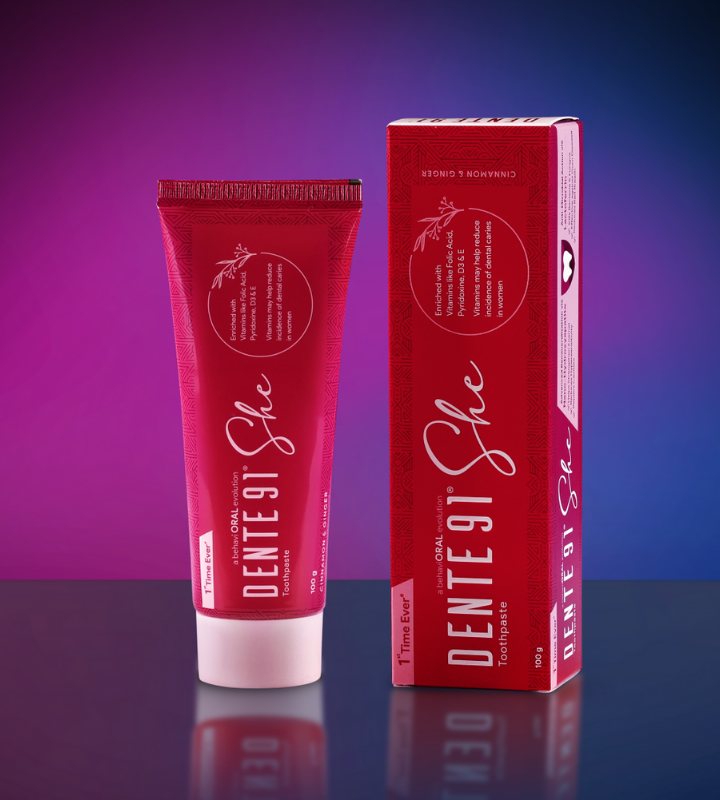 Dente91 She Toothpaste has novel and evolutionary ingredients:
1. Folic Acid (Vitamin B9) 
helps in gingivitis (mild gum disease)
2. Pyridoxine (Vitamin B6) 
helps in dental caries
3. Vitamin E
helps in periodontitis (a serious gum disease)
4. Vitamin D3
helps prevent tooth decay
5. Nano Hydroxyapatite
This is known as the 'gold standard' ingredient in oral care. It helps to reduce sensitivity and remineralize teeth.
During space missions, astronauts suffered demineralization of teeth due to the absence of gravity.
In 1970s, NASA scientists proposed a novel ingredient called hydroxyapatite. Synthesized hydroxyapatite (Nano- Hydroxyapatite) mimicks the structure of the tooth and helps in natural repair and remineralization of the teeth.
6. Lactoferrin
Lactoferrin is multi-functional protein with Antibacterial, Antifungal and Anti-inflammatory properties. Antibacterial properties of Lactoferrin removes bacteria from the plaque biofilm and its Antifungal abilities help to stave off fungal infections.
The toothpaste comes with a zesty Cinnamon & Ginger flavour. Refreshing way to start your day!
DENTE91 SHE may help in:
Remineralizing Teeth
Repairing Cavities
Reducing Plaque
Reducing Hypersensitivity
Fighting Gum Disease
Basic Details about DENTE91 SHE TOOTHPASTE
Price: M.R.P. is Rs.219 for 100 g
Buy from: Amazon 
USE Code: SHELAUNCH20 & get 20% off from buy91.com