Your nails are a blank canvas waiting for you to express your creativity and style. Different types of nails offer endless possibilities for customization and creativity.
But with so many options available, you may find it hard to know where to start.
Each nail enhancement option has its unique benefits and drawbacks. The Nail Shop's Moxie Collection offers a variety of unique and trendy nail designs to consider when choosing the perfect nail design for you.
Whether you're looking to create a simple, understated look or go all out with bold and intricate designs, there is a type of nail perfect for you.
6 Trending Nail Designs to Elevate Your Manicure Game
Nail art has become an increasingly popular trend in recent years, with people using their nails as a canvas to express their creativity and personal style.
Whether you're looking to add a pop of color to your outfit or make a bold statement, there are endless possibilities when it comes to nail designs. Below are the trending nail designs that will surely level up your manicure game:
Ombré Nails
Ombré nails are a popular trend in the nail industry, achieved by blending two or more colors to create a gradient effect.
This creative technique can be done with nail polish, gel, or dip powder, using a sponge or brush to blend the colors. Use contrasting colors if you wish to generate a more dramatic effect.
The versatility of ombré nails allows them to be worn with many outfits and customized to fit personal style.
Experimenting with different color combinations and shades can allow you to create a personalized ombré look to elevate any manicure game.
Negative Space Nails
Negative space nails are a newly-emerging trend that involves leaving a part of the nail bare to create a design, resulting in a contrast between the natural nail and the design.
Achieved using techniques such as stripes, dots, or geometric shapes, negative space nails offer a versatile canvas for creativity.
A base coat is applied to create negative space nails. Meanwhile, the tape may produce the desired design before applying the top coat.
So an obvious advantage of negative space nails is that you can create a stand-out look when you pair them with various outfits.
Neon Nails
Neon nails have taken the nail industry by storm with their vibrant and eye-catching colors. This popular trend involves bold neon shades (e.g., pink, green, yellow, or orange). Neon nails allow you to create a striking look.
Whether you opt for a full neon manicure or incorporate neon shades as an accent, these colors are perfect for adding a pop of color to any outfit.
French Tips
French tips have been a staple trend in the nail industry for many years, and they continue to evolve with new colors and designs.
Traditionally, French tips involve painting the tips of your nails white and leaving the rest of the nail area neutral.
However, modern updates have introduced a variety of colors and shapes to the classic look.
Try experimenting with different shades and finishes to create a unique twist on this timeless trend. French tips are versatile, making them perfect for any occasion.
Chrome Nails
Chrome nails have been a popular trend in the nail industry, and they continue to be a favorite among fashion-forward individuals.
This look involves a reflective, shiny finish that gives your nails a metallic look. The trend can be using special chrome powders or nail wraps.
Chrome nails come in many colors, including gold, silver, and rose gold, making them easy to match with any outfit.
This trend is perfect for a night out or any occasion if you want to make a statement. Chrome nails surely elevate your manicure game with their futuristic and edgy appeal.
Matte Nails
Matte nails are a must-try for anyone who loves a chic and modern look. Unlike traditional shiny nails, matte nails offer a non-glossy finish for creating a subtle yet eye-catching style.
You can achieve this look using a matte topcoat or nail polishes in many colors.
Black matte nails are classic, but you can experiment with other colors and textures to create a personalized matte nail design.
Whether looking to make a statement or a more understated look, matte nails are a versatile trend customized to fit your style.
Tips on Choosing the Perfect Nail Design
Choosing the right nail design for you can be fun. With so many options available, deciding which designs suit your style and personality can be overwhelming. Here are some tips on how to choose the perfect nail design for you: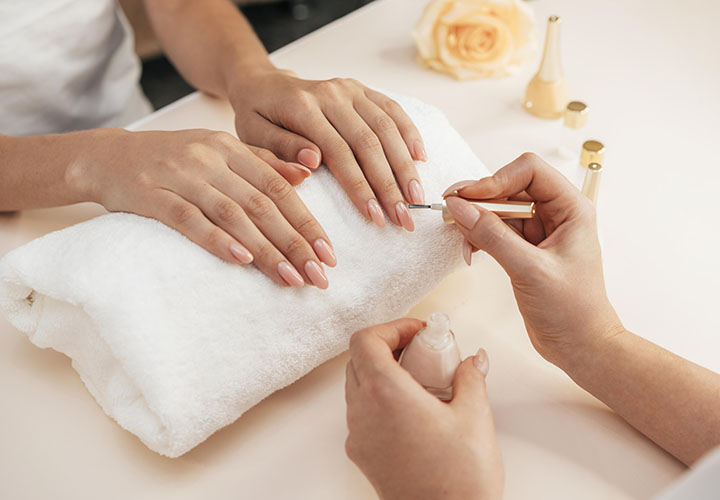 Consider the occasion. The occasion can influence your choice of nail design. For example, a classic French tip might be more appropriate for a formal event, while a fun and playful neon design might be better for a casual outing.
Think about your style. Your nail design should reflect your personality and style. Consider the type of clothing you typically wear and what colors and patterns you gravitate towards.
Look for inspiration through nail design ideas on social media platforms like Instagram and Pinterest. Save your favorite designs and bring them to your nail technician to recreate or modify to your liking.
Your choice of design can influence your nail shape. Remember that intricate designs might look better on longer nails, while simpler designs might be more flattering on shorter nails.
Experiment and have fun. Don't be afraid to experiment with different designs and colors until you find the one that makes you feel confident and beautiful.
Upgrade Your Nail Game with These Trendy Designs
The world of nail design is constantly evolving, with new trends and techniques emerging. There are endless possibilities that can be explored, from ombré nails to negative space designs, neon colors, French tips, chrome finishes, and matte nails.
Whether you prefer a classic look or want to experiment with something bold and daring, there's a nail design for everyone.
So don't be afraid to try something new and elevate your manicure game with the latest nail trends. The key to choosing the right nail design for you is to consider your style, the occasion, and the level of maintenance you're willing to commit to.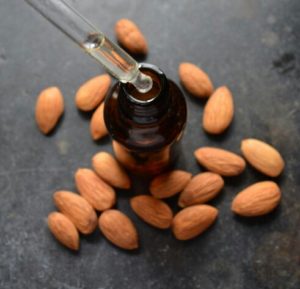 Nail cuticle oils can be pretty expensive if bought from the market. Well! Know how you can make the oil at your home with just two ingredients.
Read More