Glowing, flawless skin is the epitome of beauty, and now achieving that coveted radiance has become easier than ever before.
Kama Ayurveda unveils the latest innovation in skincare: the Kumkumadi Illuminating & Skin Perfecting Day Cream. Powered with the iconic Kumkumadi oil, this groundbreaking formula promises to give you a youthful and natural glow while keeping your skin fresh and balanced all day long.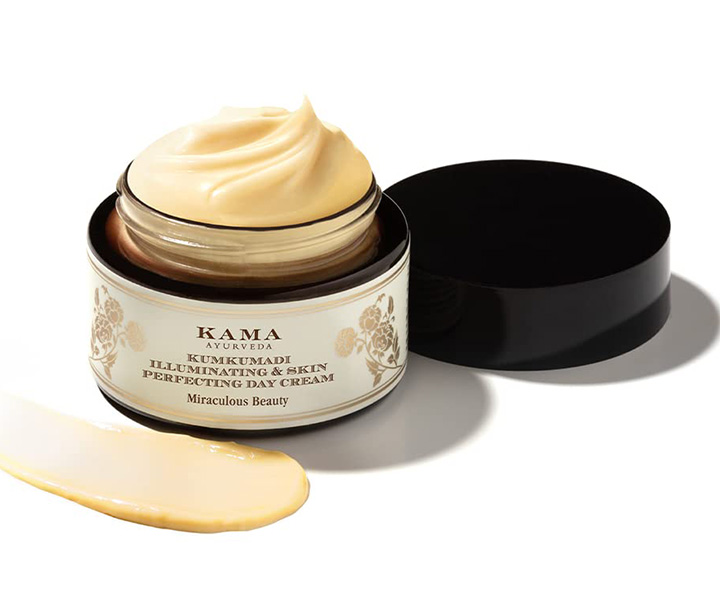 Courtesy of Brand
Shop Now!
In a world where beauty trends come and go, the secret to timeless radiance lies in the ancient wisdom of Ayurveda. For centuries, Kumkumadi oil has been revered as a potent elixir for enhancing skin's complexion and texture.
Now, we have harnessed the power of this precious oil and combined it with advanced scientific research to create a day cream that will revolutionize your skincare routine.
Use daily for youthful, brighter, and refined-looking skin.
Key Ingredients
Saffron
Saffron contains natural skin-lightening effects that enhance complexion and bring back the skin's radiance.
It helps to make dark spots, blemishes, and uneven skin tone less noticeable, providing an even and radiant complexion.
It also helps to reduce the appearance of fine lines, wrinkles, and other signs of aging, promoting a more youthful and vibrant look.
Mulaithi
Mulaithi helps to brighten the skin, even out the complexion, and reduce the appearance of dark spots and hyperpigmentation.
It helps to soothe and calm irritated skin, reduce redness, and promote a more balanced and even-toned complexion.
Vetiver
The moisturizing qualities of vetiver are well known for hydrating the skin and preventing moisture loss. The skin develops a protective barrier as a result, retaining moisture and remaining hydrated all day long.
It can help reduce inflammation, redness, and itchiness, providing relief to sensitive or reactive skin types.
Lotus
Lotus flower extract has a reputation for being extremely moisturizing. The skin becomes more hydrated and replenished, becoming supple, smooth, and soft as a result.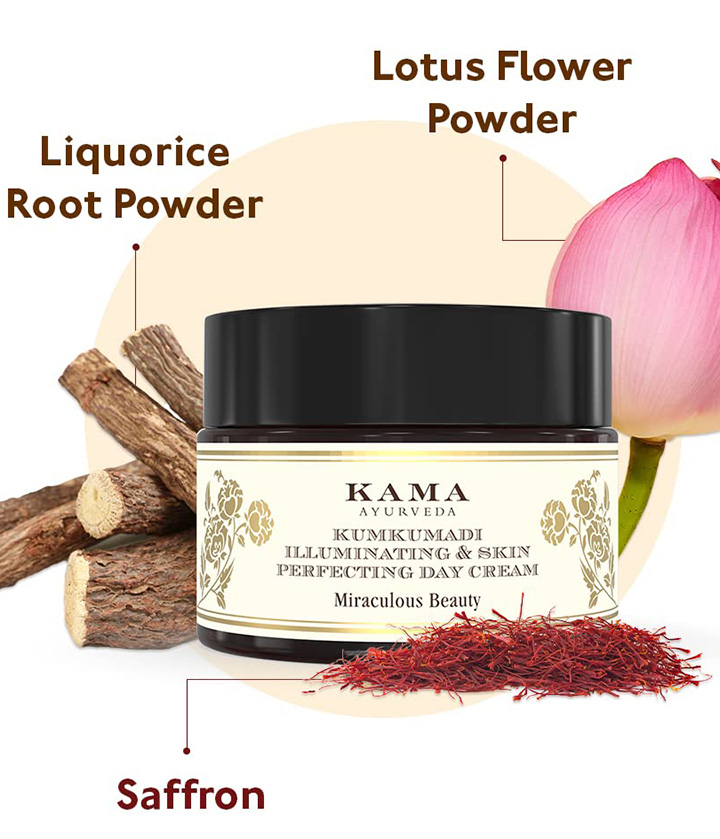 How to Use 
Use Pure Rosewater or a natural water-based toner to moisten skin.
After cleansing, apply a suitable amount to the face, neck, and décolletage. Massage in an upward motion, avoiding the eye area, until absorbed.
Apply sunscreen when spending long hours in the sun
What sets the Kumkumadi Illuminating & Skin Perfecting Day Cream apart from the rest is its unique blend of natural ingredients, carefully selected to nourish and rejuvenate your skin.
The key ingredient, Kumkumadi oil, is derived from a rare combination of 16 powerful herbs, including saffron, sandalwood, and vetiver. Known for their skin-brightening, anti-aging, and complexion-enhancing properties, these herbs work synergistically to give you a radiant and youthful complexion.
Why You Have to Try this Day Cream?
The benefits of the day cream extend beyond its illuminating properties. With its lightweight and non-greasy formula, it effortlessly absorbs into your skin, providing deep hydration and locking in moisture throughout the day.
This guarantees that even in adverse environmental conditions, your skin will remain soft, plump, and luminous.
In addition to its hydrating properties, the Kumkumadi Illuminating & Skin Perfecting Day Cream also acts as a shield against the damaging effects of free radicals and environmental pollutants.
Its powerful antioxidants help combat oxidative stress, preventing premature aging and maintaining the overall health of your skin.
Finally…
Unlock the secret to youthful radiance and embrace the transformative power of the Kumkumadi Illuminating & Skin Perfecting Day Cream. Experience the joy of flawless, glowing skin and let your inner beauty shine through.
Say goodbye to dullness and hello to a fresh, balanced, and radiant complexion that will leave you feeling confident and beautiful all day long.