Bonjour beauties, welcome to CA. Today' review is about Lotus Herbals Nutraeye Rejuvenating and Correcting Eye Gel. Till now, I have reviewed skin care products, Makeup items, hair care products and I have also shared simple DIY. This is the first time I will be talking about Eye care.
I had always neglected my eye area. But when I came to know that the skin near our eyes are 6 times thinner and more delicate than our facial skin, I decided to buy an eye gel/cream. At first I thought to buy Aroma Magic Eye cream. But many research studies have shown that they add Mercury and many harmful components on their whitening products. So, I opted for Lotus. Let us dig deeper to know how effective it is.
Price: INR 295 for 10g [bought it at 265 from Nykaa]
Product Description and Ingredients:
Umm..I am a bit disappointed this time because Lotus has not mentioned the full ingredient list. The active components are Soy, Bio Peptides which are actually Amino Acid components, Wheat protein, Vitamins A and E.
The proportions of these components in the solution have not been mentioned. So, what role these play is a difficult question to answer. 
My Experience with Lotus Herbals Nutraeye Rejuvenating and Correcting Eye Gel
I bought this tiny cute 10g tube just a month back. And since then I have been applying this religiously around my eye area once a day. So, I would like to share my experience on the basis of following factors.
Oohooo!! Round of applause for Lotus. What a mind blowing packaging they have created! The golden cap and the off white body looks damn luxurious and glamorous.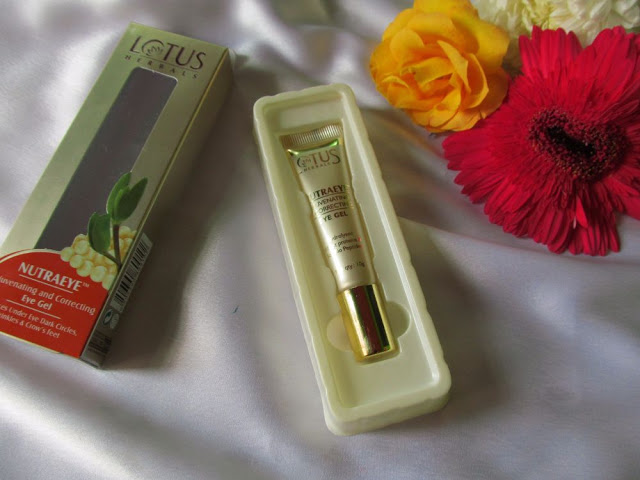 Seriously I am extremely happy for this gorgeous, diva like packaging. It deserves a special ten on ten rating separately for this. The opening section of this tube is itself a perfect applicator. 
It has absolutely no-color. Sorry for the tiny swatch, :P. And the texture is neither thick nor runny., it is actually a gel.  It blends ve
ry very easily with
 the skin. Within 5 seconds of massage, you will not be able to find a trace of it. 
No over powering fragrance. I think this is quite good and professional.
I do not have severe dark circles. But because of heavy study load, my eyes look dull and tired. Whenever I apply it, I look fresh in the morning. Sometimes I mix it with Aloe Vera gel to make it more effective. 
But if I do not apply it, my eye area looks the same. That means it is actually not healing or correcting anything. 
Let me sum up the important points.
PROS:
Enriched with peptides, wheat protein, and few other important anti ageing components.

Travel friendly gorgeous packaging.

Gel based product.

Blends very easily, within 5 seconds.

It gives a cooling and soothing sensation after application.

No prominent fragrance.

It does rejuvenate.
Only 10g!!!!! OMG! it is damn expensive.

Full ingredients list is missing.

Does not correct anything.
Overall, I am not much impressed with it. It is also very expensive. I am planning to make an eye serum at home using Aloe Vera gel. I would not recommend this. But same products react differently with different persons. And also because this one has no side effects, so you can definitely try it out. 
So, take care my dearies. Very soon I will talk with you about something new. Love you all. Do not forget to celebrate womanhood :).
Thank you for reading. Have you used this product? Please share your experiences here. Love you all.