Hello beautiful friends, welcome to CA. Today it is time for a review on Guler Arabian Oudh Handmade Bathing Bar. This luxury soap is manufactured under the brand name of Aster Luxury. Earlier I had used two of their variants and I totally loved it.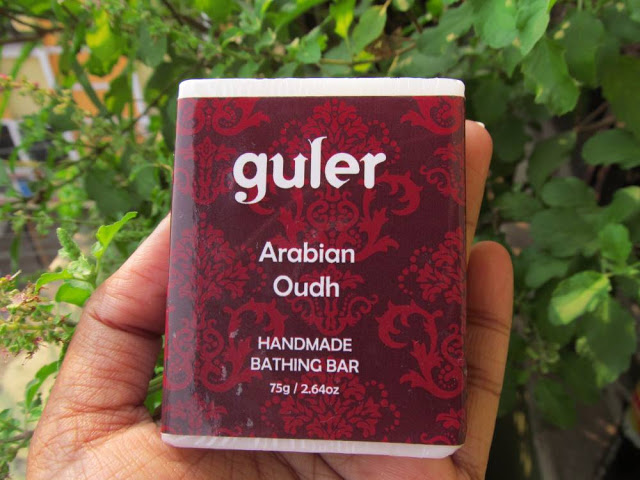 This soap is a recent launch by Aster. So, let us see how the product scores over its ancestors.
Price: INR 75 for 75g
Shelf Life: 24 months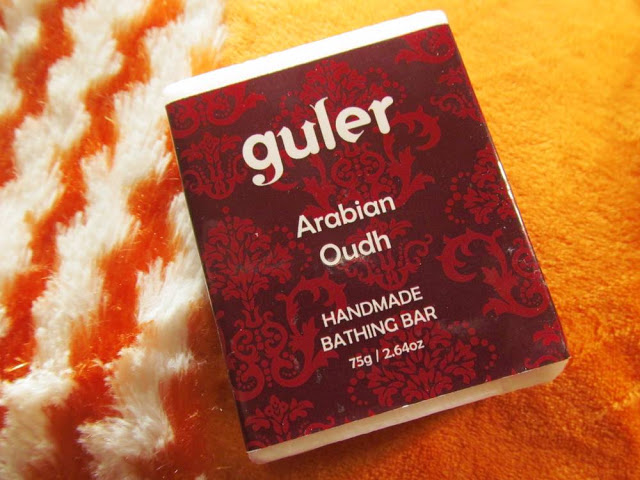 On their 
website
, Amazon, Snapdeal and also on Zotezo.
Product Description and Ingredients: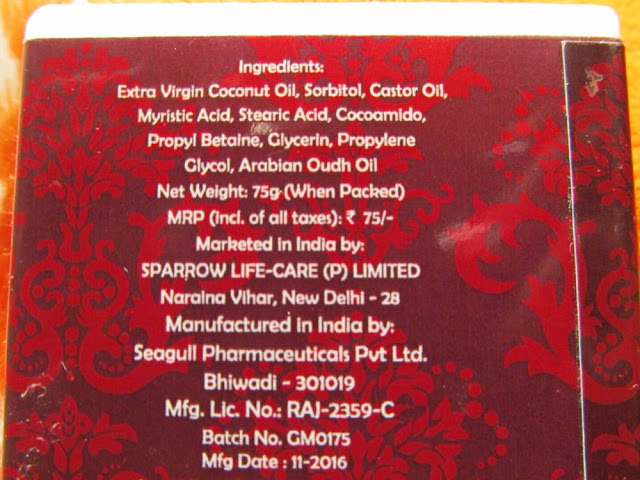 Aster uses saponified Coconut Oil which works as a natural surfactant. That is why inspite of being a natural soap, it lathers efficiently.
 Glycerine is a great moisturiser for this Winter season.
Myristic acid is a natural cleansing component. Stearic acid is a naturally found thickener or hardener. Sorbitol is sugar substitute and is used to prevent moisture loss in cosmetics.
As a whole, I love these ingredients.
My Experience with Guler Arabian Oudh Bathing Bar
Oudh or Agarwood is a special type of wood which produces aroma only when it is infected by fungi. Arabian Oudh has a heavenly aroma. I have been using this soap for two weeks now. So, I would like to share my experience by dividing it into several parts. 
Packaging: 
As you can see, it is different from the usual Aster Cardboard carton. Instead they have used minimal packaging and a beautiful ornamental graphics, which is quite attractive. 
Texture:
This is a complete white soap and the texture is hard yet soft. It has the brand name imprinted on the soap.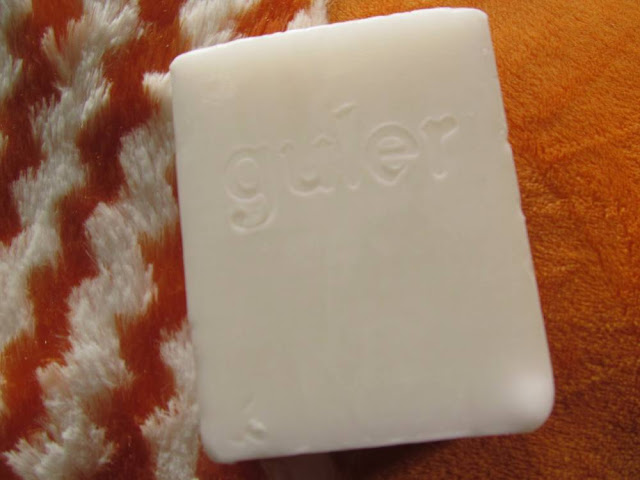 Fragrance: 
Truly amazing. Each time I come out of my bathroom, I feel just heavenly. The franrance lingers on for quite a long time. I can not remember anything similar to compare this fragrance with. This is unique and extraordinary.
The most loveable factor about this soap is that it moisturises for a very long time. In fact my mom also has experienced that. It is enriched and packed with some amazing oils. And like the other Aster variants, this one also melts slowly. I love this fact. This is a bathing bar which is quite travel friendly and pocket friendly too :)). 
So, here are the plus-minus points.
PROS:
Budget friendly luxury soap.

Travel friendly.

Amazing fragrance.

Moisturises for a long time.

Made of natural ingredients.

Against animal testing.

Enriched with Arabian Oudh Oil.

Melts slowly.
CONS:
***CA IMPRESSION: 5/5***
Overall, this is a must  have product to try. An affordable luxury soap that everyone would fall for. I am definitely gonna recommend this to everyone. Specially oily skin people can forget moisturiser easily forll sometimes after bathing :P. The beautiful fragrance would compel you to rebuy this bathing bar.

That is all for today. Take care my sweethearts. Love you all. Celebrate womanhood. 
Thank you for reading. Have you used this product? Please share your experiences here. Love you all.
**
PR sample for review, sent by Aster Luxury. I am thankful to them. But the review is self opined and genuine.**