If your fitness routine varies from cardiovascular activities to yoga, then why do you always wear one sports bra? There are some people out there who don't think they need a sports bra at all. Maybe because they don't even understand why they need a sports bra.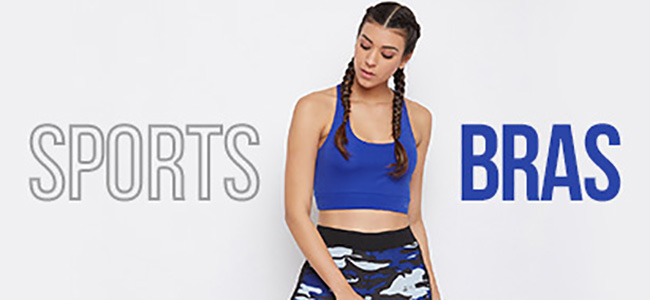 A sports bra is indeed a very important gear for doing exercise for many reasons. This blog will help you understand the reasons and types of bras you need for different workouts.
Why do you need a sports bra?
A sports bra is mandatory for medium/high-impact workouts or some repetitive activity. Your breasts are composed of mammary glands, fat tissues, and ligaments. They are more fragile than you think. They require extra support during any kind of repetitive activity.
What happens if you don't wear a sports bra during a workout?
Avoiding a sports bra during workouts can cause sagging of breasts. The ligaments in breasts are very fragile. Repetitive strain on ligaments for a longer period of time can make your breasts saggy. Also, it causes a lot of discomfort and pain.
Having said that, you need to wear a bra for all types of sports and workouts, which means there must be different types of sports bras available on the market. Now the question is
Which sports bra do you need?
That depends on the type of sports bra according to the activity. Basically, sports bras can be categorized into three major categories
Low-impact sports bra for low-intensity workouts
Some exercises need more comfort than support such as yoga, pilates, hiking, etc. These exercises have slow and flexible movement and you have to do many twists & trunks gradually.
For such kinds of activities, your sports bra has to be flexible rather than stiff. The low-impact sports bra provides ample support and flexibility for these activities.
But heavy-busted women might want to wear a medium-impact sports bra instead of a low-impact one.
Medium-impact sports bra for medium-intensity workouts
Weightlifting, strength/resistance training, and rowing fall under medium-intensity workouts.
These activities are neither subtle nor strenuous, but involve quite a lot of movement.
You need a medium-impact sports bra for all such activities.
High-impact sports bra for high-intensity workouts
Dancing, jumping, cycling, and jogging all kinds of cardiovascular activities fall under this category. You need maximum support to protect your breasts. Also minimum distraction & discomfort from bouncing bust. Only a high-impact sports bra will help you focus on these activities.
What to look for when buying a sports bra?
Irrespective of impact and size, you must look for the following things while buying a sports bra
Comfort – The first & foremost thing is comfort. Your sports bra should be tight to prevent bounce and comfortable at the same time.
Coverage – Look for full coverage to avoid top & side spillage.
Support – You should get ample support while jumping. There would always be bounce but it shouldn't be more.
Band – The band of your sports bra should stay flat on your body.
Shoulder strap – Broader the better. Shoulder straps should give you a snug fit neither too tight nor too loose.
Fabric – The fabric of your sports bar should have moisture-wicking technology.
You must consider all the above-mentioned things while selecting your next bra. And don't forget to take a fit test.
Sports bras are very versatile. They not only protect your breasts but also prevent discomfort during exercise. Along with that, they help you improve posture, and make your chest muscles strong. And on top of everything, they are so comfortable that you can wear them daily as a normal bra.